History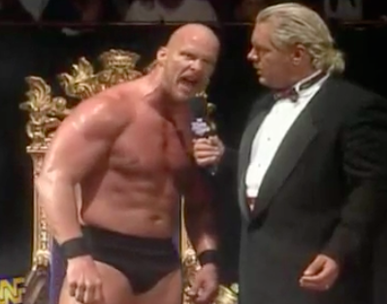 Austin 3:16 is Born (WWF, June 23, 1996)
The King of the Ring was one of the most prestigious pay-per-views on the WWF calendar. The purpose of the tournament was to crown a new star for the company, and there is arguably been no more memorable winner of King of the Ring than "Stone Cold" Steve Austin. His meteoric rise, which had been simmering for some time after casting off the 'Ringmaster' character, now boiled over as he spoke to Michael Hayes at his 'coronation.' Austin put the entire WWF on notice, and boldly stated that he would soon hold the WWF Championship.
His tenacity had been shown since being allowed to ditch the emerald green trunks and boots, as the company entered into an uncertain time. Vince McMahon may have wished for a hero to help him battle the cashed-up World Championship Wrestling, which threatened to put him out of business. Instead he got something better – an anti-hero.
As evidenced by his initial gimmick, Austin was not figured to be a future World champion – as he said at his Hall of Fame induction, he was brought in to be a 'mechanic,' simply to have good matches, nothing more. He grafted the old-fashioned way, and despite losing to Savio Vega in a 'Caribbean strap match,' it was the boost he needed. His manager Ted Dibiase left as was the stipulation, and before long, Austin was cussing and shoving his middle finger at authority.  And the fans came to love it. 
But his journey to King of the Ring supremacy was not without drama. In his semi-final bout against Marc Mero, his mouth was badly torn up, and required a quick trip to the hospital to get stitches. Despite the injury, he got past Jake "The Snake" Roberts in the final (also injured, at the hands of Vader earlier on). Then, came Austin's memorable victory speech, in which he intoned the words 'Austin 3:16' for the first time. This was in reference to Roberts, who had become a born-again Christian, but it became iconic, and sold many millions of t-shirts and written on countless signs in arenas around the country. Sensing the new direction and 'attitude,' Vince McMahon ran with 'Stone Cold,' and never looked back. It is simply one of the most memorable promos in professional wrestling history, and would lead to the changing of the entire wrestling landscape.