History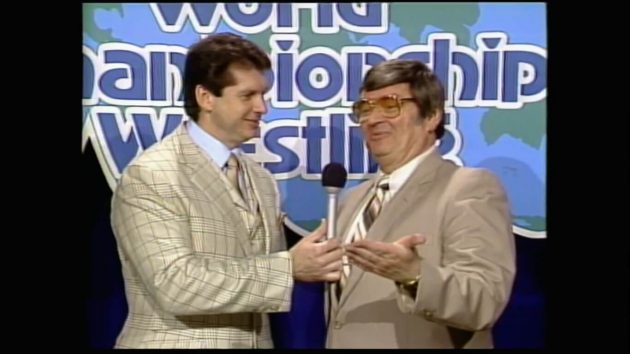 "Black Saturday" (WWF, July 14, 1984)
It will forever be known as one of the darkest days in professional wrestling's history. A date that sounded alarm bells as the reality for promoters sunk in, that Vince McMahon was serious about taking his company national, and he would do anything to make that happen. While it would become common for McMahon to take syndicated television deals from his competitors by offering more money than they could afford, what occurred in the middle of 1984 was something else entirely. In one fell swoop, he took out a major rival, and gained a monopoly on national cable television (if only briefly).
When Ted Turner first purchased the rights to air the Atlanta-based Georgia Championship Wrestling in 1972, he was still in the process of building his network. By 1976, he had made it into a national cable outlet, beaming across the United States thanks to the power of the satellite. Naturally, GCW became the place to be, the big leagues of professional wrestling, with its signature 6:05pm start time (originally 6pm) through to 8:05 (originally 8pm). So much so, that in 1982, they could change the name of the programme from plain old Georgia Championship Wrestling to something grander – World Championship Wrestling.
But the storm clouds were brewing. In 1983, Vince McMahon took Joe Blanchard's Sunday morning timeslot on USA Network's national cable channel. Based in San Antonio, Blanchard's Southwest Championship Wrestling began airing on USA in December 1982. But despite good ratings, Blanchard was struggling to come up with seven grand a week to remain on the network. As a result, McMahon made a better offer and USA took it, which led to the creation of WWF All-American Wrestling.
Vince wasn't satisfied. The following year, he aimed to deliver a big "one-two" punch on his competition by getting on Turner's Superstation. If he could pull it off, this would make the WWF the only company with a national television presence. However, the tried and true approach of offering money to boot competitors off the airways was rejected by Turner.
A more subtle approach was needed this time, and Vince found a way to do it. He learned that there was resentment towards GCW's booker Ole Anderson, who also owned a piece of the promotion. Knowing Ole wouldn't sell, he approached the three other shareholders – Jack Brisco, Gerald Brisco and Jim Barnett. All three agreed to sell, making Vince McMahon majority owner of Georgia Championship Wrestling. Not surprisingly, Vince folded the company, and their last programme aired on July 7.
The following week, Freddie Miller introduced fans to the owner of the World Wrestling Federation, who would now be presenting new and exciting matches on WTBS. With there being no internet at the time, fans had no idea of the behind-the-scenes machinations, and why they were now seeing the WWF instead of their beloved GCW. Furthermore, the highly respected Dean of professional wrestling announcers – Gordon Solie – was nowhere to be seen. But perhaps the fans would take to the "new and exciting matches."
They did not.
Initially, WWF World Championship Wrestling was not filmed in a studio in Atlanta as GCW had been. Rather, Vince aired highlights from his syndicated and USA Network programmes, as well as footage from house shows. This began the rift with Turner, who pointed out that part of Vince's contractual obligations was to provide original programming, and that programming to be filmed in the Atlanta studio. It took until March 2, 1985 before tapings in the studio took place, with the now-named WWF Georgia Championship Wrestling hosted by Freddie Miller and Gorilla Monsoon.
But the ratings – which had been decreasing rapidly from the start – still did not pick up. The station was inundated with letters from angry fans, demanding their Georgia 'rassling, and furthermore, Gordon Solie to return. Turner responded with a "one-two" punch of his own.
He first made a deal to air Bill Watts' Mid-South Wrestling on Sunday mornings, and then gave Ole's new promotion (Championship Wrestling from Georgia) a slot on Saturday mornings with Solie back in the announcers seat. Not surprisingly, Vince cried foul, believing that the deal was exclusivity on the network. Not only that, but the WWF show got smashed in the ratings, particularly by Mid-South.
Looking for a way out, McMahon spoke to Barnett once again, and Barnett found a buyer in Jim Crockett Promotions. An affiliate of the National Wrestling Alliance, Crockett attempted to rival the WWF by purchasing some of the remaining territories in existence, including Ole's Championship Wrestling from Georgia. In March 1985, Crockett agreed to pay McMahon one million dollars (which ultimately enabled him to make a profit of $350,000). The WWF's foray on WTBS ended on March 30, with the first edition of JCP's World Championship Wrestling airing on April 6 in the highly prized Saturday timeslot. (Sadly for Bill Watts, the deal left him out in the cold. Despite this, Watts did the admirable and professional thing by endorsing JCP on his final telecast).
Jim Crockett's time on the network further enhanced the story and legacy of professional wrestling on the Superstation. It was well received, and featured a who's-who of champion performers who would become legends, including of course, Ric Flair.
But one of the main reasons why this date is so ingrained in the minds of fans and stands out so much, is because of everything that happened after this event. Despite the setback, McMahon didn't stay down for long. USA Network gave him another timeslot (WWF Primetime Wrestling), and McMahon used the one million dollars to promote the first Wrestlemania, which was a big success. Without the money from Crockett, 'Mania could have been a flop and – from all reports – would have been the end of the WWF.
Meanwhile, JCP rode the wave for a few years until the quick expansion – not to mention more aggressive and possibly illegal business tactics from Vince – brought them down. Crockett sold to Turner at the end of 1988, and after initially naming it Universal Wrestling Corporation, it became World Championship Wrestling. The embers flared up in the rivalry between McMahon and Turner, especially in the mid-1990s, when WCW almost put the WWF out of business. But that's a story for another time…