History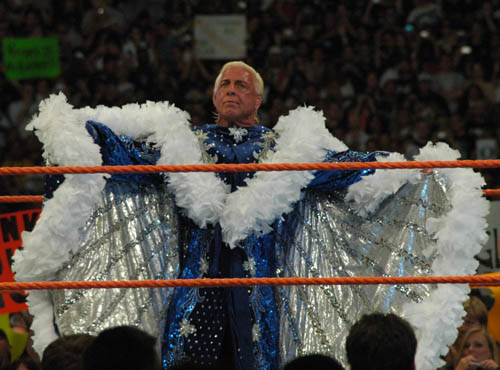 "I'm sorry. I love you" (WWE, March 30, 2008)
"I'm sorry, I love you".
The metaphorical gun was cocked, the trigger pulled. An old dog, finally able to find peace. The gun – a super kick. The shooter – Shawn Michaels. And the old dog – one of the greatest careers in the history of professional wrestling, that of Ric Flair.
It cannot be overstated how important Ric Flair has been to the business of professional wrestling. In the 1980s he would become NWA World's Heavyweight Champion. One of the toughest jobs in the sport. Travelling to defend the title all around the world in main event level matches – often long and gruelling matches, often hour long draws. This was on a near-nightly basis. Flair's job was not only to attract crowds and prestige wherever he went, but to make his opponent a bigger star in the process – ensuring some transfer of the crowds and prestige from himself and the title to the opponent and the territory. Flair was on top through the era when, due to cable television, wrestling was moving from being largely localised smaller territories to larger territories with national reach. Vince McMahon and his expansion of the World Wrestling Federation was the driving force behind this – and Flair was key on the other side, both in helping the territories hang on locally and being a flagship star for Jim Crockett Promotions, the showpiece of the National Wrestling Alliance at this time.
As the NWA's influence waned and Crockett sold to Ted Turner, creating World Championship Wrestling – seeds of doubt were planted in the now 42 year old. Despite still being a proven draw, WCW president Jim Herd wanted to de-emphasise the ageing star and presumably look towards the future. Flair left the promotion in 1991 over this and headed to McMahon's WWF. Something previously seen as unthinkable after leading the opposing ship in the 80s. At times Flair's matches at Clash of the Champions would run as counter-programming to McMahon's pay-per-views.
While Flair's time in the WWF was brief and he would leave in early 1993, he has stated that he felt not only respected but validated as a wrestler there. He was introduced as "the real World's Champion" and won the WWF title at the 1992 Royal Rumble. Flair departed after receiving an offer from Bill Watts to return to WCW and McMahon's pledge that if he were ever unsatisfied with his position in the company he would be free to go elsewhere. Flair left with a bridge intact.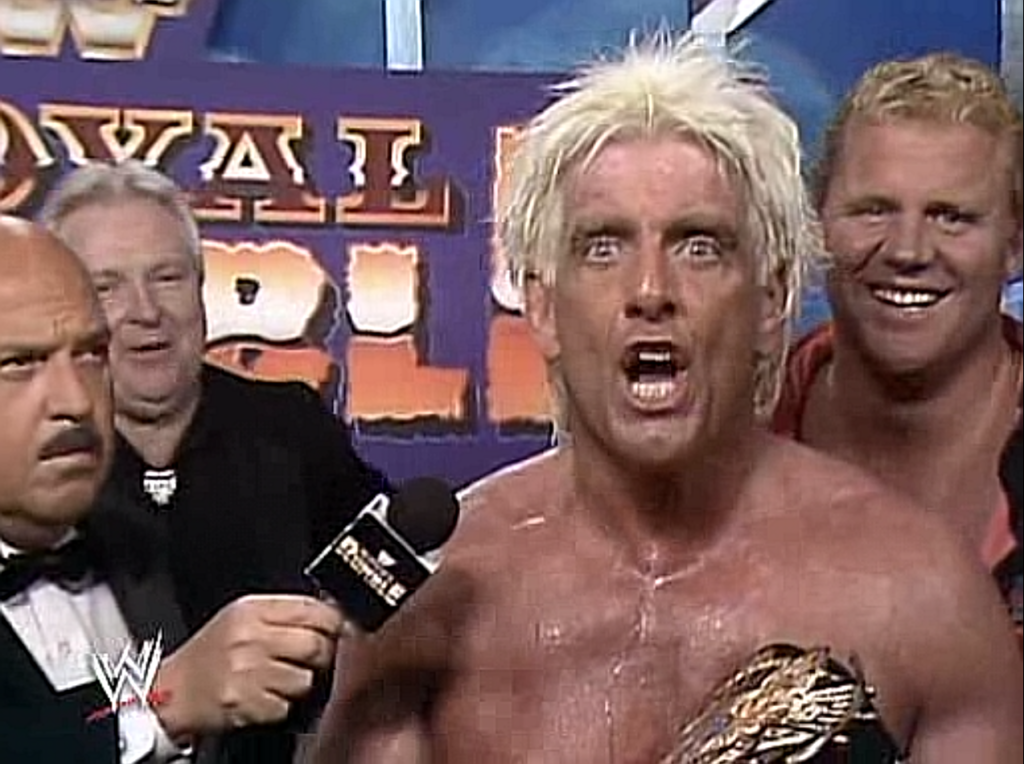 The latter part of WCW's lifespan was tough on Flair's confidence as well. He battled president Eric Bischoff in and out of the ring and the general morale of the company became miserable as ratings slumped and neither Eric Bischoff, nor management's hope of a saviour in former WWF writer Vince Russo was able to turn things around. The company was bought by McMahon in 2001 and in a show of confidence from his new bosses, 52 year old Flair was asked to wrestle Sting on the final episode of Monday Nitro, reminiscent of their match on the first one in 1995. Flair has expressed his disappointment with his own performance in this match, stating that "Sting definitely carried his end of the match. I couldn't carry mine."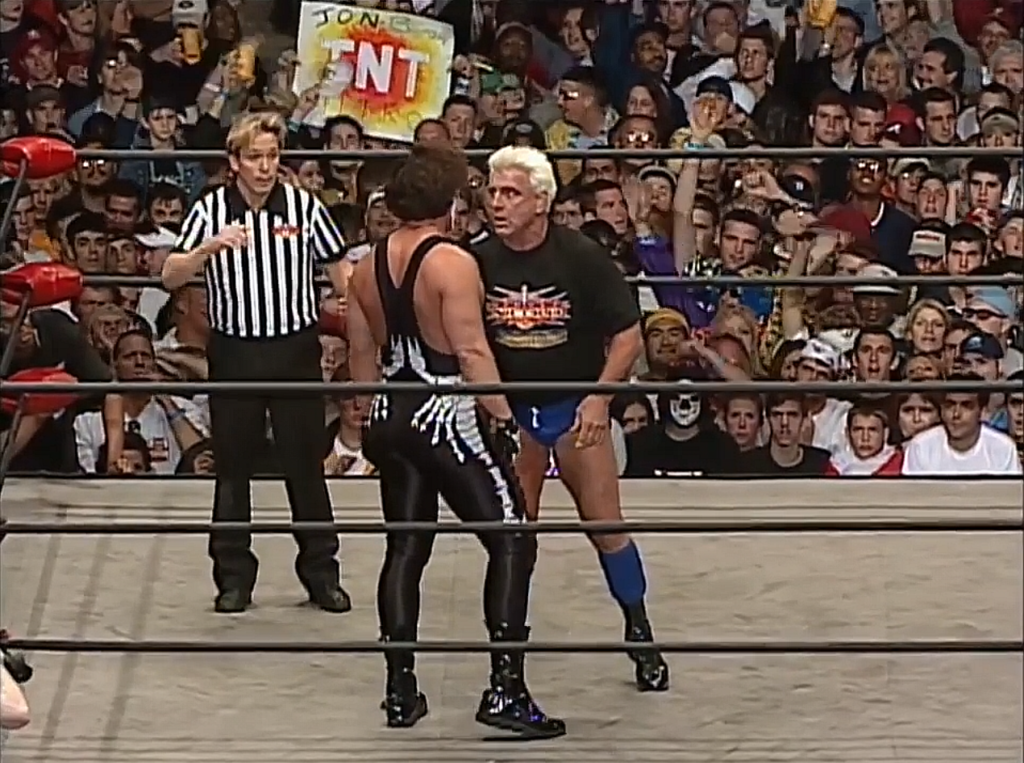 At the end of the year Flair joined McMahon in the WWF and initially had only an on-screen authority figure role. He would become a full-time wrestler again soon enough and formed the Evolution group (a spiritual successor to his famous Four Horsemen group) with Triple H. In May 2003 on an episode of Monday Night Raw in "Flair country" – Greenville, South Carolina, Flair challenged Triple H for the World Heavyweight Championship. The title was represented by the "Big Gold Belt" that Flair held many times as the NWA World's Heavyweight Championship and the WCW World Heavyweight Championship. Segments throughout the show touched on the real life feelings Flair had about being past his prime and the lack of confidence he had experienced in his later career before bringing it back to Flair (and the viewing audience) being convinced that he still had it in him to do this. The match is classic Flair and despite losing, showed one of the all-time greats doing what he did best. After the show went off the air, the roster came out to show respect to a genuinely touched Flair.
It's November 2007, a 58 year old Ric Flair returns after a three-month break and states that he will never retire. Mr. McMahon replies that his next loss would be his last as he would be forced into retirement. With every match potentially being his last, Flair has quite a run. With WrestleMania XXIV on the horizon Ric Flair is inducted into the WWE Hall of Fame, something unheard of at the time for an active wrestler. Flair's induction was announced on Raw by Shawn Michaels who called him "the greatest wrestler of all time" in doing so. Flair challenged Shawn to a match at WrestleMania – wanting to make his career even greater by wrestling "Mr. WrestleMania" at the event. Shawn was reluctant, not wanting to be known as the guy who ended Flair's career. Flair saw Shawn as the benchmark and didn't want to continue wrestling, if he was unable to beat Shawn.
Eventually Shawn Michaels came around to the idea and recognising that this was something that Flair needed, he accepted and promised to give him everything he needed. Of course Flair expected nothing less. It was Shawn that made the comparison of the ageing star to that of Old Yeller and this fired Flair up.
March 30, 2008 – the night of WrestleMania XXIV, the night after the Hall of Fame ceremony that saw Flair's name at the top of the marquee. The Florida Citrus Bowl (now known in 2022 as Camping World Stadium) was the stage. 74,635 people were in attendance – making this the largest crowd in North America that Ric Flair had performed in front of. (Notably Flair holds the distinction of headlining in front of the largest wrestling crowd in history opposite Antonio Inoki – 170,000 – at New Japan Pro Wrestling and WCW's 1995 Collision in Korea event in Pyongyang, North Korea). At the time the event came in third for all time professional wrestling pay-per-view buy rate. Just prior to the match, Flair was approached backstage by interviewer Mike Adamle for comment. When asked what his game plan was he simply replied, "To be the man."
A video montage of Flair's career played to Fuel's song Leave the Memories Alone. Shawn Michaels entered and then a hush came over the arena. "Wooooo!" came over the PA system followed by the familiar sounds of the opening section of Richard Strauss' Also Sprach Zarathustra. Out walked a man in a blue robe. This wasn't the ageing wrestler who had struggled with confidence issues. This wasn't some old dog looking to be put out of it's misery. The Nature Boy Ric Flair, looking more sure of himself than he had in years. This was the man. As he came down the ramp, the sky lit up with fireworks (one of the perks of an outdoor arena).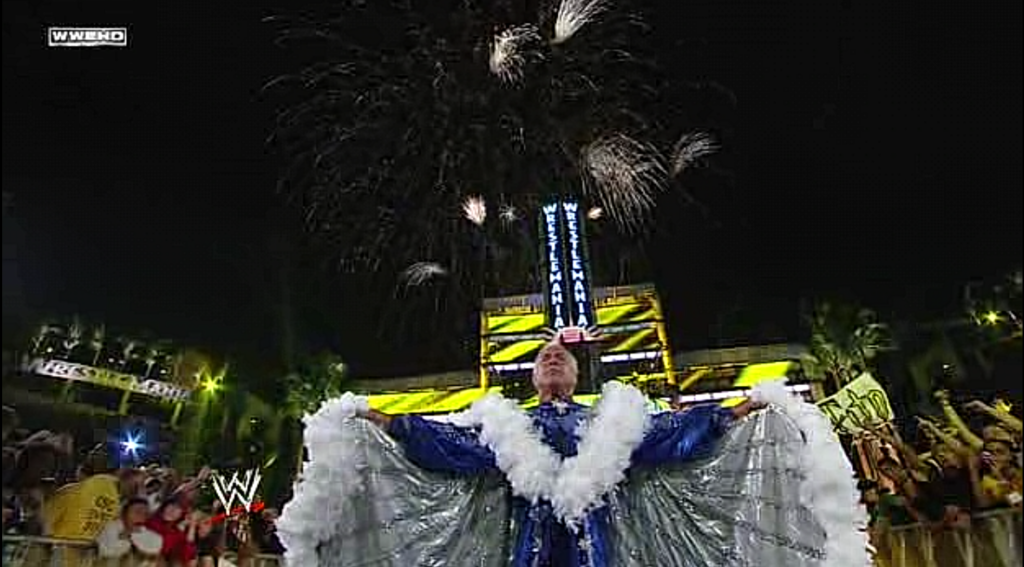 In the ring was a focused Shawn Michaels, knowing what he was there to do and trying not to get wrapped up in the grandeur and gravitas of the moment. Beside him was referee Charles Robinson. Robinson was the perfect man for this occasion given that he grew up idolising Flair and once worked as the referee of Flair's Four Horseman, aptly nicknamed Little Natich. Flair walked past his family at ringside. Sons David and Reid – both wrestlers themselves, as well as daughters Megan and Ashley. Ashley would go on to be better known to the world as Charlotte Flair and headline future WrestleManias. Notably she also has worn a robe made from the one Ric wore here.
The two men stood across from each other, their third televised singles match. The first was a win for Flair at the 2003 Bad Blood pay-per-view in Houston, Texas. The second was a win for Shawn at a 2005 episode of Monday Night Raw in Japan's Saitama Super Arena. After an even opening here, Flair backed Shawn into the corner and was pushed away. Flair pushed back, questioning the Old Yeller reference. Shawn slapped him. Hard. "You want it, you got it". The slap caused Flair to bleed from the mouth.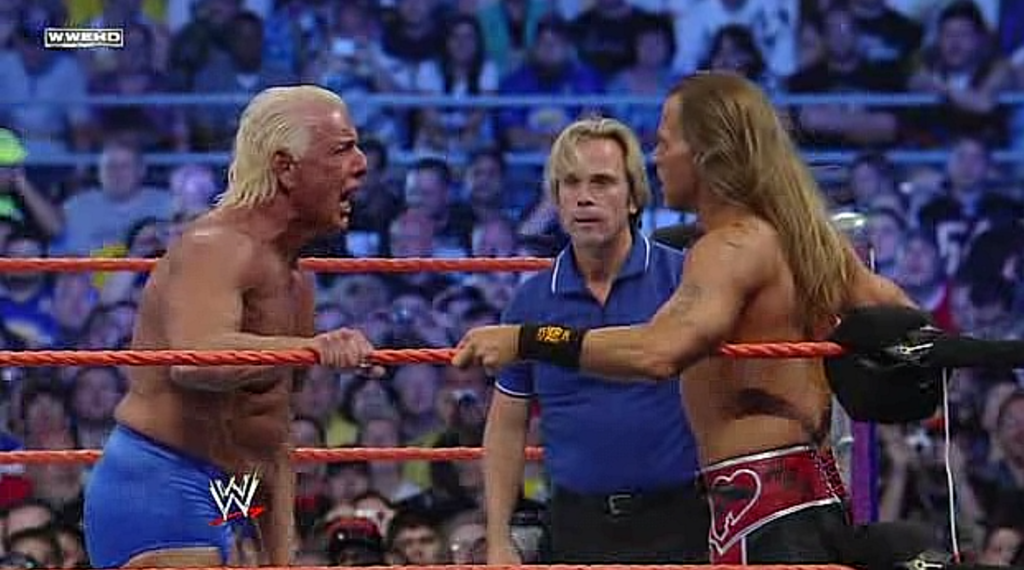 The two traded strikes and of course chops in the corner to a chorus of "Woooo". At one point Shawn ascended the turnbuckles, but was caught and launched by Flair in a situation reminiscent of many a Flair match over the year. Flair went up and managed to land a cross body on Shawn. Very rare that this tactic would pay off.
After an early knee attack and figure four attempt, Shawn kicked Flair off and to the outside. Shawn attempted an Asai-style moonsault to the outside but Flair dodged and Shawn found only the announce table. This would prove to be Flair's opportunity to take control. Flair reached deep into the back of tricks and nailed Shawn with an impressive stalling suplex. Once again Shawn sent Flair outside and Mr. WrestleMania added another one to the highlight reel with a top rope moonsault. There was contact, but not enough to stop Flair being the first back in.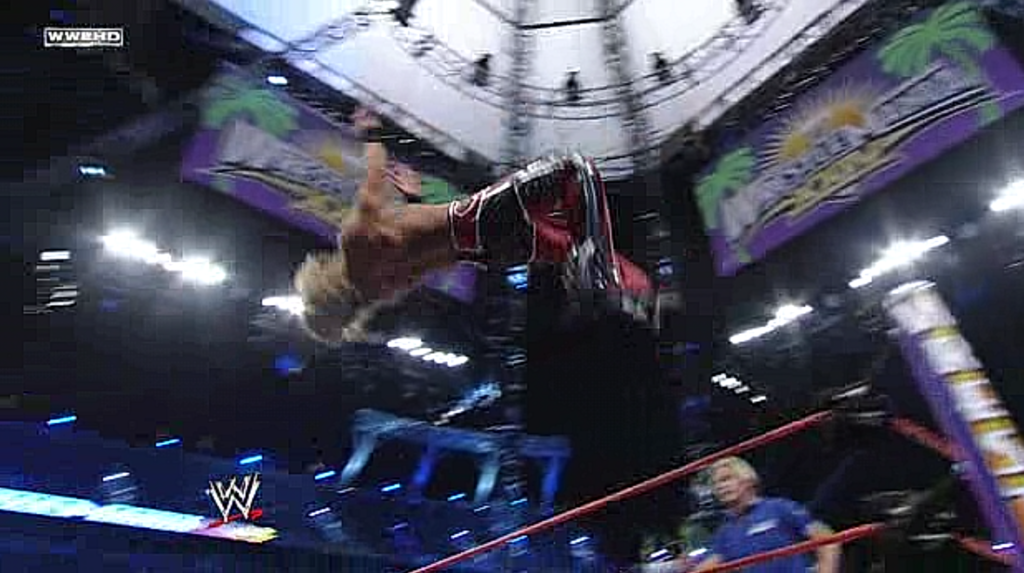 Shawn would wrest the advantage and head up top once again, this time with his signature elbow drop. It was at this point the result became clear. The crowd started audible fearing what was to come. Shawn began stomping, the set up for his Sweet Chin Music superkick but as Flair entered the firing line, Shawn was unable to follow through with the kick. Flair saw his opportunity and locked on the Figure Four. Shawn reversed it and Flair broke quickly. Given that crowd seemed to accept the inevitable, every counter and piece of offence by Flair drew a loud reaction. A little more legwork and an enzuigiri countered to another Figure Four. Shawn made it to the ropes, but had to fight for it. Flair broke the hold and began to show his trademark signs of cockiness as he took a small breather and contemplated his next move. He turned back to Shawn and ate a surprise superkick. Shawn couldn't cover immediately and in the time it took him to do so, Flair managed to dig deep enough to kick out.
Shawn found the corner and began "tuning up the band" for another round of Sweet Chin Music. Flair was slow to rise and Shawn went over, yelling at him to get up. Flair did, slowly and Shawn's unfortunate positioning allowed "the dirtiest player in the game" to sneak in a cheap low blow undetected. Shawn came back again, this time with his own figure four. Flair found ropes and removed a turnbuckle pad in the process. As the referee tended to the scenery, a cheap shot to the eyes, a roll up, an alleged handful of tights and a two count.
Once again the two traded chops. Two gunslingers firing back and forward before a second surprise superkick connected and ended the exchange. Shawn drew himself to the corner, in position for another round of Sweet Chin Music. But he didn't stomp. He lamented. He knew that with their relative states, if this connected – that was it. Flair rose, challenging Shawn to bring it. Shawn looked at him and famously mouthed the words, "I'm sorry, I love you", before delivering the final blow. 3 seconds later, one of the greatest careers in the history of the sport came to an end. The job was done and Shawn was able to break the facade that he'd built for the occasion, he embraced Flair, kissed him on the forehead and then departed – turning the stage over to the Nature Boy.
Flair rose to his feet. He was in tears. Charlotte was in tears. David was in tears. Reid was in tears. Many fans in the building, and many more watching on where in tears. A "Thank you Ric" chant started and 74,635 expressed their appreciation. As Flair departed, he looked like he had accepted that it was over. He acknowledged the crowd on the way back and gave a final wave to a rousing applause before heading back to presumably a number of his peers waiting to congratulate him.
As Jerry Lawler pointed out, Old Yeller wasn't put down because he was old – but because he had rabies, and likened Flair's offensive drive to that of a rabid dog. Another parallel can be drawn in not only Yeller's case – but many cases of putting an animal down, it is to end their suffering and allow them to find peace. At now 59 years of age, Ric Flair had struggled many times over his career with crises of confidence. His body – though actually in fairly good shape for someone of that age who'd had the career and lifestyle he'd had – was wearing down and in reality he didn't really have anything left to prove. In this final run though, it seemed that he did need to prove something to himself, something that could be likened to a form of suffering. In ending his career here with one final shining moment and allowing him to go out on top – he was afforded the opportunity to find his peace.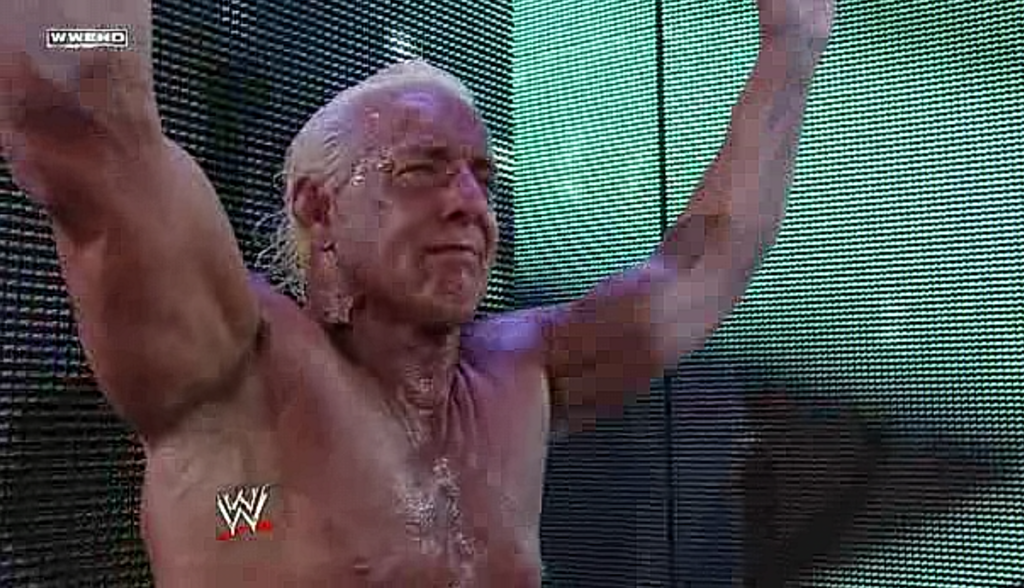 Unfortunately, the tale does not end here.
A year later Hulk Hogan and Eric Bischoff promoted the Hulkamania: Let the Battle Begin Tour in Australia, which was the first tour of a planned series. On the 21st of November at the tour's opener in Melbourne – Flair (now 60) came out of retirement to wrestle Hogan (56). Flair lost to Hogan here. Just as he did on the 24th in Perth. And the 26th in Brisbane. And the 28th in Sydney. The event failed to draw any significant crowds and was deemed a failure.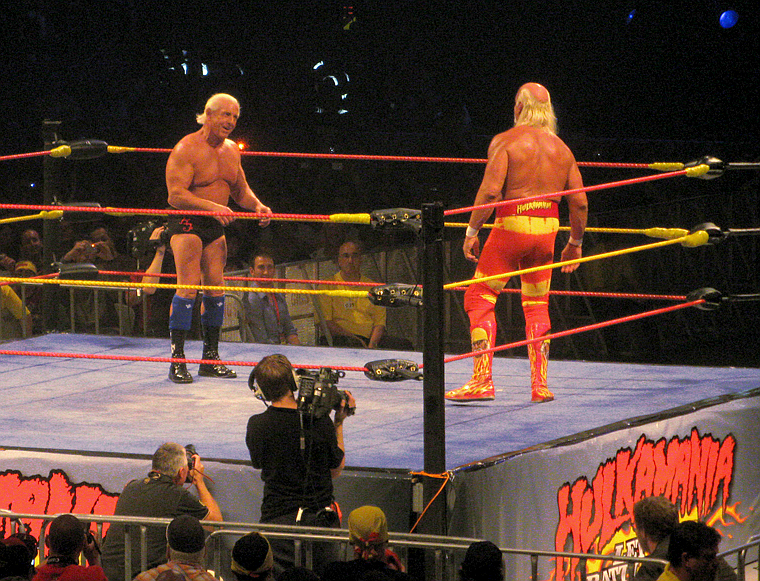 In January 2010 Ric Flair appeared in Total Nonstop Action Wrestling (now Impact Wrestling) and began managing. The men he managed; AJ Styles, Bobby Roode, James Storm, Desmond Wolfe (Nigel McGuinness) and Frankie Kazarian would became known as Fourtune – the next step in The Four Horsemen's legacy. Flair wrestled another 11 matches while in TNA before wrestling his old rival Sting on an episode of their weekly television show – Impact. Flair tore his left triceps in this match and would not return to in-ring competition, making this his final match. In 2012 after Jerry Lawler – who is the same age as Flair – had a heart attack on-air while commentating Monday Night Raw weeks after wrestling a match – Flair declared that he would never wrestle again.