Music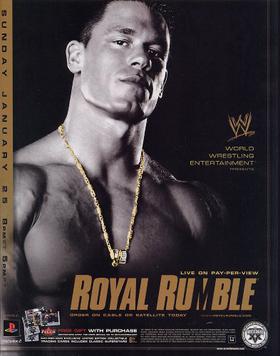 Roadtrip Music: Nothing Left to Lose by Puddle of Mudd (WWE Royal Rumble 2004)
It's Rumble season and we're not just stopping at a podcast episode. This week on the Roadtrip we're taking a look not at a wrestler theme but an event theme.
The year is 2004, we're well and truly entrenched in the brand split. The titles had been split up and both Raw and Smackdown were pretty isolated. They came together for the Royal Rumble – 15 men from each brand. This was the second rumble of the brand split and the first year a Smackdown wrestler won it and fought for the Smackdown title (Brock Lesnar).
I'm pretty high on this Rumble due to it being the first one I watched the build-up to. As I mention every time we do a podcast on a show between 1997 and 2002 – I didn't have access to the WWE weekly TV until mid 2003. I was watching both shows at this point. Back then PPVs were almost strictly held on Sunday nights which meant Monday mid-morning here in Australia. Luckily for us the Monday that this show aired fell on a public holiday. Australia Day.
I had two strong picks to win the thing going in, both on the Smackdown side. John Cena and Chris Benoit. Cena was gaining momentum with his rapper gimmick and really peaking at the top of the midcard. He didn't win the match but won the US title at WrestleMania XX so it wasn't a bad pick. Benoit was pushing for a title shot but constantly being held down by GM Paul Heyman. He teamed with Cena in a handicap match against the FBI to get in but Heyman ended up forcing him into the number one spot.
Benoit would enter at number one and go on to win the match after eliminating Big Show, becoming the second person to do this after Shawn Michaels in 1995 and set a longevity record at 1:01:30. Triple H and Shawn Michaels fought over the Raw title at the event and ended in a draw. This led to Shawn wanting a rematch, not getting it and Benoit coming across from Smackdown to exploit the loophole in it not being defined which title the Rumble winner fought for. Before signing the contract for the match, Shawn superkicked Benoit and signed his own name in his place which led to a three-way. I'm not up to date on contract law but it seems legit. Benoit went on to win that match.
The next week on Smackdown they had a 15 man Rumble to determine who would fight Lesnar for the Smackdown title at No Way Out featuring the 15 men that entered on the Smackdown side. With the changes of Hardcore Holly (fought Lesnar unsuccessfully at the Rumble, replaced an injured Matt Morgan) and Eddie Guerrero (fought Chavo at the Rumble, replaced the defecting Benoit). Eddie won this match and the title match. This is how both men became champions leading to the embrace at the end of the show.
Now, for the Canadian elephant in the room. Benoit. Obviously I'm not condoning the murder business. I'm writing about a wrestling event I enjoyed 19 years ago and he happens to be a key part of it. Some people can't/won't watch his stuff and that's fine. WWE barely mention this event for obvious reasons. The winning from #1 is normally referred to as "two guys did it, Shawn Michaels was one". Edge has also done it since. The longevity record was broken by Rey Mysterio Jr. in 2006, before erasing Benoit from history was intentional.
Controversy aside – the theme song for this is great. Nothing Left to Lose by Puddle of Mudd from the 2003 album Life on Display. According to Wikipedia the album sucked, and as I've listened to it in the background while typing this I don't have too many arguments. But I like this song. And a fun fact: It was the first song I listened to on an MP3 player.