Music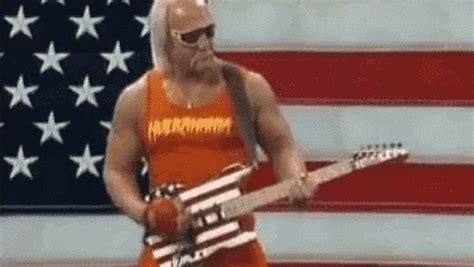 Roadtrip Music: Real American by Rick Derringer (Hulk Hogan, Mr America, The US Express)
It's the 4th of July and really – there was only one option when it came to this week's post.
Real American is one of the most iconic songs in wrestling and to many – forms part of the soundtrack to their childhood. If there ever was a Great Wrestling Songbook – this would be a first ballot entry. (Hmmm…. there's an idea).
Rick Derringer is a guitarist and music producer that has worked with a number of high profiles names (Cyndi Lauper, Bonnie Tyler, Weird Al Yankovic, Meatloaf, KISS, Edgar Winter Group to name a few). He had a hit of his own with Rock and Roll Hootchie Coo in 1974.
As Vincent K. McMahon took the reigns of the World Wrestling Federation and began building an empire based on Rock 'n' Wrestling, music became a bigger emphasis in the promotion and McMahon brought in Rick Derringer to produce 1985's The Wrestling Album.
That album contained Real American the theme of Barry Windham and Mike Rotundo – The US Express. After a year in the promotion, Windham left and the song found it's way to Hulk Hogan where it stayed until he left in 1993.
For more information about Hogan – check out Greg's comprehensive profile.
Hogan returned to the renamed WWE in 2002 and after a brief stint in the black and white of the NWO, the red and yellow of Hulkamania returned and he was once again a Real American (even donning a mask as the Patriot-esque Mr America character for a time in 2003).