Profiles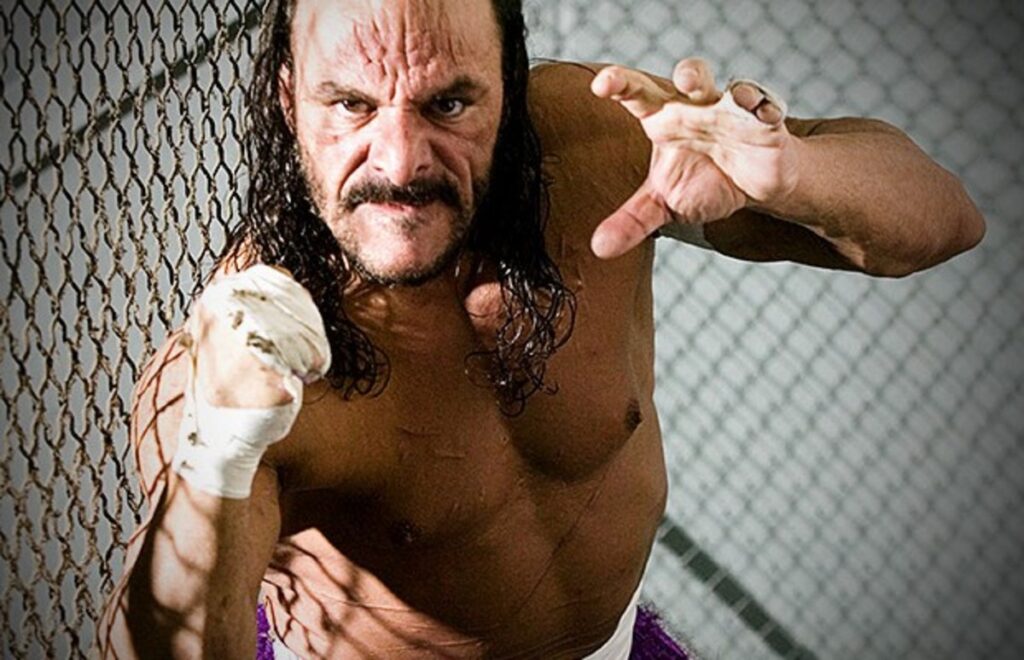 Sabu Profile
Born: December 12, 1964 (Terry Brunk) | Birthplace: Staten Island, New York
Billed Hometown: Bombay, Michigan / Saudi Arabia | Billed Weight: 235 lbs
Other Aliases: Sabu the Elephant Boy, Terry SR, Terry Brunk, Samu

The future Sabu was trained by his uncle The Sheik, one of the most notorious rulebreakers in professional wrestling. After a long process of training and refereeing, he debuted for The Sheik's promotion (Big Time Wrestling) in 1985. Billed from Saudi Arabia, he went under the name "Sabu the Elephant Boy," before becoming simply, "Sabu." The name came from The Sheik, who was a fan of the 1942 film "The Jungle Book," in which the lead role of Mowgli was played by Indian actor, Sabu Dastagir. While in Big Time Wrestling, he also went under the name Terry S.R.
Throughout the 1980s, he worked for a variety of smaller promotions in Michigan, Memphis, Ohio, Canada and Hawaii, the latter of which he wrestled under his real name, Terry Brunk. Much like his uncle, he carved out his own wild and crazy in-ring style, despite being trained as a technical wrestler. Also like The Sheik, he never did interviews throughout his career, right up until near the end when he worked for WWE.
In 1991, he made some appearances for the USWA under the name Samu, the same year he began a long relationship with Atsushi Onita's Frontier Martial-Arts Wrestling in Japan. It was in FMW working numerous barbed wire matches that he accumulated the deep, noticeable scars that covered much of his torso.
In an infamous FMW bout on May 6, 1992, Sabu teamed with The Sheik against Atsushi Onita and Tarzan Goto in a fire deathmatch. The ropes were replaced by barbed wire, and thick sheets were soaked in gasoline and wrapped around the wire at various places. When the sheets were set alight, it took only a minute for the flames to get out of control and the match was called off. Sabu, Onita and Goto managed to get out of the ring, but The Sheik was trapped and would end up with burns to sixty percent of his body.
Throughout his FMW tenure, he teamed with Tiger Jeet Singh, Horace Boulder (Horace Hogan) and The Gladiator (Mike Awesome). After working some matches against Eiji Ezaki, Sabu passed the torch on August 28, 1994, when Ezaki debuted the Hayabusa character. This was Sabu's last match for FMW until returning in 1997.
He debuted for the then-NWA Eastern Championship Wrestling on the company's NWA Bloodfest show on October 1-2, 1993. He defeated fellow wildman The Tazmaniac on night one of the event, and then moonsaulted a table until it was smashed to pieces. On the second night, he took the place of The Sandman, who had been attacked backstage, and pinned Shane Douglas for the ECW Heavyweight Title. He would hold the belt until December 26, when he lost to Terry Funk.
In this first appearance and other early matches in ECW, Sabu was given a Hannibal Lecter gimmick. He was brought to the ring strapped to a stretcher by his 'handler' 911, with a Hannibal Lecter mask that was removed when it was time to wrestle. Sabu disliked the gimmick, as all the thrashing about and rampaging through the crowd made him tired before the match had even started (when the arenas were half full, Sabu was allowed to throw chairs around the building). Paul E. Dangerously (Paul Heyman) would soon become his mouthpiece to complete the package.
The same month he started with ECW, he worked three dark matches for the World Wrestling Federation, scoring a win over Scott Taylor, a loss to Owen Hart and another win over Taylor. He saw these simply as pay days and had no interest in signing.
In what would be an historic match in ECW's history, Sabu competed in the first three-way-dance at The Night the Line was Crossed (February 5, 1994). Up against Terry Funk and Shane Douglas with the Heavyweight Title on the line, the bout ended in a sixty-minute time limit draw, with fans standing up and applauding the effort of all involved.
On the May 31, 1994 edition of Hardcore TV, Paul E. Dangerously announced that Sabu would face Onita in the main event of Hostile City Showdown, to take place on June 24. However, he was informed that it would not be Onita, but Cactus Jack (Mick Foley). Foley was on loan to ECW from WCW as part of a legal settlement. The match was billed as being a "hardcore inter-promotional dream match." Sabu scored the win when Dangerously blasted Cactus in the head with his cell phone, which led to a mass brawl involving several wrestlers.
Sabu lost by count-out to Chris Benoit on the September 20, 1994 edition of Hardcore TV. A rematch was made for November to Remember, but only lasted a couple of minutes, when Sabu was launched into the air and landed directly on his head, suffering the first of two broken necks in ECW. The second occasion would take place during a match with Taz at the end of 1998, when he took a Taz-plex through a table.
He debuted for New Japan on December 24, 1994 with a win over Shiro Koshinaka, and teamed with Masahiro Chono on the big January 4 Tokyo Dome show in 1995, in a winning effort over Junji Hirata and Tatsumi Fujinami. He would go on to work sixty-five matches for the promotion. On May 3, he defeated Koji Kanemoto for the IWGP Junior Heavyweight Title, before dropping it back to Kanemoto on June 14. He also held the UWA World Junior Light Heavyweight Title for a week after beating Gran Hamada on November 23, and losing to El Samurai on December 1. He made his final appearance for New Japan on December 11 when he teamed with Hiro Saito against Dean Malenko and Wild Pegasus (Chris Benoit) in a losing effort.
Sabu and The Tazmaniac would become a tag team when both came under the guidance of Paul E Dangerously. They feuded with Tag Team champions Public Enemy, whom Sabu had real beef with due to their use of tables, which Sabu felt was his hallmark. At the ironically named "Double Tables" show on February 4, 1995, Sabu and Tazmaniac defeated Public Enemy for the titles. After the match, Sabu was attacked by Chris Benoit, which led to a bout against Benoit and Malenko on February 25, which they lost when Benoit powerbombed Sabu off a table laid across the top rope.
A three-way feud now emerged over the Tag Team titles when Benoit and Malenko called out Public Enemy, and the first tag team three-way was set for April 8. However, Sabu chose to work for New Japan that night, as he was receiving more work – and money – from them, as opposed to ECW which was a once a month gig. Heyman publicly fired Sabu at the top of the show, but kept the door ajar by promising the fans he would bring him back if they demanded it.
During his sabbatical from ECW, Sabu turned up in WCW of all places and worked several short matches. The first took place on the second episode of Monday Nitro on September 11, 1995, where he defeated Alex Wright, only to have the decision overturned when he put Wright through a table. He pinned Mr. JL (Jerry Lynn) on the October 9 Nitro, and won the rematch at Halloween Havoc in Detroit, which featured an appearance from The Sheik, who threw a fireball at JL after the match. Sabu's final appearance took place on the October 30 Nitro with a victory over Disco Inferno. He was brought back to ECW starting on November 18, where he defeated Hack Myers in a one-sided bout at November to Remember 1995.
In the summer of 1996, another Sheik trainee – Rob Van Dam – made his ECW debut. The background of Van Dam's training and relationship with Sabu was acknowledged, but when Sabu tried to show respect after their first match, Van Dam simply walked away. This started a memorable rivalry between the two, but after a series of bouts – including a stretcher match at The Doctor is In – the two agreed to form a team after Sabu defeated Van Dam on September 13, 1996. They feuded with Doug Furnas and Dan Kroffat (Phil Lafon) before moving onto ECW Tag Team champions, The Eliminators (Saturn and Kronus), but they were unable to lift the belts.
Jerry Lawler called out ECW on the February 17, 1997 edition of Monday Night RAW, and challenged them to turn up to the Manhattan Centre. "The King's" challenge was accepted by Paul Heyman the following week, and several matches featuring ECW talent took place. At the conclusion of Taz's win over Mikey Whipwreck, Sabu dove – or fell – off the RAW sign onto Team Taz.
For over a year, Taz called out Sabu, challenging him to a fight, but got no response. Finally all the build-up led to the match taking place at ECW's first pay-per-view Barely Legal, on April 13, 1997 at the ECW Arena. In what was billed the "ultimate grudge match," Taz won by submission. Taz thanked Sabu for giving him the fight of his life and asked for a handshake, which was reciprocated. Rob Van Dam appeared and attacked Taz, and Sabu then joined in. Taz's manager Bill Alfonso walked away with Sabu and Van Dam after removing his Team Taz shirt and revealing a Sabu shirt underneath.
Sabu and RVD spoiled Tommy Dreamer's night at Wrestlepalooza on June 7, after Dreamer had finally got a pinfall victory over Raven. The lights went out three times, each time bringing someone else out, beginning with RVD and then Sabu. Finally, in arguably the most heated moment in ECW's history, Jerry Lawler appeared in the ring. Sabu and RVD become the ultimate heels by aligning with Lawler against their own company. All three beat down Dreamer and held the locker room at bay until Taz arrived. A match then took place between Sabu and Taz which Sabu won when Taz locked in the Tazmission, but Sabu managed to roll his shoulders onto the mat for a three count while Taz continued to keep him in the hold.
Lawler returned to the Arena – this time with noted ECW critic Jim Cornette – on June 28, where Sabu and RVD defeated Dreamer and The Sandman until Taz again made the save. They scored another notable victory at Heatwave on July 19 in a six-man steel cage match after Dreamer and Sandman had Rick Rude team with them, only for Rude to swerve them and make it a handicap match. Sabu, Van Dam and Lawler predictably beat Dreamer and Sandman again and continued the assault until Taz chased Sabu and Van Dam out of the cage, leaving "The King" to his fate.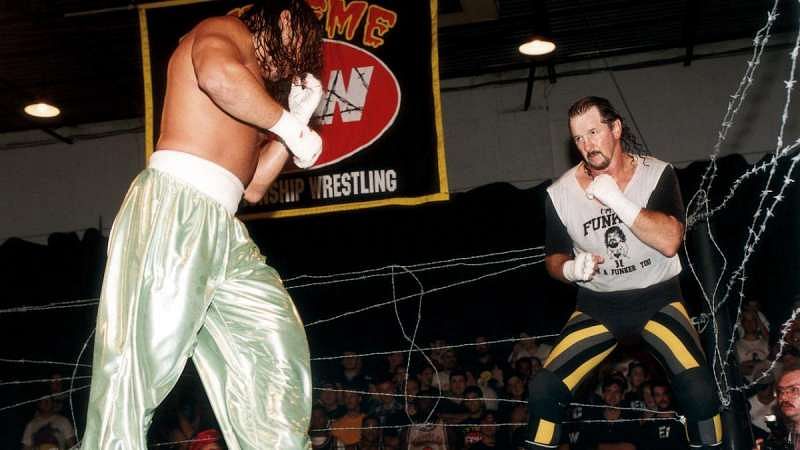 Sabu became a two-time ECW champion on August 9, 1997 when he faced Terry Funk in familiar surroundings – a barbed wire match. In what was described as a bout "too extreme even for ECW," both men ended up tangled in a ball of wire. In the middle of the bout, Sabu suffered a terrible injury while performing Air Sabu in the corner, when the wire tore open his bicep. Funk almost lost his sight due to an errant strand of wire.
He held the title until August 17's Hardcore Heaven pay-per-view, when he was eliminated in a revisiting of the original three-way dance with Funk and Douglas, due to interference from The Sandman. Earlier, Sandman had been hospitalised by Sabu and Van Dam, but managed to return in time to cost Sabu.
Sabu faced Mankind (Mick Foley) on September 11 on Terry Funk's WrestleFest in Amarillo, Texas, which saw wrestlers from ECW, the WWF, Japan and other legends come together to celebrate Funk's career, which was supposedly coming to an end once he finished his match with Bret Hart. Sabu lost his bout by disqualification.
In late-1997, ECW began a working agreement with FMW, and the first tour of ECW took place from December 19-22 in four different venues. Sabu appeared on the final day at Korakuen Hall, and pinned The Sandman.
Sabu burned Sandman with a fireball in their match on September 20 (As Good As it Gets), which led to a no-contest. He suffered a broken jaw in a 'Stairway to Hell' match with Sandman when he missed a dive and hit the guard rail. As he did in the barbed wire match with Funk, he called for some tape from Alfonso and continued, until Sandman hit him with the Singapore cane to get the three count. Sabu tried the same fire tactic against Sandman at November to Remember, but missed. He still went on to pin Sandman after an Arabian Facebuster. The feud came to a close when Sabu defeated Sandman in a Dueling Cane match at Living Dangerously on March 1, 1998 after help from Van Dam.
Sabu and Van Dam finally became Tag Team champions when they defeated Lance Storm and Chris Candido on June 29, 1998. Perhaps their most notable match as champions was on the Heatwave pay-per-view, where they defeated FMW's Hayabusa and Jinsei Shinzaki in a tag team dream match. Their reign ended on October 24, when they lost to The Dudley Boys after interference from The Triple Threat.
Due to their shared dislike of The Triple Threat, Sabu agreed to team with Taz (and Van Dam) to a winning effort over the faction (Shane Douglas, Bam Bam Bigelow and Chris Candido) at November to Remember (November 1, 1998). On December 13, Sabu and Van Dam defeated The Dudley Boys on a combined ECW/FMW show in Korakuen Hall to become two-time ECW Tag Team champions.
Before the month was out, Sabu also claimed the "unrecognised" FTW Heavyweight Title in unusual circumstances on the December 19 edition of Hardcore TV, when Taz allowed Sabu to pin him. It was a belt paid for by Taz due to his frustration over being ducked by World Heavyweight champion Shane Douglas, and thus had his name displayed on the front plate. To fix that, Sabu simply put white electrical tape over Taz's name and wrote "SABU" in black sharpie. At Living Dangerously on March 21, 1999, the FTW and ECW World Heavyweight titles were unified when Sabu lost to now-ECW World champion, Taz.
Problems arose again between Sabu and Heyman, and he walked out after being asked to lose to Super Crazy. Several months of inactivity followed when Heyman prevented him working anywhere else, which included WCW, who first announced he was signed than balked when Heyman claimed he had Sabu under a binding contract. He was finally brought in to have one final match, a losing effort against Rob Van Dam at the Guilty as Charged 2000 pay-per-view on January 9.
After ECW, he worked independents, including Xtreme Pro Wrestling, where he became their Heavyweight champion on April 29, 2000 when he beat The Messiah in a tournament final. The title was taken from him when he did not appear on their May 26, 2001 card. He also returned to All Japan in 2000, having previously worked there in 1996-97 (in the same time period, he also worked matches for Big Japan). In February 2002, he went back to FMW until the promotion closed the same month.
Shortly after, he appeared for World Wrestling All-stars, and wrestled Devon Storm (Crowbar) on the Revolution pay-per-view in Las Vegas (February 24), and in a steel cage at Eruption in Sydney, Australia (April 13). Sabu also appeared on the company's Retribution pay-per-view in Glasgow, Scotland (which aired in February 2003) in December, and their fourth and final pay-per-view Reckoning, in Auckland, New Zealand on May 25, 2003.
Sabu debuted for NWA:TNA on July 17, 2002 and defeated Malice (formerly The Wall in WCW) in a ladder match. The following week, a ladder match with Ken Shamrock was made a no-contest when Malice interfered. He later teamed with Raven and feuded with Abyss and Monty Brown, but Raven was an unreliable ally. Tensions built and led to Raven challenging Sabu to a match, but Sabu refused until Raven assaulted his friend, Sonjay Dutt. Sabu lost to Raven on August 4, 2004, and a planned rematch was canceled when Sabu suffered a back injury.
On top of the injury, Sabu also contracted a virus which kept him out of the ring for ten months. A benefit show was held on December 12, and enabled him to cover his medical bills. On June 10, 2005, the third version of the original three-way dance took place at Extreme Reunion (Hardcore Homecoming) in the ECW Arena, only with barbed wire and Mick Foley as guest referee. Sabu – who was managed once more by Bill Alfonso – triumphed over Douglas and Funk. Remarkably, Sabu backed up the performance two days later for WWE's version of an ECW reunion show (One Night Stand) by defeating Rhyno. Due to the success of the first Hardcore Homecoming, several more shows were presented, up until November 5, with Sabu appearing on all of them.
He returned to TNA on July 29, 2005 and teamed again with Raven in a losing effort against Jeff Jarrett and Rhyno at the Sacrifice pay-per-view. The feud was back on between Sabu and Abyss, along with Rhyno. After a series of losses to Abyss, Sabu finally scored a victory over him in a Barbed Wire Massacre match at Turning Point (December 11), but then disappeared from the promotion for several months. He came back and faced X-Division champion Samoa Joe at Lockdown on April 23, 2006, and was then released shortly after.
Sabu then signed a one year deal with WWE. At One Night Stand 2006 (June 11), Sabu challenged WWE World Heavyweight champion, Rey Misterio, which ended in a no-contest when both men crashed through a table. In 2001, Titan Sports had purchased the rights and trademarks to Extreme Championship Wrestling, and after the success of The Rise and Fall of ECW DVD and the two One Night Stand pay-per-views, they decided to launch ECW as their third brand on the Sci-Fi Network.
On the premiere of ECW on Sci-Fi, Sabu won a ten man battle royal to earn the right to face John Cena at Vengeance (June 25, 2006). Sabu made an impression on Cena by putting him through the announce table the following week on RAW, but still lost at Vengeance in a lumberjack match.
Sabu and Van Dam were arrested on July 2 while travelling back from a house show in Huntington, West Virginia. They were charged with possession of drug paraphernalia and possession of a controlled substance (Vicodin). He pled guilty to the possession of a controlled substance charge, while the other charge of possession of drug paraphernalia was dropped. He was given a suspended sentence of ten days jail and a five-hundred dollar fine, and fined one thousand dollars by WWE under the terms of their Wellness Policy.
For the first time in his career, Sabu did promos, where he demanded a shot at The Big Show's ECW World Heavyweight Title. Paul Heyman – now the manager of Big Show – instead made him wrestle Kurt Angle in a number-one contenders match, which was broken up by a returning RVD. A three-way dance was then booked pitting Sabu against Angle against RVD, but it became a singles match due to Angle being injured. Sabu defeated Van Dam in a ladder match, but lost to The Big Show for the belt at Summerslam.
Sabu was a part of Team Cena at the Survivor Series, where he eliminated Test but was then pinned by The Big Show. He was originally scheduled to be in the main event Elimination Chamber match at the December to Dismember pay-per-view, but the spot ended up being taken by Hardcore Holly. He appeared in the Royal Rumble on January 28, 2007, but was choke-slammed over the top rope through a table by Kane.
He became a part of an ECW Originals faction that feuded with The New Breed, and was on the winning team at Wrestlemania XXIII, but he was pinned in the rematch on the April 3 episode of ECW on Sci-Fi. His final match for the company took place on May 1 in a fatal four-way, which Van Dam won, and was released on May 16.
He returned to the independent scene and had a couple more short runs with TNA. Sabu lost to Van Dam on August 8, 2010 at Hardcore Justice and was a part of the Extreme Version 2.0 group. They feuded with Ric Flair's Fourtune stable, and culminated in Sabu being released after being pinned by AJ Styles at Turning Point on November 7, 2010, as per a pre-match stipulation. Now under the name Impact Wrestling, Sabu worked sporadically for them throughout 2019.
In November 2014, Sabu started being managed by female bodybuilder and wrestler, Melissa Coates, who went under the name "Super Genie." She developed blood clots in her left leg at the end of 2020 and had to have her leg amputated above the knee. Sadly, she passed away on June 23, 2021. Sabu announced his retirement on November 5, 2021.