History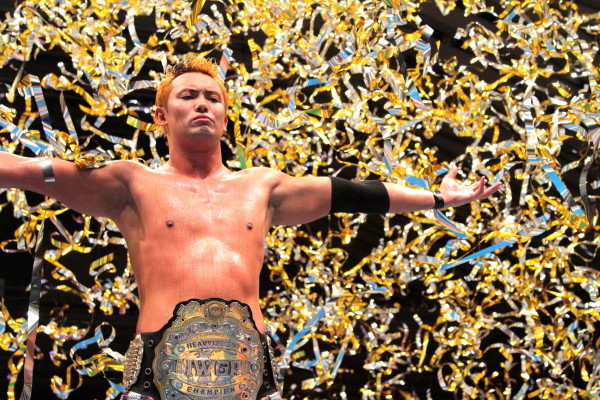 720 Days – Kazuchika Okada's 4th IWGP Title Reign (NJPW, 2016-2018)
On June 19, 2016 at New Japan Pro Wrestling's Dominion 6.19 event in Osaka-jo Hall Kazuchika Okada defeated Tetsuya Naito to capture his fourth IWGP Heavyweight Championship. What followed was a reign that cemented Okada's position at the top of the company, one of the greatest title reigns of the modern era, both for longevity and match quality. Star ratings are taken from Dave Meltzer's Wrestling Observer newsletter.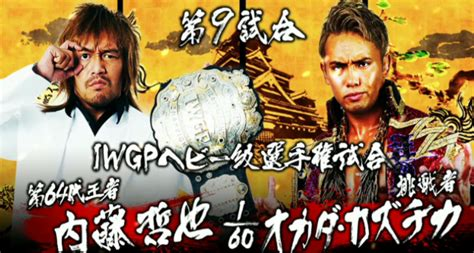 2016/06/19 – Tetsuya Naito © vs. Kazuchika Okada at Dominion 6.19 in Osaka-jo Hall. ****1/2
For five years only three men held the IWGP Heavyweight championship. Kazuchika Okada, Hiroshi Tanahashi and AJ Styles. After defeating Hiroshi Tanahashi in the finals of the 2013 G1 Climax tournament, Tetsuya Naito chanced adding his name to the list at Wrestle Kingdom 8. The match was set to headline the event but due to a fan vote, it went on second-last behind Tanahashi and Shinsuke Nakamura's IWGP Intercontinental clash. Okada won that match and Naito would have to wait another two years for another opportunity. During this time Naito had grown disillusioned with the company and his role as a white-meat babyface in it. After a tour of Mexico he changed his attitude and became a laconic ungovernable anti-hero. This proved the secret to success as he won the New Japan Cup in April 2016 which granted him another chance, again at Okada. Naito became the 64th IWGP Heavyweight champion. It was finally his time.
Or was it? After a successful defence against Tomohiro Ishii at the Wrestling Dontaku event, Okada was waiting in the wings for a rematch – which he earnt by defeating SANADA in the match before Naito's. The two were 1-1 in Heavyweight title matches and this would prove to be a decider of sorts.
Notably, this match took place in Osaka. It was in Osaka that Okada defeated Tanahashi to win his first Heavyweight title. And it was Naito's triumphant return to Osaka after once claiming the next time he returned he would be Heavyweight champion. He was not, and the crowd hadn't let him forget his broken vow for years. He was finally able to stick it to the Osaka faithful, ungovernable enough to enjoy doing so – and a win here would taste extra sweet because of this.
Right from the ring introductions the crowd had made up their mind and they didn't want Naito walking out with the belt. Naito set the pace of the match which is typically is typically harder for opponents to deal with than most due to the combination of a lackadaisical base punctuated with explosive bursts of offence. After that trip to Mexico Naito was a lot more willing to take things to the outside and take a few shortcuts. But none of this was new to Okada. After all, they only wrestled two months ago. Okada was happy to roll at Naito's pace and pick his spots as Naito made mistakes. And mistakes he did make. Thanks to his obsession with the Osaka crowd he was often distracted which let off the pressure he was putting on Okada, allowing him time to recharge and regroup. Naito did fight hard, even kicking out of a Rain Maker but it wasn't hard enough. Three of the trademark lariats ended Naito's short reign. But every ending is also a new beginning. The 65th IWGP Heavyweight held his crown aloft.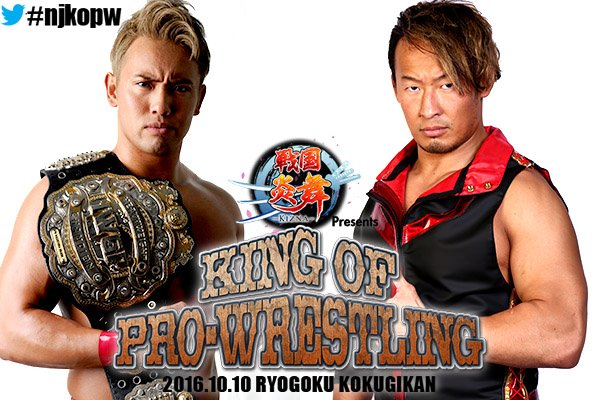 2016/10/10 – Kazuchika Okada © vs. Naomichi Marufuji at King of Pro-Wrestling in Ryogoku Kokugikan. ****3/4
After winning the title Okada had the double-edged sword of the reprieve of no defences due to the G1 Climax tournament taking place, and the challenge of wrestling in it while champion. The last man to win the tournament as champion was Kensuke Sasaki 16 years prior. The record remained in tact as Okada took a number of losses. Bad Luck Fale. Chaos stablemate Tomohiro Ishii. NOAH guest Naomichi Marufuji and a draw against Hiroshi Tanahashi. Due to his victory – Marufuji was granted a title shot. His second in history.
While Tetsuya Naito had abandoned consideration of the company and was fighting for himself, Naomichi Marufuji was the complete opposite. He entered Sumo Hall fighting for the honour of Pro Wrestling NOAH. A company emerging like an ark from a sea of disputes in management and ideology from All Japan Pro Wrestling after the death of Giant Baba. At one point, NOAH was considered to be at the same level as New Japan, however following the death of founder Mitsuharu Misawa and the departure of top star KENTA for WWE, the emerald green was fading. Prior to the match Marufuji had stated that he wanted more people to watch NOAH and taking the IWGP Heavyweight title there was one way of achieving that goal.
Naomichi Marufuji is one of the most innovative wrestlers of the 2000s and has come up with a number of unique and creative attacks. This was something that Okada was not used to dealing with as the majority of wrestlers that he'd fought to this point have come up through the New Japan dojo system and have built their style on top of what is referred to as the "New Japan house style". After defeating him at the G1, Marufuji was presented as the problem that Okada needed to solve.
The match started with a barrage of strikes that never really let up. Marufuji is also considered one of the top strikers in Japan both for variety and intensity. Aside from the stock standard elbow strikes and a magnificent dropkick, striking has never really been Okada's game. The English commentary provided by Kevin Kelly and Steve Corino made mention that once the match went beyond 20 minutes, it favoured Marufuji as Okada wasn't used to wrestling matches of that length. Also notable was Okada nearly fading to a variation of the cobra clutch, a move that he would later see success with as the Money Clip (albeit without the leg scissors Marufuji used). Marufuji also had the Rain Maker scouted and delivered a number of unique counters that others would later adopt. It was however a NOAH staple, Misawa's Emerald Flowsion from Okada that brought about the end of Marufuji with a Rain Maker thrown in for good measure. V1 achieved (In puroresu successful title defences are typically referred to as Vx with the V standing for victory, so in this case – Victory #1). In 28 minutes.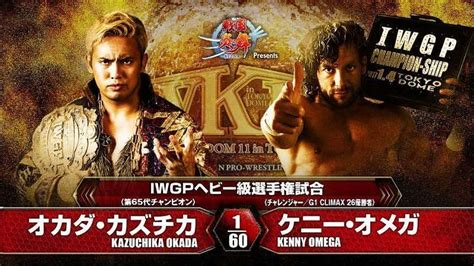 2017/01/04 – Kazuchika Okada © vs. Kenny Omega at Wrestle Kingdom 11 in Tokyo Dome. ******
Since 2012 the winner of the G1 Climax tournament earnt the opportunity to challenge for the IWGP Heavyweight title at the Tokyo Dome in the next year's Wrestle Kingdom event. The first man to do this was Kazuchika Okada who defeated Karl Anderson in the G1 and then Hiroshi Tanahashi in the Dome. Due to the result in the 2016 tournament that led to Marufuji's shot, Okada didn't make the final. Okada's A Block was won by Hirooki Goto who then lost the final to B Block winner and first non-Japanese winner Kenny Omega.
Omega had a red hot 2016. He entered the year as IWGP Junior Heavyweight champion and finished it as the next contender to the top title at the biggest show of the year. Omega held the IWGP Intercontinental and NEVER 6-Man through the year and had twelve matches rating at four or more stars. He claimed Bullet Club leadership from the departing AJ Styles. His back-to-back G1 wins over Tetsuya Naito (block final) and Hirooki Goto were two of the most-talked about matches of the year due to his explosive wrestling style which contrasted against the classical style New Japan fans were used to seeing from Okada and Tanahashi at the time.
This styles clash and New Japan's growing popularity in the west led the match between Okada and Omega to be a clash of ideologies, and a battle to see who would lead the company into the future. On one hand, the Bullet Club with Prince Devitt, AJ Styles, the Young Bucks and Omega (among others) was a merchandising powerhouse and made a directly measurable contribution towards the western expansion. On the other hand, Okada's meteoric rise from debut his series with Hiroshi Tanahashi laid the foundation that the Bullet Club were able to build on top of.
The battle for the future was one for the ages. Being the first time meeting of the two in a singles match, there was a bit of a feeling out process. As seen in the previous matches Okada is usually content to let the opponent set a pace and work from behind, picking his shots. Unlike Naito and Marufuji, Omega tends to start matches the same way. It took a while for either man to take control but Omega eventually did and decided to target his attack on the kidneys before working his way up to the neck. This was a logical strategy to setup his One Winged Angel finisher. A table was set up outside and Okada exploited an Omega mistake to launch him over the top rope from the ring to the table. From that point the match turned into an all out war – with both men consistently firing big shots at one another looking to end it. Omega never got the One Winged Angel however and it was a second Rain Maker from Okada brought an end to the contest in 46:45. While the commentary team of Kelly and Corino did once again predict that the longer the match went, the more it favoured Okada's opponent – once again Okada proved them wrong.
While Okada won the battle and steered the cerulean blue ship into the future, Omega only lost the match. His stock rose and his position among the top tier of New Japan was realised. This match was heavily lauded by journalists and fans the world over and brought considerable attention to the company, building on the platform laid years earlier by Hiroshi Tanahashi. And Kazuchika Okada.
Outside of the ring, following the event Okada was proving to be the face of the future of New Japan as he was announced in a NJPW crossover with the Tekken 7 video game. His costume would appear selectable by the luchadore character King and when equipped King would perform a Rain Maker as a special move, complete with Okada's music. He also appeared prominently as himself in the Tiger Mask W anime that New Japan collaborated with.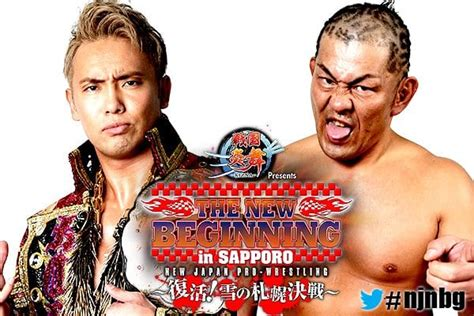 2017/02/05 – Kazuchika Okada © vs. Minoru Suzuki at The New Beginning in Sapporo. ****3/4
Back in Wrestle Kingdom 9 in 2015 the Suzuki-gun (trans. Suzuki Army) team of Davey Boy Smith, Jr., Lance Archer, Shelton X Benjamin and Takashi Iizuka was defeated by Toru Yano who was aided by a few guests from Pro Wrestling NOAH. Naomichi Marufuji and the TMDK team of Shane Haste and Mikey Nicholls. Suzuki-gun leader Minoru Suzuki took umbrage at this and declared war on NOAH, occupying the ring at one of their events. Suzuki and gun would take up residence in the promotion until the end of 2016. They returned to New Japan at New Year Dash!! in 2017 by attacking the Chaos group which included Heavyweight champion Kazuchika Okada. The statement was clear – Suzuki wanted a shot.
There was a press conference prior to the event which turned physical. Suzuki attacked Okada with a focus on the knee. Going into the match Okada's knee was visibly bandaged. Not an ideal situation to be in at the best of times, let alone while defending a world championship. Marufuji was creative. Omega was explosive. Suzuki was dangerous.
The pattern beginning to establish was that of Okada adjusting to the opponent's way of doing things, enduring it and then overcoming it. A potentially fatal strategy going into a match with an injury against mixed martial arts legend and Karl Gotch protege Minoru Suzuki. Suzuki opened up immediately attacking the knee and wrestling a style that could aptly be described as torture. Okada got some good shots in however Suzuki was dominant. If the targeted attack wasn't enough, Suzuki also gained some help from stablemates Taichi, Lance Archer and Davey Boy Smith, Jr. This didn't last long as Okada's Chaos mates Tomohiro Ishii and Toru Yano came to his aid. Manager Gedo was on the verge of ending the reign a few times, wrestling with emotion and the difficult decision whether or not to throw in the towel to spare Okada any further damage. It was a display of burning fighting spirit that saw Okada not only survive, but overcome the self-styled "King of Wrestling" to claim V3. Suzuki was quoted prior as saying he wouldn't need 40 minutes to defeat Okada. But he needed 40 to lost as the match ran 40:46.
Following the match, Okada issued a challenge to Tiger Mask W (Kota Ibushi) for the upcoming Anniversary event in March. This was a non-title match that Okada also won.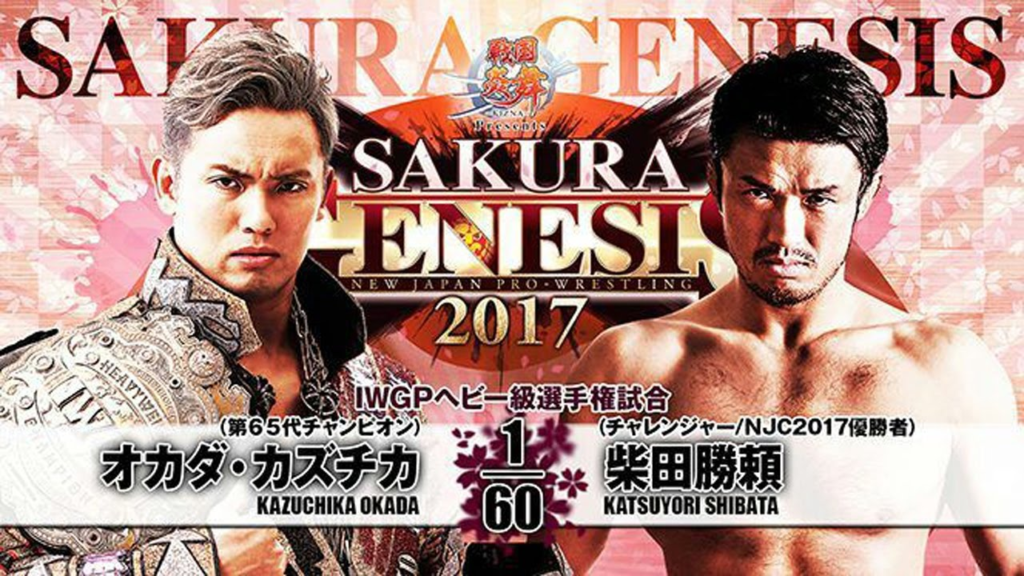 2017/04/09 – Kazuchika Okada © vs. Katsuyori Shibata at Sakura Genesis in Ryogoku Kokugikan. *****
In the early 2000s Katsuyori Shibata was considered one of the new three musketeers. The original group of Keiji Mutoh, Masahiro Chono and Shinya Hashimoto led New Japan through the 1990s and provided a future beyond Antonio Inoki. The new group of Shibata, Tanahashi and Shinsuke Nakamura was expected to do the same as the company recovered from the mixed martial arts cross pro wrestling fiasco known as Inoki-ism. The son of New Japan foundation wrestler Katsuhisa Shibata left in January 2005 before making the expected impact, claiming he did not want to just be a 'salaryman' wrestler (Note: in Japan a salaryman is akin to a career office worker in the west). He freelanced for a number of promotions before switching to mixed martial arts.
In 2012 after the purchase of New Japan by multimedia company BUSHIROAD, Shibata returned alongside MMA icon Kazushi Sakuraba. Due to his perceived desertion there were members of the New Japan roster that felt Shibata needed to prove his worth and make amends. He did this with the third generation (talent who debuted during the mid-90s at the height of the original musketeers) by defending the NEVER Openweight title against Satoshi Kojima and Hiroyoshi Tenzan before losing it to and reclaiming it from Yuji Nagata. He had a number of fiery clashes with Hiroshi Tanahashi in tournaments. Among the English-speaking fans online there was a running joke about Shibata's chances every tournament due to the long memory of Japanese institutions. The joke ran up in 2017 when Shibata won the New Japan Cup by defeating Minoru Suzuki, Juice Robinson, Tomohiro Ishii and lastly Bad Luck Fale. This granted Shibata his first title shot since 2004. It appeared that he had finally been forgiven and accepted by the establishment.
Shibata however still wrestled as if he had a chip on his shoulder. Where Minoru Suzuki was a sadistic killer, Shibata was more measured. Though he had managed to control it better leading up to this match, sometimes he would let anger get the better of him and unleash dangerous flurries of strikes. What made these dangerous was not only the intensity but the accuracy. The match was the first meeting of the pair since 2013 and Okada claimed that back then Shibata wasn't even on his radar.
Shibata dominated the early parts of the match with superior amateur wrestling. A failure to cleanly break in the corner by Okada was the catalyst for a gear shift and Shibata began to unleash furious strikes. The two were throwing at each other for the majority of the match and it was a true demonstration of what could be called a battle of wills. As was a developing pattern, Okada met his opponent where they were and realised that he couldn't claim the he beat Shibata unless he did it at his own game. Where Okada was the inferior striker, he had the stamina edge. After dishing out a brutal headbutt that cut his own career short, Shibata began to show signs of slowing down. Okada got him in the end with the all-too-familiar Rain Maker and once again reigned supreme in Sumo Hall.
Shibata was visibly struggling after the match, clutching the back of his head and refusing help to the back. On his exit, a keen eye notices the lack of control in his right arm and then he stumbles and crumples just before leaving the arena. Often people talk about leaving it all in the ring, but news after the event would show that Katsuyori Shibata actually did this. The headbutt and repeated use of it over the years resulted in a subdural hematoma that facilitated emergency surgery following the event. Dehydration due to the long match contributed to the temporary paralysis that becomes apparent upon retrospect. Shibata did not return to the ring until 2021, where he wrestled a short – strike-free – exhibition match with Zack Sabre, Jr.
Meanwhile Okada who was also spent, stood in the ring ready to address the Ryogoku crowd. He never got the chance however as Bad Luck Fale attacked him from behind and claimed the next match.
Okada gets V4 in 38:09. This win moved Okada's fourth reign to the top ten for longevity, overtaking 11th champion Tatsumi Fujinami's fourth reign of 306 days back in 1991-1992. He was also a spot away from the top ten for defences.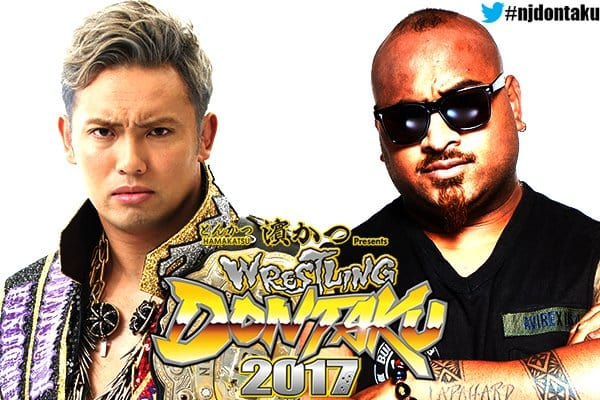 2017/05/03 – Kazuchika Okada © vs. Bad Luck Fale at Wrestling Dontaku in Fukuoka. ****
Bad Luck Fale is a Tongan who grew up in New Zealand. He accepted a scholarship to play rugby at Tokuyama University, ended up playing for Fukuoka and then later entered the New Japan Pro Wrestling dojo. In 2013 he became a foundation member of the Bullet Club and was perennially "Under Boss" to leaders Prince Devitt, AJ Styles and then Kenny Omega.
Fale and Okada had met before in tournaments with Fale holding an advantage. In addition to Marufuji, Okada lost to Fale in the 2016 G1 Climax. Fale didn't get a title shot for this. Fale made the finals of the 2017 New Japan Cup, falling to Shibata who went on to become Okada's most recent conquest. In the lead up to this match Fale adopted the tombstone piledriver and saw great success with it, piling up wins in the preview tags. The tombstone piledriver was a signature of Okada but the 100lbs weight disadvantage would cast doubts over whether he would use it or not.
Prior to the match a video package played that showed Fale's motivations. Not only was he a big monster wanting to take down the hero, but he also wanted to win the title and spread New Japan to the Australasian region. As someone who grew up in New Zealand and also ran a dojo there – Fale stated a lot of young and troubled kids would benefit from the New Japan style and the underlying theme of respect.
The developing trend for Okada's defences in this title reign was long matches, with 28 minutes against Marufuji being the shortest. Fale had no intentions of being out there any longer than he needed to and constructed his offence as such. Where Shibata used many blows, Fale used heavy blows. Okada's strategy of absorbing punishment and then firing back when the opportunity presented itself didn't seem a wise one here and he appeared to try and maximise every opportunity that presented itself. He became fixated on trying to give Fale the tombstone which could have been his downfall. Fale hit one and it appeared to end the match however Okada was able to dig deep. Okada did finally hit one and then the three subsequent Rain Makers proved the end of what was to be Fale's only shot at the title.
Following the match the Bullet Club was in the ring to check on Fale and seeing him there, Okada issued a challenge to leader Kenny Omega to go another round the next month in Osaka.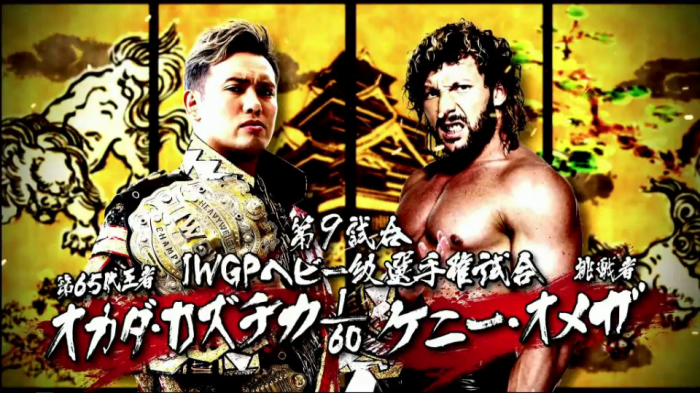 2017/06/11 – Kazuchika Okada © vs. Kenny Omega at Dominion 6.11 in Osaka-jo Hall. ******1/4
The only repeat defence through this title reign was Kenny Omega. After coming away from Wrestle Kingdom unsuccessful, Omega went back to the drawing board and worked on conditioning. 46 minutes was a long time to wrestle and surely if he could surpass it, Okada wouldn't be able to go too much longer himself. Add in the fact that every month since then Okada had been through a war and it had to be time for defeat.
The two headlined a card filled with Wrestle Kingdom rematches (as of writing the highest rated non-tribute card on Cagematch) and unusually the topic of star ratings was on the table. The previous match earnt a six star rating from Dave Meltzer of the Wrestling Observer as was heralded as possibly the greatest match of all time. The approach to showmanship in Omega's strategy was evident as rather than specifically fight for victory, he fought with style. Okada tweaked his knee early on and this was largely ignored by the flashy Omega.
The match was an hour of big moves, each man throwing their best at one another in a bout punctuated by countless V Trigger knee strikes and dropkicks. At one point Bullet Club member Cody came to ringside and had to be talked out of throwing in the towel for Omega who looked spent. From this point the match kicked up a gear and Omega landed his One Winged Angel finish. The ring positioning was in Okada's favour as his leg limply flopped onto the rope to break the count.
This was Omega's best chance at victory as Okada got back into the fight. Numerous Rain Makers throughout brought him closer to V6 but he was unable to capitalise on the final one in time with the time limit expiring. 60:00 draw. Omega didn't win the title (champion retains on a draw, considered a successful defence) but he got an extra ¼ star from Meltzer making this the Observer's highest rated match of all time.
Early in the match the commentary team of Kevin Kelly and Don Callis (replacing Steve Corino, a notable change when viewing these matches consecutively) pointed to the company's worldwide expansion as the winner of the match would enter New Japan's first show on American soil next month as champion. Rain was still on the forecast for the foreseeable future with Okada's victory.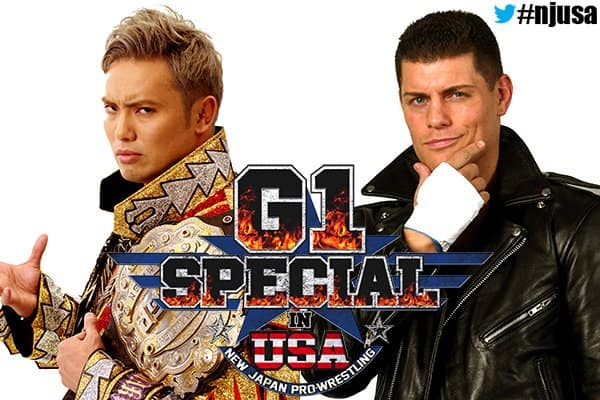 2017/07/01 – Kazuchika Okada © vs. Cody at G1 Special in USA. ****1/2
Historically puroresu was built on the Japanese national hero taking down the evil foreigner. Rikidozan's career was defined by this and Antonio Inoki continued the trope. Prior to the WWF expansion in the mid 1980s there was a plethora of talent available to import to fill the role. Due to the working relationship between New Japan and World Championship Wrestling, there was still quite a selection available through the 1990s. In the 2000s however, most major talent was locked up by the now WWE who were focused on running their own race. The top talent outside of the promotion were very much big fish, in the small pond of a developing independent scene. Typically the most successful foreigners in this time were former WWE talents like Giant Bernard (A-Train/Albert), Brock Lesnar and Kurt Angle.
By the 2010s however, the independent scene had begun to mature and the mainstays had built reputations. Thanks to the proliferation of the internet and the ease of watching matches from around the world, not only did the English-speaking fans gain access to New Japan but the Japanese fans gained access to American wrestling beyond WWE. This is the platform that AJ Styles was able to leverage for a successful run.
But being an ex-WWE star always carried credibility and that credibility is what brought Cody Rhodes to New Japan. Due to the WWE way of doing things he was sans surname. The Bullet Club established by Prince Devitt served as a welcoming home to the foreigners and Cody found a place fairly quickly alongside Kenny Omega, the Young Bucks and Hangman Adam Page.
After Omega failed to capture the title from Okada, Cody put his hand up for a shot which took place at the G1 Special in Long Beach, California. (This show had nothing to do with the G1 Climax, the naming was purely a branding exercise) As Omega had been based in Japan for years at this point with his career built in the DDT promotion, Cody could be considered Okada's first true foreign challenge.
It was a rare away game for Okada and the first time he had to travel to defend. The title was last defended in the US by Styles in 2014. Ordinarily in other sports the away team is battling not only the opponent but the crowd. As the established leader of New Japan's expansion this wasn't a battle Okada had to fight. The name on the marquee was New Japan Pro Wrestling and the audience was here for the authentic experience. This meant they were here for Okada. Due to Cody's abrasive personality and emerging tensions between Cody and Bullet Club leader Omega – it wasn't just Okada that wanted to see him lose.
Overcoming yet another variation in styles was the challenge for Okada as Cody was trained in America and came up through the WWE development system. Okada was not wrestling a Japanese opponent with any element of Japanese training. Okada's time spent in the TNA promotion as a young lion may have come in handy here as he was familiar with the American style and able to hold his own. At one point through the match Omega came to ringside and brandished the same towel that Cody had tried to throw in to end Omega's last chance. This was just a way of antagonising Cody who then went on to fall to the Rain Maker, as has become customary. Though he did nearly gain a win with one of his own. This went 27:12, earning Okada a reprieve from the long drawn out battles he has fought throughout the year.
After the match Omega entered the ring to graciously acknowledge that this was Okada's moment, and remind him that they had a match in the upcoming G1 Climax tournament. By winning this match, the reign of Okada was safe through the rest of July and August as the tournament dominated the schedule.
This break would see him rise to second place for longevity in the IWGP Heavyweight title history surpassing names such as Antonio Inoki, Keiji Mutoh, Big Van Vader, Yuji Nagata and Hiroshi Tanahashi. Heading into the next title defence he would have only Shinya Hashimoto standing ahead of him. Who that next defence would be was anyone's guess. There were nine men waiting to meet Okada in the B Block of G1 Climax 27.
2017/10/09 – Kazuchika Okada © vs. EVIL at King of Pro-Wrestling in Ryogoku Kokugikan. ****
Michael Elgin. Satoshi Kojima. Juice Robinson. Sanada. Minoru Suzuki. Tama Tonga. Toru Yano. These are the men that tried and failed to defeat Okada in the 2017 G1 Climax tournament. A feat managed by two men. Kenny Omega (more on that later) and EVIL.
EVIL was a New Japan dojo trainee formerly known to the world as Takaaki Watanabe. He returned from his training excursion in 2015 and joined Tetsuya Naito's Los Ingobernables de Japon group. A powerful wrestler, EVIL was a loyal solider of LIJ and had won the NEVER Openweight and NEVER 6 Man tag titles in the past. His performance in the prior G1 Climax and World Tag League tournaments was strong but didn't see finals appearances. It was in the 2017 G1 that EVIL saw his chance and took it, handing Okada his first singles loss since the previous year's tournament and gaining his first shot at the IWGP Heavyweight title at the King of Pro-Wrestling event.
After a year with five matches going 30 minutes or beyond and a G1 tournament with 6 out of 9 matches passing 20 minutes – Okada appeared to have found a sense of urgency as he met EVIL early on with offence, rather than the longform rope-a-dope-esque strategy that had seemed commonplace. EVIL being a stocky more power-based competitor was at home with the quicker pace Okada set and the match moved along. At one point EVIL strategically positioned referee Red Shoes Unno in a manner that would see Okada inadvertently take him out. This led to Okada having to deal with not only EVIL – but also three chairs. EVIL attempted his Darkness Falls signature move onto them which had caused Okada much damage throughout the lead-in to the match but a hurracanrana counter got him to safety. A few minutes and a Rain Maker later at 33:26, Okada had achieved V8.
This tied his previous best at eight defences set in his second reign in 2013-2014. Ahead of him were Shinya Hashimoto at 9 (1994-1995), Yuji Nagata at 10 (2002-2003) and Hiroshi Tanahashi at 11 (2011-2012). By defeating EVIL, Okada would pass Shinya Hashimoto's record 489 day reign set over 1996-1997. Once 2017 closed Okada would become the only man to hold the IWGP Heavyweight title for a full calendar year.
On November 8, 2017 – Okada celebrated his 30th birthday.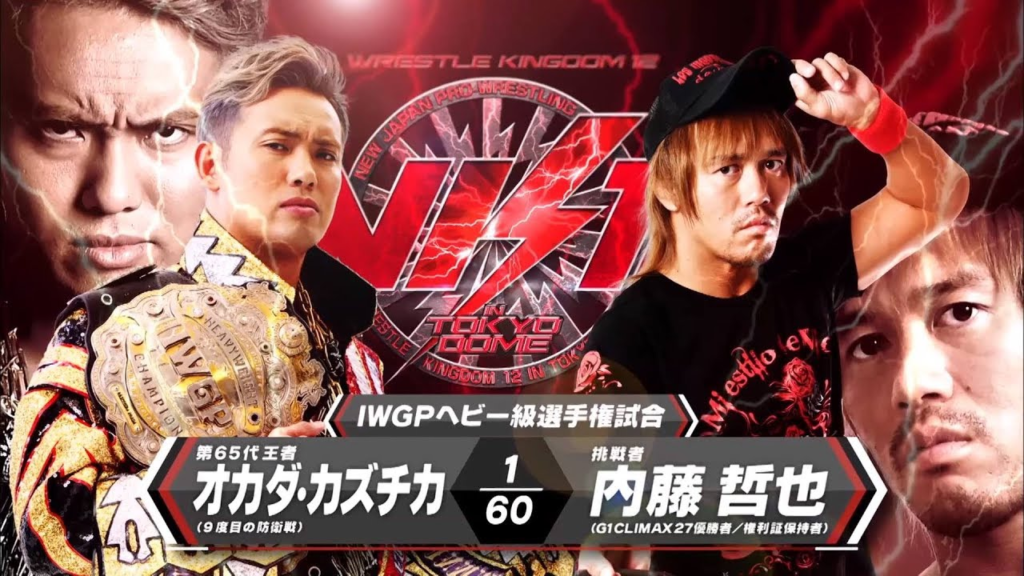 2018/01/04 – Kazuchika Okada © vs. Tetsuya Naito at Wrestle Kingdom 12 in Tokyo Dome. ****1/2
Watch: https://njpwworld.com/p/s_series_00462_09 (English commentary: Kevin Kelly & Don Callis)
New year, new champ? Tetsuya Naito won the G1 in 2013 and earnt the shot at Wrestle Kingdom to kick off the next year. Not confident in Okada vs. Naito as the headline, New Japan put it to a vote and the two went on second last behind Nakamura vs. Tanahashi. Naito was here to right the wrongs of the past. After he lost the title to Okada at the start of this reign (which feels like an eternity ago) he won the IWGP Intercontinental title. In his mind this was a demotion and the IC title was a symbol of the injustice back in 2014. He abused the physical belt and would eventually lose it to Tanahashi who was trying to protect it. Without the burden of carrying a reminder of the past – Naito entered the 2017 G1. Just like 2013, he came out victorious. Just like 2014, he was set to wrestle the Heavyweight champion at Wrestle Kingdom. This time there was no doubt about it – Okada vs. Naito was a main event calibre match up. In fact there was a 20% increase in attendance between the two events.
The road for New Japan had been paved in gold by Okada. But the road for Okada was long and arduous. From the attacks in the lead up to the match with EVIL in October, Okada was nursing a neck injury. This had been taped for much of the remainder of the year. This was a target that Naito was happy to exploit and Okada knew it. Naito landed offence and managed a few holds targeting it, but Okada was protecting himself and neither man really established any sustained offence. A window opened for Naito after a poison rana from the top dropped Okada right on top of his head, but rather than go for the cover Naito reached into the archives and attempted his old finishing move. The Stardust Press from the top rope. The delay allowed Okada to move and had Naito not gone up, that could have been the match.
There was a Rain Maker from Okada that hit Naito flush. 2 count. There was a Destino from Naito that looked like it put Okada out. Didn't get the cover in time. Another Destino (albeit the running variant). 2 count. As Naito set for another and looked to end it, Okada caught him with a tombstone and then delivered the final Rain Maker to retain.
Okada had previously failed to overcome a Wrestle Kingdom goal in the past. He was unable to beat Hiroshi Tanahashi at Wrestle Kingdom. He could beat Tanahashi and did on several occasions. But doing it in the Tokyo Dome eluded him for years. Until 2015. Okada was the defending champion and managed to dig deep, pulling out a new technique that finally allowed him to achieve the goal. This technique was the "maintaining wrist control" after a Rain Maker that you see as a pattern throughout these matches. He was holding on to his wrist, but symbolically holding on to his title, his legacy and his future. Okada had become to Naito what Tanahashi had become to Okada.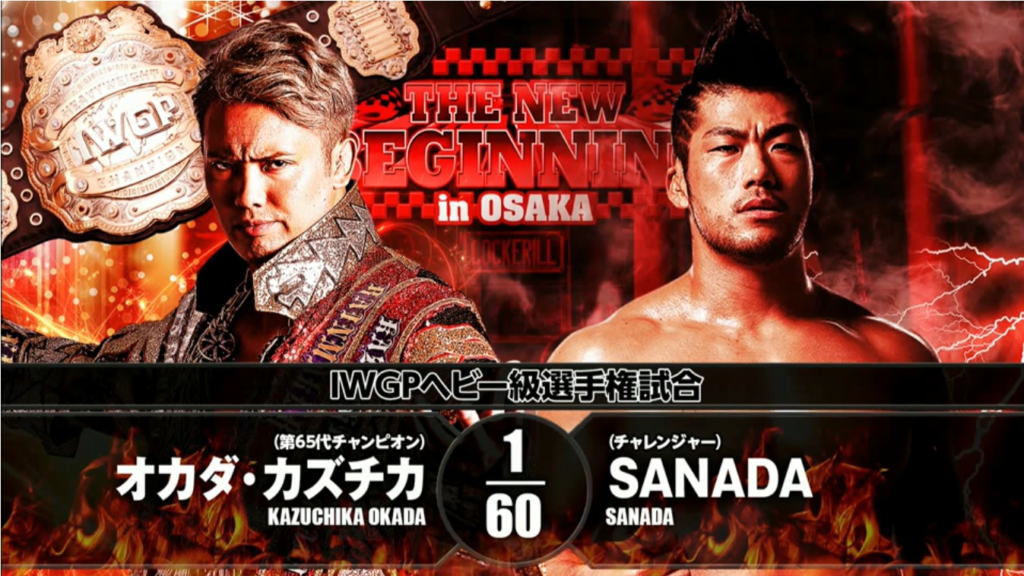 2018/02/10 – Kazuchika Okada © vs. SANADA at The New Beginning in Osaka. ****3/4
The night after Wrestle Kingdom in the Tokyo Dome is New Year Dash!! A show that predates the Tokyo Dome tradition but has only become a regular fixture more recently. The event took place in Korakuen Hall for years but has become so popular that in 2020 it was moved to Ota Ward Gymnasium which seats three times the crowd. Pandemic restrictions made this look like a one off but after they lifted, Dash!! returned to Ota. In 2018 it was at Korakuen and a lot of wrestlers use this event to make a statement about their intentions for the year. Sanada was one such wrestler.
After a tag match between Okada's Chaos and Naito's Los Ingobernables de Japon, LIJ member Sanada attacked Okada and issued a challenge for the next major event – The New Beginning in Osaka. This wasn't the first time that Sanada had made a statement at the expense of Okada. Back in 2016 at Invasion Attack Sanada attacked Okada in a move that not only announced his arrival to New Japan and Naito's LIJ – but also cost Okada his third reign leading to defeat by Naito.
Sanada started his career at All Japan Pro Wrestling after failing to pass the entry test for New Japan. In AJPW he trained under Keiji Mutoh and found success winning three tag titles (alongside Manabu Soya and Joe Doering) before following the departing Mutoh to his new Wrestle-1 promotion. Through Wrestle-1's relationship with them he linked up with TNA (Impact) and became the X Division champion before arriving in New Japan.
Sanada's nickname is Cold Skull which refers to how he keeps a cool head at seemingly all times. Not one to be driven by emotions, he is a cool, calculating and most of all efficient wrestler. There is very little wasted motion in his wrestling. He had all the tools but had yet to put them all together. Don Callis postulated on commentary that if he was able to put it all together he would leave as champion. And it appeared that Sanada was doing this, wrestling a near-perfect match. He hit Okada with a Rain Maker that nearly ended it and drained the champion significantly through repeated use of his Skull End hold (dragon sleeper style neck crank with optional grapevine). At one point Okada looked to be out and referee Red Shoes Unno was just about to call the match. Sanada however decided to let go of the hold and try to finish it with his Mutoh-style moonsault. This proved to be a mistake as Okada survived the moonsault. In a sight that had become so familiar over the last 18 months – Rain Maker. 3 count. Your winner and still champion. Kazuchika Okada. V10.
Okada was one victory away from equalling Hiroshi Tanahashi's record for defences. The only record that remained in sight.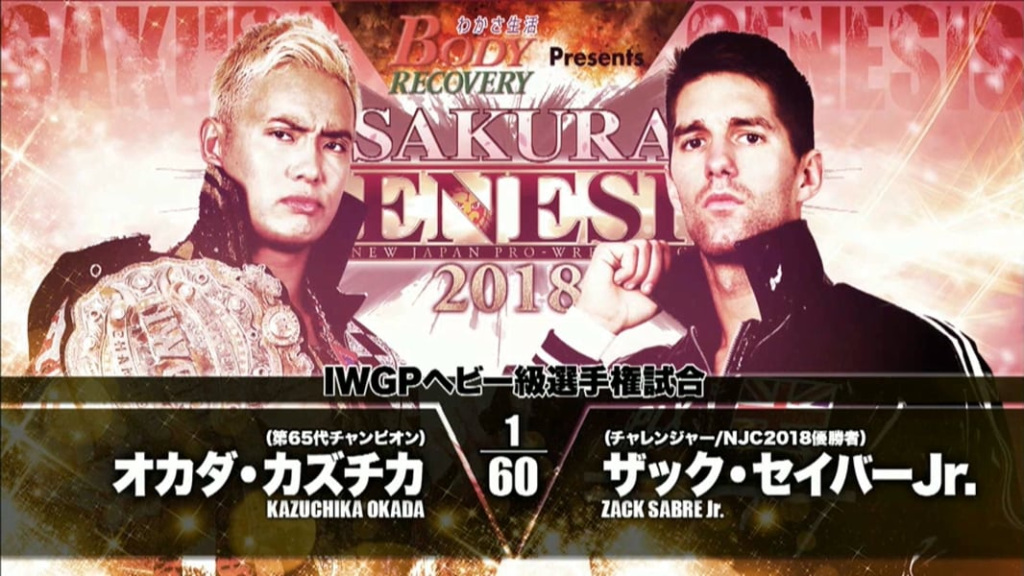 2018/04/01 – Kazuchika Okada © vs. Zack Sabre, Jr. at Sakura Genesis in Ryogoku Kokugikan. ****3/4
Once again it was time for the New Japan Cup to determine Okada's fate. The 2018 edition was won by a foreigner for the second time in history – Englishman Zack Sabre, Jr. (the first was Giant Bernard in 2006). ZSJ is a submission based wrestler with a style based deep in the history of the British catch-as-catch-can style of wrestling. He integrates this with the modern martial-arts based striking seen in Japan to create a 'strong style' truer to Antonio Inoki's methods than most. ZSJ won his four NJ Cup matches (Tetsuya Naito, Kota Ibushi, Sanada and Hiroshi Tanahashi) with a different submission hold.
According to the call by Kevin Kelly, Okada had only ever tapped once in his career and this was to Shinsuke Nakamura via a flying armbar. In this title run Okada had survived the submission sensibilities of Minoru Suzuki (a mentor of ZSJ) and prior to joining New Japan actually trained at Ultimo Dragon's Toryumon school where he was exposed to the Mexican yaveo submission style under Negro Navarro.
As expected ZSJ dominated Okada with holds, at one point transitioning between four or five different holds in a single sequence before Okada found the solace of the ropes. Aware of the past that Kevin Kelly pointed out, ZSJ tried that same flying armbar that Nakamura used all those years ago. However Okada managed to survive and overcome, using his trademark dropkick (which Zack actually countered with a hold at one point), tombstone and Rain Maker. V11.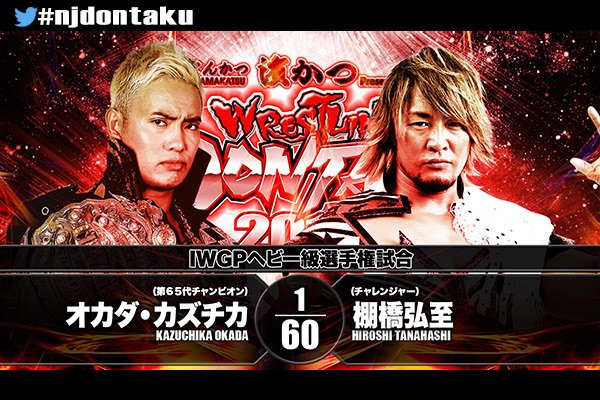 2018/05/04 – Kazuchika Okada © vs. Hiroshi Tanahashi at Wrestling Dontaku in Fukuoka. *****1/2
By defeating Zack Sabre, Jr. Okada had racked up his 11th successful defence. This equalled the record set by Hiroshi Tanahashi set in 2012. Okada was the one to end that reign of Tanahashi (Okada's first) and Tanahashi looked to do the same to Okada 6 years later. As Ric Flair was fond of saying "to be the man, you've got to beat the man", and this was as perfect a scenario to represent that than any. At this point, though he hadn't seen the Heavyweight title since 2016 and spent a lot of the time since raising the profile of the Intercontinental title, Hiroshi Tanahashi was still recognised as the ace. The top man in New Japan. After 684 days as champion, it's easy to see Okada's claim to that accolade. After all, Okada was at the start of his prime and Tanahashi surely had to be winding down the clock after 19 years. Immediately following the match at Sumo Hall Tanahashi made his way to the ring to issue the challenge for Fukuoka.
A fun fact – the two also competed on the big screen in the film パパはわるものチャンピオン (trans. My Dad is a Heel Wrestler, spoilers ahead) where Takashi Omura (Tanahashi) was a former star who due to injury took up the Gokiburi Mask (trans. Cockroach Mask) character. He hid his identity from the public and his son Shota. His son discovered his father's secret identity and told his classmates his dad was a wrestler. After going to an event and seeing the reactions Gokiburi Mask was getting, when questioned on his claim, Shota instead claimed his father was the more popular champion Dragon George (Okada). Omura discovered this and removed the mask to emerge as a challenger to Dragon George, looking to set things right and give his son a taste of the hero that he once was.
Going into the match at Wrestling Dontaku the official record between the two was 4-4-2. They were well and truly familiar with one another. One could argue their rivalry saved New Japan Pro Wrestling and got the company to the position it was in today. Okada had fought strong style, explosive modern style, British catch style, American style. Now with Tanahashi – this was a classic pro wrestling style. The two were familiar foes but had not wrestled a singles match since the G1 tournament the previous year so the opening was a strategic feeling out process to see where the other was at. Tanahashi had spent the last few years rehabilitating injuries, the wear and tear of a record setting championship run and being the face of the company taking it's toll. This was the position Okada was now in.
In a rarity among these defences Okada took control early and his opponent was fighting from behind. The Fukuoka faithful were firmly in the corner of Tanahashi. They were there to see their hero make it to the top of the mountain one more time. Okada punished Tanahashi and while the old ace tried he just couldn't dig deep enough on this occasion to end Okada. Okada countered Tanahashi's High Fly Flow (frogsplash) finish and though Tanahashi had the Rain Maker scouted – it got him in the end. The people of Fukuoka cried as Kazuchika Okada stood over their hero, alone at the top of the mountain. The record-setting V12.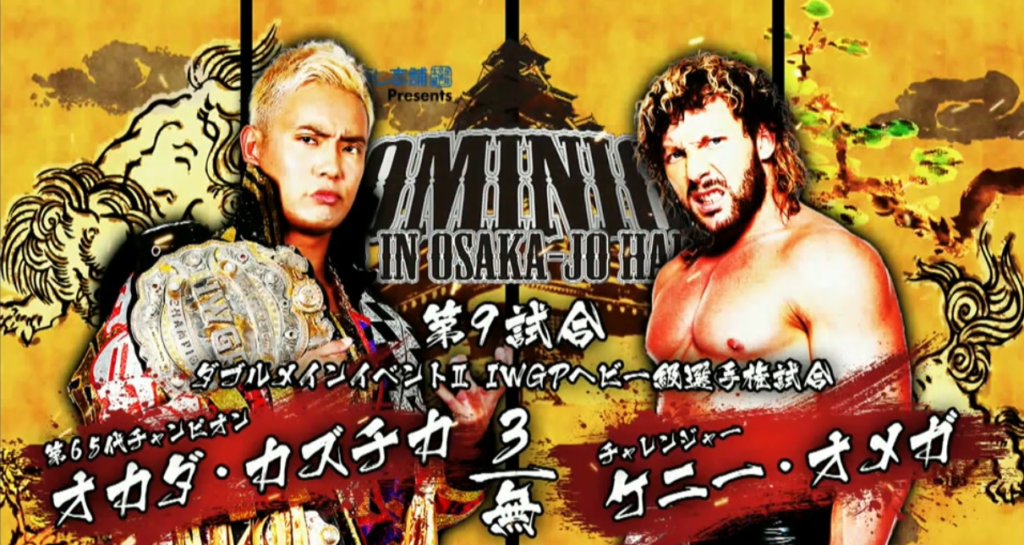 2018/06/09 – Kazuchika Okada © vs. Kenny Omega at Dominion 6.9 in Osaka-jo Hall, 2 out of 3 falls. *******
A record reign for length. A record reign for defences. Okada had beaten everyone there is to beat. Who was left? Well there was a man who Okada had a bit of unfinished business with. While Okada did beat Kenny Omega back in January 2017, he failed to do it again in June with the hour draw. In the 2017 G1 Climax the two met once more. G1 block matches have a 30 minute time limit. Okada and Omega met in a match that would decide Omega's future in the tournament. All he had to do was beat Okada in under 30 minutes. He lost in 46:45. He drew in 60:00. Conscious of these facts, Omega came out of the blocks strong and actually did manage to beat Okada in 24:20. He then lost the tournament final to Tetsuya Naito.
Following Okada's victory over Tanahashi, Okada called out Omega and sought to avenge the draw which was the only blemish in this reign. The two sat at 1-1-1. They'd gone to a time limit draw and had a win a piece. So in order to truly establish dominance – there was no time limit, and you had to beat the other man twice. A good old fashioned 2 out of 3 falls match. (This was what passed for a gimmick match in the ultra-conservative booking of the title picture at the time).
While Okada had been busy rewriting the history books, Omega had quite an eventful period since their last meeting. As the Bullet Club grew in size and success, personalities clashed and after months of tension, Cody made a play for the leadership by attacking Omega. The group fractured into a camp of each, as well as a Tongan faction with Bad Luck Fale who steered clear of the conflict. The conflict served to reunite Kenny Omega with his former Golden Lovers tag partner Kota Ibushi as they each saved the other from attacks.
No time limit. 2 our of 3 falls. If Okada was able to make it through this – the question would remain unanswered? Who could possibly end this historic run?
In the lead up to the match Omega had confidently stated that he had better stamina than Okada. Kevin Kelly pointed out the contrast in the way the two prepared for the match. Omega had been training harder than he ever has in life to get his body ready. Okada went fishing to get his mind ready.
The match started slow as expected, both men were preparing for a long and arduous war and approached cautiously. It had been 10 months since their prior last meeting. It was a year on since their longest meeting here in Osaka. And two years on since the start of this journey in Osaka. They fought hard and at 28:47 after sneaking a pinning combination into the Rain Maker counter sequence that Omega had prepared for – Okada took the first fall. This was longer than the third match which Omega won.
If the story ended here, Okada was at V13 and his reign would likely be safe through to the end of the G1 Climax tournament in August. But there was still one more fall for him to claim. Omega was at the bottom of the ninth to use baseball parlance, he had the beat Okada twice. After already wrestling for 28 minutes. He realised this and brought the intensity, the second fall moving at a brisker pace than the first. At 46:45 they surpassed their first meeting at the Tokyo Dome. Kenny Omega had outlasted his only loss. At 47:47 Red Shoes Unno counted 3 on Okada after a One Winged Angel. Kenny was halfway to the omega.
As the final fall progressed, Omega looked to be correct about his stamina summary. Okada was spent. He was still managing offence, but everything he was able to dish out looked laborious. In a role reversal reminiscent of Ibushi's challenge for AJ Styles' IWGP Heavyweight title back at Invasion Attack 2014 – Ibushi climbed to the apron, but unlike that April day there was no internal conflict. He suggested Omega try Ibushi's Phoenix Splash. An odd suggestion given that it led to Ibushi's downfall in that match. Omega's missed. There came a point where it looked like Okada was done. Omega hit another One Winged Angel but despite appearing to have more in the tank, he couldn't get there for the cover. The match had passed the hour mark at this point and was the longest that either man had wrestled. Omega dug down into unchartered territory and pulled out what had to be the last energy that he had left. His ultimate One Winged Angel put Okada down. He was in the right position and as Don Callis screamed from commentary, he "hooked the leg".
1…. 2….
…
…
3!
After 64 minutes and 50 seconds, it was over.
The longest IWGP Heavyweight title reign in history at 720 days.
The most successful defences in a single reign at 12.
The only man to hold the title through an entire calendar year.
Three times he had the highest rated matches in the history of the Wrestling Observer, each time setting a new record as the previous 5 star scale was broken. While the star ratings are the opinion of one man, they do provide an interesting metric. The average of the 14 matches covered by this title run sits just above 5 stars. Prior to 2017 only one match had even scored more than 5.
Okada's IWGP Heavyweight title records will never be touched as the championship was unified with the IWGP Intercontinental title in 2021 to create the IWGP World Heavyweight championship with a new lineage.