Profiles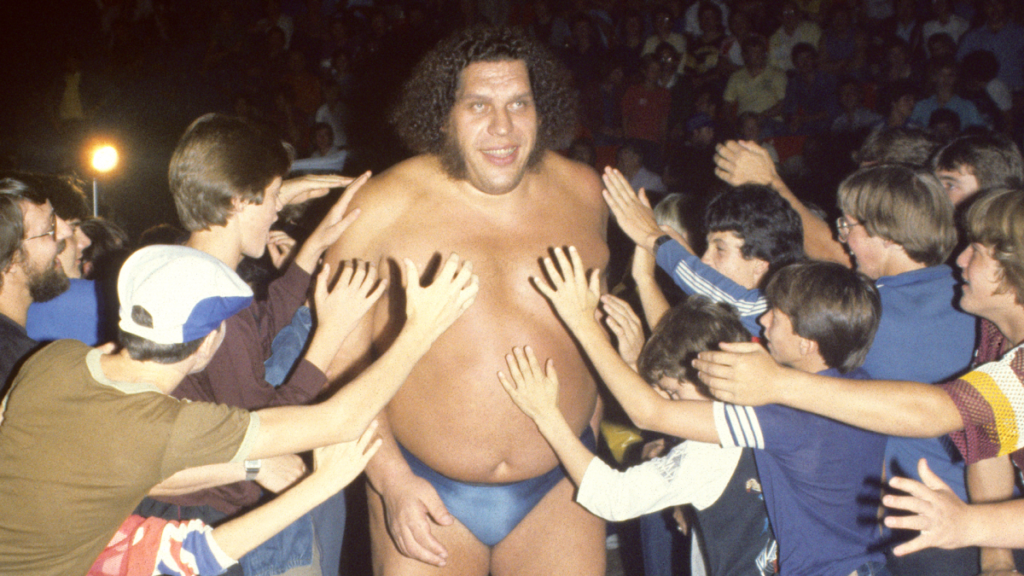 André the Giant Profile
Born: May 19, 1946 (André René Roussimoff) | Birthplace: Coulommiers, Seine-et-Marne, France
Died: January 27, 1993 (Heart Failure)
Billed Hometown: Grenoble, French Alps | ​Billed Weight: 400-520 lbs. | Billed Height: 7 ft. 4 in.
Other Aliases: Géant Jean Ferré, Monster Roussimoff, The Polish Giant, Giant Machine, André el Gigante
Notable Feuds: Hulk Hogan, Don Leo Jonathan, Killer Khan, Strong Kobayashi, Heenan Family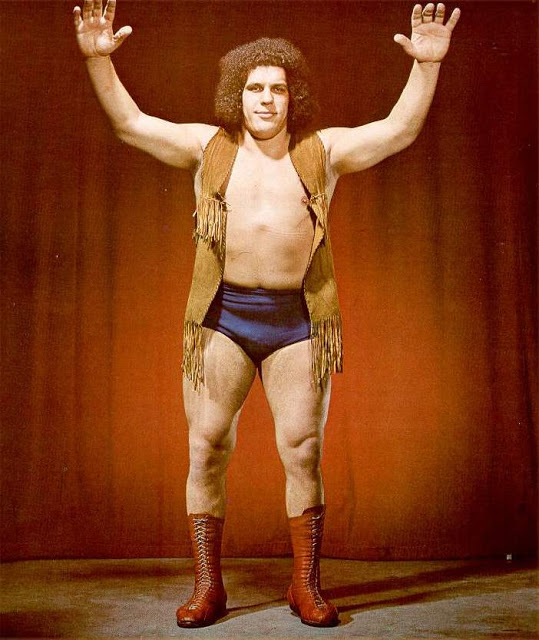 Much of the information added to this profile came from The Eighth Wonder of the World : The True Story of Andre the Giant by Bertrand Hebert and Pat Laprade.
André René Roussimoff was born on May 19, 1946 in Coulommiers, Seine-et-Marne, in north-central France, to a Bulgarian father and Polish mother. Even at birth, he was destined to be a giant, weighing six kilos (or thirteen pounds), which is above average even today. He attended school in Ussy-sur-Marne, and got a lift on some occasions from famous Irish novelist and playwright Samuel Beckett, who had settled in Molien.
By the time he was a teenager, he stood six feet tall and weighed over two hundred pounds. His mother took him to a Dr. Brecher, but he did not find anything unusual about the prodigious growth, as being tall did run in the family. At the age of fourteen, he left school and worked on the family farm in Molien.
While still living with his parents, he began work in another small village, four miles east. It was here, at the age of eighteen, that by chance, he met wrestling promoter Robert Legeat, owner of the French Professional Wrestling Federation. Legeat immediately saw the potential in André and convinced him to move to Paris to be trained as a professional wrestler. He came under the tutelage of Michel Saulnier, a French amateur wrestling champion who turned pro in 1957.
After a year of training, André made his debut aged nineteen on January 25, 1966 in Rouen. He was billed as being six foot nine and three hundred pounds, and went under the name Geant (Giant) Jean Ferré, based on the French folk hero, le Grand Ferré. Just like Grand Ferré, André was cast as a lumberjack, and defeated veteran Ted Lamar.
The first known televised match of his career took place on February 11. The next day, to publicise his Paris debut, he did a televised interview, before footage was shown of him chopping wood, and explaining that he was now going to embark on a wrestling career. To further accentuate his size, he was shown training with the much smaller le Petit Prince (Albéric d'Éricourt), who stood just five foot two and weighed 120 pounds. André defeated Yves Amor in his big Paris debut on February 13, 1966.
Fame came quickly to the new sensation in French wrestling. In 1967, André made his film debut, playing a small role in La Judoka agent secret. Three weeks before the film was shown in France, he won his first championship on January 20, 1968, when he defeated French heavyweight champion, Franz Von Buyten in Paris. The first article about André to appear in an English-speaking wrestling magazine was in the February 1968 issue of The Ring, written by French correspondent, Michel Bézy.
Jean Ferré's first time outside France technically took place on August 18, 1967, when he defeated André Bollett in the principality of Morocco, but it was a one-off and he continued to wrestle in France until he was booked by Joint Promotions in the United Kingdom. His first match in the UK was a win over Wild Angus on May 22, 1969 in Paisley, Scotland and the next day, he knocked out Jim Hussey (the father of Mark "Rollerball" Rocco) in a match aired on ITV in St. Albans, England.
André worked all the top heavyweights in the promotion, including his Royal Albert Hall debut on May 28 against the six foot five, 280 pound Big Bruno Elrington. His undefeated streak since debuting in France came to an end when he lost by technical knockout to Kendo Nagasaki on June 7, 1969 (he would lose two further matches to Kendo, one of which was by disqualification).
Due to a rule in the UK that restricted foreigners to working only forty matches, he toured until October before leaving and coming back one final time in December 1969. During this period, André worked in Austria, Belgium, Luxembourg, Spain and West Germany. He also stopped into South Africa (where he made headlines when a special bed had to be delivered to the Grand Hotel in East London to accommodate him). In South Africa, he was booked as a Bulgarian and wrestled under his real name. While on the African continent, he also appeared in Algeria, Morocco and Tunisia.
Four days before André left for the UK, promoter/wrestler Roger Delaporte was scheduled to team with Ivan Strogoff against Toyonobori and Strong Kobayashi from the IWE promotion in Japan, for the newly created IWA Tag Team title. For reasons unexplained, Delaporte – who André was now working for after two years with Legeat – decided to give his spot to André. Also making the trip was IWE President Isao Yoshihara, who after seeing him in person, made sure to book André after he had fulfilled his commitments in the UK.
Billed as a heel – which he would be in Japan right until the tail end of his career – André went under the name Monster Roussimoff, around the time of the popular Godzilla movies. In the storyline, Spanish wrestler Enrique Edo was the one who 'discovered' the giant lumberjack in the mountains. He was billed as being taller than the six foot nine inch Sky Hi Lee (whom Japanese fans were familiar with from his previous two tours), and JWA's Shohei 'Giant' Baba.
André's first match for IWE took place on January 3, 1970, and on January 18, André and Michael Nador became IWA Tag Team champions when they defeated The Great Kasatsu and Thunder Sugiyama, before dropping them back to the same team near the end of the tour on February 11. André also worked a number of matches against Strong Kobayashi, whom he could not defeat and in one match, Kobayashi even slammed him. While he was not booked yet to be an all-conquering giant, an average of ten million viewers watched him on television, much bigger exposure than anything he had experienced before.
It is likely that it was during this tour that André first learned he suffered from acromegaly. It has been recorded that he did see a doctor, but no evidence has surfaced of why he made the visit. In a number of matches, André teamed with Quasimodo, who suffered from the affliction, and may have encouraged André to be tested. If indeed he was informed, the Giant refused treatment.
One of André's most memorable overseas jaunts saw him appear in Iraq for a match on January 6, 1971. It was arranged by Adnan al-Kaissie, an Iraqi born grappler who wrestled around the world, including the UK in 1969, when he first met the giant. Adnan was a school friend of Saddam Hussein, now a leading light in the Baath political party. Due to his popularity as a globe-trotting wrestling star, Adnan was ordered by Hussein to organise wrestling events to be held in the capital, Baghdad.
André arrived to face Adnan in a best-out-of-three-falls bout on a day which also marked the fiftieth anniversary of the Iraqi army. The initial plan was for it to go to a deciding third fall, however, right before the bout, Hussein – who thought it was a shoot – said he would put a bullet in André's head if he so much as hurt Adnan. The plan changed to André losing in two straight falls. The soldiers in the massive crowd fired their guns in the air, which caused André to hit the deck in fear of his life. He vowed never to return to Iraq (and was true to his word).
Much more palatable was an offer to work for Grand Prix in Montreal, Quebec, Canada, a relatively new promotion headed up by a cabal of individuals including Lucien Gregoire and Paul "Butcher" Vachon. Montreal would become a home away from home for André, and opened many doors for his career in North America. Once again, André was introduced as a lumberjack-turned-wrestler, only this time he was 'discovered' by famous French wrestler, Édouard Carpentier.
André's debut took place on June 1, 1971 at the Verdun Auditorium, where he defeated journeyman, Cowboy Jones. Paul Vachon also fell to Jean Ferré on June 8, but initially, André competed in handicap matches and battle royals, getting his arm raised every time. It was Lucien Gregoire's idea for André to wrestle multiple opponents at a time, something promoters had not thought to do previously. It was also here that he was first billed as being seven foot tall, later seven foot four. (While there is debate to this day about whether André ever reached seven foot at any time in his life, the mark of seven foot four is a falsehood in order to say that he was the tallest athlete in the world).
André's first loss in the promotion came on July 1, 1971, when he was pinned by The Hollywood Blondes (Dale Roberts and Jerry Brown) in Jonquière, outside of Montreal. It came as a result of interference from Gilles "The Fish" Poisson, and a regional rivalry between the two ensued. The following week, André lost by disqualification when Poisson's cheating got him enraged, and he attacked the referee.
For the bigger audiences in Verdun, a rivalry between André and a masked wrestler called The Professional was set up on July 6, when they both went over the top rope and co-won a battle royal. The next week, André lost by count-out. On the 20th, in a six-man, André, Carpentier and Reggie Parks lost by disqualification to The Professional and The Vachon Brothers when André again let his emotions get the better of him, as was the case on July 27 in a two-out-of-three falls match against The Professional.
On the good word of Paul Vachon – who soon after became his booking agent – André began working for the American Wrestling Association. For his AWA debut, André teamed with Bull Bullinski on July 24, 1971 at the Minneapolis Auditorium against Larry Hennig and Lars Anderson. For only the second time, he wrestled under his real name (although it was spelt 'Russimoff').
André was lucky to have made the show at all. That morning, he was picked up from the airport in Minneapolis by Hercules Cortez and Red Bastien, who the previous night had teamed together in Winnipeg. On Highway 52, at approximately 6:30am, Cortez fell asleep at the wheel and flipped the car; Cortez died, while Bastien suffered a leg injury. André was apparently unharmed.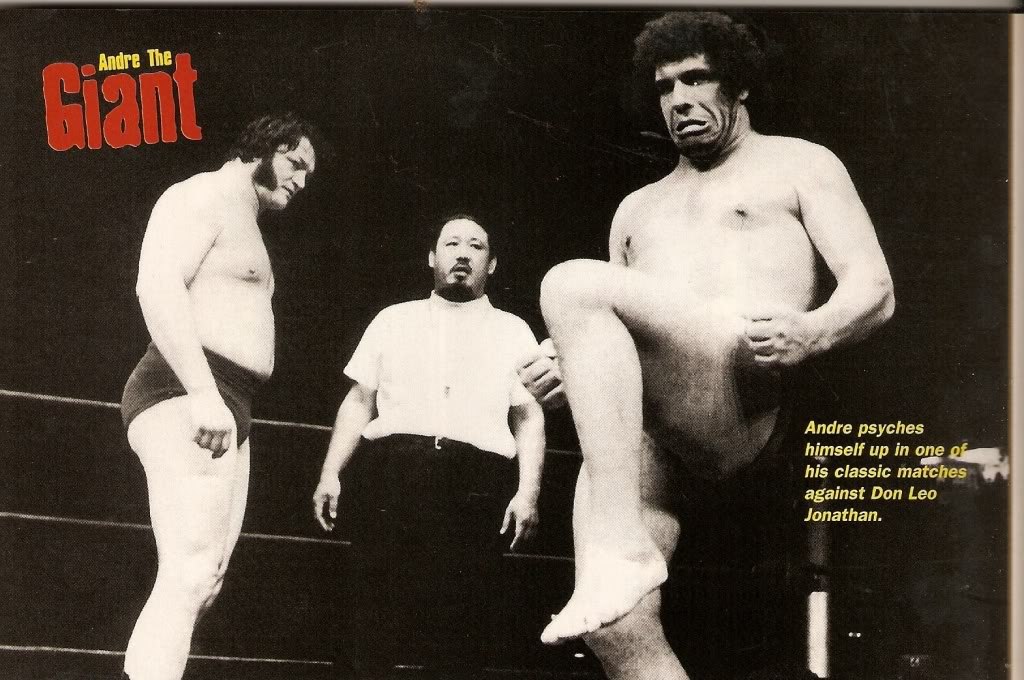 As Grand Prix Wrestling grew, so too did André's name and notoriety. In October, he first appeared in Toronto and Quebec City in front of healthy crowds, as well as on Grand Prix's expansionary shows into the U.S state of Vermont, which borders on Quebec City. With the promotional war heating up between Grand Prix and Jean Rougeau's All Star Wrestling, and with both promotions running on October 5, Rougeau countered André's return from France – where he visited his sick mother – to face Paul Vachon in the Verdun Auditorium, by announcing the first ever battle royal to take place in the Montreal Forum. In the battle for Detroit – where Dick the Bruiser ran in opposition to The Sheik – André appeared on Bruiser's December 27 card as 'The Polish Giant.'
Also on the aforementioned October 5 card was the return to Montreal of "The Mormon Giant," Don Leo Johnathan. André interfered in Jonathan's best-out-of-three-falls match with Carpentier, when André threw him from the ring and Carpentier was disqualified. More incidents in tag team bouts followed between the two giants, and then, in front of a Grand Prix record crowd of 11,187 at the Montreal Forum, André again saved Carpentier from losing his championship to Jonathan by causing a disqualification.
In January 1972 he returned to Detroit and on Grand Prix's debut in Ottawa – the capital of Canada – on January 31, he was put out with an injury when he was attacked with chairs by Poisson and Zarinoff Lebeouf. This enabled him to be away for the entirety of February, so he could wrestle again for the AWA and embark on another Japanese tour through March. He worked in New Zealand for Steve Rickard and returned to Grand Prix on March 14 in Verdun, where he teamed with Carpentier against Jonathan and Mad Dog Vachon, in front of a sold out crowd of 5,000, with many turned away, their biggest at the Auditorium. The next week (March 20), they drew a new company record crowd of 15,232 at The Coliseum in Quebec City, to see André and Carpentier against The Vachons.
André returned for an eight week tour of Japan at the end of March, where he participated in the fourth annual IWA World Series. For the second year in a row, he made it to the final, where he faced his old rival, Strong Kobayashi, whom he mostly worked throughout the tour. André won the first fall with his Tombstone Driver, but lost the next two falls by disqualification and count-out. On the first night of the tour, he had to work barefoot – for the first and only time in his career – against Don Leo Jonathan, when his luggage did not arrive in time.
After so much build, the big match between Jean Ferré and Don Leo Jonathan took place in the Montreal Forum on May 31, 1972. Billed as the 'Match of the Century,' 16,164 people saw the bout end with a bloodied André being disqualified for refusing to release a choke. The rematch took place in Quebec City on June 6, with Jonathan this time getting disqualified.
While the crowd figure for André/Jonathan at The Coliseum in Quebec City was disappointing – drawing only half of what they did in Montreal – business would pick up starting on July 3, when fifteen thousand fans saw André carted out on a stretcher after being beaten up by The Vachons and Jonathan during the course of a six-man tag, where he teamed with Carpentier and Yvon Robert, Jr. In the rematch back at the Coliseum ten days later, they drew sixteen thousand people.
After taking the Jean Ferré/Jonathan show to Ottawa, another match took place at the Montreal Forum, which André lost cleanly in front of 20,347. The third and penultimate match between the two in Montreal saw André get the victory in front of a smaller crowd of twelve thousand. In amongst their matches in Quebec, the rivalry was also booked by other promoters around the United States and Japan.
André made another booking for Dick the Bruiser, this time in Chicago. Not wanting to use The Polish Giant moniker again, he asked Paul Vachon what name he went by in Grand Prix, to which Vachon answered, 'Giant Jean Ferré.' Bruiser thought it sounded too much like 'Jean Fairy,' and when told Jean's real name was André, he was billed for the first time as 'André the Giant,' on September 1, 1972 in a handicap match against Vachon and Larry Hennig. The newspapers still called him by various names, such as André 'The Giant' Roussimoff, and it may have only been referenced on the event's programme.
The road that led to André being booked by the WWWF came when Grand Prix were approached by a promoter who wanted $100,000 for his Boston and New England territory. Grand Prix were all for the deal, but Yvon Robert Jr – who worked in the office – suggested they look into it more closely. As it turned out, it was not the promoter's territory to sell, as it really belonged to Vince McMahon Snr. McMahon invited Paul and Maurice Vachon to New York, where they worked at Madison Square Garden on January 15, 1973. Paul suggested to McMahon that he book André, as he admitted he had done all he could with him in Montreal.
André's first appearance in the WWWF was at the Philadelphia Arena on March 24, where he defeated Frank Valois and Bull Pometti in a handicap match. In the posters for the upcoming MSG and Boston Garden shows, he was billed as André the Giant, which would be his name moving forward in the United States. Two days later, he made his MSG debut where he defeated Buddy Wolfe.
A week into his run, McMahon drew up a contract to become André's booking agent. Paul Vachon agreed to the terms, whereby Grand Prix would still be able to book André without paying a fee. Vachon also insisted McMahon hire Frank Valois to be André's road manager. Valois – with his mastery of English – conducted media interviews for André when he entered a new area, such as Texas. Valois would also serve as his manager at ringside, and occasionally put on the boots himself.
In the summer of 1973, André continued working in Quebec, as well as the Maritimes for Emile Duprée. Originally scheduled to appear on Grand Prix's first event at Jarry Stadium – only to run into an issue over an expired wrestling license – André defeated Professor Toru Tanaka in front of 12,383 fans at the company's second stadium event. But business quickly declined for Grand Prix. On October 2, he teamed with Carpentier against Poisson and Killer Kowalkski in The Forum, and finished up the next week teaming with Carpentier and Don Leo Jonathan (of all people) against The Hollywood Blondes and Chuck O' Connor, the latter of which would become one of André's great WWF rivals, 'Big' John Studd.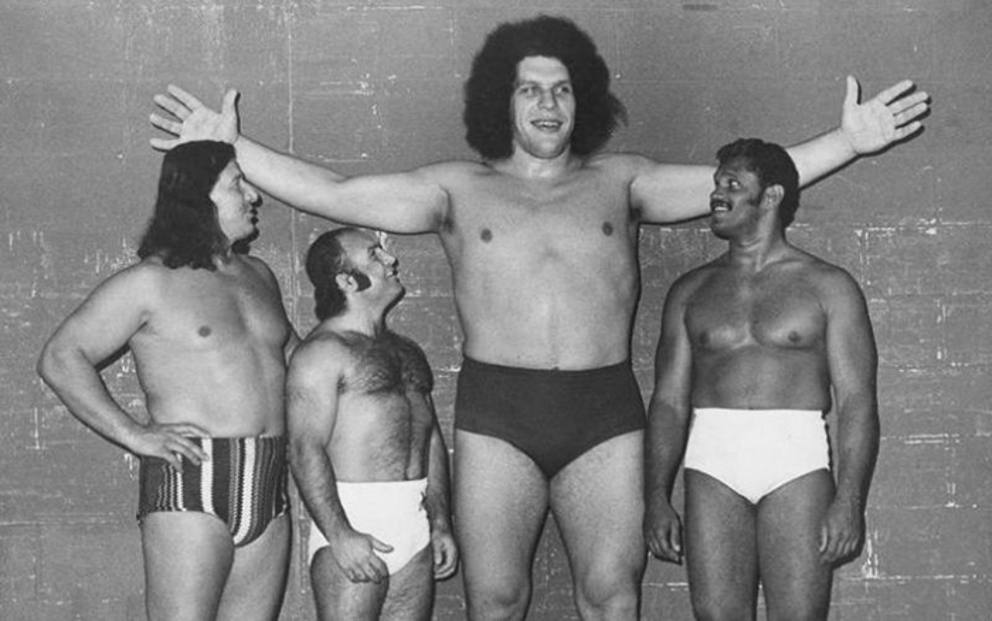 At the beginning of 1974, André worked a series of matches against The Sheik in Toronto. Their first bout in Maple Leaf Gardens lasted only four minutes, when both men were disqualified. The following week, André lost to Sheik in a last man standing match when three minutes in, André was hit in the face with a fireball. A third bout on August 11 saw André win by disqualification. They would have other matches, but by the third outing, interest had subsided.
After lengthy negotiations between New Japan's Antonio Inoki and McMahon, the start of a long working relationship was formed. Naturally, André was part of the WWWF crew that toured New Japan throughout 1974, no longer as Monster Roussimoff but André the Giant. During this initial four week tour, André defeated Inoki in their first singles encounter after help from Valois. On the last day of the tour, André was part of a double main event, where he worked with the two-hundred-and-eighty pound Seiji Sakaguchi, which drew a then-record New Japan crowd of 16,500 at Sumo Hall.
He returned to Japan on June 25, but for his old employer Yoshihara, at the now struggling IWE. It was the Giant's idea to help the company that took a chance on him in Japan, and he agreed to work at a much reduced rate, working through until July 2; Inoki raised no objections. André was back for New Japan in December and on the 15th, André and Inoki went to a double count-out during a two day tour of Brazil which drew a reported 21,000 in Sao Paulo.
Back in the WWWF, André faced down many challengers throughout 1974, including 'The Big Cat' Ernie Ladd, who stood six foot nine. The night before their first bout on August 9 in Los Angeles, André appeared on The Tonight Show with guest host Joey Bishop, mainstream media exposure that was very rare for a wrestler in the 1970s. Initially, McMahon booked him as an attraction, rather than full-time in the territory, which served both he and André well.
He made the first of three short tours to Australia in November 1974, returning in 1976 and 1978. Sydney newspapers reported glowingly of the reaction André received upon his arrival 'down under,' even bigger than when Frank Sinatra came to Australia, they claimed. At a match in Sydney, JJ Dillon described the worst wrestling riot he had ever seen, when the crowd reacted wildly to his interfering in a match on behalf of Brute Bernard. Chairs were thrown when JJ bloodied André with his shoe; JJ got a chair in the back, and Bernard needed ten stitches when a thrown chair hit him in the back of the head (Bernard still worked against André in a rematch the following night in Melbourne).
André became co-holder of the company's final Austra-Asian Tag Team championship at the end of 1978, when he and Ron Miller defeated Ox Baker and Butcher Brannigan on December 8 in Sydney. Two days later in Melbourne, the promotion taped its final show for GTV-9, before being replaced by World Series Cricket. On December 16, André appeared in his first cage match, which saw André, Miller and Larry O' Dea get a win over Ox Baker, Butcher Brannigan and Bulldog Brower. Right before the WWF toured Australia in 1986, he would return to work some independent shows promoted by Miller and O'Dea after the closure of WCW.
The giant worked one of his specialties – the battle royal – for three different promoters in January 1975, including Roy Shire's annual battle royal show in San Francisco at the Cow Palace. While André was unsuccessful in San Francisco, he did win the events in Los Angeles and Houston. (In 1977 and 1980, André would become the first two-time winner of Shire's battle royal). On his next New Japan tour, he got some revenge on Strong Kobayashi – his great rival from IWE who was now in New Japan – by defeating him on every occasion.
André never appeared to have a great interest in sports apart from casual participation growing up (although he did like the game of cricket, a sport not typically played in France). In April 1972, the Montreal Alouettes in the Canadian Football League had wanted to sign him, but they baulked when told he got paid three thousand dollars a week to wrestle. On July 8, 1975, a press conference was held in Washington D.C, where the Redskins announced they were interested in acquiring his services. The media picked up on the story, but unlike the Montreal offer, Vince McMahon Jnr said that it was all a publicity stunt.
He returned to Quebec City for the first time since 1973 in August of 1975 to work for the short-lived Grand Circuit Wrestling, started up by Don Leo Jonathan from the ashes of Grand Prix. Four months later, André worked for All Star Wrestling – the longtime adversary of Grand Prix – for the first time. It was not a memorable match, as he worked a two minute bout against The Sheik in Quebec City in front of just two thousand people.
However, on February 16, 1976, eleven thousand turned up to the Montreal Forum to see André battle Abdullah the Butcher. On the return show at the Forum in April, he faced Ivan Koloff in front of another ten thousand fans. It would be the final main event at the Forum for six years, as shortly after, All Star lost their television slot and Rougeau sold the promotion at the end of 1976.
Bruno Sammartino challenged heavyweight boxing champion Muhammad Ali to a 'boxer versus wrestler' bout in 1975, with the backing of Vince Snr. But Ali – who did love professional wrestling and claimed he based his mic work on that of Gorgeous George and Classie Freddie Blassie – wanted six million dollars. Negotiations fell through, but was then picked up by NET TV and New Japan Pro Wrestling, which led to Ali accepting the challenge of Antonio Inoki.
A press conference was held on March 25, 1975 in New York City, announcing that the Ali/Inoki bout would take place a month from then in Tokyo. As part of the undercard at Shea Stadium in New York, André the Giant would also participate in a boxer versus wrestler match, his opponent to be determined. Ali and André engaged in some banter, with Ali asking the giant if he (André) thought he could beat him. André responded he would beat him then throw him out of the building. Afterwards, photographs were taken of Ali comparing his fist to André's.
After several candidates were mulled over – including one potential opponent who was murdered – Chuck Wepner was chosen. A worked bout, André won after throwing Wepner over the top rope early in the third round. Things got tense after the match, involving Gorilla Monsoon at ringside who was accused of booting Wepner, and then André and Wepner allegedly went at it for real. One of Wepner's corner even tried punching André, and succeeded in breaking two of his own fingers.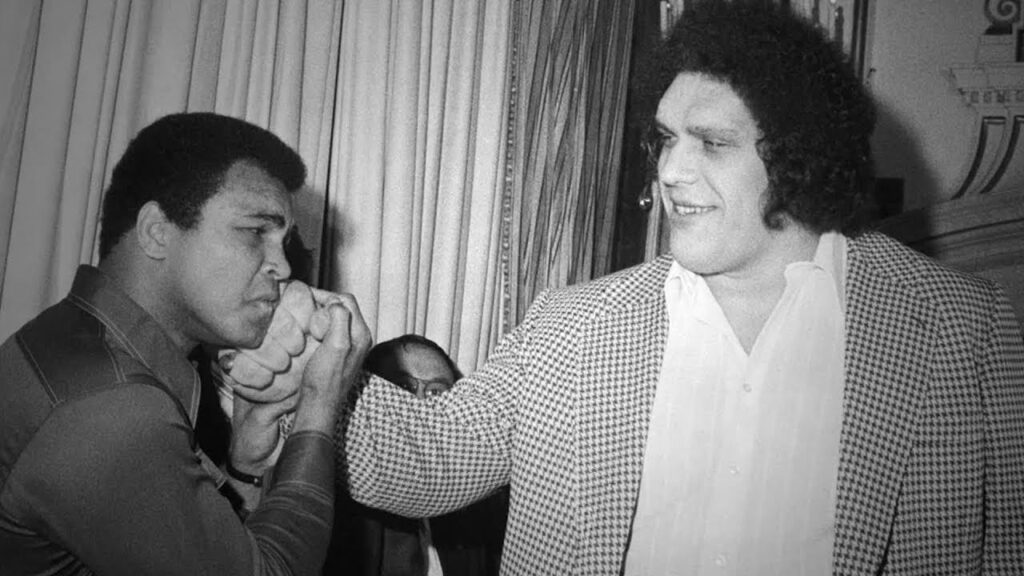 For the third season of the popular television series The Six Million Dollar Man, André was cast as Bigfoot in a two part episode, which involved a fight scene with star Lee Majors. The cover of the May 1976 issue of Inside Wrestling featured a big photo of André in his costume and prosthetic makeup standing next to Majors. This same photo was sold at wrestling events everywhere André appeared, and Majors to this day sells the signed photo at fan conventions.
André typically did not need a championship belt, but he did challenge Harley Race on a number of occasions for the NWA World Heavyweight Title. Their first bout took place on July 15, 1977 during the Calgary Stampede for Stu Hart. Race achieved a rare honour when he managed to slam André on October 13, 1978 in Houston. He also challenged Nick Bockwinkle for the AWA World Heavyweight Title, and The Sheik's NWA U.S Title.
He did have success in acquiring tag team championships, such as on Christmas Day 1978 – the same month he won the tag titles in Australia with Ron Miller – when he and Dusty Rhodes won a tournament final to win the NWA U.S Tag Team titles in New Orleans. (Due to his schedule, André moved on and a month later, Dusty and The Spoiler dropped the belts).
He took a break in the middle of 1977 to travel back to France for his brother Jacques' wedding on July 30th. André paid for his honeymoon to Canada, during which he saw André work a handicap match against three opponents in Toronto, with the equally large Haystacks Calhoun as his tag partner.
He made a rare appearance in Hawaii for Ed Francis, who had not promoted a show in the state for several years. On June 22, 1977, André won a battle royal in front of 7,600 fans. Rick Martel stopped into Hawaii on his way back from Australia and New Zealand and realised there was a wrestling show going on. Martel went to the Ambassador Hotel where the wrestlers were staying to see André. After going out for lunch, André invited Martel to meet with Francis and the crew. It led to André putting in a good word for the French-Canadian and Martel was also booked.
To further the case that André had a soft spot for French-Canadians, he did a rare clean loss for top heel Ronnie Garvin in Knoxville on March 5, 1978. To Garvin's knowledge, McMahon had no prior knowledge André was going to do the clean pin. It is unlikely he would have allowed it if he was told; McMahon had been enraged when Pro Wrestling Illustrated editor Bill Apter ran a cover story about André losing to Jerry Lawler in Memphis on April 5, 1977.
The story was written with glowing praise of Lawler's quickness and superhuman strength in lifting André and putting him over the top rope to the floor to win by count out, with the headline of 'a midget beats a giant.' Four months later, McMahon brought up the issue at the NWA convention in Las Vegas. (As it turned out, André actually won the match by disqualification when two wrestlers interfered on Lawler's behalf!)
Despite later retelling of history by the WWF, the rivalry between André and Hulk Hogan really kicked off in 1980, although they did have some previous interactions. They first shared a ring together in 1977 in a battle royal, when Hogan was starting out in Florida as the hooded 'Super Destroyer.' Their first singles match took place on April 26, 1979 for Louie Tillet's South-East Championship Wrestling. The following month, an arm-wrestling contest was staged between the two, which André won before Hogan lashed out and bloodied the giant. This set up their first big match together in Dothan, Alabama which drew five thousand.
André and Hogan's first match in the WWF took place on March 28, 1980, and just over a week later, they main evented in Baltimore for 11,500 people. They worked two stadium shows in the space of a week; the first for Bill Watts at the Superdome in New Orleans on August 2, and then back in the WWF at Shea Stadium in New York. At the Superdome show, Hogan apparently did not want to lose to the giant. When Watts relayed that message to André, he gave Hulk a decent beating before it ended in a double count-out. At Shea Stadium, the referee was knocked out, and Hogan slammed André and went for the cover but there was no official. After a new referee had come down, André slammed and splashed Hogan for the win, with Hulk clearly getting the shoulder up before the three.
Before their next big match in the WWF – which took place on September 22 in Madison Square Garden – they took their programme to Montreal. Hogan was put over several French-Canadians in preparation for André, even defeating the legendary Édouard Carpentier in under a minute. In one of the biggest matches in the promotion's history, they sold out Paul Sauvé Arena for the first time on August 25, 1980 in front of 7,853 fans.
Hogan and his manager Freddie Blassie confronted André on WWF television, which led to an impromptu match. Hogan loaded his elbow pad with a foreign object and badly bloodied André. After regaining his feet, an enraged, crimson masked André bellowed for Hogan to come back and fight. In MSG, special referee Gorilla Monsoon did a fast count which enabled André to pin Hogan, who had slammed him, and then buckled under the weight on a second attempt. Hogan again got the shoulder up, despite the quick count. Even before Wrestlemania III in 1987, André was setting Hogan up for bigger things.
The year ended with the two having singles and tag matches against each other during a two month tour with New Japan in October through to December, always with indecisive finishes. They also worked on New Year's Day 1981, for Jim Crockett Promotion's big show at the Omni in Atlanta, Georgia. Hogan would become blacklisted by McMahon for taking the role of 'Thunderlips' in Rocky III, but that still did not prevent the two continuing to work throughout 1981 in other promotions.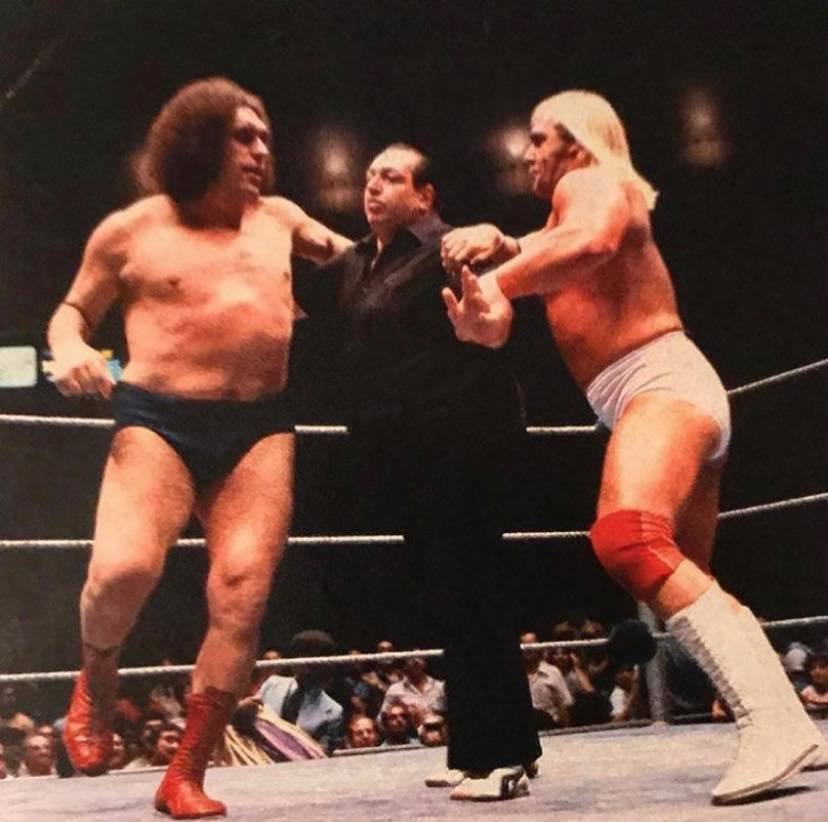 Despite his grueling international schedule, it took until May 1981 for André to require surgery for the first time. His ankle had been bothering him, and was encouraged by good friends Frenchy Bernard and his wife Jackie to see a doctor. (In the 1970s, André purchased a property in the small town of Ellerbe, North Carolina. When Frenchy had to leave the wrestling business, he had Frenchy and Jackie move in and look after the house and ranch). When X-rays revealed it was only sprained, he continued wrestling.
On the morning of May 2, he broke his ankle getting out of bed in his hotel room in Boston. He still managed to walk into the office of Dr. Yett at the Beth Israel Hospital, and explained it had happened during a match. He had last worked Killer Khan, who was thus blamed for causing the injury. At the same time, Sports Illustrated were researching and doing a feature article on André's life and career for their December 1981 issue, and repeated the story that Killer Khan had injured the giant.
After the surgery, he recovered on the ranch in Ellerbe until June 8, when he made a surprise appearance in MSG to do an interview with Vince McMahon Jnr. He promised the fans the cast would be removed in three to four weeks, and he was correct. (The cast, still the biggest ever made by Beth Israel Hospital, is now a part of the WWE collection and shown at Axxess during the week leading up to Wrestlemania). The next night on a television taping in Allentown, Pennsylvania, he was attacked by Khan after first being distracted by Freddie Blassie.
The first bout to this rivalry took place on July 17 in Glens Falls, before three days later drawing over twenty thousand to MSG, where they battled to a double disqualification. Their next bout in MSG – a Texas deathmatch on August 24 – drew another sell-out. The most memorable bouts were the Mongolian Stretcher matches, such as took place on November 14 at the Philadelphia Spectrum. To round out the year, André and Khan battled in Montreal and Toronto's Maple Leaf Wrestling, as well as part of a triple main-event on December 8 in Sumo Hall for eleven thousand people. Their final matches against each other would take place in 1983.
Another one of the giant's great rivals was Stan Hansen, which emerged near the end of 1981. On September 23, they drew 13,500 fans in Japan, which ended with Hansen winning by disqualification. During the match, Hansen body-slammed André, the first and only time he would achieve the feat. They would also wrestle on July 26, 1982, for the big return show at the Montreal Forum. It was a year when Varoussac Promotions took things to the next level, but by the end of the year, André had sold up his shares in the company.
Dino Bravo had become a main event attraction, as big as anybody in Montreal. According to Gino Brito, Bravo did not like playing second fiddle to the giant, believing they could draw without him. Despite this claim, twelve thousand turned up to see the company's Quebec Coliseum debut, with André and Hansen in the main event. The aforementioned July 26 Montreal Forum show – which took place five days after and was admittedly stacked – drew 14,175.
André and Rene Goulet teamed up for the annual 1982 MSG Tag League tournament for NJPW, where they finished fifth. Also competing were Bravo and his partner, Adrian Adonis. Shortly after December 10 when the tour had finished, Brito said he got a call from his accountant that André wished to sell his shares in Varoussac Promotions. When asked why, André simply explained he did not like controversy. André however, believed he was pushed out and was very upset even in later years, but Brito denied that was the case. It was also around this time that André fell out with long-time friend and road manager Frank Valois, which sadly was not repaired. (Valois passed seven years after André aged 77. After Valois, Arnold Skaaland took up the road duties for André in the WWF, followed by Tim White, who would become one of André's dearest friends).
Despite the behind-the-scenes problems, André appeared on their December 27, 1982 card to face Abdullah the Butcher in the main event at Paul Sauvé Arena for 8,232 fans. He continued to make appearances in Montreal throughout 1983; on Easter Monday a record crowd of 16,500 saw him beat Ken Patera by disqualification in the main event, followed by an even bigger crowd (18,394) in The Forum on July 25 for a triple main-event, one of which was André against Blackjack Mulligan. His final bout for Varoussac was December 26, 1983 against Mulligan at Paul Sauvé Arena.
Starting on June 5, 1982, a process began which would change the landscape of professional wrestling forever, and end André the Giant's journeyman status for other promoters. Vince McMahon and his wife Linda – trading as Titan Sports Inc. – made their first payment to Vince McMahon Snr and his partners to acquire the World Wrestling Federation. Almost a year later (June 5), Vince the Second was in charge.
At the end of 1983, André and Hulk Hogan worked for the AWA – where Hogan was now wrestling fulltime – before embarking on another Japanese tour. It was from Japan that Hogan gave his notice to Verne Gagne that he would not be coming back, and had signed with the WWF. Hogan was quickly installed as champion on January 24, 1984, with André giving a strong endorsement of the new titleholder. The next day on a television taping interview, André put over Hogan and prophetically added that perhaps someday he would challenge him for the belt. Not long after, with few exceptions, André was signed exclusively by Vince McMahon, who had giant plans for the not-too-distant future.
Starting in 1980, André had wrestled on small tours for EMLL in Mexico, and then for the newer Universal Wrestling Association. On February 24, 1980, André worked a six-man tag in front of twenty thousand fans for UWA; five days later he worked a similar six-man for EMLL as part of a triple main event for over sixteen thousand. That arrangement wrapped up on February 12, 1984 at UWA's ninth anniversary show. In a best-out-of-three falls bout, André was body slammed and suffered a rare loss to Canek. It would be eight years and right at the end of his career when André was able to return to the promotion.
In one of the most memorable angles of André's career, his afro was cut by Ken Patera and 'Big' John Studd during a tag team match on November 13, 1984. Partnered with SD Jones in the Mid-Hudson Civic Centre, André was incapacitated and his hair cut and kept in a small plastic bag, which the heels trotted out to the ring with them in future bouts.
Off the back of all the mainstream momentum which came from working with MTV on two wrestling specials, and the rapid nationwide growth of the company, the WWF put all their financial resources behind a concept called WrestleMania. Taking place on March 31, 1985 and aired at numerous closed-circuit locations around the country, André and Studd went at it in a 'bodyslam' match for fifteen thousand dollars. (André would also be featured in the Hulk Hogan 'Rock N Wrestling' animated series, which aired on CBS in 1985-86).
Studd attempted to be a giant like André, and despite already being a tall, strong man, he took steroids and growth hormone to get even bigger. He was announced as 'Giant' John Studd, and even imitated André's stepping over the top rope to enter the ring, which caused real resentment between the two. The bodyslam challenge was a revisiting of an earlier gimmick Studd adopted with his then-manager, Classie Freddie Blassie, where André came close to accomplishing the feat, only for Studd to grab the ropes or cause a disqualification. Under pressure from Heenan to put something on the line for the WrestleMania bout – since he was putting up fifteen grand – André got agitated and promised to retire if he lost. But in the event, it took just six minutes for André to win the bout, before dispersing some of the cash to lucky ringside fans at Madison Square Garden before Heenan stole back the bag.
André returned to Japan after Wrestlemania, where despite his diminishing health, he had a twelve minute bout with Inoki in Tokyo, before returning to the WWF to feud with another Heenan Family member, King Kong Bundy. Bundy used his massive bulk to damage André's sternum, and the rivalry was off and running. André teamed with Tony Atlas against Bundy and Studd on the October 5 (taped October 3) edition of the new NBC programme Saturday Night's Main Event, where they won by disqualification. On the November 2 (taped October 31) SNME, André and Hogan teamed against Bundy and Studd for the same result.
In the fall of 1985, André returned to Montreal as the WWF moved to take over that market. Unable to get the Montreal Forum, they first went to Quebec City. A main event with André – still referred to as Géant Jean Ferré – and Studd drew ten thousand there, before he went on another Japanese tour and missed the first joint programme of the WWF and Varoussac – now named International Wrestling – at the Forum. When he did work the Forum again it was on November 15 against Bundy for seventeen thousand, although it was reportedly a disappointing bout. It was the final time he worked for his friend Gino Brito, as by early 1986, the WWF got exclusive use of the Montreal Forum, and in 1987, International Wrestling was finished.
Also at a close was his regular tours of New Japan Pro Wrestling. In a very eventful tour, he got a four minute count-out victory over Inoki on June 20 on the final bout of the tour. However, a few days earlier, in a match aired on television in Nagoya, Inoki beat André with an armbar, to record the first known submission loss of André's career. Earlier in the tour on April 29, an infamous match occurred between André and Akira Maeda. For most of the twenty-six minute bout, the two did not co-operate, and Maeda repeatedly kicked the giant's legs, to the point that Inoki came to ringside. When André lost his balance and fell onto the mat, he dared Maeda to try and pin him. Finally, Inoki had the match ended.
André proved he was still the king of the battle royal, when he outlasted the competition at WrestleMania 2 (April 7, 1986). Among the twenty participants were stars from the NFL, including Bill Fralic, William "The Refrigerator" Perry and Russ Francis (the son of wrestler/promoter, Ed Francis). In the end, it came down to André and The Hart Foundation (Bret Hart and Jim Neidhart). After a big boot sent Neidhart out, André pressed Hart over his head and threw him to the floor.
André took a hiatus to travel to the United Kingdom to film scenes for The Princess Bride, where he played the role of Fezzik. To explain his absence, Heenan successfully lobbied for André to be suspended, after he missed a tag team match against his men, Bundy and Studd. When he returned to the ring it was as the masked 'Giant Machine' in New Japan. When McMahon heard about the gimmick, he decided to use it himself for André's return to the WWF. Aside from the hood, he now also wore a single strapped singlet, as opposed to regular trunks, which could conceal a back brace. He was teamed with Super Machine (Bill Eadie), and prior to their arrival in the WWF, The Machines did interviews with Mean Gene Okerlund from Japan.
The gimmick was mostly done as a lark to drive Heenan insane, who naturally protested that it was really André the Giant under the hood. (Gorilla Monsoon added to the hilarity by suggesting it may even be All Japan's Giant Baba). To help ease the load for André, Blackjack Mulligan stood in on a number of occasions as Big Machine. Other wrestlers donned the mask to further frustrate 'The Brain,' including Hogan, Roddy Piper and George 'The Animal' Steele. It lasted a few months before being wound up at the end of 1986, when André was unexpectedly reinstated.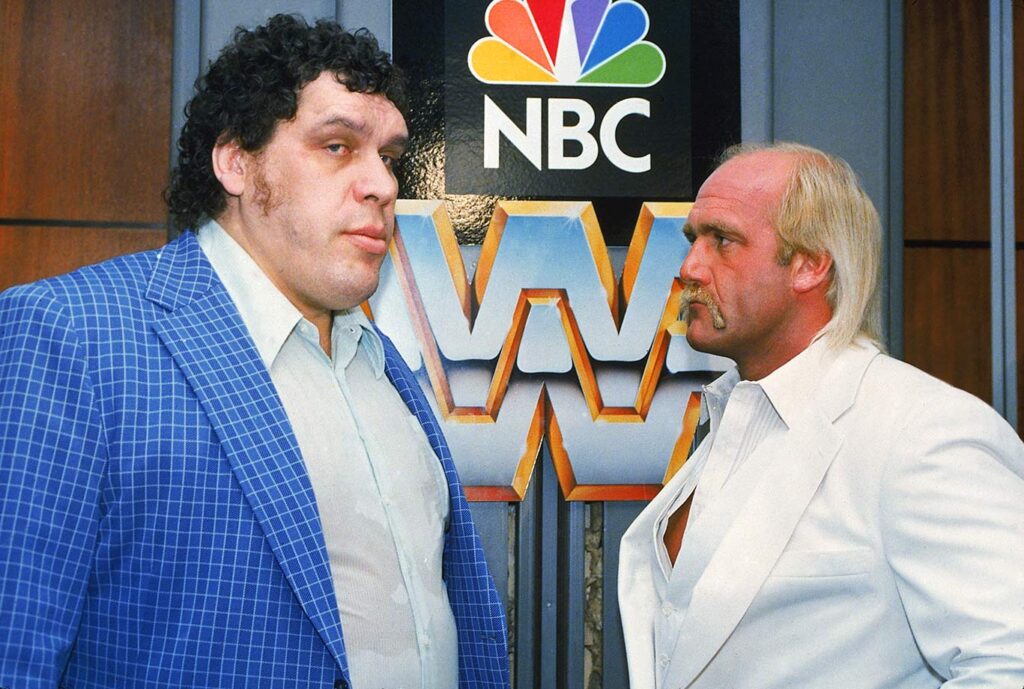 Apart from Japan, André had always played the role of the big, friendly giant. If a rulebreaker pushed him too far, he could become enraged, and get himself disqualified. But generally, he fought on the side of the fans. That all changed in early 1987, when over a series of weekly Piper's Pit segments, André did the unthinkable and aligned with none other than Bobby 'The Brain' Heenan.
André developed an attitude towards his friend, Hulk Hogan. It began when André and Hogan received trophies; André's was to commemorate a fifteen year 'undefeated' career, while Hogan's was to celebrate three years as WWF champion. During the presentation for André, Hogan appeared, which the giant saw as him stealing the spotlight. He did not the see the connection from back when he had celebrated Hogan's title win by pouring champagne over his head during Hogan's first interview as champion.
On another edition of Piper's Pit (aired February 7), André and Hogan were scheduled to settle their beef. In the lead-up, Jesse Ventura claimed to know who the mysterious benefactor was that cleared André's suspension. Hogan and the world was stunned when André walked onto the set with Heenan by his side. Hogan pleaded with his friend, asking why he would associate with someone like 'The Brain.' Heenan berated Hogan for having never given André a title shot. Hulk protested, and then put his hands on André's shoulders, which elicited a firm response to remove them. André then challenged Hogan for the title at Wrestlemania 3 (March 29, 1987). André tore off Hogan's singlet and crucifix before walking away, leaving 'The Hulkster' distraught. On the final Piper's Pit segment that wrapped it all up, Hogan reflected on their friendship, but answered emphatically that he would grant André his title shot.
During the fiery contract signing, André told Hogan he hadn't taught him everything he needed to know about professional wrestling, and that Wrestlemania 3 would be his final lesson. He even told Hogan off in French, which elicited a sharp reply from the champion to speak to him in English. After signing the document, André waved his hand dismissively and said, 'au revoir.'
André had just the one match in the leadup to Wrestlemania III; a twenty-man battle royal on the March 14, 1987 edition of Saturday Night's Main Event (taped February 21). Also in the match was Hogan, and the two very briefly went at it at the start until they were separated. Among the number André eliminated was Lanny Poffo, who was viciously headbutted before being pitched out. Poffo bled profusely and had to be carried out on a stretcher. In the very next interaction with Hogan, André disposed of him easily. Despite eventually being eliminated himself, André had made his point.
While the audience saw him as an indestructible giant, behind-the-scenes there were doubts that André was physically up for it. Many sources have stated he got major back surgery before Wrestlemania 3, but it actually took place four months after. In order to prepare for that as well as the match, André worked on losing weight at Vince McMahon's home gym.
A record crowd – claimed to be 93,173 – witnessed the massive main event in the Pontiac Silverdome. André claimed victory in the opening moments, when Hogan went for a bodyslam, and the giant fell on top of him. Referee Joey Marella slapped the mat three times, but signaled that Hogan just got the shoulder up in time. The bout went on, and Hogan achieved immortality by slaying the giant, in a true passing the torch moment. André earned a measure of revenge when he captained a team against Hogan's team at the inaugural Survivor series on Thanksgiving Night 1987, when he eliminated Bam Bam Bigelow to be the sole survivor (The Hulkster had earlier been counted out).
The long-awaited singles rematch from Wrestlemania 3 occurred on the February 5, 1988 edition of The Main Event. After an attempt to 'purchase' the WWF title from Hogan failed, Ted Dibiase made an arrangement with Heenan to acquire André's services. The contract signing took place at the first Royal Rumble (January 24, 1988), and ended with André banging Hogan's head on the table and flipping it on top of him.
Seen by thirty-three million viewers on NBC – still a North American wrestling record – André controversially ended Hogan's long run as WWF champion with the help of a crooked official. As per the agreement, André immediately sold the title to Dibiase, making him the shortest reigning WWF champion in history. The joy was short-lived when President Jack Tunney stripped Dibiase of the title and put it up for grabs in a tournament at WrestleMania 4. André stood in Dibiase's corner and helped him win his bout against 'Hacksaw' Jim Duggan. As the last two champions, André and Hogan got a bye to the semi-finals, which ended in a double disqualification. André continued to support Dibiase, but couldn't prevent 'Macho Man' Randy Savage beating Dibiase in the final to claim the title, after interference from Hogan.
After WrestleMania 4, André was confronted by Duggan on television. At first, André brushed him off, but then wrapped his huge mitts around Duggan's throat, and somehow busted his mouth. André wrapped the shoulder strap of his ring attire around Duggan's neck and continued to punish him with headbutts. Badly fading, 'Hacksaw' reached down for his trademark 2×4 and knocked André out cold. Vince McMahon on commentary remarked in amazement that it was the first time André had ever been knocked out. Regardless, André dominated their preceding matches, including their first bout at Boston Garden on June 8, 1988.
The rivalry with Hogan – and also the main event career of André the Giant – came to a close at the first Summerslam on August 29, 1988. In a tag team main event, André partnered with Dibiase (The Mega Bucks) in a losing effort to Hogan and Savage (The Mega Powers) after a timely distraction from Miss Elizabeth.
Nobody knew that André 'feared' anything until he encountered Damien on the October 25, 1988 edition of Saturday Night's Main Event (aired October 3). Back with the Heenan Family, 'The Brain' called for help at the conclusion of Rick Rude's match with Jake Roberts. André came to Heenan's aid, only for Jake to unleash Damien. For the first time, the giant appeared terrified. After doing some taunting, Jake threw Damien onto André, causing him to clutch his chest and pass out. At the Survivor Series, in a mid-card elimination bout, André choked out Roberts until he was disqualified, leading to Jake easily being pinned by Mr. Perfect.
The feud with Jake extended into 1989, and included an altercation at the January 15 Royal Rumble. André appeared early and eliminated Roberts, who then returned with Damien, causing André to put himself over the top rope. In a reversal of roles, John Studd returned to the WWF as a fan favourite (going on to win the aforementioned Rumble) and served as the special referee for André's match with Jake at Wrestlemania 5. The bout ended by disqualification when André attacked Studd, until Jake again chased him away with Damien. (According to Herbert and LaPrade's book, André was meant to transition into a feud with Studd. However, as a rib, André circulated the story around the locker room that he wanted to kill him, so Studd simply quit).
Instead, André worked a programme with rising star, The Ultimate Warrior. Just as he did with Jake Roberts, it kicked off when André came to the aid of fellow Heenan Family member, Rick Rude. Heenan wished for André to soften up the Warrior, to make it easier for Rude in their matches over the Intercontinental Title. This was not a memorable rivalry for André, who was defeated in a series of short matches on the house show circuit, and caused some consternation with WWF officials, who felt the giant deserved better.
After another typically short bout with Warrior in Cedar Rapids, Iowa, André lashed out at a local television cameraman who he saw filming the match. André routinely bellowed at anyone he deemed an 'outsider' in the locker room, which he believed was a private sanctum for wrestlers only. On this occasion, it was a non-WWF cameraman, but likely, André was also unhappy that the footage might be aired. André escaped an assault charge but had to pay a small fine and reimbursement for the damaged camera.
The only high-profile, televised squash with Warrior occurred at the Survivor Series on November 23, 1989, where The Heenan Family (captained by André) faced The Ultimate Warriors. Just as the bell rang, Warrior hit André with a series of clotheslines, the final of which sent him out of the ring, causing a quick count-out. Their final bout took place at a house show on December 11.
The swansong for André the Giant – and his final WWF televised match – took place at WrestleMania 6. On a December 13, 1989 television taping, André and Haku (The Colossal Connection) defeated World Tag Team champions, Demolition. The return match took place at WrestleMania 6 (April 1, 1990) in front of over sixty thousand fans in the Toronto Skydome. Haku worked the entire match, with André primarily on the ring apron. When Haku accidentally kicked André in the face, it caused the giant to fall backwards and get his arms tangled in the ropes, leading to Demolition pinning Haku to reclaim the belts. Heenan blamed André for the loss and went so far as to slap the giant. Awoken from his slumber, André dispatched Heenan and Haku and left to a rousing ovation.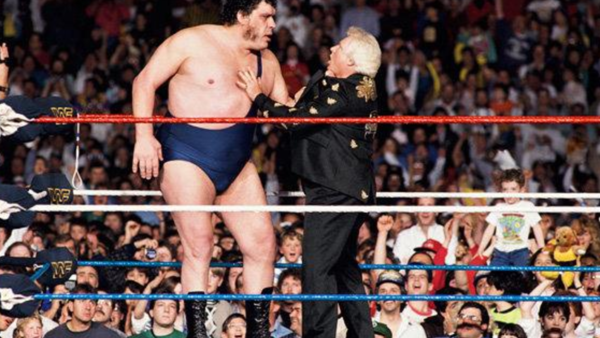 André gained a measure of revenge on Demolition, when he and Giant Baba got the victory at the Tokyo Dome on April 13, 1990. New Japan President Seiji Sakaguchi – in a rare gesture befitting André's stature – met with Baba about booking him in All Japan. In September, André worked Baba's 30th Anniversary Special, and would return for other tours in the near future. Seemingly, André was done in the WWF, but after stopping into Herb Abrams' UWF – where he did two televised promos, but never wrestled – the WWF announced on a November 30 house show that he would be returning as a participant in the 1991 Royal Rumble, but it never eventuated.
Regardless, he did come back to the WWF. He shook the Big Bossman's hand on a USA Network special, which aired the week before WrestleMania 7, where Bossman was to challenge Intercontinental champion and Heenan Family member, Mr. Perfect. André arrived in the middle of that match to ward off Heenan, and then cracked Perfect in the skull with the Intercontinental belt. When Haku and Barbarian came to the ring and caused a disqualification, André helped Bossman send them packing.
On May 10, he worked a battle royal in Long Island, NY, in what would be his final WWF match. A storyline commenced where a bevy of managers attempted to recruit André – including Heenan – but were all turned down in humiliating fashion. On WWF Superstars, Jimmy Hart claimed he had successfully signed the giant, but André denied it. As a result, he was attacked and injured by Earthquake, which allowed him to take time off for knee surgery.
Still recovering from surgery and having to walk on crutches or with the help of a cane, André aligned with any wrestler who opposed Earthquake. This even included his old nemesis, Jake "The Snake" Roberts, after Earthquake crushed Damien. On one particular house show, André caused enough of a distraction for Jake to recover and DDT Quake. He also stood in the corner of The Bushwhackers at the August 26, 1991 Summerslam as they faced the newly-formed Natural Disasters (Earthquake and Typhoon). It is likely that André was supposed to wrestle Earthquake, but his knee did not heal sufficiently.
Fittingly, his last appearance for the WWF took place on a house show in Paris, France, on October 9, 1991, where he helped The British Bulldog defeat Earthquake. On the same European tour, he was on the WWF's first live event in Ireland. He then inexplicably turned up at McMahon's rival WCW's Clash of the Champions XX (along with another former WWF great Bruno Sammartino) on September 2, 1992. While McMahon understood Bruno's appearance given Bruno's attitude towards the company, he was said to have been hurt and upset by the sight of André with his competition.
André worked some more tours with All Japan and UWA throughout 1992, always in multi-man tag matches which severely limited his involvement, but more often than not executed the final maneuver that got the victory. The last match for André the Giant took place on December 2, 1992 in a six-man for All Japan, in front of 16,300 fans at Budokan Hall.
André returned to France just in time to see his gravely ill father Boris, who then passed on January 15, 1993. He remained for his father's funeral, and for his mother's birthday (January 24), as well as to catch up with family and friends. After playing cards and drinking at a coffee shop in Ussy-sur-Marne, he returned late to Hotel de la Tromoille in Paris. His driver – the same one he employed during the filming of The Princess Bride – returned the next morning but got no answer. On the afternoon of the 28th (Paris time), he was found dead of congestive heart failure, aged 46.
The news of André the Giant's death spread quickly, and was heavily reported, particularly throughout North America and Japan; sadly, little was said in his native France. The WWF held ten-bell salutes at the next few house shows, concluding on the February 1 Monday Night RAW in the Manhattan Centre. All Japan held their own ceremony on January 31, followed by New Japan on February 1; UWA held a moments silence on their 18th anniversary event on the 31st.
After a small ceremony in France on February 5, André's funeral took place on February 24 at his ranch in Ellerbe, North Carolina, where his ashes were also spread. He had stated in his will that he wished to be cremated; with no facility big enough in France, André's body was flown back to the United States, where a crematorium close to the ranch in Pinehurst, NC performed the task. His estate was left in the name of his daughter, Robin. Two months after his passing, the WWF announced the creation of a Hall of Fame, with André the sole inductee for 1993.
Much of the information added to this profile came from The Eighth Wonder of the World : The True Story of Andre the Giant by Bertrand Hebert and Pat Laprade.