Profiles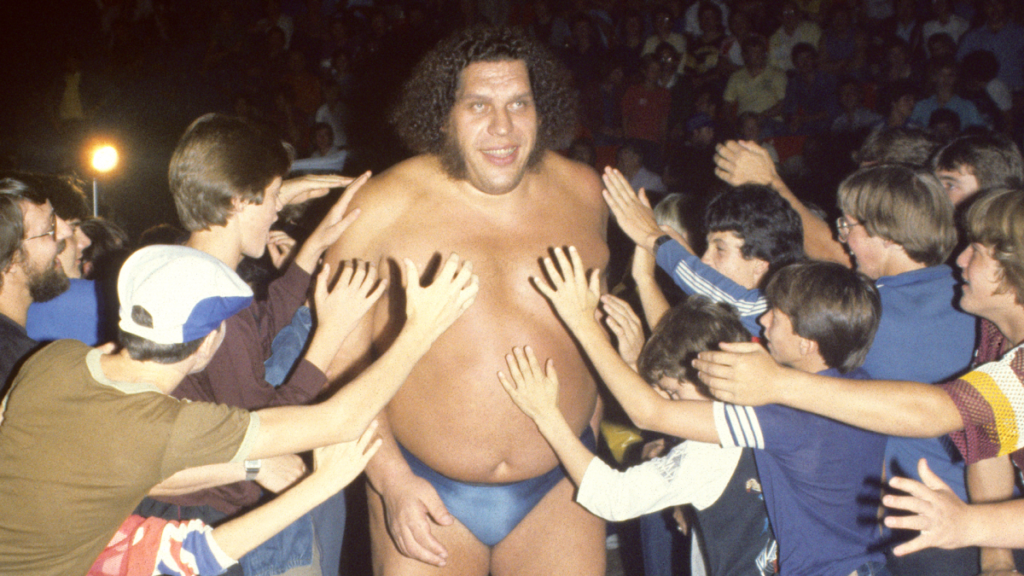 André The Giant Profile
Born: May 19, 1946 (André René Roussimoff) | Birthplace: Molien, France
Died: January 27, 1993 (Heart Failure)
​Billed Weight: 520 lbs | Billed Height: 7 ft 4 in
Other Aliases: Géant Ferré, Jean Ferré, Monster Eiffel Tower, Monster Roussimoff, Giant Machine, André el Gigante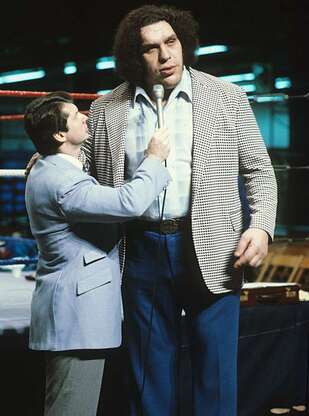 André René Roussimoff was born on May 19, 1946, in the small town of Molien, in north-central France, to a Bulgarian father and Polish mother. By the age of twelve, he stood over six feet tall and weighed over two hundred pounds, and excelled in sports, particularly football (soccer) and rugby. At the age of eighteen, he left home for Paris, determined never to return until he had made a name for himself. There he was discovered and trained by local wrestling promoter Robert Lageat. André debuted in France under the name Géant Ferré, based on the French folk hero, Grand Ferré. In 1966, he met Canadian promoter and wrestler Frank Valois, who became his business manager.
Due to his size and agility, he was soon booked all around the world. André worked for Joint Promotions in the United Kingdom (1969), and in 1970 made his first trip to Japan (IWE) under the name Monster Roussimoff. During this first tour, he was diagnosed with acromegaly; André sadly chose not to get treatment, fearing it would get in the way of his new career. In 1971, he made his North American debut in Montreal (regularly selling out the Montreal Forum) and battled Adnan Al-Kaissie in Baghdad, Iraq in front of a large and hostile crowd. After working for a number of promoters around the United States, Valois organised a meeting for André with the owner of the World Wide Wrestling Federation, Vince McMahon Snr. He debuted for the WWWF on March 24, 1973, where he defeated Frank Valois and Bull Pometti in a handicap match in Philadelphia. 
McMahon Snr. became his booking agent, and is credited for giving him the name André the Giant. (However, there is evidence to suggest he used the name previously in Chicago). Taking a percentage of his earnings, McMahon allowed André to continue working for other promoters. On June 25, 1976, he faced boxer Chuck Wepner at Shea Stadium, prior to the airing of the Antonio Inoki/Muhammad Ali fight in Japan (André won by count-out when he threw Wepner out of the ring). That same year, he was cast as Bigfoot in two memorable and high-rating episodes of the Six Million Dollar Man. He started feuding with a heel Hulk Hogan in 1980, when Hogan and his manager "Classie" Freddie Blassie challenged him on television. The following week, the bout was made a no-contest when Hogan badly bloodied André with a foreign object.  The two clashed at Shea Stadium on August 9, 1980, with André getting the victory. They also worked against each other in singles and tag team bouts for New Japan Pro Wrestling throughout 1982-83. 
The Giant's journeyman status came to an end, when he signed an exclusive deal with the now-owner of the World Wrestling Federation (formerly WWWF), Vince McMahon Jnr. (Due to the WWF's working agreement with New Japan, he was still able to wrestle for Inoki). During this period he feuded with Bobby Heenan and his stable, which included Ken Patera, King Kong Bundy and "Big" John Studd. After a tag team bout on November 13, 1984, Studd and Patera knocked him out and cut his hair, which they kept in a small plastic bag and brought to the ring. Hogan – now a fan favourite – came to The Giant's aid and the two teamed regularly. At the first Wrestlemania on March 31, 1985, André defeated Studd in a 'bodyslam' match. After winning a battle royal the following year at Wrestlemania II, he took time-off to film his part of 'Fezzik' in the Princess Bride. To write him off television, he was 'suspended' for missing a tag team match against Bundy and Studd, after much campaigning by Heenan.
As the masked 'Giant Machine,' he returned to the ring with New Japan on August 23, 1985, defeating Seiji Sakaguchi. A video promo said to be shot in Japan was sent to the WWF with Giant Machine and Super Machine (Bill Eadie), announcing that they would be arriving soon (late-1986). Heenan protested that the identity of Giant Machine was obvious, but WWF President Jack Tunney said he could not be sure unless the mask could be removed (Gorilla Monsoon even joked that it might be Giant Baba!) Other well-known superstars donned the hood to further frustrate Heenan, such as Hulk Hogan (Hulk Machine), Rowdy Roddy Piper (Piper Machine) and Blackjack Mulligan (Big Machine).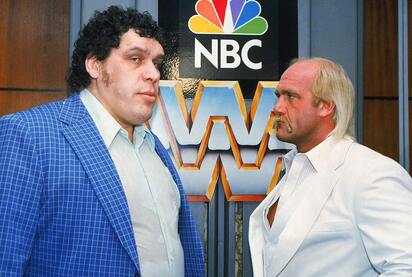 At the beginning of 1987, one of professional wrestling's most memorable feuds began when André turned heel with Bobby Heenan as his manager. He strolled onto the set of Piper's Pit, where Roddy Piper was interviewing WWF champion, Hulk Hogan. The altercation set up the big main event at Wrestlemania III on March 29, 1987, in the packed Pontiac Silverdome. All previous history between the two was re-written, with the claim that the two had never wrestled each other, and that André had never been slammed much less pinned in his fifteen year career. In front of a reported 93,173 fans, André lost the match.
The return bout took place on the February 5, 1988 edition of The Main Event, and with the help of a crooked referee, he succeeded in pinning Hogan under dubious circumstances. He immediately 'sold' the championship to "The Million Dollar Man" Ted Dibiase, before Jack Tunney over-ruled the sale. (Seen by over thirty-three million viewers, it is still the record for the most watched American wrestling match on television). André continued to feud with Hogan, until Summerslam (August 29, 1988), when The Giant and Dibiase lost to Hogan and Randy Savage.
​André worked a series of mid-card level feuds with Jim Duggan and Jake Roberts, which he mostly dominated, although he lost by disqualification at Wrestlemania V to Roberts in a bout refereed by his old rival, John Studd. He fared less better against The Ultimate Warrior, who defeated André in a series of very short matches.  He teamed with fellow Heenan Family member Haku as The Colossal Connection, and defeated Demolition for the WWF Tag Team Titles. At Wrestlemania VI, they lost the titles in a rematch to Demolition, after which Heenan blamed André for the loss, and he became a fan favourite once again. On April 13, 1990, André teamed with Giant Baba in defeating Demolition in Tokyo at The Wrestling Summit (a combined WWF/New Japan/All Japan event).
For the remainder of André's WWF run, he made a number of non-wrestling appearances after being injured by Earthquake. His final appearance was at a house show in Paris on October 9, 1991, where he helped The British Bulldog defeat Earthquake. On September 2, 1992, he was a special guest at WCW's Clash of the Champions XX. His final matches took place in All Japan Pro Wrestling (mostly in tag team matches) and in Mexico for Universal Wrestling Association. André passed away in a hotel room in Paris on January 27, 1993 of congestive heart failure, shortly after attending the funeral of his father. The WWF created the Hall of Fame the same year, with André the first inductee.