Profiles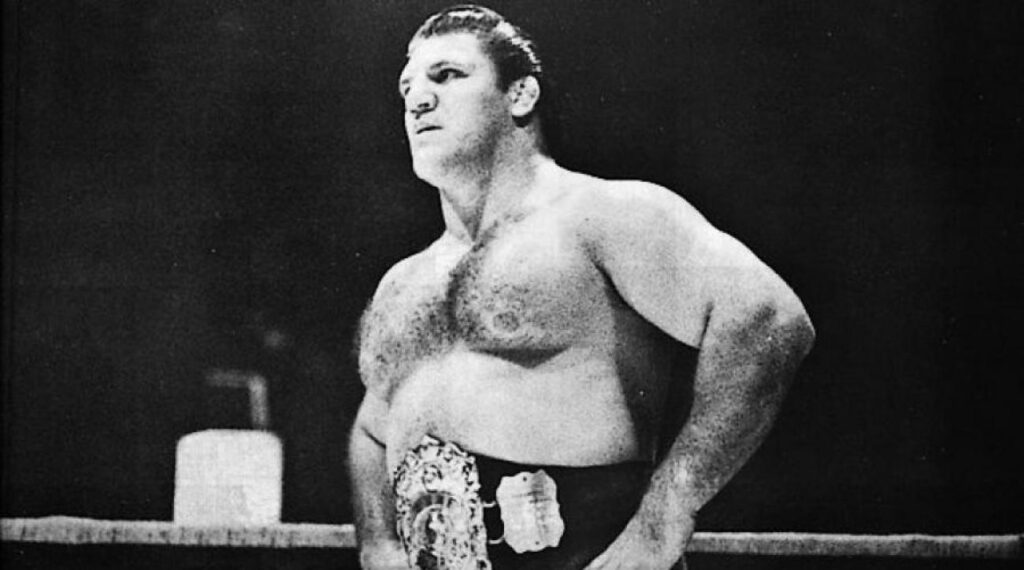 Bruno Sammartino Profile
Born: October 6, 1935 (Bruno Leopoldo Francesco Sammartino) | Birthplace: Pizzoferrato, Abruzzi, Italy
Died: April 18, 2018 (Multiple Organ Failure)
Billed Hometown: Abruzzi, Italy / Pittsburgh, Pennsylvania| Billed Weight: 265 lbs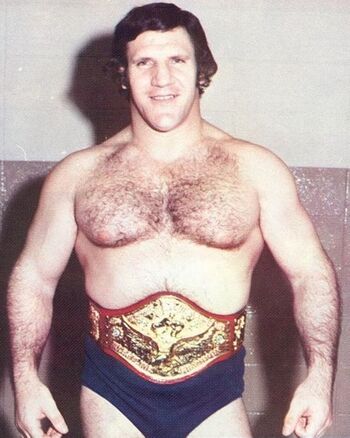 Bruno Sammartino was born in the small village of Pizzoferrato in Abruzzi, Italy, in 1935. The youngest of seven children, only he, a brother and a sister were still alive when World War II began in September, 1939. His father Alfonso immigrated to the United States and settled in Pittsburgh, Pennsylvania. Due to the war, the family did not reunite with Alfonso until 1950.
While Nazi Germany occupied their village (for a total of fourteen months), the family hid in a mountain called Valla Rocca, his mother Emilia having to sneak into the village for food and supplies. By the time the family made it to the United States, Bruno was small and sickly.
Routinely bullied in school, Bruno turned to weightlifting; by the age of eighteen, he built his frame up to a solid 257 pounds and narrowly missed out on being on the 1956 Olympic weightlifting team. He also trained with wrestling coach Rex Peary at the University of Pittsburgh, but it was his strongman routine on sportscaster Robert Prince's television show that earned the attention of local professional wrestling promoter, Rudy Miller.
Bruno made his professional wrestling debut on December 17, 1959 in Pittsburgh, pinning Dmitri Grabowski in just nineteen seconds. He became an instant sensation, particularly among Italians and other ethnic fans. Miller got him a meeting with World Wide Wrestling Federation owner, Vince McMahon Snr. Vince was uncertain, but was influenced by the opinion of business partner Joseph "Toots" Mondt to give the Italian strongman a shot.
He made his Madison Square Garden debut on January 2, 1960, defeating Bull Curry in five minutes. ​Within months, Bruno was headlining the famous arena in tag team matches with Antonino Rocca. In another match in Madison Square Garden that drew headlines, Bruno lifted up the six hundred pound Haystacks Calhoun, the first and only man to do so. Bruno believed he was being underpaid and misled, and left to work for rival New York promoter, Kola Kwariani. The promotion struggled due to low attendances and state athletic commission pressure, so Miller advised Bruno to go back to Vince Sr.
Experiencing more of the same problems the second time around, Sammartino gave his notice and planned to work for Roy Shire in California. But on arriving, he was informed that he had been suspended by several state athletic commissions for missing a match in Chicago (this was due to being double-booked; he was in Baltimore at the time).
In his autobiography years later, Bruno believed that Vince Sr had set him up as punishment for working with Kwariani. On the advice of promoter Johnny Doyle, he went to Indianapolis – which did not have a state athletic commission – but left soon after due to the meager pay (twenty-five dollars a week) and a feeling of being shunned by the promoters.
He returned home to Pittsburgh to look for labouring work, but still attended the local shows to see old friends. There, he took the advice of wrestler Yukon Eric to call the owner of the Toronto promotion, Frank Tunney. Tunney agreed to bring him in, and Bruno became a star, mostly due to the large Italian population in the city. He debuted in March 1962 and on September 27, he won his first title when he and "Whipper" Billy Watson became NWA International Tag Team champions.
He defeated NWA World Heavyweight champion Buddy Rogers, but upon realising he had accidentally low-blowed him, Bruno refused the title. Later he got two more shots at the NWA World Heavyweight Title, then held by Lou Thesz; the first match ended in a draw, the next Thesz won in a twenty-minute match dominated by Bruno.
In 1963, Vince Sr and his partners made the decision to leave the National Wrestling Alliance and installed Buddy Rogers as their first World Wide Wrestling Federation champion. Soon after, Rogers suffered heart problems and after weeks of negotiations, Bruno was convinced to return. Bruno's suspension was cleared when McMahon and Mondt paid his five hundred dollar fine, and on May 17, 1963 in Madison Square Garden, Bruno dethroned Rogers in just forty-eight seconds.
Every month, Sammartino headlined Madison Square Garden, defending the title against all the greats of the era, including "Cowboy" Bill Watts, The Crusher, Killer Kowalski, Freddie Blassie, Johnny Valentine, Waldo Von Erich, The Sheik, and Gorilla Monsoon. Despite the heavy schedule, he still made time to wrestle on Sundays for Frank Tunney in Toronto to show his gratitude, and also defended the title in countries such as Australia, Japan and Mexico. Such was his standing that during his first title run, he got a private audience with The Pope in the Vatican.
In 1966, Bruno bought the Pittsburgh wrestling promotion until selling it in 1971. The Buffalo, New York-based owners kept Bruno on as booker, until it was sold in 1973 and absorbed into WWWF territory. In March 1967, he made his debut in Japan, where he challenged NWA International Heavyweight champion Giant Baba in the Japan Pro-Wrestling Association.
On his second JWA tour in 1968, Bruno teamed with Ray Stevens and faced NWA International Tag Team champions Giant Baba and Antonio Inoki, the one and only time he wrestled Inoki. (Sammartino explained that the reason he never had a singles match with Inoki was because he took liberties with him in the aforementioned tag match, and Bruno did not trust him thereafter).
On December 8, 1969, Bruno teamed with Tony Marino and defeated The Rising Suns (Professor Tanaka and Mitsu Arakawa) for the WWWF International Tag Team championship, but due to still being the WWWF champion, he had to relinquish his half of the titles (his spot was taken by Victor Rivera).
On January 18, 1971, Bruno's incredible reign of seven years, eight months and one day (2,803 days) as champion came to an end in Madison Square Garden, when he lost to Ivan Koloff. The crowd were stunned into silence, and many fans were said to have openly wept. While Koloff had his arm raised three times by the referee (Dick Kroll), the ring announcer did not hand Koloff the title for fear of a riot. (Three weeks later, Koloff dropped the title to popular Puerto Rican, Pedro Morales).
Sammartino got a shot at Morales on September 30, 1972 at Shea Stadium in a rare fan favourite versus fan favourite match. They wrestled to an hour long draw in front of over twenty-thousand fans. Just over a year later, Morales lost the title to Stan Stasiak on December 3, 1973 in Philadelphia, and then a few days later on December 10, Bruno defeated Stasiak for his second WWWF World Title. This second reign would last for three years, four months and twenty days (1,237 days). This time around, Bruno defended against the likes of Bruiser Brody, Ken Patera, John Tolos, Ernie Ladd, Nikolai Volkoff, Freddie Blassie, Waldo Von Erich, and Billy Graham.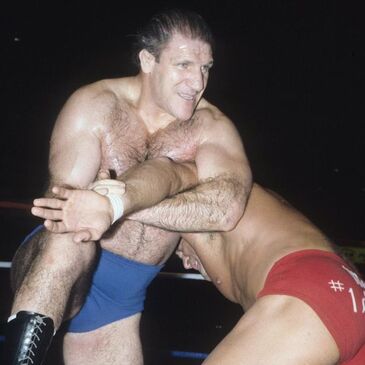 Bruno suffered a fractured neck during a title defense against Stan Hansen (April 26, 1970), when Hansen dropped Sammartino on his head executing a bodyslam (it was later explained that Hansen's patented lariat clothesline had done the damage). Against doctor's advice, he flew home the same night to Pittsburgh, as he did not want his parents to know he was in hospital. Just two months later, Bruno returned to action at Shea Stadium on June 25, 1976 to get revenge on Hansen.
The match aired on closed-circuit television in the United States as part of the under-card for the Muhammad Ali/Antonio Inoki fight in Japan. (Vince Sr had invested heavily in the Ali/Inoki fight, which did not generate much interest in the United States, and advance ticket sales were low. It improved drastically when Bruno and Hansen were announced on the card, and prevented a major financial loss for Vince and the WWWF). When Hansen ran away after a brutal thrashing, Sammartino won by count-out.
Sammartino's second run of 1,237 days ended on April 30, 1977 by a cheating "Superstar" Billy Graham in Baltimore. Bruno got a number of rematches, the final one taking place in a steel cage in Philadelphia, which Bruno lost when he kicked a bloodied and beaten Graham through the door. ​
Now without the WWWF championship, Bruno toured internationally and worked other territories around the United States. ​He wrestled a one hour draw with Harley Race in St. Louis for the NWA World Heavyweight Title, and put over local champion Killer Kowalski in Canada.
Bruno was made a colour commentator on WWF Championship Wrestling and All-Star Wrestling. On the January 22, 1980 edition of Championship Wrestling, Bruno was attacked by his protégé, Larry Zybysko. This sparked a memorable feud that culminated in Bruno beating Zybysko in a steel cage at Shea Stadium on August 9 in front of 36,295 fans.
Bruno announced his retirement prior to his match with George "The Animal" Steele on the August 12, 1981 edition of Championship Wrestling, of which he was victorious. Despite this, he continued to work for Giant Baba's All Japan Pro Wrestling, including their tenth anniversary show on October 9, 1981, teaming with Baba against Tiger Jeet Singh and Ueda Umanosuke. (He had begun working for AJPW in 1973 and continued to appear despite the WWWF having a working agreement with the rival New Japan Pro Wrestling).
In 1984, a recently fired office worker (Angelo Savoldi) informed Bruno he had been cheated out of promised gate percentages by Vince Snr during his entire second run as WWWF champion. Sammartino filed a suit against McMahon Snr and Capitol Wrestling, which was settled out of court by Vince McMahon Jnr after his father passed away. Bruno agreed to be re-hired as a colour commentator by Junior, and his son David was also signed.
Bruno appeared in David's corner for his match with Brutus Beefcake at the first Wrestlemania and came out of retirement to team with David against Beefcake and Johnny Valiant in Madison Square Garden, as well as against Paul Orndorff and Bobby Heenan.
After being insulted by Rowdy Roddy Piper on a segment of Piper's Pit, Bruno and Piper feuded in singles and tag team matches, where Bruno often teamed with Paul Orndorff against Piper and Bob Orton; he gained the ascendancy when he defeated Piper in a steel cage in the Boston Garden. Bruno also took offense to Intercontinental champion Randy Savage bragging about injuring Ricky Steamboat's larynx. He defeated Savage in a lumberjack match by disqualification, and teamed with Tito Santana against Savage and Adrian Adonis in a steel cage at Madison Square Garden. At Wrestlemania II, Bruno competed in a battle royal that featured NFL players, but was eliminated by "Big" John Studd.
His last major WWF feud was with The Honky Tonk Man over the Intercontinental Title, and a short rivalry with Hercules. He wrestled on promoter Paul Boesch's retirement show (promoted by the WWF) in Houston, Texas, where he defeated Hercules by count-out. His final WWF match took place in Baltimore, where he teamed with Hulk Hogan against King Kong Bundy and One Man Gang.
Bruno continued doing colour commentary on Superstars until March 1988, when he split with the company over his objection to drug use. (He also fell out with his son David, and the two did not speak for many years).
After leaving the WWF, he became a vocal critic of the company, mostly concerning drug use and 'vulgar' storylines. He regularly spoke with the media during the highly publicised WWF steroid trial in the early 1990's. Bruno became a colour commentator for Herb Abrams' short-lived UWF, and was special referee for the Sting/Ric Flair versus Terry Funk/Great Muta steel cage match at Halloween Havoc on October 28, 1989. He briefly served as a colour commentator with Jim Ross on WCW Saturday Night, and was invited as a guest to Clash of the Champions XX on September 2, 1992.
After many attempts, Bruno finally accepted WWE's offer in 2013 to place him in their Hall of Fame. The ceremony took place in his old stomping ground – Madison Square Garden – on April 6, 2013, and was inducted by Arnold Schwarzenegger. At Wrestlemania Axxess in April 2014, a bronze statue was revealed in a special ceremony attended by Bruno and Triple H. On March 28, 2015, he returned to the podium to induct Larry Zybysko into the Hall of Fame. Sammartino returned to his village of Pizzoferrato, Italy for a second statue unveiling in 2017.
Bruno passed away of multiple organ failure on April 18, 2018 at the age of 82. WWE gave him a ten-bell salute later that day on their house show in Cape Town, South Africa, and again on the April 23 RAW in St. Louis.