Profiles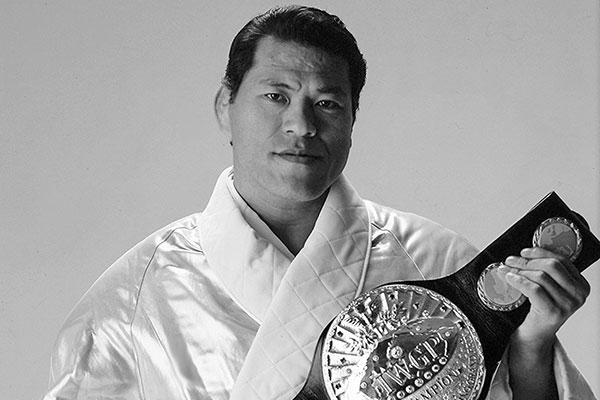 Antonio Inoki Profile
Born: February 20, 1943 (Kanji Inoki) | Birthplace: Yokohama, Japan
Died: October 1, 2022 (Systemic transthyretin amyloidosis)
Billed Weight: 224 lbs
Other Aliases: Tokyo Tom, Little Tokyo, Mr. Kazimoto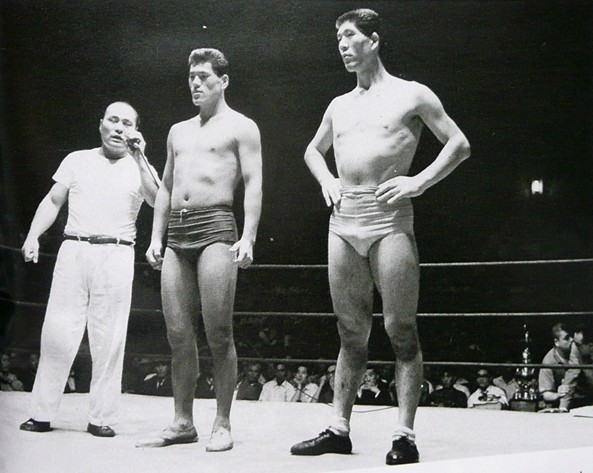 Antonio (Kanji) Inoki was born on February 20, 1943 in Yokohama, Japan. From a young age, he excelled at sports and athletics. In the sixth grade, he was taught karate by an older brother. At age fourteen, Kanji emigrated with his family to Brazil in 1957. He continued to compete in athletics, and won the All-Brazilian championship in shot put and discus at age sixteen.
It was this accomplishment at the All-Brazilian championship that gained the attention of Rikidozan, the father of Japanese pro-wrestling. He travelled to Brazil to scout the now-seventeen year old, and convinced Inoki to return to Japan and train at his dojo. Inoki came under the tutelage of renowned shooter Karl Krauser – the future Karl Gotch – as well as amateur wrestler Isa Yoshiwara and judoka Kiyotaka Otsubo. He learned alongside future tag team partner and rival Shohei Baba, both earmarked by Rikidozan as the men to carry the torch after he retired.
Kanji Inoki debuted on September 30, 1960 in Tokyo for Rikidozan's Japan Wrestling Alliance (JWA), losing to Kintaro Oki. After the shock death of Rikidozan on December 15, 1963, Inoki went on an excursion to the United States, where he remained for two years. He wrestled under his real name Kanji Inoki in Hawaii; as Tokyo Tom in the Central States; Little Tokyo in Los Angeles; Mr. Kazimoto in Oregon, and back to his real name in Texas and Tennessee.
When Inoki returned to Japan, he formed Tokyo Pro Wrestling with Hisashi Shinma and Toyonobori. At the first event on October 12, 1966, Inoki defeated Johnny Valentine – billed as the United States champion – by count-out. In the rematch on November 19 in the Osaka Baseball Stadium, Inoki defeated Valentine to become US champion. Tokyo Pro Wrestling closed the following year, and Inoki returned to JWA on May 26, 1967 and won the vacant All-Asian Tag Team title with Michiaki Yoshimura. He held the title until winning the big prize – the NWA International Tag Team title – on October 31, 1967 in Osaka with Shohei Baba.
This ushered in a golden period, which lasted from 1967-1971, with shows headlined by Inoki and Baba drawing nightly sellouts and big ratings on network television every Friday and Monday evenings. JWA was broadcast on both NET (now TV-Asahi) and NTV, the former of which Inoki was the headliner, while Baba was the top drawcard for NTV. During their reign as tag team champions, they defeated top class duos such as Fritz and Waldo Von Erich, Gene Kiniski and Johnny Valentine, Crusher and The Bruiser and The Funks, among others.
Inoki still worked as a singles competitor, and had a legendary sixty minute draw with Dory Funk Jr for the NWA World Heavyweight title in Osaka, on December 2, 1969, followed by another sixty minute draw against Dory on August 2, 1970 in Fukuoka. A JWA United National championship was created and originally introduced in Los Angeles. Five months after its inauguration, Inoki travelled to the Olympic Auditorium in L.A to defeat John Tolos on March 26, 1971.
Inoki and Baba attempted to wrest control of the JWA from company President Junzo Hasegawa, who took over after the death of Rikidozan. When the coup failed, Inoki and Shinma formulated a secret plan to start their own promotion. The plan was discovered, and Inoki and Baba abruptly dropped the NWA International Tag Team title to The Funks (Dory Jr and Terry), on December 7, 1971. Several days later, Inoki no-showed a third bout with Dory Jr for the NWA World Title and was fired. Then, on January 13, 1972, Inoki and Shinma held a press conference to announce the formation of New Japan Pro Wrestling.
New Japan held their first card on March 6, 1972, where Inoki lost to Karl Krauser, now going under the name Karl Gotch. Gotch held the Real World Heavyweight title, a belt formerly owned by Lou Thesz and allegedly traced back to Frank Gotch. The rematch on October 4 was officiated by Thesz and drew a sell-out crowd at Sumo Hall, and generated such a high rating that NET gave the promotion a regular, weekly prime-time slot on Friday evenings. On this occasion, Inoki defeated Gotch for the title.
The main championship used by New Japan during this time, however, would be the NWF World Heavyweight Title, which Inoki won on December 10, 1973 from Johnny Powers, one of his main rivals. The belt was purchased from the National Wrestling Federation, a Buffalo/Cleveland-based promotion run by Pedro Martinez. Inoki would hold the belt on four occasions, until it was deactivated in 1981, years after the NWF itself had closed down.
Having trained in shoot wrestling, Inoki wanted to prove he was the strongest fighter in the world. In his most famous bout, Inoki faced heavyweight boxing champion, Muhammad Ali. The match took place on June 26, 1976 in Budokan Hall, and would elevate Inoki into a cultural icon in Japan. It was originally set to be a worked fight with a finish designed to save face for both men; Inoki was to win by knockout after hitting an enzuigiri, but not before he had been bloodied and battered by Ali.
However, realising this result would do a lot more for Inoki and could disgrace him in the boxing community, Ali and his camp decided against it. It then became a shoot, but with revised rules. While some of the rules presented would not cause an issue – such as the banning of flying dropkicks or karate chops – what did largely affect the fight was the outlawing of any grappling whatsoever.
With all his offensive options taken from him, and not wanting to stand up and be knocked out, Inoki spent most of the fight throwing leg kicks from his back or low to the mat over the course of the fifteen rounds, until the bout was declared a draw. He landed over a hundred kicks to Ali's shins and thighs, which did so much damage Ali had to be hospitalised; Ali managed to hit only six punches. The dourness of the contest even angered the usually polite Japanese in Budokan. But it rated very highly on television in Japan.
The early afternoon telecast drew a 46.0 rating, showing matches from Budokan, Shea Stadium in New York, and the Olympic Auditorium, with the actual Inoki/Ali bout drawing a 54.6 rating. A replay shown later that evening in prime-time recorded a rating of 26.3. From an historical standpoint, it was a precursor to the future sport of mixed martial-arts, of which Inoki would become heavily involved. It inspired many young people in Japan to take up martial-arts and pro wrestling, as the farcical aspects of the fight would be forgotten after a period of time had elapsed.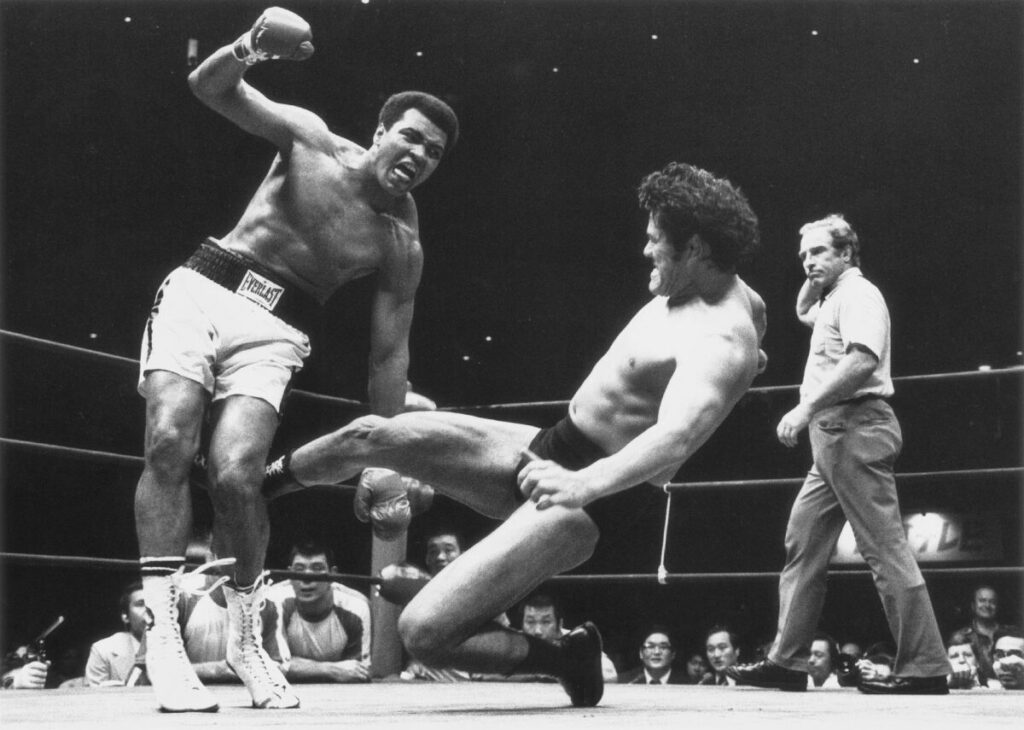 As a "tune-up" for the Ali fight, Inoki knocked out Willem Ruska, two-time Olympic gold medalist in judo, on February 6, 1976 for the Real World Martial-Arts championship. After the Ali match, Inoki regularly faced fighters of a variety of disciplines, such as Olympic judo bronze medalist, Allen Coage (the future Bad News Allen/Brown), and boxer Chuck Wepner. In 1978, the title was renamed the WWF World Martial-Arts championship, and was presented to Inoki by McMahon Sr in New York, after he beat Red Bastien.
Apart from the wrestler versus boxer fight with Ali, Inoki was involved in only a few known shoots in his career. On December 12, 1976, a worked bout with Akram Pehalwan in Pakistan turned into a shoot when Pehalwan tried to change the script. A national hero in Pakistan – the word Pehalwan roughly means elite wrestler – he attempted to try and best Inoki in front of over forty thousand fans in Karachi's National Stadium. However, Inoki easily disposed of him and broke his arm with a kimura, and is said to have narrowly avoided a riot where he could have been shot.
Inoki was back in Pakistan for a match with Akram's nephew, Jhara Pehalwan, on June 17, 1979 at Karachi's Gaddaffi Stadium. Whether this was meant to be a work or a shoot is unclear, but it appeared that real blows and wrestling took place. After five, five minute rounds, the match came to an end, and Jhara was made the winner by decision; in Japan, it was declared a draw. Inoki became a highly revered figure in Pakistan, and Inoki's death was noted by Pakistan Prime Minister Shebaz Sharif, who said Inoki was his idol in the 1970s. The two would meet on December 5, 2012 when Inoki returned to Pakistan for the Inoki Bom Ba Ye event in Islamabad, which drew over twenty-five thousand people.
Possibly the most well known of Inoki shooting in a match took place on December 8, 1977, when he was pitted against former strongman, The Great Antonio. A rival of Rikidozan in the early 1960s, he was now in his 50's, and grossly haggard and out of shape. From the start, he no-sold and then hit Inoki stiffly several times in the back of the head and neck. Inoki snapped and unleashed a series of open palm strikes, followed by lethal kicks and stomps until The Great Antonio's manager pleaded with the referee to stop the match. By the time he was done, Inoki had left his opponent in a pool of blood.
There was also a bout that took place in Stuttgart, Germany, in which Inoki battled Greco-Roman wrestler, Roland Bock, who had competed at the 1968 Olympics in the Super-heavyweight division. The match was wrestled in a realistic style, with Bock rarely selling and countering much of Inoki's offense. Bock won by judge's decision, and so while it is not regarded as a shoot, it looked very legitimate. On the back of this, Bock was brought to New Japan in December 1981, and the two had another bout on January 1, 1982. For this occasion, Inoki had Karl Gotch in his corner to make sure Bock did not try anything, but it was all co-operative (including Bock's attack on referee Pete Takahashi).
Inoki technically became the first Asian to become WWF champion, when he defeated Bob Backlund in Tokushima, Japan, on November 30, 1979. During the course of the match, Inoki's rival Tiger Jeet Singh brawled with other wrestlers around the ringside area. Inoki hit a back suplex and got the three, just as Backlund kicked out. In the rematch at Sumo Hall on December 6, Tiger Jeet Singh got involved again, this time attacking Inoki right in front of the referee, but no disqualification was called. The championship was supposedly held up when WWF President Hisashi Shinma called for the bout to be declared a no-contest.
Inoki wanted a third match to take place for the title in Madison Square Garden on December 17, 1979, which would be taped and aired on TV-Asahi, as the show had several New Japan stars appearing. However, Vince Sr stuck with his advertised Texas Deathmatch between Backlund and Bobby Duncum. Instead, Inoki retained the NWF Title over The Great Hussein Arab (The Iron Sheik), and Inoki's title win has never been acknowledged by the WWF/E.
New Japan created a governing body – the International World Grand Prix – which later led to the creation of the IWGP Heavyweight Title. Inoki reached the final of the first IWGP tournament on June 2, 1983, but lost by knockout to Hulk Hogan. He took a sabbatical of several months, during which time business boomed, but the company faced a major crisis when it was discovered company funds were being used to prop up a not-so-successful venture of Inoki's in Brazil.
While he retained his position as major stockholder, Inoki stood down as New Japan President as a result of the embezzlement scandal. Several top stars – including Riki Choshu and Dynamite Kid – jumped to All Japan Pro Wrestling, the promotion Shohei Baba created a year after Inoki left JWA. Shinma – who it is believed took the fall for Inoki – also left and formed the Universal Wrestling Federation along with Satoru Sayama (Tiger Mask), who retired in the wake of the scandal.
The long relationship with New York – going back to the Vince Sr days – also ended as the WWF (now under Vince Jr) needed all hands on deck for their national expansion, including Hulk Hogan. This largely affected the finish of the IWGP tournament in 1984, where Inoki again reached the final with Hogan. Not wanting Hogan to lose out-right, the WWF ordered another finish, and it ended in a count-out win for Inoki after interference from Choshu, now back in the fold. At the 1985 tournament, Inoki defeated both Andre the Giant and then-WWF champion Hogan by count-out, in what was their final encounter.
In what is believed to be Andre's only submission loss of his long career, Inoki triumphed in front of over ten thousand fans in Nagoya on June 17, 1986 via armbar. This was the semi-final of the 1986 IWGP Tournament, which Inoki again won when he defeated Dick Murdoch in the final. Three nights later, Inoki lost by count-out in Andre's last match in New Japan. When the first UWF folded, many of its stars returned, with the big feud being between Inoki and Fujiwara, when a finish could not be negotiated with Akira Maeda. Eventually, a five-match series took place between the two, but not before Inoki defeated former heavyweight boxing champion, Leon Spinks. Despite the dubious match quality, it was seen by over thirty million viewers on television.
After winning the IWGP Tournament in 1987 for a fourth straight occasion with a win over Masa Saito, Inoki was recognised as the first IWGP Heavyweight champion, a title he held until he broke his foot and it was vacated. Throughout the year, Inoki and Saito continued to battle, including a bout on October 4 that went over an hour and twenty-five minutes, the longest match in company history (Inoki won again by submission). Inoki's final challenge for the IWGP Heavyweight Title took place on August 8, 1988, when he and Tatsumi Fujinama went to a sixty minute time-limit draw, with Lou Thesz as the referee.
At the end of the year, Inoki also created a big foreign star – Big Van Vader. In the main event on December 27, 1987, Inoki defeated Riki Choshu by disqualification. The brash newcomer issued a challenge on the spot and Inoki accepted, to his detriment. After taking some heavy suplexes, Inoki was beaten in just over two minutes. The riot that ensued by the fans in Sumo Hall resulted in New Japan being banned from the venue for a year. Their Sumo Hall return saw Inoki lose cleanly to Choshu on December 22, 1989.
Prior to becoming the first pro-wrestler to be elected to a major office in Japan, Inoki also pioneered the signing of Russian athletes in 1989, when he brought in the 1972 Olympic gold medalist in judo, Shota Chochyashivili and amateur wrestler Victor Zangiev, among others. Chochyashivili ended Inoki's reign as Real World Martial-Arts champion of thirteen years by knockout on April 24, 1989 in the Tokyo Dome. Inoki won back the title in a rematch on May 25 in Osaka, and on December 31, they teamed in the headliner of the first major modern professional wrestling event in Russia. In front of fifteen thousand people in Moscow, they beat Brad Rheingans and Masa Saito. (This would be the grand sum of Shota's pro wrestling career). Now considered a global statesman using the power of professional wrestling, Inoki was elected to the Japanese Diet on July 24, 1989.
Inoki again used pro wrestling in 1990 to negotiate the release of thirty-six Japanese nationals, being held in Iraq by Saddam Hussein, by agreeing to stage a major wrestling event in Baghdad. During this trip, Inoki became a Muslim and changed his name to Muhammad Hussain Inoki. He also became the first democratically elected official to meet with Cuban leader, Fidel Castro (although he failed in his bid to hold a World Wrestling Peace Festival there in 1997).
He won a second term in 1992, but again, a scandal threatened to derail him after allegations made by long-time business partner Shinma and his personal secretary, relating to financial and governmental improprieties. He denied all and avoided impeachment, but he failed to be re-elected in 1995.
From 1994, Inoki wound down is in-ring appearances, but still made a rare appearance in the United States, when he defeated WCW Television champion Steven Regal in a non-title bout at Clash of the Champions XXVIII. His final match took place on April 4, 1998 against Don Frye in the Tokyo Dome. Approximately sixty thousand packed the Dome, and set a live gate record for professional wrestling of seven million dollars (surpassed in 2009 by Wrestlemania). Muhammad Ali was on hand and passed an Olympic torch to Inoki to carry to the ring, where he defeated Frye via submission.
Despite being out of politics, Inoki made his first overtures to North Korea in 1995, the birthplace of his former mentor, Rikidozan. His diplomatic mission led to the World Wrestling Peace Festival, also known as Collision in Korea. The event involved wrestlers from New Japan and WCW, and included Muhammad Ali as guest of honour. It took place over two days (April 28/29, 1995) at May Day Stadium. The first day drew an alleged 100,000, followed by 165,000 on the second day, the record attendance for a professional wrestling event. Inoki main evented day two and defeated Ric Flair.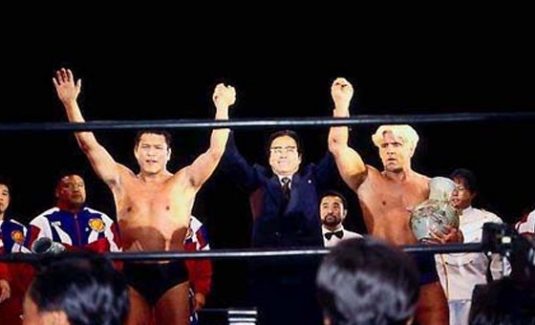 After his political career ended, Inoki gravitated to the mixed martial-arts, of which he could consider himself a pioneer. It was the beginning of an era when Inoki was heavily criticised for the direction he took New Japan. The likes of Tadao Yasuda and Bob Sapp had runs as IWGP Heavyweight champion. Events were loaded up with MMA fighters, who invariably defeated established wrestling stars. Wrestlers were also put into MMA fights with predictably disastrous results (although a then-rookie Shinsuke Nakamura made a good account of himself against Daniel Gracie before being submitted).
Inoki made a grand entrance when he parachuted into Tokyo National Stadium at Pride's Shockwave 2000 event, and along with Helio Gracie, lit a ceremonial Olympic torch. He held his own MMA events, including Inoki Bom-Ba-Ye on New Year's Eve from 2001-2003 (where he also worked some 'exhibition' matches), and New Japan Ultimate Crush on May 2, 2003. His final attempt to have a rival MMA promotion to Pride and K-1 was on December 31, 2003, when "unsavoury backers" were displeased with Fedor Emelianenko being lured from working the annual New Year's Eve Pride show to fight for Inoki. (In another example of putting wrestlers in shoots, Yuji Nagata was blasted by Fedor in just over a minute).
The end of an era took place in 2005, when Inoki sold his 51.5% share of NJPW to Japanese video game company, Yuke's. Two years later, he started the Inoki Genome Federation. Its first show – held on June 29, 2007 in Sumo Hall – was main evented by Kurt Angle and Brock Lesnar. The company presented a combination of worked and shoot matches and a plethora of MMA fighters. He then started another company – ISM – in 2017 and left IGF to his son-in-law Simon, on March 23, 2018.
In 2010, he was inducted into the WWE Hall of Fame, which helped mark the fiftieth anniversary of his involvement in professional wrestling. He returned to politics in 2013 with the Japan Restoration Party, but over the years came under fire for his repeated trips to North Korea. He retired from politics in June 2019.
In 2021, it was reported that spinal issues had confined Inoki to a wheelchair. On October 1, 2022, he passed away at age 79 from systemic transthyretin amyloidosis, a condition that typically affects the heart and tendons of the elderly.
Much of the information that appears in this article comes from Dave Meltzer's Wrestling Observer Newsletter of October 10, 2022.