Music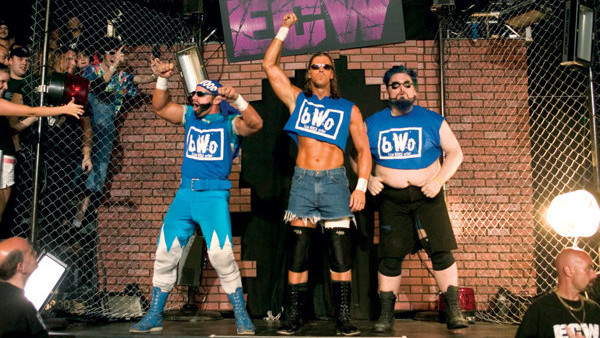 Roadtrip Music: bWo Theme by Swamp Candles & Jim Johnston (Blue World Order)
Twenty five years ago saw the debut of a gimmick that Joey Styles said at One Night Stand 2005, 'If any gimmick never deserved to make a dime and made a boatload of cash, this is it!' He also added wryly and no doubt with more than a hint of relish, '…And the best part is that they (WCW) couldn't sue us, 'cause it's a parody!'
It was the Blue World Order (bWo), and they first appeared at November to Remember on November 16, 1996. Since the middle of the year, Raven had the idea of having his Raven's Nest members Stevie Richards and The Blue Meanie impersonate pop culture figures or other wrestlers. One memorable parody was when, along with the recently signed Super Nova, they 'performed' as KISS at The Doctor Is In (before being slain by The Sandman and his Singapore cane).
The bWo was meant to be just another one night parody, but the fans reaction to it was immense, and the bWo shirt became the hottest item in the ECW merchandise catalogue. It mostly consisted of Big Stevie Cool (Stevie Richards), Da Blue Guy (Blue Meanie), Hollywood Nova (Super Nova), and Rob Feinstein as 7-11 (there was also a member who impersonated Dennis Rodman (The Inch Worm).
The bWo's appeared in the then-WWF in 1997 on RAW as part of a brief arrangement where ECW wrestlers performed on RAW. They were brought back in 2005 at One Night Stand, and after an incident between Blue Meanie and JBL at that particular pay-per-view, the bWo reformed on Smackdown, where Meanie scored an upset win over JBL.
The bWo even turned up in TNA for a time, and continue to make sporadic appearances on independent shows.
The theme we're using here is a HD version of what they used in WWE. There is an original version they used in ECW, including one with quotes. But this is a decent version, even if one must hold one's nose that this 'legendary' ECW stable was reworked in 'that company.' 😉