Music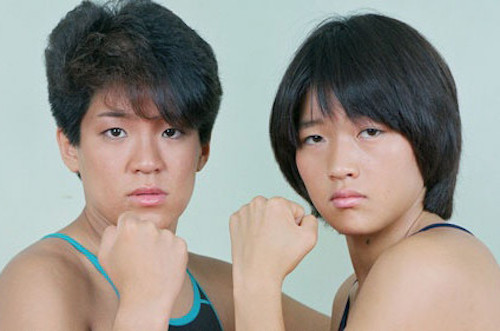 Roadtrip Music: ROLLING SABOT ~ Theme of CRUSH GALS by Crush Gals (Crush Gals)
December 8 will be Chigusa Nagayo's 57th birthday and as we've just taken a look at Lioness Asuka's WWF appearance at Survivor Series 1995 on the podcast – what better time than to do a Crush Gals music post? If you listened to the podcast you would know I'm a fan of the pair and Chigusa in particular.
The Crush Gals were formed in All Japan Women's Pro Wrestling (AJW) 1983 after Chigusa Nagayo and Lioness Asuka had a particularly well received match against each other and were then paired up. This is a very similar story to that of their fore-runners – Beauty Pair (Jackie Sato and Maki Ueda) in 1976.
Like Beauty Pair, Crush Gals had a dual appeal as singers (following in the footsteps of Mach Fumiake from the same period). Beauty Pair released a few albums and brought in a young female fan base, a marketing strategy that was successful for AJW promoters – the Matsunaga brothers. They doubled down with the Crush Gals and the promotion's popularity exploded. In a time where gender roles were moving and women were experiencing a little more independence and autonomy due to the success of the Japanese economy, the uniqueness of the Crush Gals was their tomboyish appearance which made them more relatable than some of the other talent at the time that had an emphasis on beauty.
Crush Gals are the most successful woman tag team in wrestling history and their popularity in Japan (particularly Nagayo) has been compared to that of Hulk Hogan in the late 80s. There is a famous hair vs. hair match from August 1985 between Nagayo and Dump Matsumoto that saw the crowd chant for Nagayo loudly throughout the match and audience members wept when she lost the match and her hair.
Following their forced retirements at 26 (a policy of AJW at the time) Chigusa would create the GAEA promotion in 1995 and return to wrestling fulltime, while Asuka freelanced for a bit and joined GAEA in 1998 – joining the heels and fighting against Chigusa. They had their first match in ten years in 1999 and by the end of the year the Crush Gals were reunited. As an indicator of their popularity – this was a national news story.
Asuka retired in 2005 due to neck injuries while Chigusa still competes occasionally today, and operates the Marvelous promotion – where she still sometimes sings on shows.
Their theme song ROLLING SABOT ~ Theme of Crush Gals is the opening track from their first album (of five) SQUARE JUNGLE released in 1984 and is recorded entirely in English. This not being an uncommon thing for music from Japan (and later South Korea) as English was viewed as 'trendy' due to the large western influence after World War II.