Profiles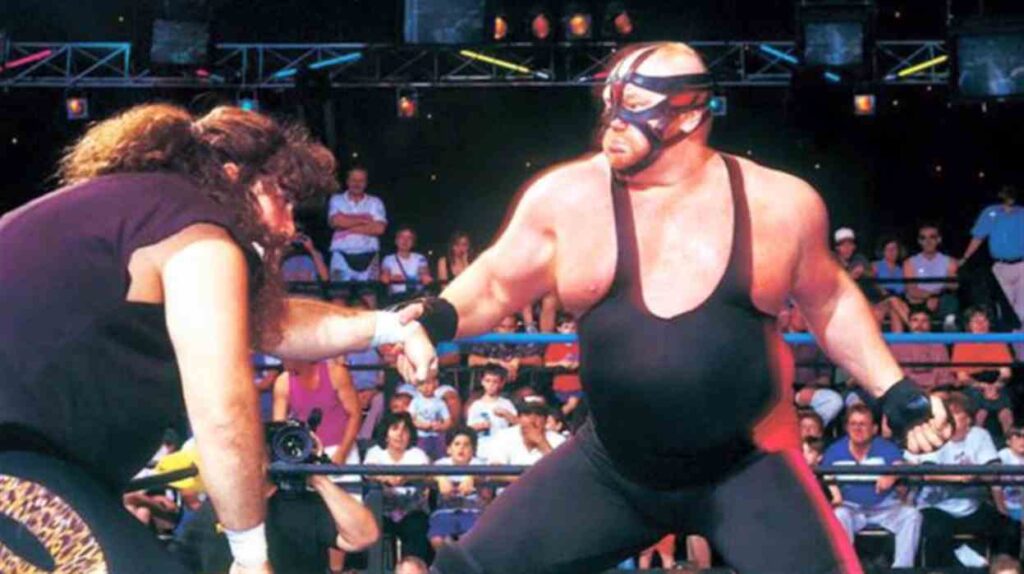 Vader Profile
Born: May 14, 1955 (Leon White) | Birthplace: Lynwood, California
Died: June 18, 2018 (Heart Failure)
Billed Hometown: The Rocky Mountains | Billed Weight: 450 lbs
Other Aliases: Baby Bull, Bull Power, Big Van Vader, Super Vader
Leon White started his pro wrestling career in 1985 with Verne Gagne's American Wrestling Association, after his NFL career (1978-79 with the Los Angeles Rams) ended prematurely due to a knee injury. Trained by Brad Rheingans, he debuted under the name "Baby Bull," and then as "Bull Power." In May 1986, he toured Austria and Germany with Otto Wanz's Catch Wrestling Association. He captured his first championship on March 22, 1987, when he defeated Wanz for the CWA World Heavyweight Title in Denver, Colorado, the only time the title changed hands in the United States. Four months later, White dropped the strap back to Wanz in Bremen, Germany.
While working for CWA, he signed with All Japan Pro Wrestling, but was then traded to New Japan. It was there he went under the name that most fans would remember him by – "Big Van Vader." Wrestling under a mask, he also came to the ring with a mastodon black helmet/shoulder pads apparatus, that blew steam on command.
After Antonio Inoki had just finished a tough match against Riki Choshu, he was challenged by the American monster, and was defeated. After the match, the crowd in Sumo Hall rioted, leading to New Japan being banned from the arena until 1989. On April 24, Vader won an eight man tournament and was crowned the IWGP Heavyweight champion. He held it for just a month before losing to Salman Hashmikov, who in turn dropped the title to Riki Choshu on July 12. Vader became a two-time IWGP Heavyweight champion when he defeated Choshu on August 10.
Vader became the first wrestler to hold a major title on three different continents when he pinned El Canek for the UWA World Heavyweight Title on November 12, 1989 in Mexico. He held the belt for a year before dropping it back to Canek on December 9, 1990.
At a combined New Japan/All Japan event on February 10, 1990, Vader squared off against Stan Hansen in a famous match. Previously, the two had worked in the AWA, where White unsuccessfully challenged Hansen for the AWA World Heavyweight Title. Early in the bout, Hansen nailed Vader in the left eye, causing it to pop out of the socket. Vader simply removed his mask, put the eye back in place and continued on until the referee called a no-contest.
Also in 1990, he signed with World Championship Wrestling on a very part-time basis, initially making few appearances. His first match for the company took place on the Great American Bash pay-per-view on July 7, 1990, where he squashed Tom Zenk.
On January 17, 1991, Vader won the IWGP Heavyweight Title a third time, when he beat Tatsumi Fujinami at New Year's Dash. He returned to WCW and battled Stan Hansen to a double-disqualification on February 24 at WrestleWar, and then dropped the IWGP Heavyweight Title in a rematch with Fujinami on March 4.
Vader went back to Europe for CWA, where he again became Heavyweight champion for a six month reign (after Wanz had retired as the titleholder), and on December 21, became the inaugural CWA Intercontinental Heavyweight champion when he pinned Fujinami in Bremen, but soon vacated the belt himself due to heavier commitments in WCW.
More sporadic WCW pay-per-view appearances followed, and back in Japan on March 1, 1992, the monster tag team of Vader and Bam Bam Bigelow captured the IWGP Tag Team Titles from Keiji Mutoh and Hiroshi Hase. Four months later, shortly after injuring his knee in a singles match with Mutoh, they dropped the Tag Team Titles to The Steiner Brothers. Vader began a full-time schedule with WCW, was given Harley Race as his manager and challenged Sting for the World Heavyweight Title.
The first in what would be a series of memorable matches with "The Stinger" took place in The Omni on April 12, 1992, where Vader gave Sting a rib injury. This softened him up enough to take the World Heavyweight Title from him at The Great American Bash on July 12. He would only hold the strap for three weeks, when his troublesome knee resulted in him losing to Ron Simmons.
Vader underwent surgery and returned at Halloween Havoc on October 25, where he filled in for United States champion, Rick Rude, against Nikita Koloff. Vader injured Koloff with a clothesline, which put 'The Russian' out of wrestling. Furthermore, the very same night, he faced Joe Thurman and TA McCoy in a 'handicap' match, and broke Thurman's back with the powerbomb.
At Starrcade on December 28, Vader lost the final of the King of Cable tournament to Sting, but two days later beat Simmons for the World Heavyweight Title. He defeated "The Stinger" in a 'leather strap' match at Superbrawl III (February 21, 1993), and then traded the belt back-and-forth with Sting during a tour of the United Kingdom.
Starting in early February, Vader returned to Japan for shoot-style promotion UWFi as "Super Vader." He became their World Heavyweight champion, a title he held for eight months before losing by submission to Nobuhiko Takada on April 20, 1995.
In mid-1993, Vader entered into a brutal feud with Cactus Jack. On the April 6 edition of WCW Saturday Night, Vader badly bloodied and injured Cactus; he still lost the match by count-out. Vader inflicted further injuries on Cactus on April 24 with a powerbomb on the exposed concrete outside the ring. When Cactus had to take time off to heal, Vader began a rivalry with new company signing, Davey Boy Smith.
Vader lost to Smith by disqualification at Slamboree, and then teamed with Sid Vicious against Sting and Davey Boy at Beach Blast on July 18 in another losing effort.​
​Vader renewed his war with Cactus when he returned from injury at Halloween Havoc on October 24 in a Texas Deathmatch, which Vader won after Race stunned Jack with a cattle prod. In Munich, Germany on March 16, 1994, another famous Vader match took place, when Cactus got his head caught in the ropes and lost his right ear.
When Vader and Vicious had a falling out, they were set to battle at Starrcade on December 27, but ended up wrestling a returning Ric Flair. Vader initially refused until Flair agreed to put his career on the line, but ended up losing the title to "The Nature Boy."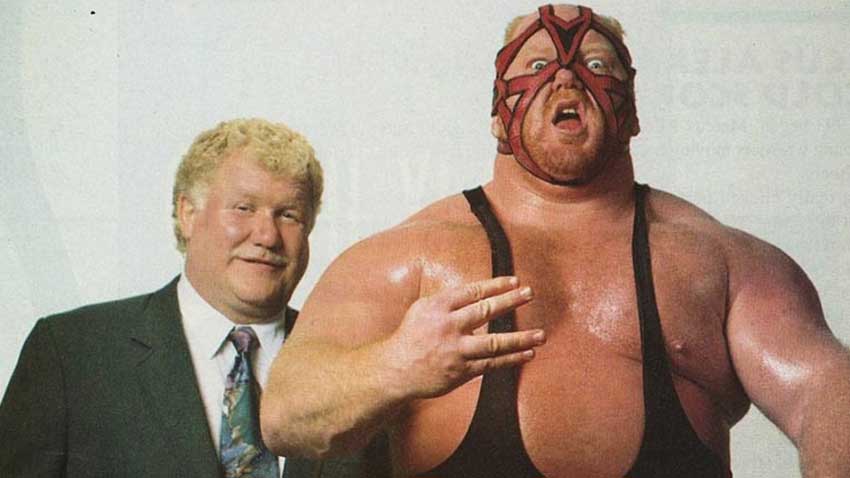 At Superbrawl IV, Vader lost a steel cage match to Flair when special referee The Boss (formerly Big Bossman) called for the bell while Vader was in Flair's figure-four leglock. Vader defeated The Boss with the moonsault at Spring Stampede on April 17, 1994; earlier, Vader's manager Harley Race confronted WCW International Heavyweight champion Rick Rude and his challenger Sting to a match in the future for the title. After botched interference with a steel chair, Sting pinned Rude.
Rude regained the title from Sting in Fukuoka, Japan when he used the belt as a foreign object, but due to the controversial finish, the belt was declared vacant. Rather than be handed the title, Sting agreed to fight Vader at Slamboree on May 22, which Vader lost.
Vader continued to work against Sting and The Guardian Angel (formerly The Boss) on pay-per-view, before defeating Dustin Rhodes at Clash of the Champions XXIX on November 16, 1994 for a shot at WCW United States champion, "Hacksaw" Jim Duggan. At Starrcade on December 27, he used Duggan's own 2×4 against him to win the title.
At the beginning of 1995, Race was involved in an auto accident and left the company, as Vader went after Hulk Hogan and the WCW World Heavyweight Title. In a bid to increase his chances of beating Hogan, Vader aligned with Kevin Sullivan and his Dungeon of Doom, and even allowed Flair to manage him.
The agreement with Flair was not destined to last long. Vader lost by disqualification to Hogan at Superbrawl (February 19) after interference from Flair, who again caused Vader to lose at Uncensored in a 'leather strap' match. After being stripped of the US Title, he lost a third bout to Hogan in a steel cage at Bash at the Beach (July 16).
As a result, he was confronted by Flair and they dissolved their alliance. Vader defeated Flair and Arn Anderson in a 'handicap' match at Clash of the Champions XXXI. When he also disassociated himself with the Dungeon of Doom, he was surprisingly asked by Hogan to be a part of their team for War Games at Fall Brawl. Vader accepted, but after two backstage incidents with Paul Orndorff, he was indefinitely suspended. This in turn led to him signing with the WWF, but before he arrived, he returned to Japan on January 4, 1996, and lost to Inoki in the Tokyo Dome.
Vader was heavily hyped upon his arrival in the WWF. He was put with Jim Cornette and made his first appearance in the Royal Rumble on January 21. He eliminated multiple opponents and after being put out by Shawn Michaels, he re-entered the ring and attacked him. The following night on RAW, Vader beat Savio Vega and continued the assault after the bell. After putting down two referees, he was confronted by President Gorilla Monsoon. After a heated argument, Monsoon suspended Vader, which caused him to crush Monsoon in the corner and deliver the Vader Bomb.
He returned from 'suspension' at In Your House 6 on February 18, attacking former Camp Cornette member Yokozuna, who had just wrestled a match with The British Bulldog. Vader and Yokozuna were set to meet at Wrestlemania XII, but it became a six-man tag with Vader teaming with Bulldog and Owen Hart against Yokozuna, Ahmed Johnson and Jake Roberts, which Camp Cornette won.
After pinning WWF champion Shawn Michaels in a six-man tag match at In Your House 9 on July 21, Vader got a shot at Michaels for the title at Summerslam. Vader won by count-out, but Cornette got the match re-started, before Michaels was disqualified for using Cornette's tennis racket. After another re-start, Michaels put an end to it by pinning Vader with a superkick.
The feud was abruptly wound up, and "The Mastodon" entered into a new rivalry with The Undertaker. Vader got the win over 'Taker at the Royal Rumble on January 19, 1997 after help from Paul Bearer, who he then took on as his manager.
​Later in the Rumble match, he was eliminated by "Stonecold" Steve Austin, who had illegally re-entered the ring after referees missed his elimination by Bret Hart. Austin went on to put out The Undertaker and Bret to win, and after consulting the video footage, officials set up a four-way elimination match for In Your House 13.
The match featured a no disqualification stipulation, and elimination could also be achieved in the bout by being put out over the top rope to the floor. Badly bloodied, Vader tried a Vader Bomb on Undertaker, who low-blowed him and pushed him over the ropes to the floor.
In April, the WWF conducted a tour of the Middle East, and to hype a card headlined by WWF champion The Undertaker and Vader, the two appeared on the television programme "Good Morning Kuwait." The show's presenter Bassam Al-Othman set the tone by asking right away about the authenticity of professional wrestling. "In Kuwait they say this wrestling is not for real… [do] you act?" asked Othman to The Undertaker, who gave a diplomatic but firm reply. Vader on the other hand did not, flipped the table, grabbed Othman by the tie and said, "does that feel f*cking fake, huh?"
The police were called and Vader was jailed for a short time, the WWF having to leave him behind when they returned to the United States. (Professional wrestling was banned in Kuwait as a result of this incident until 2009. Othman attempted to sue the WWF for one million dollars when footage of the incident was used on WWF television and in Vader's Titan-Tron video).
Now labelled a 'bully,' he was challenged by new signing and former UFC champion, Ken Shamrock. Vader and Shamrock fought in a "No Holds Barred" match at In Your House 15 on May 11, in which Shamrock broke Vader's nose. Vader lost the match by submission and due to the injury, could not take his place in the King of the Ring tournament on June 8. At In Your House 16, Vader lost to The Undertaker for the WWF Championship, and then turned babyface the following night on RAW, when he stood up for the United States against the pro-Canadian Hart Foundation.
Vader captained Team USA against Team Canada at the Survivor Series on November 9 in Montreal, and was pinned by The British Bulldog. During the match, Team USA member Goldust walked out, leading to a brief feud. Vader beat Goldust at the Royal Rumble, and then was eliminated by Goldust in the Rumble match itself.
His last feud in the company was with Kane, who hit Vader with a wrench and beat him at No Way Out in Texas: In Your House on February 15, 1998. After a two month hiatus, Vader returned to go after Kane during his 'inferno' match with The Undertaker, which led to a 'mask versus mask' match at Over the Edge on May 31. Vader missed his moonsault, and moments later was Tombstoned and pinned.
Immediately after, Vader spoke with Michael Cole in a ringside interview, in which he offered no excuses for the loss, called himself a "fat piece of sh*t" and sadly stated that perhaps "Vader Time" was over. He requested his release, and his final WWF bout took place on the October 11, 1998 edition of Sunday Night Heat, where he lost to Edge.
After his exit from the WWF, Vader worked for All Japan. He formed a tag team with Stan Hansen and they made it to the final of the Real World Tag League (November 14-December 5), where they lost the penultimate match to Kenta Kobashi and Jun Akiyama. On March 6, 1999, he won the vacant Triple-Crown Title when he defeated Akira Taue and held it until May 2, when he was pinned by Mitsuharu Misawa. He regained the belt on October 31, before dropping it to Kobashi.
After losing the Triple-Crown Title, Vader took time off and started with new promotion, Pro Wrestling NOAH, where he teamed with 2 Cold Scorpio and became the first GHC Tag Team champions on October 19, 2001, when they beat Jun Akiyama and Akitoshi Saito in a tournament final. They held the titles until November 30.
Vader made a few appearances for TNA Wrestling in 2003 as well as working independents in the United States and Japan. He returned to WWE to be in Jonathan Coachman's corner (along with Goldust) for his match with Batista at Taboo Tuesday on November 1, 2005.
Vader and his son Jesse worked some benefit shows with All Japan and Pro Wrestling Zero-1 after the 2011 earthquake off the coast of Japan (the most powerful recorded earthquake in Japan and the fourth most powerful in the world since 1900).
On June 11, 2012, Vader made an appearance on WWE RAW and defeated Heath Slater, and then prevented Slater from leaving during his match against Lita on July 23 (the 1000th episode of RAW). Vader inducted Stan Hansen into the 2016 WWE Hall of Fame on April 2 in Dallas, Texas.
​
In May of that same year, a social media storm was created when Vader criticised Will Ospreay's match with Richochet during the New Japan Best of the Super Juniors Tournament. British independent promotion Revolution Pro Wrestling booked a match between Vader and Ospreay on their August 12, 2016 event, which Vader won in front of a sold-out crowd.
In November 2016, heart specialists told Vader he had less than two years left to live; Vader continued to take bookings in Japan, and suffered a scare when he collapsed during a match on Dradition's show on April 20, 2017, but walked backstage unassisted. His final match was on an independent show (WrestleJam V) in Ringgold, Georgia on May 25, 2017, where he defeated "The Ironman." Vader passed away on June 18, 2018 after a month-long stay in hospital with pneumonia, where he was comforted by his old rival and friend, Sting, at the age of 63.