Profiles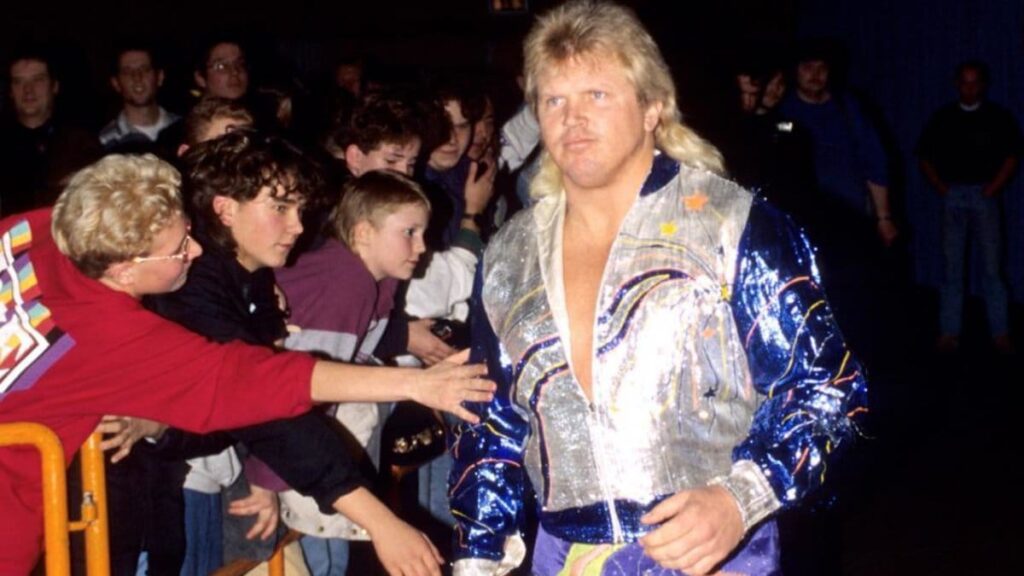 Bobby Eaton Profile
Born: August 14, 1958 | Birthplace: Huntsville, Alabama
Died: August 4, 2021
Billed Hometown: The Dark Side/Stoke-on-Trent, England | Billed Weight: 233 lbs
Other Aliases: Beautiful Bobby, Earl Robert Eaton
Bobby Eaton was a big fan of professional wrestling from a young age, and watched the local promotion, Nick Gulas' NWA Mid-America. At thirteen, he began setting up the ring in his hometown of Huntsville, Alabama. He wrestled his first match against Bearcat Wright aged seventeen in 1976, when Wright's original opponent failed to show up.
Eaton won his first championship when he became Mid-American Tag Team champion with Lanny Poffo on January 14, 1978 for a one month reign. Later with George Gulas (The Jet Set), they won the titles on three occasions. By 1979, he was one of the top babyfaces in the territory, especially after an angle where he was given a piledriver by Chris Colt on a concrete floor.
After returning from injury, Eaton comprehensively defeated Colt. That year and into the next, Bobby worked against future tag team partner, Dennis Condrey. He briefly turned heel, but soon became a fan favourite again after saving George Gulas from a double-team attack by The Blonde Bombers (Wayne Ferris and Larry Latham). The two reunited The Jet Set for one final run as Mid-American Tag Team champions.
When Nick Gulas closed down in 1981, Eaton stopped into Georgia Championship Wrestling for a short time before working for Jerry Jarrett's Continental Wrestling Association. There he would face another memorable future tag team partner, Stan Lane. Together with "Sweet" Brown Sugar (the future Koko B. Ware), they held the Southern Tag Team Titles on three occasions, before Eaton turned on Sugar and defeated him in a loser leaves town match. The two continued to feud when Sugar returned with a mask on under the name 'Stagger Lee.' They reunited when Eaton's manager Jimmy Hart and The Moondogs turned on him after losing to Jerry Lawler and The Fabulous Ones, and 'Stagger Lee' made the save.
As part of a talent exchange with Jerry Jarrett's CWA, Mid-South Wrestling's Bill Watts acquired several new wrestlers, including Eaton, Jim Cornette and The Rock 'N' Roll Express. Originally a group of wrestlers, The Midnight Express became a tag team consisting of Eaton and former rival Dennis Condrey, with Cornette as their manager. Since Condrey's nickname was "Lover Boy," Eaton gained the nickname, "Beautiful." They held the Mid-South Tag Team Titles on two occasions, the first reign beginning on March 13, 1984, when they defeated Magnum TA and Mr Wrestling II. They then began their legendary feud with The Rock 'N' Roll Express (Ricky Morton and Robert Gibson). The matches were so exciting and the feud in such demand they would battle all throughout the decade and into the 1990s for multiple promoters around the country.
After a short stop-over in World Class, The Midnights and Cornette signed with Jim Crockett Promotions in 1985, and reignited their feud with The Rock 'N' Roll Express. The Midnights defeated The Rock 'N' Rolls for the NWA World Tag Team Championship on a television special called 'Superstars on the SuperStation' (February 2, 1986). Six months later, they dropped the titles back to Morton and Gibson. After beating down The Road Warriors on television, it led to a famous scaffold match between the two at Starrcade on November 27, 1986, which The Midnight Express lost.
When Condrey left JCP in early 1987, Eaton was teamed with "Sweet" Stan Lane. They soon became NWA United States Tag Team champions for the first of three times on May 16, defeating Barry Windham and Ron Garvin in a tournament final. After trading the titles with The Fantastics, they went after World Tag Team champions, Arn Anderson and Tully Blanchard. On September 10, 1988, Eaton and Lane defeated Arn and Tully for the title, only to lose a month-and-a-half later to The Road Warriors.
In a rare occurrence, the Midnights and Cornette became babyfaces when Condrey returned to JCP with Randy Rose as the Original Midnight Express, managed by Paul E. Dangerously. The rivalry ended prematurely when Condrey left the promotion again and at Chi-Town Rumble on February 20, 1989, The Midnights and Cornette defeated Randy Rose, Jack Victory and Paul E. Dangerously. Rose was pinned and as per the stipulation, he had to leave the company as well. They then feuded with Dangerously's new team The Samoan Swat Team, as well as The Freebirds.
In a tournament final for the vacant World Tag Team title, they lost to The Freebirds after interference from The Samoan Swat Team. They turned heel again on The Dynamic Dudes (Johnny Ace and Shane Douglas), when Cornette feigned interest in managing The Dudes, only to turn on them at Clash of the Champions IX. They moved onto the team of Brian Pillman and Tom Zenk, and defeated them for the US Tag Team Titles at Capital Combat on May 19, 1990. They held the belts until August 24, when they lost to The Steiner Brothers.
Shortly after Halloween Havoc on October 27, 1990, Cornette chose to leave the company and was joined by Lane, while Eaton stayed on. At Superbrawl I (May 19, 1991), he defeated Arn Anderson for the WCW Television Title. The reign was short, and he dropped the belt to Steve Austin on June 3. Arguably his highest profile singles match took place on June 12, when he challenged Ric Flair for the World Heavyweight Title at Clash of the Champions XV. In a two-out-of-three-falls bout, Eaton lost two falls to one.
He returned to his heelish ways when he joined Paul E. Dangerously's new faction, The Dangerous Alliance, aligning with Rick Rude, Steve Austin, Arn Anderson and Larry Zybyszko in late-1991. They quickly became the top heel group in WCW, feuding with all the top fan favourites, particularly Sting, Ricky Steamboat, Dustin Rhodes, Ron Simmons and Barry Windham, among others.
Returning to tag team action, Eaton partnered with Anderson and defeated Steamboat and Rhodes for the World Tag Team Title which they held for five months before dropping them to The Steiner Brothers. Everything came to a head when The Dangerous Alliance faced Sting's Squadron in a WarGames match at WrestleWar on May 17, 1992. Eaton was forced to submit shortly after Zybyszko accidently hit him in the shoulder with a metal turnbuckle and The Alliance was soon wound up.
Bobby reunited with Stan Lane and Jim Cornette in 1993, when he made several shots for Cornette's promotion, Smoky Mountain Wrestling. He became the third Heavenly Body (along with Lane and Tom Prichard). Eaton, Lane and Prichard faced The Rock 'N' Roll Express and Arn Anderson in several matches. On March 1, 1993, he became the Beat the Champ Television champion, when he defeated Tim Horner. After losing the title to Brian Lee on May 1, he was ordered to return to WCW by SMW commissioner, "Bullet" Bob Armstrong.
That same month, Bobby made his first tour with New Japan, teaming with Tony Halme. He also toured in 1994 (mostly in tag team bouts) and again in 1995, working just two tag matches. As part of an agreement with Eastern Championship Wrestling, WCW allowed Eaton (and Arn Anderson) to appear on their May 14, 1994 card, When World's Collide. "Beautiful" Bobby teamed with Sabu against Arn Anderson and Terry Funk in a winning effort, when Arn turned on Funk.
After briefly teaming with Chris Benoit and Steve Keirn respectively, Eaton's last notable phase in WCW took place. In early 1995, he was taught how to be an 'English gentleman' by Lord Steven Regal, in a series of humorous vignettes. Later joined by Squire Dave Taylor, The Blue Bloods feuded with teams such as Harlem Heat and The Nasty Boys, but never looked like becoming Tag Team champions. The team became inactive by the middle of 1996 (shortly after Regal became Television champion) and he reverted back to being Bobby Eaton.
For the rest of his run, he was mostly booked on WCW's "B" shows, like Saturday Night. Despite his diminished role on the card, he made enough of an impression on Bill Goldberg to seriously suggest that Eaton be the man to end his unbeaten streak.  He also put in time as a trainer at the WCW Power Plant before being let go in the spring of 2000. 
Bobby worked the independent scene, reuniting with Dennis Condrey and occasionally with Stan Lane. He made a one-off appearance for TNA, where he lost to Kid Kash on August 13, 2003. Fittingly, Eaton's retirement match – on October 23, 2015 – was in a losing effort to one-half of The Rock 'N' Roll Express, Ricky Morton.
A month after his wife Donna passed away (June 26, 2021) at the age of 57, Bobby died in his sleep on August 4, 2021, aged 62. Donna was the daughter of "Superstar" Bill Dundee, who had a rule about her dating wrestlers, so the relationship was initially kept secret. But when Dundee found out it was Eaton, he waved the rule, and the two married back in 1983. The entire wrestling world mourned the loss of a man that was universally regarded as one of the nicest men in the business, and one of the greatest workers of all time.