Profiles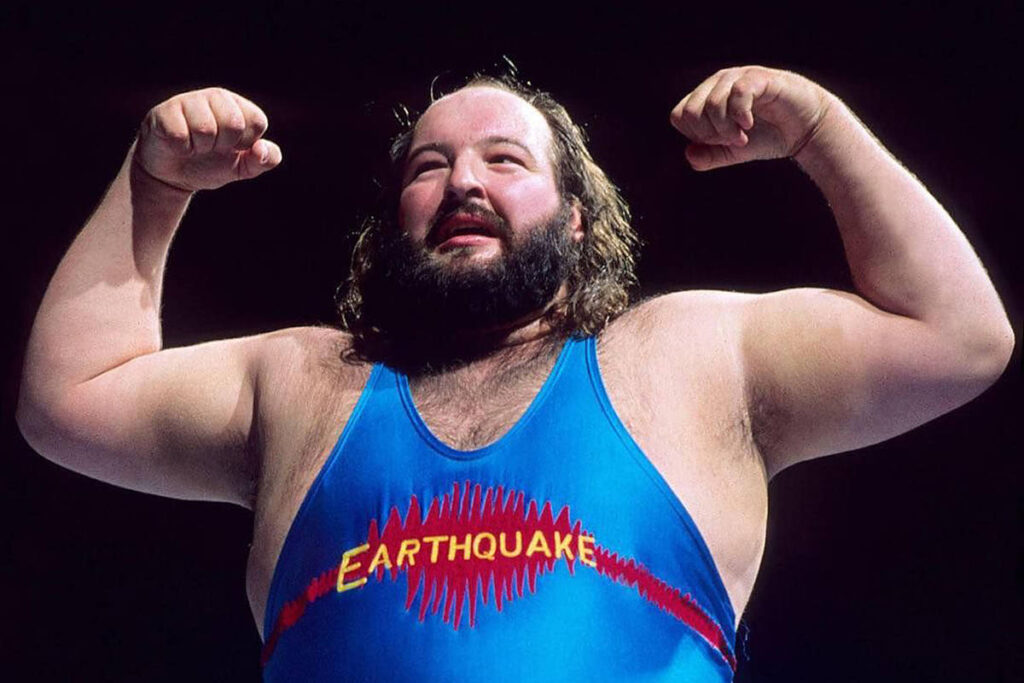 John Tenta Profile
Born: June 22, 1963 (John Anthony Tenta Jnr.) | Birthplace: Surrey, British Columbia, Canada
Died: June 7, 2006 (Bladder Cancer)
Billed Hometown: Multiple | Billed Weight: 468 lbs
Other Aliases: Earthquake Evans, Canadian Earthquake, Avalanche, The Shark, Golga
Sumo Names: Kototenta, Kototenzan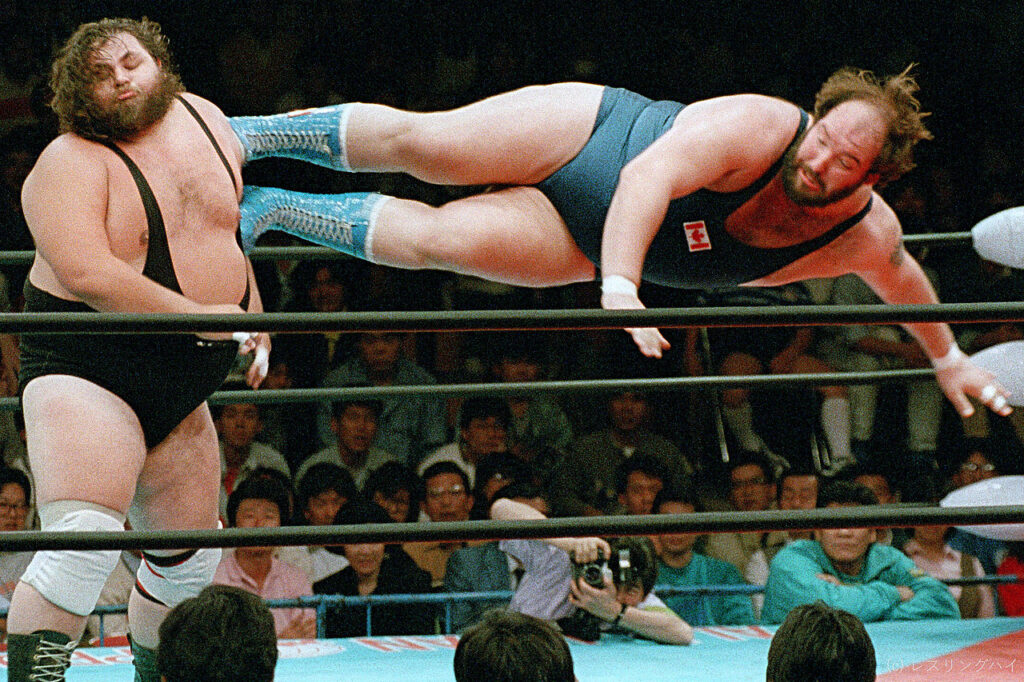 Born in Surrey, British Columbia, Canada, John Tenta pursued amateur wrestling at a young age, and was good enough to receive a scholarship to Louisiana State University (LSU), where he competed at NCAA collegiate level. He also played American football and rugby union, and was a bouncer at the college bar, "The Bengal." He got a large tiger tattoo on his left bicep, the tiger being the mascot of LSU (which would create a couple of problems during his career). In Toronto, he met and was recruited by a former yokozuna (grand champion), who convinced him to give sumo wrestling a shot.

Thanks to his notoriety from sumo, he was quickly signed and trained by All Japan Pro Wrestling. Tenta debuted on May 1, 1987, when he teamed with Giant Baba against Rusher Kimura and Goro Tsurumi in a winning effort, a bout that Tenta dominated. During this period, he made his North American debut with Al Tomko's NWA All Star Wrestling in Vancouver, and became NWA Canadian Heavyweight champion on August 1, 1987, and later the UWA Heavyweight champion in September.
Tenta tagged with The Great Kabuki in the Real World Tag League Tournament from November 21-December 11, 1987, and scored six points (three wins). After an eighteen month stint with All Japan, he signed with the World Wrestling Federation in September, 1989.

His first match as part of the full-time roster – having previously worked two dark matches – took place on September 21, 1989. He wrestled under the name "Earthquake Evans" against Paul Roma in a non-televised bout, and was managed by Slick. His television debut was on the November 11, 1989 edition of Superstars, as a 'fan' in the audience chosen by Jimmy Hart to help out in a strength contest between Hart's man Dino Bravo and The Ultimate Warrior. Introducing himself as "John," the big man sat on Bravo's back as he performed push-ups, which despite the massive weight, Bravo accomplished. Then, Warrior tried the same thing, only to be attacked by "John" and Bravo.

Now managed by Hart, he wrestled as "Canadian Earthquake," with Bravo regularly in his corner. His first pay-per-view appearance was at the November 23, 1989 Survivor Series as a member of Randy Savage's "King's Court" which he survived along with Savage and Bravo. Tenta's main offensive weapon was a sit-down splash onto a fallen opponent's chest, which was sold as a deadly and dangerous move. By the time he got to Wrestlemania VI on April 1, 1990 for his match with Hercules, play-by-play commentator Gorilla Monsoon claimed that Tenta had put twenty-eight men in the hospital. Now known simply as "Earthquake," he had little trouble dispatching Hercules.

The following month, Tenta entered into the most famous rivalry of his career, when he attacked and injured Hulk Hogan during a segment of the Brother Love Show. Hogan was put out of action for several months and even teased retirement. Hulk finally returned for Summerslam on August 27, 1990, where he defeated Earthquake by count-out. For the next few months, the two feuded with Hogan regularly getting the upper hand. Earthquake made it to the final two of the Royal Rumble on January 19, 1991 with Hogan, but was eliminated.

After a decisive victory over Greg Valentine at Wrestlemania VII on March 24, Tenta returned to Japan on March 30 for a joint SWS/WWF event in the Tokyo Dome. He defeated another former sumo turned professional wrestler Koji Kitao. For the rematch on April 1 in Kobe, Kitao refused to 'co-operate' and looked like he was trying to gouge Tenta. A more and more irate Earthquake ended up screaming at his opponent, asking if he wanted to "work or shoot." The farce came to an end when Koji kicked the referee to get himself disqualified.

Back in the WWF, Earthquake went after Jake "The Snake" Roberts on the April 27, 1991 edition of Superstars. During the match, Jake's arms became tied in the ropes, and Earthquake took the opportunity to go after the green bag containing Jake's python, Damien. With Jake looking on, Earthquake proceeded to 'squash' Damien with a series of his Earthquake splashes. When Jake was freed, he went to the bag and recoiled in horror.

A few weeks later on Prime Time Wrestling, hosts Vince McMahon, Lord Alfred Hayes and Bobby "The Brain" Heenan were served "Quakeburgers." After each got a taste – especially Heenan who ate several of them – Earthquake revealed that the meat in the burger was Damien. Around this same time, he injured Andre the Giant's leg when the Giant refused to take on Jimmy Hart as a manager. Earthquake then had to contend with Andre being in Jake's corner for their series of bouts through late spring/summer.

In the middle of 1991, Earthquake turned to tag team competition as one-half of the formidable team, The Natural Disasters. On the June 15, 1991 edition of Superstars, Tugboat turned on his partners The Bushwhackers in a six-man tag against Earthquake and The Nasty Boys. On the June 17 episode of Prime Time Wrestling, manager Jimmy Hart brought out the newly named Typhoon. They entered into a rivalry with WWF Tag Team champions The Legion of Doom, but were unsuccessful in defeating them for the belts; the closest they came was a count-out win at the 1992 Royal Rumble.

The Natural Disasters became fan favourites when Hart double-crossed them to manage new Tag Team champions Money Inc, with the two teams trading victories. At Wrestlemania VIII on April 5, 1992, The Disasters defeated Money Inc. by count-out, and on July 20, Earthquake and Typhoon defeated them to become Tag Team champions. At Summerslam in front of a massive Wembley Stadium crowd, they successfully defended the belts against The Beverly Brothers. Three months later, they dropped the titles back to Money Inc.

Earthquake participated in the 1993 Royal Rumble and made a good account of himself – even going after and eliminating his tag team partner Typhoon – before himself being thrown out by eventual winner, the ironically named Yokozuna. Right after the Rumble, Tenta left the WWF to wrestle in Japan and Mexico for WAR and CMLL, respectively.

In January 1994, Earthquake returned to the WWF when he stood in the corner of Bret Hart during a match with Shawn Michaels to counter the interference of Michaels' bodyguard, Diesel. At Wrestlemania X on March 20, he defeated Adam Bomb in under a minute, and entered into a feud with Yokozuna. Tenta's history as a sumo was explained on television, which led to a "sumo match" between the two super-heavyweights, which Tenta won. On the May 14, 1994 house show in San Jose, California, Tenta was injured by Yokozuna and Crush as he was set to face Owen Hart in a King of the Ring qualifying match; not long after, Tenta left the company again, and went back to Japan for WAR. In the lead-up to signing with World Championship Wrestling, Tenta worked a tour with UWF-i, where he teamed with Super Vader.

​In 1994, Tenta signed with World Championship Wrestling under the name "Avalanche," and teamed with Kevin Sullivan and The Butcher (Ed Leslie) in a trio called "The Three Faces of Fear." They primarily feuded with Hulk Hogan, and Hogan's allies Randy Savage and Sting. In the main event of Clash of the Champions XXIX on November 16, 1994, Avalanche, Kevin Sullivan and The Butcher lost to Hogan, Sting and Dave Sullivan in the main event, and at Starrcade on December 27, Avalanche lost to Sting by disqualification. After continued losses, Sullivan turned on Avalanche and The Butcher, but still enlisted them into his Dungeon of Doom faction which started not long after. When the WWF issued a lawsuit over the Avalanche name, Tenta became known as "The Shark."

Due to this new gimmick – where Tenta had face paint to look like sharp teeth and had a shark fin on his ring gear – he had more ink-work to cover up his tiger tattoo. This would end up being a waste of time, as the gimmick was wound up a few months later. However, Tenta always maintained that it was his call, and was not pressured to do so by WCW management.
In the WarGames match at Fall Brawl on September 17, 1995, he was a member of the Dungeon of Doom team that lost to The Hulkamanics; he also failed to defeat Sting for the United States Title on the October 9 Nitro. He was removed from The Dungeon of Doom, and challenged The Giant on the May 27, 1996 Nitro for the WCW World Heavyweight Title in a losing effort.

In an interview with Mean Gene Okerlund on Nitro, he reverted to using his real name, as opposed to being "The Shark." He entered into a feud with Big Bubba Rogers and defeated him at Great American Bash on June 16, only to have Rogers cut his goatee. Tenta gained some revenge on Rogers by cutting his beard, but right before the rematch on the July 7 Bash at the Beach pay-per-view, Tenta fell again to The Giant, after-which Bubba shaved half of Tenta's beard. Refusing to fix it until the Bash pay-per-view, Tenta defeated Bubba in a "Carson City Silver Dollar" match.

Tenta's next – and final – WCW storyline involved Rowdy Roddy Piper looking for partners for the Uncensored pay-per-view against the New World Order. Tenta became a part of Piper's 'family' along with two unknowns (Craig Mally and Layton Morrison), but the idea was quickly dropped on the March 10, 1997 Nitro when Piper chose to align with The Four Horsemen. (In the promo on Nitro, Arn Anderson made reference to Piper's 'family' as a "bunch of amateurs," which legitimately enraged Tenta, who also had no idea the storyline was being dropped). Originally set to be in the main event of Uncensored, Tenta was not even booked and left the company soon after.

He re-signed with the WWF and re-appeared on the May 25, 1998 RAW as Golga, a masked wrestler and member of The Oddities. The group became popular mid-card babyfaces, and secured victories over teams such as Kaientai, The Headbangers, and Los Boricuas. At the Rock Bottom pay-per-view on December 13, 1998, The Oddities lost to The Headbangers when their stablemates the Insane Clown Posse turned on them.

He took part in the 1999 Royal Rumble but was quickly eliminated by "Stonecold" Steve Austin; shortly after, the faction was quietly wound up with all members released from the company. Tenta made a brief return in 2001 as Earthquake, and appeared in the Gimmick Battle Royal at Wrestlemania X-7 on April 1.

Sadly, in 2004, Tenta retired and announced he had bladder cancer; treatment did not help and it spread to his lungs. On June 7, 2006, WWE.com announced that John Tenta had passed away, and was acknowledged on the proceeding editions of RAW and Smackdown.