History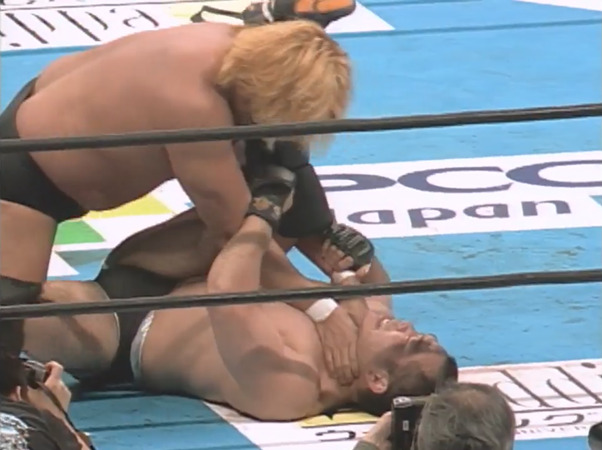 NJPW Wrestling World 2003 – Yoshihiro Takayama vs. Tsuyoshi Kohsaka
Note: This article was written in 2017
2003: Yoshihiro Takayama vs Tsuyoshi Kohsaka – vacant NWF Heavyweight title
Wrestling World 2003 (attendance: 30,000)
http://njpwworld.com/p/s_series_00162_1_10
Who?
Tsuyoshi Kohsaka is a mixed martial artist who as of this writing has a record of 29-19 which includes losses to Mark Hunt, Randy Couture, Bas Rutten and Frank Shamrock (among others). Brought in to NJPW as a part of the company's shift towards MMA he made his pro wrestling debut in October 2002*, defeating former sumo wrestler Tadao Yasuda. Yasuda won the vacant IWGP Heavyweight title by defeating Yuji Nagata in February 2002, losing it to Nagata 48 days later. The match between Kohsaka and Yasuda was a tournament match for the revived NWF Heavyweight title and winning that, would get him here in the final at Wrestling World 2003.
*Edit: Kohsaka had actually worked for shoot-style promotion RINGS in the mid-1990s so October 2002 was not his pro wrestling debut, just his New Japan debut. Thanks to Kelley Denham for the correction.
The National Wrestling Federation Heavyweight Championship started life in 1970, being the title of Pedro Martinez' NWF promotion. Johnny Powers defeated Freddie Blassie to become the first champion in Los Angeles and after a string of champions including Waldo Von Erich, Dominic DeNucci and Abdullah the Butcher, Powers won the title back from Johnny Valentine in 1973. Powers took the title with him to Japan where he lost it to Antonio Inoki. Following this the NWF Heavyweight title (at one point billed with World status) was the main title of New Japan with Inoki holding it for the majority of 1970s. Tiger Jeet Singh and Stan Hansen would get runs with it too during this time. In 1981 Inoki vacated the title and it was retired.
Until now. Brought back as a complement to the IWGP Heavyweight Championship, the NWF title was supposed to be the belt for those with a legitimate fighting background. The first champion of the belt's new era was to be determined in a tournament. Yasuda and Kohsaka was one of the semi-finals, with the other being Kazuyuki Fujita and Yoshihiro Takayama.
Yoshihiro Takayama is most famous outside of wrestling for his PRIDE fight with Don Frye in which the two exchanged punches at a rapid pace and is one of the most entertaining fights of all time. Far more than just a fighter (with a 1-4 record, and that one may have been a work), Takayama made his pro wrestling debut in the shoot-style UWFi in June 1992. Takayama would come across to NJPW during the invasion in 1995 and when UWFi folded, he left for All Japan in 1997. He followed Misawa to NOAH where he competed in the tournament to crown the first GHC Heavyweight champion – losing to Misawa in the final. In 2001 he became a freelancer working with NOAH and New Japan while trying fighting mixed martial arts as well. He made the final of the 2002 G1 Climax where he lost, giving Masahiro Chono his 4th tournament victory.
Kohsaka and Takayama face off in front of 30,000 at the Dome – the winner walks away NWF Heavyweight Champion. Let's dive in.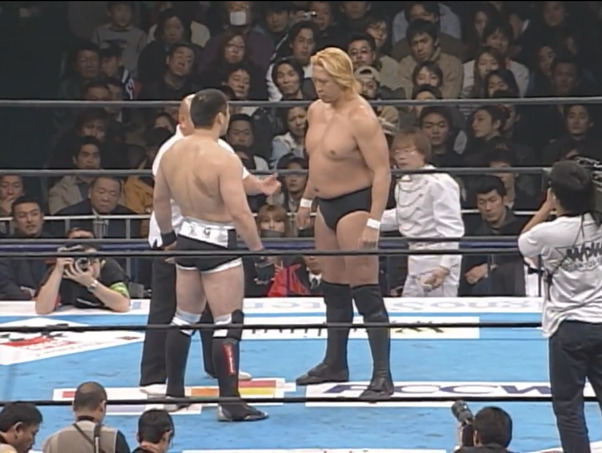 After the introductions, the two face off awaiting the bell. As soon as it rings Takayama is straight out of the gates with a pushing kick that Kohsaka dodges. Takayama backs it up with a high roundhouse and Kohsaka goes under it. Takayama goes for a right hook that Kohsaka meets with a collar-and-elbow style grapple. He gets under the arm and inside the leg, taking Takyama down. Rolls through with a grapevine leglock, gets up and reapplies it. Takayama working to the ropes. Kohsaka switches it up, drags him back a little with a half crab. Not enough though as Takayama finds the ropes. Clean break. Both men throw kicks at the other with little success. They grapple, Takayama looks to have an advantage, but Kohsaka wins the takedown with a headlock. Takayama comes through in a favourable position and grabs a leg lock. Rather than go straight for the ropes, Kohsaka tries to grab an ankle lock. Takyama is very close to ropes so Kohsaka mounts him and throws some body shots. Triangle choke from Takayama and he's between Kohsaka and the ropes. Kohsaka works out of it for an STF but then transitions it to a rear naked choke. Breaks it, both men up and Takyama with a knee. Misses a boot, but connects with the top rope which hurts his balance. Kohsaka comes in and it's a meeting of the knee strikes. Takayama's a little effective as Kohsaka staggers and Takayama clubs him in the back. Gutwrench, but Kohsaka drops low and grabs a leg. Escapes the gutwrench and tries a leglock. Takayama to the ropes. Clean break and Takayama rises first, going straight on offence. A kick, a club and a few stomps for the mixed martial artist. Picks him up, waistlock but Kohsaka rolls it through for a grapevine ankle lock. Takayama in the ropes. Separation. Takayama misses a dropkick, but Kohsaka gets one and then goes straight for a cross armbar. Has to work for it and gets a triangle choke on. Takayama on top here, breaks a hand free and just goes for a straight hand on throat choke and a few punches that are blocked. Goes for a leg and tries what might be a half crab, though Kohsaka grapevines to prevent it. Takayama with a knee hold keeps Kohsaka on his back.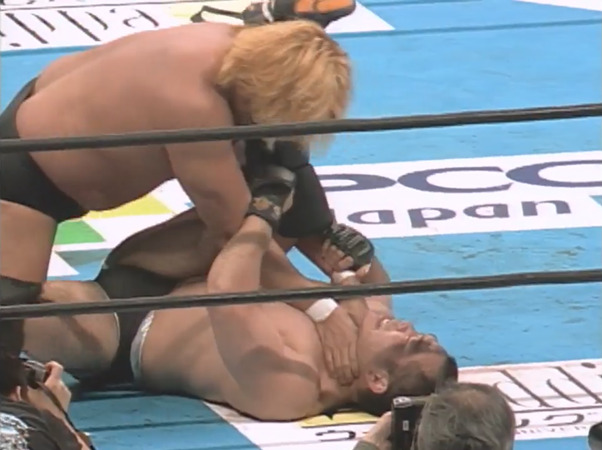 Kohsaka tries to fight from below but Takayama has a reach advantage over him. Takayama works around for something but just ends up opening himself up for a leg bar. Kohsaka mounts him and rains down some punches. Takayama tries to block but Kohsaka works through his guard and then a cross armbar. Takayama by this point is right next to the ropes so he grabs them. The break and they stand back up. Takayama with some traditional wrestling forearms and then a throw. Goes down for something, leaves himself open and Kohsaka tries a cross armbar. Takayama ends up in the ropes. They break and Takayama stands while Kohsaka stays on his knees to get knocked down with a kick. Takayama goes for a dropkick to the grounded Kohsaka who rolls out of the way in a very unique looking escape that just serves to open him up for a rear naked choke. The wrestler is in trouble here.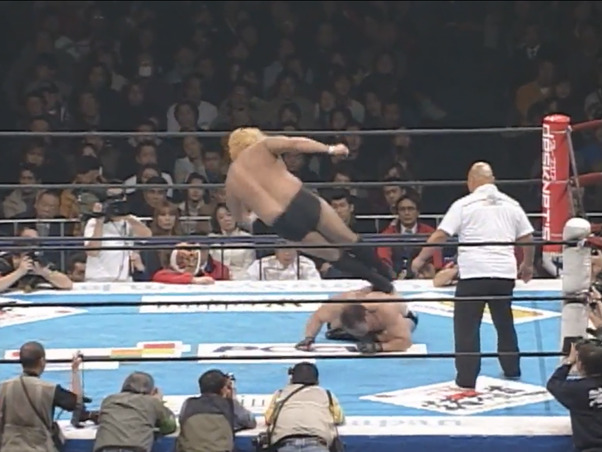 It's the long legs of Takayama reaching the rope that break the hold. Takayama struggles to rise but Kohsaka helps with a few kicks and then a roundhouse. Mount position, a few punches and we're back to a triangle choke. Not happy with that Kohsaka moves to another position, thinks about trying four different holds before settling on the cross armbar. Takayama to the ropes.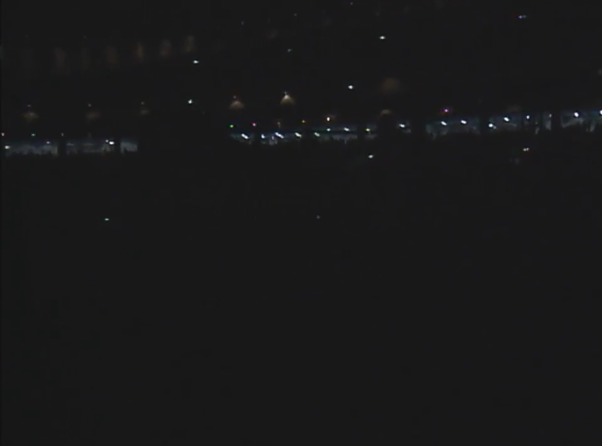 Takayama up first and kicks Kohsaka down. Picks him up, waistlock, countered to a rolling leg bar and the lights go out! We get limited ring lighting as Takayama is up and kicks Kohsaka to the ropes and then drops him with a knee. Goes for a kick which is caught by Kohsaka, the lights are back on and he's rolling around trying leg bars again. Takayama crawls for some ropes and ends up finding them. Break and then Takayama knees Kohsaka a few times, knocking him out the ring. Follows him out to throw a few more knees. A forearm smash and then throws him back in. German suplex! Desperation move as Takayama is slow to capitalise but does so with a knee. A clinch which just serves as another gateway to the triangle choke. Takayama drops a big knee on Kohsaka and then drops Kohsaka with a knee. 1. 2. 3 and thankfully this, as well as Tsuyoshi Kohsaka's run in New Japan Pro Wrestling is over!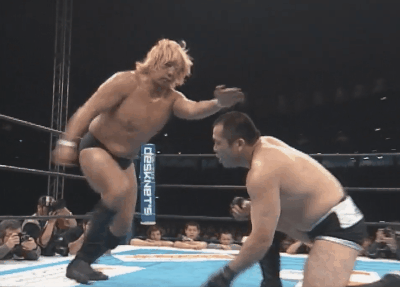 Following this Kohsaka went back to MMA where he beat Ron Waterman (among others) and lost to Mark Hunt (among others). He returned to NJPW in 2005 for two matches with Yuji Nagata where the two traded victories and that was him done with professional wrestling (Kohsaka, not Nagata).
The new NWF Heavyweight Champion – Yoshihiro Takayama would remain champion until a match with young Shinsuke Nakamura that conveniently happens to take place on January 4, 2004 at the Tokyo Dome.