Profiles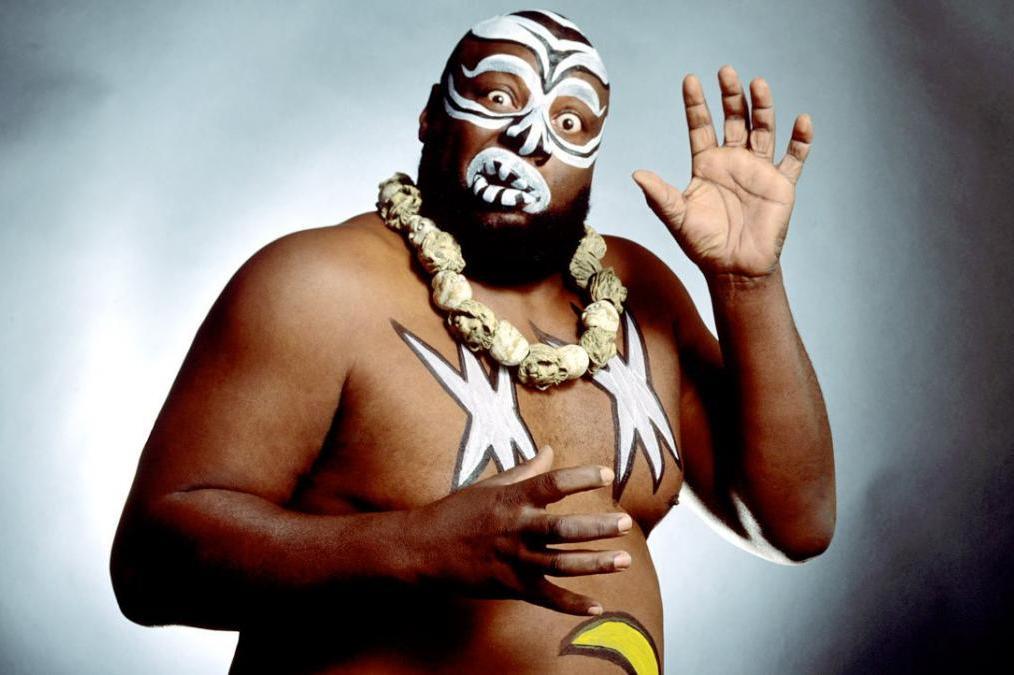 Kamala Profile
Born: May 28, 1950 (James Arthur Harris) | Birthplace: Senatobia, Mississippi
Died: August 9, 2020 (Cardiac Arrest/Covid-19)
Billed Hometown: Uganda | Billed Weight: 380 lbs
Other Aliases: Numerous
James Harris was born in Senatobia, but grew up in Coldwater, Mississippi. When he was four years old, his father was shot dead during a dice game. Leaving high school in ninth grade, he got in trouble with the law, so much so that in 1967, he was told to 'leave town' by the authorities, and relocated to Florida.
It was in Florida that he first watched professional wrestling, but never seriously considered a career in it. At the age of twenty-five, he moved again to Benton Harbor, Michigan. When he joked to a friend that he should become a professional wrestler, his friend took him at his word. This set in motion a chain of events that led to Harris being trained by an associate of Bobo Brazil's, Tim Hampton.
He moved to Arkansas, and using the name "Sugar Bear" Harris – a nickname from his football playing days – debuted in 1978 against The Great Mephisto. Early on, he was managed by Percy Pringle (the future Paul Bearer). The following year, he co-held the NWA Tri-State Tag Team titles with Oki Shikina, before moving onto South-Eastern Championship Wrestling (Alabama), where he became Heavyweight champion in 1980.
In 1981, Harris travelled to Europe to gain more experience. While wrestling in Germany, he met the promotor of Joint Promotions in England and received further work there. Based in London, he wrestled as "The Mississippi Mauler." The European venture was cut short when he broke his ankle. He returned home, but did not initially consider going back to wrestling. In the end, he went to the Mid-South Coliseum, and apart from speaking with his friend Dream Machine about acquiring new gear – since his wrestling attire coming by boat from England was taking so long – he got an audience with promoters Jerry Lawler and Jerry Jarrett.
They told him to leave immediately – so as not to be seen by any fans – and they would speak again tomorrow. This led to the creation of Kimala (or Kamala), a bodyguard of Ugandan dictator Idi Amin, who had been discovered by manager JJ Dillon while on a tour of Africa. He spoke no English, wore face-paint with stars and a crescent moon painted on his torso, and brandished an African spear and shield. Harris worked many different characters throughout his career, none anywhere near as memorable as this one.
The vignette of Kimala which aired on Memphis television – purportedly filmed in the jungle but was actually on Jarrett's farm – was enough to generate huge interest. Not long after his debut, he faced Lawler in a sold-out Mid-South Coliseum in May 1982. He lost by disqualification, but on June 7, succeeded in dethroning Lawler for the Southern Heavyweight Title. He held the championship until August 9, when he dropped it back to Lawler. After Dillon, he was managed by Jimmy Hart as part of his heel faction to eradicate Lawler. He first started teaming with Botswana Beast (Ben Peacock), who later would become Kamala II. Near the end of his run in the territory, he briefly became a babyface against Kimala II (Plowboy Frazier).
After Memphis, Harris moved around to a variety of territories as a special attraction.' At the end of 1982, he appeared for Bill Watts' Mid-South Wrestling. A part of General Skandar Akbar's stable, he also had a handler, Friday (usually portrayed by Buddy Wayne). After dominating the competition, he had his first matches against Andre the Giant. Despite initial problems working together, they would be regular foes and Kamala holds the distinction of being one of the few to bodyslam the Giant. He then embarked on a memorable feud with Junkyard Dog.
Kamala turned up in Dallas for World Class Championship Wrestling in March 1983. Again managed by Skandar Akbar, he battled Bruiser Brody, with most of the matches ending in a disqualification. On October 3, 1983, Kamala challenged Harley Race unsuccessfully for the NWA World Heavyweight Title. For most of his run in World Class, he feuded with the Von Erichs (David, Kevin and Kerry). On May 6, 1984, he wrestled fellow heel The Great Kabuki to a double disqualification at Texas Stadium on the inaugural Parade of Champions.
In July 1984, Kamala began the first of several runs with the World Wrestling Federation. On August 30, he went to a double count-out with WWF champion, Hulk Hogan. Kamala met Andre in a series of matches, including a steel cage bout in Maple Leaf Gardens on October 21. His first run with the company ended after an appearance in a battle royal on November 22.
After the WWF appearances, he headed to Verne Gagne's American Wrestling Association, during the time of Pro Wrestling USA. Managed now by Sheik Adnan Al-Kaissie, he dominated preliminary wrestlers before meeting his first major challenge, Sgt. Slaughter. On a Pro Wrestling USA card in the Northeast, Kamala defeated Slaughter in a 'Ugandan Deathmatch,' but lost a return 'Boot Camp' match on June 22. At the first Superclash on September 28, 1985, Kamala lost a 'bodyslam' match for ten thousand dollars to Jerry Blackwell. He received a number of shots at Rick Martel's AWA World Heavyweight Title, but typically lost by disqualification.
In the middle of 1985, Kamala lost by disqualification to NWA United States Heavyweight champion, Magnum TA. In November, he went to Japan for the first time, as "Giant Kamala."
He returned to the WWF in the middle of 1986, where he was managed by The Wizard (Curtis Iaukea) and handled by Kim Chee (usually Steve Lombardi), until later being advised by Mr Fuji. Starting in November through to February 1987, he had a series of matches again with Hulk Hogan for the WWF Title, before starting a rivalry with Jake "The Snake" Roberts. Kamala also worked tag matches with partner, Sika. In September, he left the company again over low pay-offs, a sadly recurring theme for Harris in the WWF.
Kamala returned to World Class until the promotion wound up in 1989. He went back to Japan (AJPW), and also competed in Mexico (CMLL). In 1990, he renewed his rivalry with Lawler, this time in the United States Wrestling Association. By the time he left in 1992, he had held the USWA Unified World Heavyweight Title on four occasions. He continued to work in Japan for AJPW, W*ING, and SWS, and then re-signed with the WWF.
Managed by Harvey Wippleman and Kim Chee, he feuded with The Undertaker after losing a match to him at Summerslam on August 29 at Wembley Stadium. This led to a casket match at Survivor Series on November 25, which Kamala also lost. After a series of incidents in which Wippleman and Kim Chee routinely abused Kamala, he was convinced by Reverend Slick to part ways with them. The rest of his run was mostly uneventful, and he left shortly after.
(Later, Harris would divulge the claim that he was paid just thirteen thousand dollars for the Survivor Series match, while Undertaker received five hundred thousand dollars. He had been told about the discrepancy by Steve Lombardi).
He entered into semi-retirement driving trucks for a living, and took bookings sporadically. (Harris said he made a delivery to Madison Square Garden dropping off six pallets and even while Vince McMahon patted him on the shoulder, Harris did not get the impression Vince recognised him).
He returned to wrestling in 1995 when Hogan convinced him to come to World Championship Wrestling. Paid five hundred dollars per appearance, he was made a member of the Dungeon of Doom. On July 16's Bash at the Beach, he defeated "Hacksaw" Jim Duggan. He lost a singles match to Hogan at Clash of the Champions XXXI and was on the Dungeon of Doom team that met The Hulkamaniacs in WarGames on September 17. Due to decreasing bookings, Kamala chose to go back to truck driving.
In the early 2000's, Kamala would make occasional appearances for the now-World Wrestling Entertainment, including being a participant in the Gimmick Battle Royal at Wrestlemania X-7. Up until 2010, he took independent bookings until his heath began to decline. Multiple amputations of his feet and legs followed. Unable to walk and having problems with his regular wheelchair, his friend Koko B. Ware purchased him a power wheelchair to make getting around much easier. He then developed issues with his kidneys which required dialysis.
On November 19, 2017, Harris underwent life-saving emergency surgery to clear fluid from around his heart and lungs at a hospital in Oxford, Mississipppi. Due to complications, he was put on life support. On August 5, 2020, he contracted Covid-19, which caused problems with his diabetes. He passed of a cardiac arrest on August 9 at the age of seventy.