Music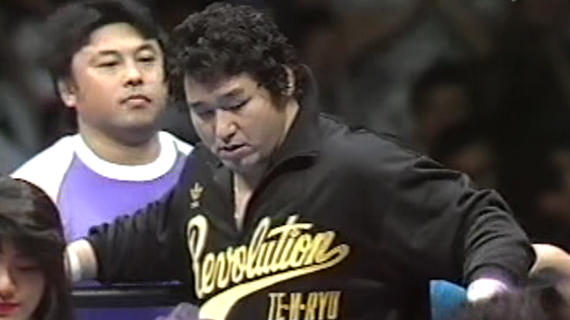 Roadtrip Music: Thunder Storm by Masayoshi Takanaka (Genichiro Tenryu)
As of writing Chris Jericho and Eddie Kingston have been feuding in AEW. Genichiro Tenryu's name has been thrown around a few times as Jericho once worked for him in the WAR promotion in Japan, and Eddie Kingston takes inspiration from him. The link is tenuous, but bear with me – we're talking Tenryu today.
To some, Genichiro Tenryu (pronounced "Ten-er-roo") is the guy that turned up at WrestleMania VII and a few Royal Rumbles. To others Genichiro Tenryu (actually pronounced just as it reads – Ten-ryu, though the 'ryu' sound isn't easy for a native English speaker, try getting Duolingo to recognise 'ryourishite' (to cook), damn!) is one of the greatest wrestlers in Japanese history.
Tenryu deserves a full profile so I'll sum up his accolades and get to the music. Many time champion in All Japan Pro Wrestling. Pivotal in the transition from 80s southern style to 90s king's road style in AJ. Promoter of Super World of Sports, Wrestle and Romance/Wrestle Association R and Tenryu Project. Trainer of many including Tomohiro Ishii and Toshiaki Kawada. IWGP Heavyweight champion.
His theme song is Thunder Storm by Japanese guitar legend Masayoshi Takanaka, a jazz fusion piece from the 1981 concept album The Rainbow Goblins. The album is interlaced with readings from Ul de Rico's 1978 children's book of the same name. The whole album is worth a listen and I imagine greatly enhanced by substances. An extended version without the spoken word intro was released the next year on the Ocean Breeze record. Tenryu used this version.
At Tenryu's retirement show in 2015 – Takanaka played the track live in the ring.