Profiles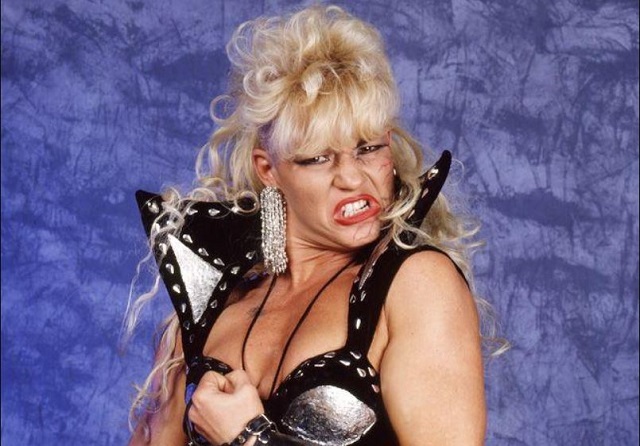 Luna Vachon Profile
Born: January 12, 1962 | Birthplace: Atlanta, Georgia
Died: August 27, 2010
Billed Hometown: Montreal, Quebec, Canada/The Other Side of Darkness
Other Aliases: Trudy Herd, Princess Luna, Angel Baby
The future Luna Vachon was adopted by Paul "Butcher" Vachon as a young girl, when he married her mother Rebecca Pierce – his second wife – in 1966. Gertrude wished to carry on the legacy of the Vachon wrestling family, and idolised her aunt, Diane "Vivian" Vachon (Paul's sister). Later, she patterned her career on her uncle, Maurice "Mad Dog" Vachon. Despite this connection to the business – or perhaps because of it – the family did not wish for her to become a wrestler.
Living in Connecticut in her early teens, she went with her father to WWWF events in the north-east, and was shown a few things in the ring by her father and some of the other wrestlers. Despite their protestations, Gertrude began properly training at age sixteen, first with Aunt Vivian, and then with The Fabulous Moolah (who had also trained Vivian).
Starting out in Moolah's all-women's promotion in South Carolina, she headed to Florida as part of a four-woman troupe led by Mad Maxine. Her first big break came in 1985 when she debuted in Florida Championship Wrestling. Appearing initially as meek reporter Trudy Herd, she was slapped around by Kevin Sullivan, and became damaged mentally by the experience. She soon after joined his Army of Darkness and became Luna Vachon. Along with The Lock (Winifred Childree), she shaved half her head and painted her face to produce what would be her trademark look. She also developed a very distinctive and unique voice for her promos, which would later affect her vocal chords. It was also in Florida she began her long rivalry with Madusa Miceli.
After leaving Florida, she began the start of a three year period working in Japan, at first managed by her father. She also worked in Puerto Rico, and in early-1987, turned up in Memphis with The Lock for the Continental Wrestling Association. While wrestling in David McLane's Powerful Women of Wrestling, she appeared in a 'lingerie' battle royal at AWA's Superclash III pay-per-view on December 13, 1988.
In the early nineties, Luna managed The Blackhearts (her then-husband Tom Nash and David Heath) in Stampede Wrestling. They would also work for Joel Goodhart's Tri-State Wrestling, Herb Abram's UWF, and finally, in All Japan, where the team split up. Nash was a childhood friend of Gertrude's and when they divorced, she became romantically involved with Heath (they would marry on October 31, 1994).
Luna signed with the World Wrestling Federation in 1992. She managed Intercontinental champion Shawn Michaels for his match at Wrestlemania IX against Tatanka, who had Sensational Sherri in his corner. After the match, Luna attacked Sherri and again in the first aid area backstage. They went at it again on RAW, viciously brawling around the ring. She transitioned soon after to managing Bam Bam Bigelow, who referred to her as his "main squeeze." A mixed tag team match pitting Luna and Bigelow against Tatanka and Sherri for Summerslam 1993 was shelved when Luna suffered an arm injury, and then Sherri left the company.
After enduring a series of practical jokes at the hands of Doink and his midget pal Dink, Luna and Bam Bam got their revenge at Wrestlemania X (March 20, 1994) in a mixed tag team bout. Around this time, Luna also caused dissension in the short-lived team of Bigelow and Bastion Booger, when Booger professed his love for her.
Luna revived her rivalry with Madusa (Alundra Blayze) and challenged her on a number of occasions for the WWF Women's Title, but was unsuccessful. After selling Bam Bam Bigelow's contract to Ted Dibiase, Luna brought in Bull Nakano from Japan to battle Blayze. Shortly after Nakano succeeded in claiming the Women's Title on November 20, 1994 in Japan, Luna left the WWF, but not before being immortalised as the first woman to appear in a WWF video game (WWF RAW, published by Acclaim).
After the WWF, she ventured to Extreme Championship Wrestling in 1995, where she was brought in as Tommy Dreamer's new valet, to help in his long-running feud with Raven. Her husband David Heath also made appearances as The Vampire Warrior, and accused Luna and Dreamer of having an affair. She had a memorable steel cage bout against Raven's lackey Stevie Richards at Heat Wave 1995 (July 15), which she would later claim was her favourite match. Luna bled and was thrown into the steel, but still got the win with a 'testicular claw.' That year she ranked number 306 in the PWI 500, the second woman to do so (after Miss Texas/Jacqueline in 1993). After ECW, she went back to Puerto Rico for World Wrestling Council, and other independents, including the American Wrestling Federation.
Vachon turned up in World Championship Wrestling, and inevitably went after Madusa (back to her original name and now WCW Women's champion). Luna lost to Madusa at Slamboree on May 18, 1997, and left shortly after. The WWF expressed interest in re-hiring Luna, but could not find her. Even Paul Vachon was unable to tell Pat Patterson anything other than she was somewhere in Florida. A private investigator tracked her down working as a waitress, and she returned to the WWF in late-1997.
When Goldust's real-life divorce to Marlena (Terri Runnels) was used in a storyline, Luna became his new manager, making him even more bizarre than before. After a feud with Vader, Luna and Goldust – who also referred to himself as The Artist Formerly Known as Goldust – began impersonating other wrestlers.
Goldust and Marc Mero formed a brief tag team which erupted when issues arose between Luna and Mero's valet – and then wife – Sable. The angle played out on-screen and backstage, as Luna legitimately disliked Sable. At Wrestlemania XIV on March 29, 1998, Luna and The Artist were defeated by Mero and Sable in a mixed tag bout. Luna gained a measure of revenge by defeating Sable at Unforgiven on April 26 in the first ever Evening Gown match.
In May, The Jackyl (Don Callis) created The Parade of Human Oddities, and Vachon was made a member. Initially heels, they soon became babyfaces on the July 28 RAW, and Luna made amends with Sable. The friendship did not last long, as in December, Luna attacked her while dressed up as the masked Spider Lady (a throwback to Moolah) in a bid to gain Sable's Women's Title. Despite having Shane McMahon in her corner, Luna lost to Sable at the Royal Rumble (January 24, 1999) in a Leather Strap match, due to interference from new company signing and obsessed Sable fan, Tori.
Luna was legitimately suspended after a backstage fight with Sable and returned several months later to challenge Ivory for the Women's Title. Several matches took place, including Luna getting a win in a non-title match, but she was not successful in lifting the gold. With David Heath (Gangrel) now in the company, Vachon managed him and worked some mixed tag team bouts together. At the Survivor Series on November 14, 1999, she teamed with Ivory, Jacqueline and Terri Runnels in an eight-woman tag team match against Debra, Tori, Mae Young and The Fabulous Moolah, losing the match when Moolah pinned Ivory. She was a reluctant participant at the Royal Rumble's Swimsuit contest, refusing to remove her robe. She briefly feuded with Jacqueline over the Women's Title, but was soon after released after.
Luna continued to work independents around the world with Gangrel (after his release in 2001), as well as for World Wrestling All-Stars. On their October 2001 pay-per-view Inception, WWA presented a Black Wedding match between Luna and Heath (now back to being The Vampire Warrior). Vampire Warrior was reluctant to engage and took regular hits from Luna, but then snapped when Luna threw down her wedding ring and spat in his face, leading to an Impaler DDT (Luna and Heath would divorce in 2006). Vachon retired at the end of 2007.
She was honoured by the Cauliflower Alley Club in April 2009 for her services to professional wrestling. When a house fire robbed her of her possessions and wrestling related memorabilia in December 2009, Mick Foley began a campaign to get fans to send in any Luna related merchandise they had, and also tried to get her to appear on TNA's Hardcore Justice pay-per-view, but she declined the offer. On the morning of August 27, 2010, she was found dead by her mother in her home in Florida, at the age of 48, determined to have been a drug overdose.
As a young girl, she became close with André the Giant (who was also possibly her godfather), who along with her family had attempted to persuade her not to get into the wrestling business. Her ashes were scattered at André's ranch in Ellerbe, North Carolina, where the service was also held.