History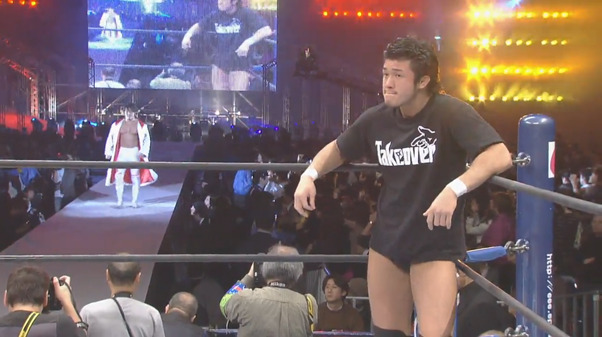 NJPW Toukon Shidou Chapter 1 2006 – Hiroshi Tanahashi vs. Katsuyori Shibata
Note: This article was written in 2017.
2006: Hiroshi Tanahashi vs Katsuyori Shibata
Toukon Shidou Chapter 1 (attendance: 31,000)
http://njpwworld.com/p/s_series_00167_1_8
We took a look at Shinsuke Nakamura for the 2004 event and in 2006 we meet the other two 'New Musketeers'. Hiroshi Tanahashi and Katsuyori Shibata. Both graduates of the NJPW Dojo (alongside Nakamura), New Japan planned to build the future around these three.
Hiroshi Tanahashi started his career in October of 1999. His debut match was against Shinya Makabe (better known now as Togi Makabe). The early part of Tanahashi's career was impressive given his status as he picked up wins over Negro Casas and Scott Hall (yes, that one). He gained entry into the 2002 G1 Climax where he defeated former IWGP Heavyweight Champion Kensuke Sasaki in short time. In November 2002 Tanahashi's momentum was temporarily halted as he was stabbed in a relationship gone sour. Tanahashi would return in February 2003. He would become the first IWGP U-30 Openweight Champion when he defeated Makabe in April 2003, holding that title until the January 4 Dome Show in 2005 (we did Heat and Tiger Mask) where he lost it to Nakamura.
Katsuyori Shibata is a second-generation talent, his father Katsuhisa wrestling for New Japan in it's infancy. The young Shibata made his debut on the same day as Tanahashi in October 1999 against Wataru Inoue. Shibata grew as a wrestler and earned shots at several titles (IWGP Junior, Junior Tag, Tag, U-30 and eventually Heavyweight) but was unsuccessful each time. Shibata began wrestling under a mask as Makai #4, a member of the Makai Club which disbanded in 2004. Shibata left New Japan in 2005 and began wrestling as a freelancer working for Pro Wrestling NOAH and the short-lived Big Mouth Loud promotion. During his time a freelancer, he returned to New Japan Pro Wrestling for a match with Hiroshi Tanahashi. This is that match.
A little bit more in the story of these two men, they did not get along. Each man had a very different idea of what puroresu should be. Shibata with a traditional strong style approach blending elements of mixed martial arts, and Tanahashi favouring a pro wrestling approach that emphasises storytelling and working for the fans. Tanahashi has since expressed public displeasure at what he saw to be Shibata's abandonment of New Japan, in a time of need.
It's the Ace vs the Wrestler in 2006!
And it's the first appearance of a proper entrance in this series as Tanahashi makes his way to the ring to the sound of his theme 'High Energy'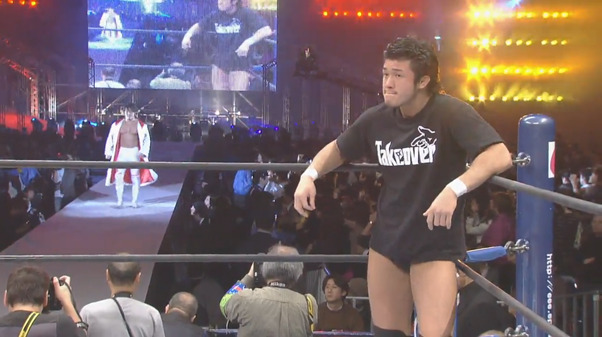 Introductions are made and both men are waiting poised in their respective corners ready to strike. Which is what happens as soon as the bell rings. Tanahashi leads with a kick but Shibata takes the early advantage with a barrage of slaps and a few kicks. A roundhouse takes Tanahashi down. Shibata is standing over Tanahashi and reigning down hatred with some stomps that referee is quick to admonish him for. Shibata's not having a bar of it and tosses the referee aside so that he can kick Tanahashi to the outside like a piece of trash. Tanahashi is left to wonder what went wrong on the outside as Shibata gets a lecture.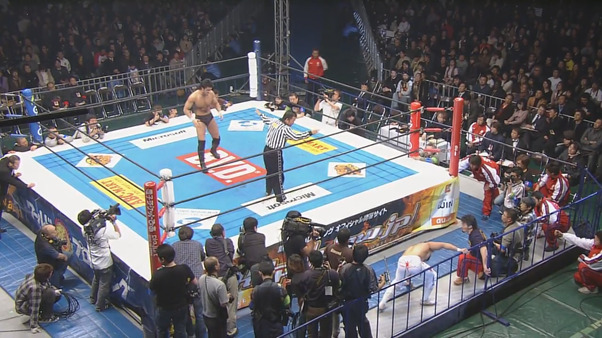 Tanahashi back in where Shibata is waiting with another series of kicks. Tanahashi's only hope is to grab one and execute a dragon screw which he follows up with a driving forearm smash and a dropkick. Shibata on the ropes, but Tanahashi opts for a breather rather than capitalising. This could cost him. Both men facing off and Shibata dares Tanahashi to hit him. Tanahashi gladly obliges with a pair of forearms. They trade forearms with Shibata taking the edge and slapping Tanahashi for good measure. Proving that when it comes to the striking game he is his superior.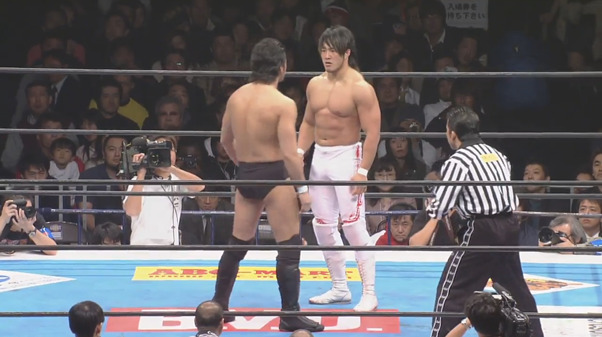 Shibata kicks the fallen Tanahashi who is defenceless. Takes him into the corner and Tanahashi seizes an opening, firing back with some forearms. Gets Shibata in the corner who fires up and the two have each other by the hair. The referee is onto them to let go, so Shibata does so he can deliver a gut punch. Throws Tanahashi into the corner and kicks him with pure hate. Shibata comes in with a dangerous dropkick. Attacking with all the intensity of a man who has been horribly wronged. Whips Tanahashi to the opposite corner, he blocks the incoming attack of Shibata with a back elbow and springs off the second ropes for a cross body. Which results in getting caught with a knee on the way down.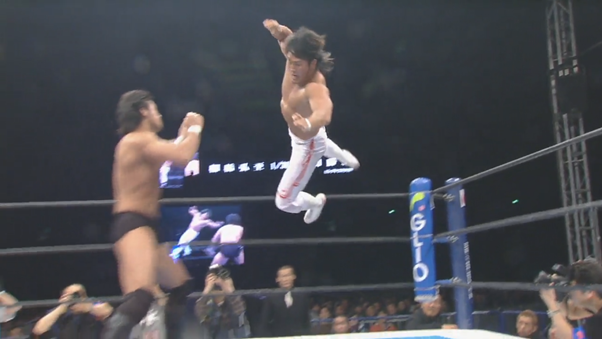 A replay is shown and we're back to live action with Tanahashi on the apron, awaiting a kick from Shibata to send him to the floor. Tanahashi climbs back in and Shibata hits the ropes in order to no doubt deliver a forceful kick with momentum but Tanahashi cuts him off with a well-placed jumping forearm. Tanahashi finally in a position of control, until he misses a senton splash and gets kicked. Cover for 2. Shibata looking for a sleeper hold which Tanahashi escapes from. Tanahashi goes for one of his own, same fate. Third time's the charm as Shibata locks it on. Tanahashi to the ropes for the break. Shibata not in any great hurry to do so. A point the referee makes clear. A kick to Tanahashi and backdrop for 2. Back to the sleeper in a better position this time. Referee mindful of the choke. He hooks the arm and converts to a dragon sleeper, a hold used by Tanahashi. Doesn't hold it long as Tanahashi is in the perfect position to receive a Penalty Kick. He catches it though and works up to a standing position, foot in hand and turns it into a German suplex.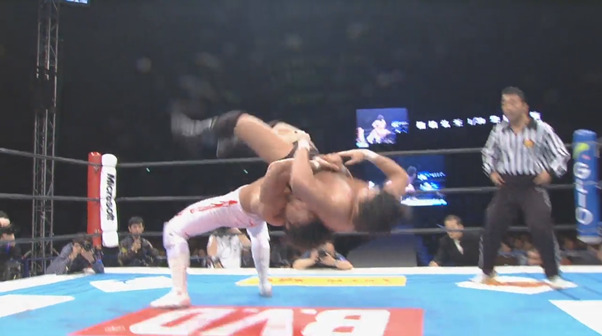 Tanahashi getting some energy flowing as he ascends the ropes. High Fly Flowing? No, he just delivers a missile dropkick which Shibata into the corner. Another dropkick follows him and then a suplex. Tanahashi rallies the crowd as Shibata rises and runs right into a slap. They're trading them back and forward and until Tanahashi decides to mix it up with an enzuigiri. Doesn't do too much though except send him to ground and invite a kick from Shibata. They're back up, trade some forearms and this time the enzuigiri is a bit more effective. German suplex for 2. Picks hi up again and hooks the arms for a dragon suplex but Shibata gets to the ropes. A little bit of back and forward and Tanahashi has a sleeper on. Converts to the dragon variety. Shibata gets free and turns it into a guillotine choke (sans guillotine). Squares him up and comes in with a Penalty kick for 2. A pushing kick to Tanahashi and he fires back with a Slingblade! Both men down.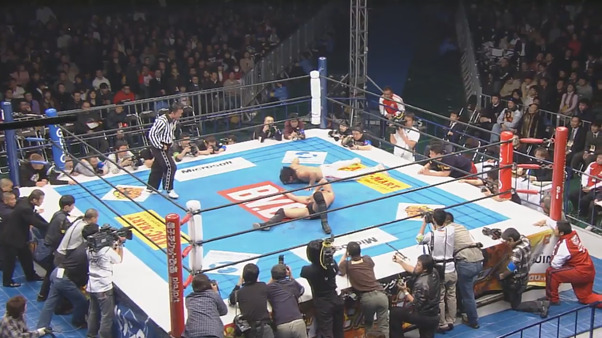 Another dragon suplex attempt that gets a lot closer, but Shibata again to the ropes, Tanahashi goes down and Shibata hits a brutal roundhouse. Not brutal enough for 3 though. Shibata daring him to rise which he does to an onslaught of kicks. Tanahashi's drawing deep on that reserve of fighting spirit to stay up here but enough kicks will knock anybody down. Tanahashi is in a bad way here and the referee starts counting to 10. He's back up in time and Shibata has been waiting for him with some kicks (including a brutal roundhouse) that send him back down. Cover, 1, 2, 3. He's done. Your winner after 11 minutes, 59 seconds and about 300 kicks – Katsuyori Shibata!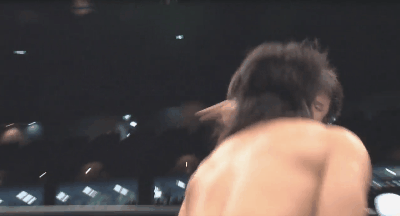 This was to be Shibata's last appearance in New Japan for six years as he would switch his focus to mixed martial arts. It won't be his last appearance in this project though.
In the final match of this event Brock Lesnar would defeat Shinsuke Nakamura, retaining the IWGP Heavyweight title. Due to a dispute between Lesnar and New Japan the title would be vacated and Lesnar would take the physical belt to the Inoki Genome Federation and defend it as what would be referred to as the IWGP Third Belt Championship (it was the title's third design).
That left New Japan in need of a champion and in the finals of a July tournament held to find one – Hiroshi Tanahashi defeated Giant Bernard to claim his first of many reigns. We'll see how that reign and subsequent go, next time we visit Tanahashi in this project.
Tanahashi and Shibata would face off once again in the 2014 G1 Climax in a fantastic matchup that shows what happens when you let hatred of one another simmer for 8 years. They followed that up with a rematch that earned 5 stars from the Wrestling Observer – but I think the G1 match was better.