Music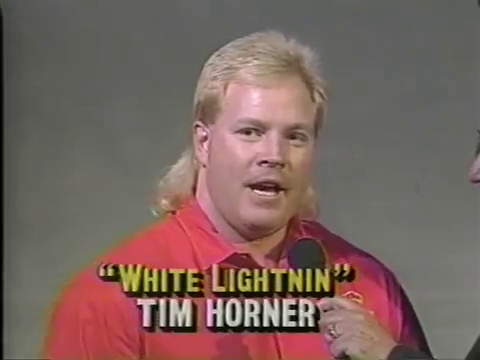 Roadtrip Music: The Thunder Rolls by Garth Brooks (Tim Horner)
This week the roadtrip makes a stop in Tennessee. The home of country music and the Smoky Mountains.
Smoky Mountain Wrestling was a promotion that ran from 1991 to 1995, led by Jim Cornette and aimed to present "wrestling the way it used to be and the way you like it". The promotion featured a lot of talent that had been on national television (The Fantastics, Rock and Roll Express, Ivan Koloff, etc.) and a lot of younger talents that would go on to bigger things later in their career. (Chris Jericho, Lance Storm, New Jack, etc.)
One of the former was Morristown, Tennessee local 'White Lightning' Tim Horner. Horner had previously teamed with Brad Armstrong as The Lightning Express for Jim Crockett Promotions and worked in the undercard (see jobber) for WWF.
One of the unique things about Smoky Mountain was that it was backed financially by record producer Rick Rubin. This allowed the promotion to use a lot of licensed music in their television show. One such song was the theme of Tim Horner – The Thunder Rolls by Garth Brooks.
The Thunder Rolls is from No Fences, Brooks' second studio album. A notable favourite at live shows, the live version is often played with a 'secret' fourth verse that doesn't appear on the studio album. The song is about domestic troubles, contrasting the storm within to the inclement weather taking place during the story.
Being from Tennessee, country music suited Horner well and he even tried his own hand at the genre recording a version of Billy Joel's Shameless which aired on Smoky Mountain's television show in 1992.
Here's a two for one this week.