Profiles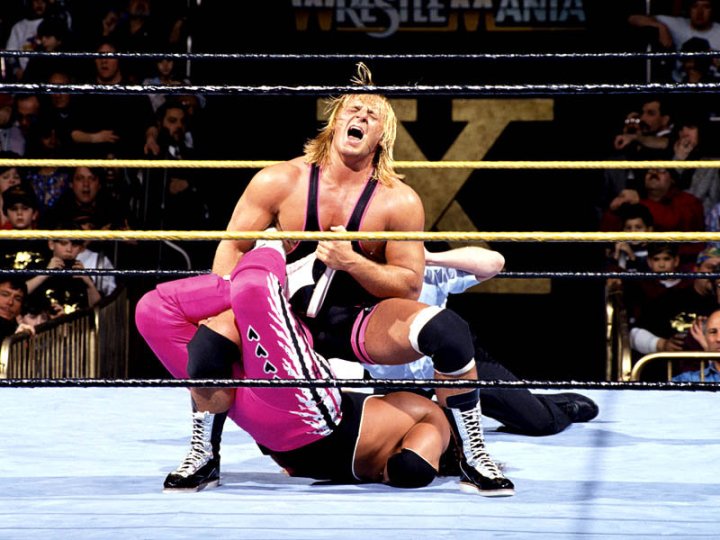 Owen Hart Profile
Born: May 7, 1965 | Birthplace: Calgary, Alberta, Canada
Died: May 23, 1999 (Blunt Force Trauma)
Billed Weight: 227 lbs
Other Aliases: "Cowboy" Owen Hart, Blue Angel, Blue Blazer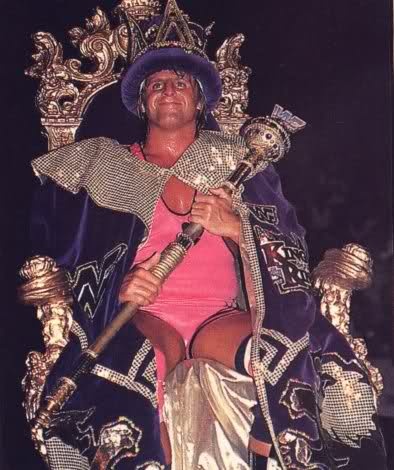 Owen Hart was the youngest of twelve children to Stu and Helen Hart. He was an amateur wrestler in high school, where he also met his future wife, Martha. Naturally, he followed the path of his other brothers into professional wrestling, and trained in the 'Dungeon' at Hart House, debuting on May 30, 1986 in Stampede Wrestling. A natural talent who could perform amazing aerial moves, Owen was named Rookie of the Year in 1987 by Pro Wrestling Illustrated magazine. On August 9, 1986, he teamed with brother-in-law Ben Bassarab and won the Stampede International Tag Team Titles. After losing the titles to The Viet Cong Express on October 3, he embarked on a singles run and feuded with Dynamite Kid and Johnny Smith. On October 25, 1986, Owen defeated Les Thornton for the British Commonwealth Mid-Heavyweight Title, and held it until August 7 the following year.
He began touring with New Japan Pro Wrestling and worked against Keiichi Yamada (both before and after he became Jyushin "Thunder" Liger). On May 27, 1988, Owen became the first foreigner to become IWGP Junior Heavyweight champion, when he defeated Hiroshi Hase (he dropped the title a month later on June 24 to Shiro Koshinaka). Owen also made several appearances in England for Joint Promotions, his first match being a tag team bout with brother Ross against Dave Finlay and Rocky Moran in a world tag team tournament. Owen traded the Stampede Wrestling North American Title with Makhan Singh before he moved onto the World Wrestling Federation in the summer of 1988.
He debuted in the WWF under a mask as a superhero-type character called The Blue Angel (soon after the name was changed to The Blue Blazer). He mostly faced and defeated preliminary talent using an array of spectacular high-flying moves that most fans had not seen before. Owen made his WWF pay-per-view debut at the 1988 Survivor Series on November 24; in other high-profile bouts, he lost to Ted Dibiase on the March 11, 1989 edition of Saturday Night's Main Event, and was also pinned by Mr. Perfect at Wrestlemania V on April 2. Owen left the company shortly after Wrestlemania V and wrestled around the world; he returned to Stampede until the promotion closed in December 1989.
Hart worked more matches for New Japan, and competed against the likes of Liger, Keiji Mutoh and Negro Casas, as well as Pegasus Kid (Chris Benoit). He returned to England and wrestled Marty Jones for the World Mid-Heavyweight championship as "Cowboy" Owen Hart. He also worked several television matches for World Championship Wrestling in March/April against preliminary wrestlers, but a deal was never struck. Working as The Blue Blazer, he dropped a mask versus mask match to El Canek in Naucalpan, Mexico on May 29, 1991.
In October 1991, Owen re-signed with the World Wrestling Federation and was put into a tag team with his brother-in-law, Jim Neidhart. (Previously, Neidhart had teamed with Owen's brother Bret as the Hart Foundation; as a result, this team was called "The New Foundation.") They defeated The Orient Express at the Royal Rumble on January 19, 1992, only for Neidhart to be fired soon after for an indiscretion. After another brief singles run, Owen was put in another team with Koko B. Ware (High Energy), but only had one high-profile match – against The Headshrinkers in a losing effort at the 1992 Survivor Series – before that team was also wound up.
Repackaged as "The Rocket," Owen defeated Skinner in a short match at Wrestlemania VIII. After Bret won the 1993 King of the Ring and was assaulted afterwards by Jerry Lawler, Owen became involved in their feud. He traveled to Memphis with Bret and Vince McMahon for Lawler's United States Wrestling Association as heels. He became USWA Unified World Heavyweight Champion when he defeated Papa Shango on June 21, 1993 and held it until July 5, when he was beaten by Lawler. Owen suffered a knee injury in the summer and was out of action until around the 1993 Survivor Series.
In the lead-up to the Survivor Series, Owen inadvertently got Bret disqualified on the November 20, 1993 edition of Superstars as Bret attempted to regain the WWF Title from Yokozuna. At the Survivor Series on November 24, the Hart Family (Bret, Owen, Keith and Bruce) were assembled to face Jerry Lawler and his Knights. (Shawn Michaels substituted for Lawler as the captain of the team when Lawler ran into some legal troubles), and the Harts made short work of their opponents. However, right before Michaels walked out of the match, Owen was pinned when he hit the ropes and inadvertently knocked Bret off the apron into the steel guardrail. Keith and Bruce went to Bret's aid and as Owen looked down from inside the ring, he was rolled up and eliminated. When the rest of the Harts celebrated their victory having survived the match, Owen came back to the ring and angrily confronted Bret. He claimed Bret was holding him back and challenged him to a match, which Bret refused. Over the Christmas holidays, it was announced that Bret – with the rest of his family – had sorted the issues with Owen, and they decided to team up and go after the Tag Team titles.
At the Royal Rumble on January 22, 1994, they faced the champions, The Quebecers (Jacques and Pierre). Bret injured his knee during the match but continued to battle on; when Bret collapsed trying to apply the Sharpshooter on Pierre, referee Tim White called for the bell and The Quebecers retained. Owen was incensed at Bret for not tagging out, and kicked Bret's injured knee. Despite this, Bret later co-won the Royal Rumble (with Lex Luger) when both went over the top rope at the same time. Both Bret and Luger would get a shot at the WWF Title as per stipulation of winning the Rumble at Wrestlemania X, but Owen would get first crack at his brother in the opening match of the event.
To the shock of the fans, Owen got the win out of nowhere with a victory roll. Luger lost his bid to become champion when he lost by disqualification to Yokozuna (in a match refereed by Mr. Perfect). Bret then made the most of his opportunity and defeated Yoko for the title, which Owen claimed should be his since he defeated his brother earlier. Jim Neidhart returned to the company, and caused Bret to be disqualified in his title defense against Diesel at King of the Ring on June 19, before helping Owen beat Razor Ramon in the final of the King of the Ring tournament. In his victory speech, Owen discussed how he had done what Bret had achieved the previous year (Bret was the 1993 King of the Ring), and took to calling himself "The King of Harts."
Neidhart revealed he had got Bret disqualified so he would retain and Owen could get a shot at him. At Summerslam on August 29, 1994, Owen lost to Bret in a classic steel cage bout, after which he and Neidhart beat on Bret as the rest of the Hart family (and Davey Boy Smith, who had been absent for a time) tried to make the save. Eventually they did so and chased Owen and Neidhart away.
Former WWF champion Bob Backlund returned to the company after an eight year absence, and seemed to having trouble containing his emotions. After Bret defeated him on Superstars and extended his hand in friendship, Backlund snapped and put Bret in his chicken-wing submission hold. At the Survivor Series on November 23, Bret defended the title against Backlund in a submission match, that could only end when their respective corner-man literally threw in the towel; Owen stood in Backlund's corner, while Bret chose Davey Boy. Stu and Helen sat at ringside for the match as Bret and Backlund put on a technical wrestling clinic, Backlund especially working over Bret's shoulder.
​Bret was then trapped in the chicken-wing to the glee of Owen, but as Bret refused to give in and began to fade, Owen started showing remorse and sympathy for Bret. With Davey Boy knocked out from being shot into the ring steps, Owen pleaded with Helen to throw it in for Bret, and despite the protests of Stu, Helen obliged. Owen immediately changed his tune to reveal it was all a ruse and celebrated with the new champion as Bret was helped to the back. Owen continued to antagonise Bret and interfere in his matches, but Owen was usually on the losing end and the feud cooled off after the 1995 Royal Rumble. 
Owen returned to the tag team division when he chose Yokozuna as his mystery partner at Wrestlemania XI to take on WWF Tag Team champions, The Smokin' Gunns. They were victorious and held the titles for five months until losing to Diesel and Shawn Michaels at In Your House 3. Davey Boy substituted for a supposedly injured Owen, who then appeared in the match anyway and was pinned by Diesel. After an official protest from their 'lawyer' Clarence Mason, WWF President Gorilla Monsoon returned the belts to Owen and Yokozuna, only for them to drop them that same night to The Smokin' Gunns.
Owen and Yokozuna teamed on and off until before going fulltime with The British Bulldog. At In Your House 10 on September 22, 1996, Owen and Bulldog defeated The Smokin' Gunns to give Owen his third WWF Tag Team championship. Clarence Mason became their new manager when he tricked Jim Cornette into giving him their contracts. Owen also began bringing out his Slammy Awards, and it became a part of his ring entrance to be announced as a "two-time Slammy Award winner" to add to his Tag Team Titles. Dissension began to form between Owen and Bulldog when Owen 'accidentally' eliminated Bulldog from the 1997 Rumble match, and further inflamed when Bulldog fired Clarence Mason, which upset Owen.
Hart lost to Bulldog in the final of the WWF European Title tournament on the March 3, 1997 edition of RAW in Germany. After their match with The Headbangers on RAW, another argument ensued and Owen challenged The Bulldog for the European Title the next week on RAW. The two aggressively fought each other, and a chair almost came into play until Bret Hart raced down to the ring. Bret blamed the American fans for the tensions that had existed within the Hart family the last few years, and how much they had enjoyed seeing their family fight. Owen and Bulldog came around and embraced Bret, who asked for their help in his battles with "Stonecold" Steve Austin and Shawn Michaels.
A new Hart Foundation faction quickly formed, and they were soon joined by the returning (again) Jim Neidhart, and "Loose Cannon" Brian Pillman. On the April 28 RAW, Owen pinned Rocky Maivia to claim the Intercontinental championship, but on May 26, Owen and Bulldog lost the Tag Team titles to Austin and Michaels. On the July 14, 1997 RAW – as a result of Michaels vacating his half of the Tag Team titles – Owen and Bulldog faced Austin and Dude Love in the final of a tournament for the belts in a losing effort. Owen's rivalry with Austin continued as they battled for the Intercontinental Title at Summerslam on August 3 in a match where if Owen won, Austin would have to 'kiss his a**.'
Owen hit Austin with an unusual Tombstone which seriously injured Austin's neck, and despite having little feeling throughout his body, Austin rolled up Owen to win the title. Austin was forced to vacate the strap due to the injury and Owen began wearing a black shirt saying "Owen 3:16 Just Broke Your Neck." With the Intercontinental Title vacated due to Austin's injury, a tournament was set up. Owen reached the final at Bad Blood: In Your House against Faarooq and won the title when Austin interfered, explaining that he wanted to beat Owen for the belt when he returned. At Survivor Series on November 9, 1997, Owen dropped the title to Austin.
​Later in the night, Bret lost the WWF Title to Shawn Michaels after Vince McMahon called for the bell, in what is now termed the "Montreal Screwjob." Bulldog and Neidhart got immediate releases and joined Bret in WCW but Owen stayed behind (it is thought that Vince did not want to release Owen, and Bret has stated that WCW could not match Owen's WWF deal anyway). Owen took time away and then made a surprise appearance at the In Your House: D-Generation X pay-per-view on December 7, when he attacked Shawn Michaels during his match with Ken Shamrock before escaping through the crowd.
Owen waged war on DX and became known as "The Black Hart" (a character similar to "Stonecold" Steve Austin) as he repeatedly attacked Michaels and Hunter Hearst Helmsley through the crowd. Owen challenged Michaels for the WWF Title on the December 29, 1997 RAW, but Helmsley caused a disqualification. Owen won the European Title from Helmsley when he defeated Goldust – who dressed up as Helmsley – only for WWF Commissioner Sgt. Slaughter to rule the title victory valid. Owen injured his ankle in a match with Barry Windham and was then goaded into a title match with Helmsley, who defeated him for the European Title after help from Chyna. 
Owen joined The Nation after he turned on Ken Shamrock during their tag team match against The Rock and Mark Henry, and began his 'Enough is Enough' phase. When Shamrock returned from injury, they battled in several matches, including a Lion's Den match and a fight in The Dungeon, with Dan "The Beast" Severn in his corner. When The Nation finished up, he began teaming with Jeff Jarrett along with valet Debra. After Owen injured Dan Severn, he 'quit,' only for The Blue Blazer to make a return. This version of the character spoke about the ills and controversies of the Attitude-era and that he was there to save the WWF. It was a comedy act in which Jarrett sometimes dressed up to prove Owen was not the Blue Blazer; on another occasion, Owen's former tag partner Koko B. Ware – an African American – played the role. On January 25, 1999, Owen and Jarrett defeated Shamrock and The Big Bossman for the Tag Team Titles and held them until the April 5, 1999 RAW, when they dropped them to Kane and X-Pac. The two continued to team heading into the Over The Edge pay-per-view on May 23, 1999 in Kansas City, when Owen tragically died.
As part of the Blue Blazer character, Owen rappelled into the ring using a quick-release mechanism on the harness. This was so Owen could descend down, act like he was stuck in mid-air, and at a safe height, release the mechanism and fall face first on the floor. On this occasion – in a stunt that Owen had only performed a few times – the mechanism was released over seventy feet above the ring, causing Owen to fall and crash-land onto the top rope near one of the corners of the ring. Fans watching at home saw nothing of this as a vignette was being aired and the cameras went onto the crowd as medical staff worked on Owen. Jim Ross on commentary stated that this was not meant to happen and was not part of the show, as Jerry Lawler went to the ring to help comfort Owen. He was taken to Truman Medical Hospital in Kansas City and despite attempts to revive him, Owen Hart passed away at the age of 34.
The WWF devoted the next episode of RAW (RAW is Owen) to the life and times of Owen Hart, and featured candid and mostly emotional interviews with a number of superstars talking about Owen. All story-lines were cancelled for the night and wrestlers got the choice whether they wanted to work. When WCW held their October 4 Nitro in the Kemper Arena, Bret Hart defeated Chris Benoit (with special guest ring announcer Harley Race) in an Owen Hart tribute match. Three weeks after Owen's death, Martha Hart filed a wrongful death lawsuit against the WWF and was awarded a settlement of $18 million on November 2, 2000. Proceeds went towards the establishment of the Owen Hart Foundation in December, a charity that provides university and college scholarships for children, and housing for low-income families.
​In 2002, Martha began writing a book which was released in 2004 entitled Broken Harts: The Life and Death of Owen Hart, in response to Diana Hart-Smith's Under the Mat: Inside Wrestling's Greatest Family. Martha sued Diana over the contents of her book, which was then pulled off the shelves in January 2002 as part of the settlement (it should be noted that other members of the Hart family were also unhappy with the contents). In June 2010, Martha filed a lawsuit against WWE over their use of Owen's name, likeness and personal photos for the Hart & Soul DVD and a failure to make royalty payments; the matter was settled in April 2013. In December 2015, WWE covered Owen's career in the Owen: Hart of Gold DVD and Blu-ray.