Profiles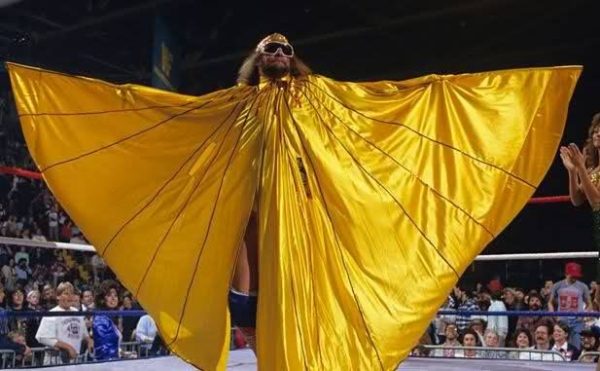 Randy Savage Profile
Born: November 15, 1952 (Randy Mario Poffo) | Birthplace: Columbus, Ohio
Died: May 20, 2011 (Heart Disease)
Billed Hometown: Sarasota, FL  |  Billed Weight: 250 lbs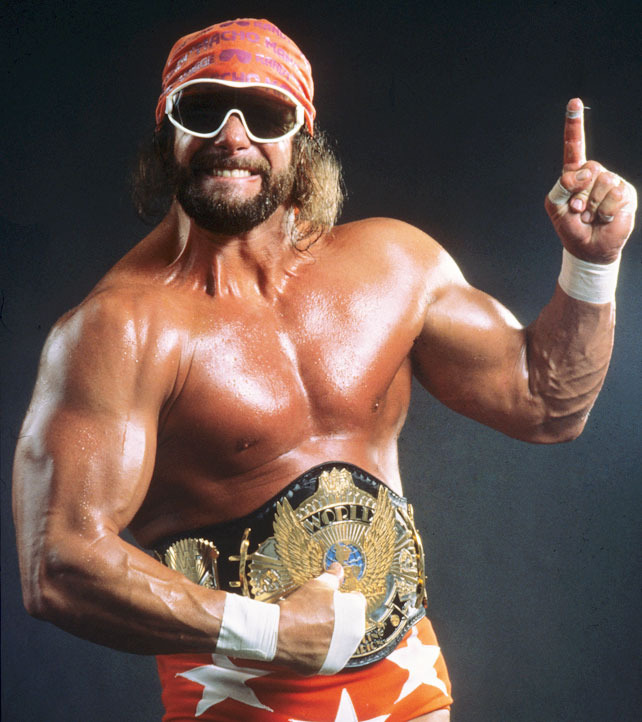 Randy Poffo was a second generation star, whose father was Angelo Poffo, who competed in the 1950's and 1960's. He first broke into professional wrestling in 1973, leaving behind a promising baseball career, where he played for the St. Louis Cardinals. After working a variety of territories with his father and younger brother, Lanny, his father started an 'outlaw promotion' in 1978 called International Championship Wrestling. The company ran for several years in opposition to Jerry Lawler and Jerry Jarrett's Continental Wrestling Association in a bitter promotional feud that even resulted in the issue of lawsuits. It was in ICW that Randy first met Elizabeth Hulette (Miss Elizabeth), who worked as an on-camera host and they began dating. Despite the history between the two promotions, Randy and Lanny went over to CWA when ICW closed in 1984. In a famous spot, on June 25, 1984, Savage delivered a piledriver on Ricky Morton through a table. On June 7, 1985, Savage lost to Lawler in a 'Loser Leaves Town' match, and headed to the World Wrestling Federation.
​Savage made his WWF debut on Championship Wrestling against Aldo Marino, in which every manager came out to watch and celebrate Savage's successful debut. To everyone's surprise, he would later introduce Miss Elizabeth as his manager over all the others. Despite his bullying and mistreating of her, Elizabeth always stood by her man as he quickly rose up the ranks towards the Intercontinental championship. On the February 24, 1986 edition of Prime Time Wrestling, Savage managed to defeat Tito Santana for the Intercontinental Title using a foreign object. He worked several bouts against WWF Champion and future friend and tag team partner Hulk Hogan, and even entered into a short feud with "The Living Legend" Bruno Sammartino, who took offense to Savage's gloating over the fact that he had injured Ricky Steamboat's larynx with the ring-bell.
Savage lost to Bruno in a lumberjack match by disqualification, and also lost to Bruno and Tito Santana in a steel cage in Madison Square Garden, where he teamed with Adrian Adonis. He also feuded for a time with George "The Animal" Steele, when Steele professed his love for Elizabeth on the January 4, 1986 Saturday Night's Main Event. Savage went on to beat George at Wrestlemania II. Savage's impressive fourteen month reign as Intercontinental champion came to an end in memorable circumstances at Wrestlemania III on March 29, 1987. In the Pontiac Silverdome in front of a reported 93,173 fans, Savage dropped the title to Steamboat in a classic contest still talked about today.
Savage was earning the respect of the fans, and so was positioned as a fan favourite when he challenged The Honky Tonk Man for the Intercontinental Title on the October 3, 1987 edition of Saturday Night's Main Event (Honky had upset Steamboat for the title). During the course of the match, the Hart Foundation ran in and held Savage's arms for Honky to blast him with his guitar. A brave Elizabeth moved in the way, only to be violently shoved to the side by Honky, who then smashed Savage's skull with the instrument. In desperation, Elizabeth ran to the back and brought out WWF champion Hulk Hogan, who along with Savage cleared the ring, thus creating the "Mega Powers."
At Wrestlemania IV, Savage won his first WWF championship, after going through Butch Reed, Greg Valentine, One Man Gang and then "The Million Dollar Man" Ted Dibiase in the final of a tournament, on March 27, 1988. Savage and Hogan teamed against "The Mega Bucks" (Dibiase and Andre the Giant) in the main event of Summerslam on August 29, 1988, which resulted in Savage and Hogan getting the victory after the famous distraction by Elizabeth. The Mega Powers looked solid, but cracks began to appear, in particular at the Royal Rumble, when Hogan accidentally eliminated Savage. Then it boiled over on the February 3, 1989 edition of Saturday Night's Main Event, when Savage crashed into Elizabeth after being thrown from the ring as they battled the Twin Towers.
​Hogan left the match to carry Elizabeth to the back and then later returned to help Savage win the bout. Hogan's explanation did not satisfy Savage, who attacked Hogan in the backstage, accusing Hogan of being jealous and only having eyes for Elizabeth. The Mega Powers exploded at Wrestlemania V when Savage dropped the WWF title to Hogan, in a match where Savage was suffering from a badly infected elbow.
After the loss, Savage replaced Elizabeth with Sensational Sherri. After winning a King of the Ring tournament, Savage proclaimed himself the "Macho King," and "Sensational" became "Queen" Sherri. Around this time, Savage battled with Hacksaw Jim Duggan and got the better of the feud. After a number of matches that saw Savage fall short, the rivalry with Hogan ended after losing to "The Hulkster" on the February 23, 1990 edition of Saturday Night's Main Event in a bout refereed by boxing legend Buster Douglas. Savage's next target was WWF champion The Ultimate Warrior, who had beat Hogan for the title at Wrestlemania VI.
When Warrior turned down Sherri's pleas to give Savage a title shot if he defeated Sgt. Slaughter at the 1991 Royal Rumble, Savage and Sherri interfered in the match and ultimately cost Warrior the title. This all led to a 'retirement match' at Wrestlemania VII, where despite hitting Warrior with multiple flying elbowdrops, Warrior prevailed. Sherri took out her frustrations and attacked Savage until Elizabeth ran to the ring and dispatched her. In one of the most emotional and memorable moments in WWF history, Savage and Elizabeth reconciled and embraced in the ring. Now that Savage was 'retired,' he worked as a colour commentator and then proposed to Elizabeth, which she accepted.
Billed as the "Match Made in Heaven," Randy and Elizabeth 'got married' at Summerslam 1991. However, the celebrations were soured thanks to The Undertaker and Jake Roberts, who hid a live cobra in a wedding present to scare Elizabeth. A petition was raised to reinstate Savage, a decision that was accelerated after a nasty incident on the October 21, 1991 edition of Superstars. After being coaxed into the ring by Roberts, Savage was attacked and had his arms tied in the ropes. Roberts then brought out his king cobra, which he allowed to graphically bite Savage on the bicep. The Macho Man got free, but collapsed, clearly under the effects of the snake's venom. Soon after he was reinstated by WWF President Jack Tunney, and Savage defeated Roberts at the Tuesday in Texas pay-per-view on December 3. The feud ended when Jake's partner The Undertaker chose to save Elizabeth from being hit with a steel chair by Roberts.
Savage became a two-time WWF champion when he defeated Ric Flair at Wrestlemania VIII on April 5, 1992 in front of a packed Hoosier Dome, despite having an injured knee. The Savage/Flair feud began when Flair claimed to have had a prior relationship with Elizabeth, and even had pictures (which was later revealed to be doctored). Sadly around this time in September, Savage and Elizabeth divorced, leading to Elizabeth leaving the company. Savage and Warrior battled again at Summerslam 1992 in a sold-out Wembley Stadium in London, England, ending in Savage being counted out after having his knee injured by Flair and Mr. Perfect. Not long after, on the September 14 edition of Prime Time Wrestling, Savage dropped the title to Flair when he passed out while being put in the figure-four leglock. Savage and Warrior formed a short-lived team The Ultimate Maniacs, until Warrior was fired in the lead-up to Survivor Series 1992, where they were to oppose Flair and Razor Ramon. In an interesting move, Savage asked Mr. Perfect to be his new partner, and to the surprise of everyone – including their opponents and Bobby Heenan – Perfect accepted. They went on to win by disqualification.
At this point, Vince McMahon pushed ahead with his "New Generation Era," and felt that Savage's headlining days were done. Savage went back to being a colour commentator, notably on the company's new flagship programme, Monday Night RAW. He wrestled only occasionally, but was given an opportunity to shine when he entered into a feud with his friend, Crush. On RAW, Crush had been injured at the hands of the five-hundred pound Yokozuna as Savage sat at the announcer's table. After several Banzai Drops, Savage dragged Crush out of the ring. Crush berated Savage for having taken so long to act, and the tensions between the two heightened over the next few episodes of RAW.
​Crush then revealed he wanted to partner with Yokozuna and his manager Mr. Fuji, which Savage strongly urged against, but Crush turned on him anyway. Savage suffered a badly lacerated tongue during the attack and was hit with multiple Banzai Drops. Savage angrily returned to action, which led to Savage beating Crush in a "Falls Count Anywhere" match at Wrestlemania X. Savage's contract expired at the end of 1994 and he chose not to re-sign with the company, instead going to World Championship Wrestling. Vince gave Savage a heartfelt thank-you on the November 7 RAW for his contributions to the company.
Savage arrived in WCW on the December 3, 1994 edition of WCW Saturday Night, and from the outset stated he wanted the World Heavyweight Title. (Along with the WWF losing Savage, he also took with him a lucrative deal he had as the spokesman of snack food company, Slim Jim's, which Vince mistakenly thought was his). Despite this ambition, Savage chose to ally with his on-again, off-again friend Hulk Hogan, who was the WCW Heavyweight champion at the time. Savage teamed with Hogan (along with Sting) to battle the likes of Ric Flair and Kevin Sullivan. Savage and Flair were natural enemies, going back to their feud in the WWF and was the "Macho Man's" main antagonist in WCW. At Slamboree 1995 on May 21, Flair attacked Savage's father Angelo, after Savage and Hogan had defeated Flair and Vader in the main event.
Savage was placed in a tournament for the United States Title and reached the semi-final with Flair, which was called off when the two brawled in the back before the bout even started. The two would trade the WCW World Heavyweight Title back-and-forth after Savage won it for the first time at the first World War 3 pay-per-view on November 26, 1995. The feud ignited into a higher gear when Miss Elizabeth was brought in by Savage at the beginning of 1996, only for her to turn on him for Flair. Savage and Elizabeth's real divorce was used as part of the storyline, as Flair revealed that she had given him most of the money she had received from Savage in the settlement, and flaunted the money wherever possible.
Savage and Hogan were allied throughout this initial run; Savage teamed with Hogan (along with Sting and Lex Luger) in War Games to defeat the Dungeon of Doom at Fall Brawl, and then tagged with Hogan against a multitude of opponents at Uncensored 1996 on March 24 in a triple-tiered steel cage match, which Savage won for his team by pinning Flair. After this match, Hogan left but when he returned, it started a whole new chapter in the Savage/Hogan rivalry. Hogan made his return at Bash at the Beach 1996 and revealed he was the mystery "third man" and partner of The Outsiders – Scott Hall and Kevin Nash. Immediately upon arrival, the two former WWF headliners challenged WCW to a three-on-three match, with WCW picking Savage, Sting and Luger. Luger was taken out of the match early to make it a regular tag team bout, with Hall and Nash not yet revealing their third man.
Hogan came to the ring, seemingly to help Savage and Sting, only to turn on them, mostly targeting Savage with repeated leg drops. Weekly on Nitro, Savage was attacked by the New World Order, even earning the sympathy of Elizabeth. Savage challenged Hogan for the WCW Heavyweight Title at "Slim Jim's" Halloween Havoc on October 27, 1996, but lost after interference from The Giant; Savage took a break after this defeat. Savage returned on the January 20, 1997 Nitro and held up the show, claiming to have been blackballed by Eric Bischoff unless he joined the nWo. A number of officials and wrestlers tried to move him to no avail, until Sting dropped from the ceiling. After a tense stand-off, Savage chose to exit with Sting and be a fellow 'free agent,' as Sting had chosen to do after Fall Brawl 1996.
But then, Savage decided to join the nWo at Superbrawl, when he helped Hogan defeat Rowdy Roddy Piper and reunited with Elizabeth, who had joined the group during his absence. As a member of the nWo, Savage's main feud was with emerging main event star, Diamond Dallas Page, trading wins on a series of pay-per-views. Savage started rocking the boat in the nWo when he challenged Hogan's leadership, especially after Hogan dropped the title to Sting at Starrcade 1997. With Hogan struggling to get the title back, Savage challenged Sting himself, and after help from Kevin Nash, Savage defeated Sting at Spring Stampede 1998. During the course of the match, Savage tore his ACL, and dropped the title to Hogan the following night on Nitro after interference from Bret Hart.
Soon after, Savage and Nash headed up the breakaway nWo group, "The Wolfpac," but then needed time off for knee surgery after the June 15 Nitro. Savage made just one more appearance in 1998, when he helped Flair beat Bischoff for the Presidency of WCW, and took some more time off. In April 1999, Savage came back with an entirely new and chiseled look, and put together Team Madness with three females – Madusa, Miss Madness (Nora Greenwald), and his real-life girlfriend, Gorgeous George. Savage went on to win his fourth WCW World Heavyweight Championship in a strange tag match stipulation where the winner of the fall got the title. Savage had Sid Vicious as his partner against Nash and Sting, and Savage won the fall by pinning Nash.
The following night on Nitro, Savage dropped the title to Hogan after interference from Dennis Rodman; shortly after, Team Madness disbanded. Savage feuded briefly with Rodman, beating him in a no disqualification match at the Road Wild pay-per-view. Savage again disappeared until the October 25, 1999 Nitro, when he cut a promo with Gorgeous George, stating that he wished to "pass the torch," but nothing more was done with this storyline. He did not make another appearance until the May 3, 2000 Thunder when he joined the Millionaire's Club, but never reappeared and the company folded in 2001.
After WCW, Savage made a few appearances for TNA before ending the arrangement for health reasons. Savage mostly stayed away from wrestling, and landed the role of "Bonesaw" in the hugely popular 2002 Spiderman film, and lent his voice to cartoons such as Dexter's Laboratory and King of the Hill. Savage was vocal about his now-soured relationship with Hulk Hogan, and even produced a rap album where he challenged Hulk to "be a man." On May 20, 2011, Savage passed away of a heart attack while driving with his wife in Florida. The car collided with a tree, but was found not to be the cause of death; his wife fortunately suffered only minor injuries. The autopsy revealed Savage had an enlarged heart and that he was suffering from heart disease.
​WWE presented a tribute video on the May 23 RAW, and TNA also gave a ten-bell salute. On January 12, 2015 – after getting permission from his brother Lanny – Randy was inducted into the WWE Hall of Fame. (This was actually against Randy's wishes, as Lanny explained Randy was still upset with Vince over the "Billionaire Ted" skits from 1996, in which Savage was called "The Nacho Man" and branded a sell-out).