Profiles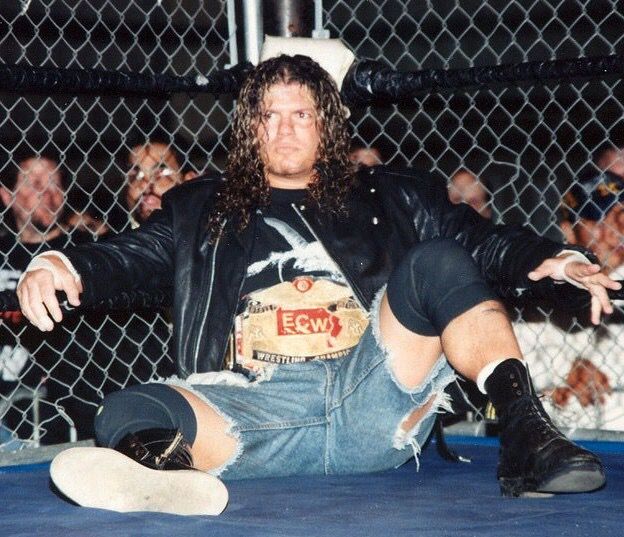 Raven Profile
Born: September 8, 1964 (Scott Levy) | Birthplace: Philadelphia, Pennsylvania
Billed Hometown: Palm Beach, Florida / The Bowery | Billed Weight: 235 lbs
Other Aliases: Scotty the Body, Scott Anthony, Scotty Flamingo, Johnny Polo
The future Raven was trained by Larry Sharpe at the famous Monster Factory in Paulsboro, New Jersey, and made his debut on February 22, 1988 against Jimmy Jack Funk. He worked briefly for Continental in Memphis, Florida Championship Wrestling and All Star Wrestling in Vancouver, all under the name "Scotty the Body." He was a sarcastic, quick-witted and flamboyant character with an eye for the ladies, which matched his persona outside the ring.
In 1989 he got his first big opportunity when he went to Pacific Northwest Wrestling in Portland and was used as a main event star. He held the PNW Heavyweight Title on three occasions, and mostly feuded with Steve Doll. Due to his microphone skills, he was also made colour commentator on television with veteran announcer, Don Coss.
Scotty was often brought to the ring by an attractive female valet, including Ginger – who he proposed to and then cruelly revealed on the wedding day it was all a ruse – and Taylor Made (LPWA and future WWF star, Tori). In 1990, he toured with All Japan Pro Wrestling and competed in tag team and six-man tag team matches.
On October 9, 1990, he worked a non-televised match against Koko B. Ware on WWF Superstars in a losing effort. In mid-1991, he appeared in Dallas, Texas for the Global Wrestling Federation under the name "Scott Anthony." He both wrestled and provided colour commentary before signing with WCW the following year.
In WCW, Levy became "Scotty Flamingo," a surfer from Palm Beach, Florida. He wrestled in the Light-heavyweight division and feuded with Brian Pillman and Brad Armstrong over the WCW Light-heavyweight Title. At Beach Blast on June 20, 1992, he defeated Pillman for the Light-heavyweight Title and held it until July 5, when he lost to Brad Armstrong.
He became a part of Diamond Dallas Page's "Diamond Mine" – along with Vinnie Vegas (Kevin Nash) – and began a rivalry with Johnny B. Badd. At Clash of the Champions XXI on November 18, he defeated Badd in a boxing match after Page and Vegas weighted his gloves with water.
In February of 1993, he left after a dispute with booker Bill Watts and was hired by the WWF. He largely worked there as manager Johnny Polo, a spoiled rich kid. He managed Adam Bomb before being given The Quebecers. He led them to three reigns as WWF Tag Team champions and only wrestled occasionally, as well as doing more commentary. Frustrated in this role, he chose to leave the company in October 1994. Determined to make it as a wrestler, Levy came up with the Raven character and took the idea to Extreme Championship Wrestling.
​Raven made his first appearance on the March 24, 1995 edition of Hardcore TV in an interview with Joey Styles and Stevie Richards. Levy traded in traditional ring attire for rock band or comic book t-shirts, ragged and ripped jean shorts and a leather jacket, and his promos depicted him as a troubled and tortured soul that society had forgotten. He also ended every promo with the chilling words, "quote the Raven, nevermore."
A story unfolded that he had arrived to get revenge on Tommy Dreamer, who he had gone to summer camp with in high school; Dreamer was the 'popular jock' and Raven of course was a 'loner.' Despite this previous loner status, he put together the first incarnation of "Raven's Nest," with its first members being Richards, Johnny Hotbody and Tony Stetson. On the March 18, 1995 Hardcore TV, Dreamer was put in a gauntlet match against Raven's Nest, and defeated Hotbody, Stetson and Richards before falling quickly to Raven.
Many different personalities were brought into the Raven/Dreamer rivalry. At Three Way Dance on April 8, 1995, Raven replaced Hotbody and Stetson with The Pitbulls and told the story of how he dated an overweight and unattractive girl named Beulah McGillicutty, after she was first turned down by Dreamer. She came back into Dreamer's life on this night, now as a former Penthouse Playmate who also wanted revenge; later in the night she helped Raven pin Dreamer.
Raven and Richards would have a long and unusual relationship, with Raven routinely abusing Richards both physically and mentally, but it still did not stop them from becoming ECW Tag Team champions, when they defeated Public Enemy on June 30. (Such was the hold that Raven held over Richards that Richards chose to superkick his 'fan' Francine on his orders. Later, Francine managed The Pitbulls against Raven).
At Heatwave on July 15, The Nest had a rough night; Raven, Richards and The Dudleys (Dudley Dudley & Snot Dudley) lost to Dreamer and The Pitbulls (who had decided to leave the nest) in a handicap match. Stevie then lost to Dreamer's new valet Luna in a bloody steel cage match, and then Dreamer handcuffed Raven in a crucifix pose to the cage and blasted him in the head with a chair. Cactus Jack joined Raven at Wrestlepalooza on August 5, choosing to take an 'anti-hardcore' stance and feuded with Dreamer.
On September 16, Raven and Richards dropped the Tag Team Titles to The Pitbulls after a run-in from Dreamer. They regained the titles on October 7 from The Pitbulls, only to lose the same night to Public Enemy. At November to Remember on November 18, Richards gained a lackey of his own when The Blue Meanie made his first appearance; also on the night, Dreamer and Terry Funk downed Raven and Cactus Jack.
At Holiday Hell on December 30, Raven got his first shot at the ECW Heavyweight Title in a losing effort to The Sandman, after he first pinned Dreamer to become the number one contender. Raven suffered a major blow at House Party on January 5, 1996 when he lost Beulah to Dreamer. Stevie had attempted to kiss Beulah after getting one from Missy Hyatt at a recent ECW show. Beulah refused and revealed she was pregnant; Raven hit the ring and shoved Stevie, only for Beulah to tell him it was not Stevie's, it was Tommy's. Dreamer came to the ring and destroyed Raven before leaving with the girl.
Throughout 1996, Raven took a break from Dreamer to feud with The Sandman. On January 27, Raven introduced his new valet Kimona Wanalaya, and later that night defeated Sandman to become ECW Heavyweight champion. At Hardcore Heaven on June 22, Raven took the rivalry to a whole other level when he brainwashed Sandman's wife Lori, and then his eight year old son, Tyler.
One of the most controversial moments in wrestling took place at High Incident on October 26 in the ECW Arena. Raven, Stevie and Meanie strapped an unconscious Sandman to a wooden crucifix, topped off with a barbed wire crown. Kurt Angle – who was backstage and being courted to sign after his success at the Atlanta Olympics – took great offence and left. Paul Heyman forced Raven to apologise to the crowd, which he did disingenuously.
​At this point, Raven needed time off to deal with some personal issues, and did not team with Brian Lee against Sandman and Dreamer at Ultimate Jeopardy on October 5. Raven chose Stevie as his replacement, and – as per the stipulation – when The Sandman pinned Stevie, he captured the ECW Heavyweight Title. Raven returned on December 7 and defeated Sandman in a barbed wire match to regain the title, but soon after, Stevie, Meanie and Super Nova left the Nest.
Raven dropped the title to Terry Funk at the Barely Legal pay-per-view on April 13, 1997, and then lost to Dreamer – for the first time in their two-and-a-half year feud – at Wrestlepalooza on June 6. He had signed with WCW, and made his first appearance sitting in the front row at the June 20 edition of Nitro. Announcer Mike Tenay attempted to get a word with him but he got nothing. Later in the programme, Raven hopped the guardrail after Sting had cleared the ring of the nWo and stared down Scott Hall.
Leading into the Bash at the Beach pay-per-view, it was suggested that Raven could be Diamond Dallas Page's mystery partner for his tag match against Hall and Randy Savage, but the spot went to Curt Hennig. He continued to sit in the front row of WCW events, and provided a cryptic promo when approached by Mean Gene Okerlund. Stevie Richards joined Raven and was abused on a weekly basis, as had happened in ECW.
WCW Commissioner JJ Dillon repeatedly tried to get Raven to sign a contract but he refused until he was granted certain stipulations, which included that his matches always be fought under "Raven's Rules" (no disqualification). Finally, Stevie stood up for himself, which led to a match at Clash of the Champions XXXV on August 21, which Raven won. Bizarrely, Stevie began hanging out with Raven again, until he was let go due to a back injury.
Inevitably, a new group of followers flocked to Raven's side. After Richards came former ECW star Perry Saturn (who became the group's enforcer), Lodi (who took the 'clueless putz' role when Stevie was released), Sick Boy, Hammer (formerly Van Hammer), Reese and Kidman.
Raven's first match on Nitro took place on October 27 against Scotty Riggs; before the bell rang, Raven told him to join The Flock, but Riggs refused. Fought under "Raven's Rules," Riggs badly injured his eye when he took a drop-toe hold onto a steel chair and the match was ended. Raven continued to court Riggs (now wearing an eye patch), and they had another match at World War 3 on November 23, which Raven won after hitting three DDT's, which he called the 'Evenflow' DDT. The Flock carried Riggs to the back, and then on the following Nitro, Riggs dutifully joined the rest of The Flock in the front row.
Raven entered into a rivalry with Chris Benoit, who had plans on winning the Television Title from Flock member, Perry Saturn. Raven kept feeding Benoit his Flock and finally – after going through every member – Raven stepped up to face Benoit at Souled Out on January 24, 1998. Raven lost the match while in the Crippler Crossface, laughing maniacally until he passed out.
In the rematch on WCW Saturday Night, Benoit won by disqualification and then a brawl broke out between the two. Raven cost Benoit a chance at being US champion against Page on Thunder, and took his spot against Booker T for the Television Title on the February 9 Nitro. Raven first suggested that Booker hand the TV title back to Saturn, but knowing he would not do it, he set the Flock on him.
In February, Mortis had asked Raven if he could join The Flock – not long after Raven had defeated him on Nitro – but Raven said he needed to prove himself by beating Page on the February 12 Thunder. Page won the match, and then Raven gave Mortis an Evenflow on the steel ramp. At Uncensored on March 15, Raven faced Page and Benoit in a triple-threat match for the US Title which Page won with a Diamond Cutter on Raven through a table.
In the lead-up to Spring Stampede on April 19, 1998, Raven was routinely attacked by a mystery man and led to JJ Dillon giving him four riot police officers as protection (which Raven also used to attack Page). At Spring Stampede, Raven defeated Page for the US Title after help from new Flock member Horace, but dropped the belt the following night to Goldberg. Raven told Page he would never get a rematch, and that their rivalry was done; Page responded by attacking The Flock in the locker room and fought Raven in an impromptu bull-rope match on Thunder.
Raven demanded a "Bowery Deathmatch" in a steel cage for Slamboree on May 17 which Page won; after the match, The Flock were all handcuffed by a riot officer and then Raven was cuffed to the side of the cage and blasted with a steel chair (reminiscent of the Dreamer chair-shot in ECW). The riot officer removed his helmet to reveal it was Mortis, later to be known as Kanyon after the Mortis mask was also discarded.
Raven railed against Saturn on the May 21, 1998 Thunder for not being loyal, and Saturn responded by stating he never considered himself a Flock member, but had just been Raven's friend – oddly, Raven let this go and apologised. He then called out Mortis, who he now knew was responsible for the attacks and a man looking like him came down the aisle, and was then captured by Raven's riot guards. As a melee was going on outside the ring, a 'fan' in a blonde wig got into the ring and gave him a Reverse Russian Leg-sweep, a signature move of Mortis, before escaping.
Raven went back on his apology to Saturn and had The Flock attack him. At Bash at the Beach on July 12, Raven got a win over Saturn after help from The Flock. A challenge was made for Fall Brawl on September 13, 1998 when Raven continued to abuse The Flock and Saturn came out to tell them they could leave if they wanted. Raven claimed that would never happen, and Saturn decided he would be the one to stand up for them if they could not do it themselves. If Raven lost, he had to let The Flock go, but if he won, Saturn would have to commit to being a Flock member.
In the lead-up to Fall Brawl, Kanyon oddly aligned with Raven when he turned on Saturn. Saturn lost to Lodi on the August 26 Nitro after plenty of interference to become Raven's slave. On the September 7 Nitro, Raven broke Saturn's fingers when he refused to do it to Riggs. Finally at Fall Brawl, despite multiple run-ins and interference, Saturn beat Raven to free The Flock when Kidman turned on Raven.
Raven grew despondent and depressed after losing his followers, with Kanyon now his only ally. On the October 1 Thunder, Raven got a rematch with Goldberg for the US Title in which Kanyon and Page interfered, before Raven was beaten. After losing to Chris Jericho at Halloween Havoc on October 25, Raven's mental faculties continued to desert him, and his 'mother' made an appearance to get "Scotty" to come home. After Raven and Kanyon got into it in an interview with Mean Gene, his mother arrived again on the December 21 Nitro and pleaded with him not to fight with his friends and to come home.
Raven took a leave of absence but appeared in a series of vignettes where it was discovered that he had been a spoiled rich kid all along, living in a big mansion with unlimited access to money. In the first of these vignettes, Raven revealed he was not really depressed, and that it was all an act. In later videos, Raven was seen arguing with his family, which included former ECW valet Chastity (who was cast as Raven's sister). Kanyon made further appearances in these skits, as well as Raven's best friend, "James" (The Sandman).
​He returned to action later in the year, and in March reunited with Saturn. They won the Tag Team titles at Slamboree on May 9, 1999, but then needed time off to heal an injury. Saturn and Kanyon (substituting for Raven) lost to DDP and Bam Bam Bigelow on the May 31 Nitro when Kanyon turned on Saturn.
Upon his return, Raven became a part of the short-lived faction "Dead Pool" with Vampiro and the Insane Clown Posse, and mostly worked in the new Hardcore division. In August 1999, Eric Bischoff held a locker room meeting and promised anybody who wanted a release, he would grant it. Despite low morale across the board, Raven was the only one who took up Bischoff's offer. As promised, Bischoff gave him his release on August 25.
The following night, Raven shocked ECW fans by returning unannounced at the ECW on TNN taping, where he helped Dreamer defeat the departing Dudley Boys for the Tag Team titles. Despite their past, Raven and Dreamer held them for several months. They defeated Rhino and Steve Corino at Anarchy Rulez on September 19, and at November to Remember, he teamed with Dreamer and The Sandman in a losing effort against The Impact Players (Lance Storm & Justin Credible) and Rhino.
A brief feud emerged with The Impact Players, and led to them losing the titles to them on the January 9, 2000 pay-per-view, Guily as Charged. Raven then teamed with Mike Awesome and captured the Tag titles from Dreamer and Masato Tanaka on March 4, 2000, but lost them a week later to The Impact Players at Living Dangerously in a three-way-dance which also contained Dreamer and Tanaka.
​Raven's last match in ECW was a loss to Scotty Anton (Scotty Riggs) before he returned to the WWF. In his first appearance back, he helped Tazz defeat Jerry Lawler on the Unforgiven pay-per-view (September 24, 2000). They formed a brief tandem before Raven moved onto the Hardcore division. Due to the nature of the Hardcore Title's '24/7′ rule – where title matches could happen anywhere at any time – the belt changed hands frequently. By the end of Raven's run in the company, he was credited with twenty-seven Hardcore title reigns.
In 2001, Titan Sports – the parent company of the WWF – acquired WCW. Shane McMahon was made the owner of WCW, and an invasion storyline began. Raven was made part of a crew of ECW wrestlers, who formed an alliance with WCW. Raven contributed little to this development.
During the draft, Raven was sent to RAW, as well as providing colour commentary on Sunday Night Heat and Excess. He returned to full-time wrestling duties on RAW until he dropped a match to Tommy Dreamer on June 24, 2002. Raven spent the rest of his time on Heat, where he began a 'seven deadly sins' story-line of his own creation, which was cancelled mid-way through.
He was released on January 20, 2003, and two days later, debuted for TNA. He immediately went after Jeff Jarrett's NWA World Heavyweight Title, and after several failed attempts, achieved his goal at the Slammiversary pay-per-view on June 19, 2005. Prior to the title win, he feuded with The Sandman, Shane Douglas and Vampiro before turning babyface. He lost the title to Jarrett on September 15 on a Border City Wrestling event, which was deemed as an official title change by TNA commissioner, Larry Zybyszko. He later lost to Sean Waltman and had to leave the company, the first of several comings-and-goings for Raven in TNA, but his relationship with the company would go through until 2010.
Raven also had a memorable feud with CM Punk in Ring of Honor, based on their polar opposite lifestyle choices and developed into a bloody war. Their dog collar match at Death Before Dishonour 2003 saw Raven saved by Tommy Dreamer, after Punk had taped Raven's arms to the ropes. They also had a Clockwork Orange House of Fun match (steel cage with weapons), and despite Raven winning the battle, he did not win the war. {see video below credit ROH}