Music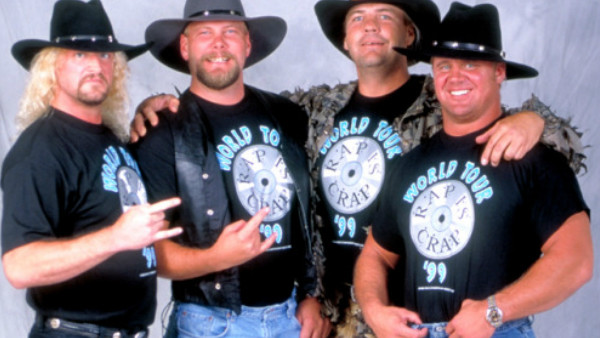 Roadtrip Music: Rap is Crap (I Hate Rap) by Curt Hennig & The West Texas Rednecks (Curt Hennig, The West Texas Rednecks)
Well I probably should've put a disclaimer on last week's post. Something along the lines of "The views expressed in this post are those of the author and do not represent those of The Wrestling Roadshow." or something of the like.
Anyway, after that post – we have Greg's counter this week.
In 1999 WCW brought in rapper Master P to lead a stable known as the No Limit Soldiers. Notable members include Konnan and Rey Mysterio Jr. As a counterpoint to the rap group, Curt Hennig led the West Texas Rednecks, a group consisting of Kendall and Barry Windham, and Bobby Duncum, Jr. Hennig is from Minneapolis but the rest are actually from Texas.
P and the No Limit Soldiers failed to get over with WCW's southern audience who weren't real big on the rap music (the group being full of rookies outside of Rey, Konnan and (according to Wikipedia – Brad Armstong) didn't help either). Meanwhile the country music group were getting cheered. In the south. Who knew that would happen?
Hennig and co actually recorded two songs, Good Ol' Boys and the more well known Rap is Crap (I Hate Rap). Rap is Crap was released on WCW Mayhem: The Music in 1999 and it goes like this, right here…