Profiles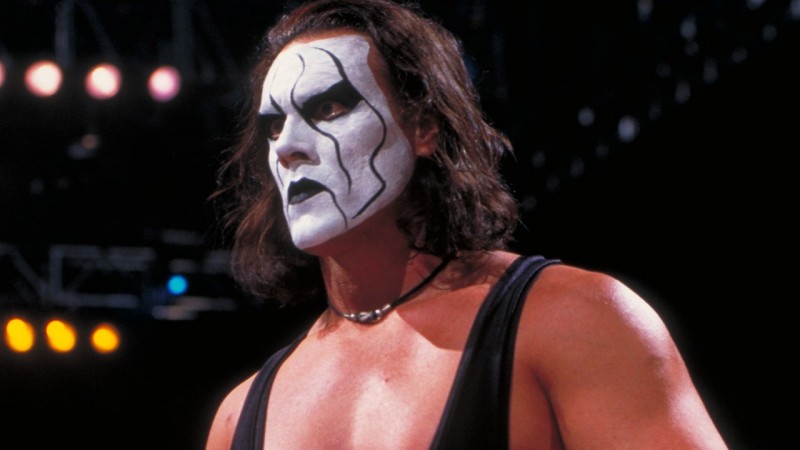 Sting Profile
Born: March 20, 1959 | Birthplace: Omaha, Nebraska
Billed Hometown: Venice Beach, California | Billed Weight: 250 lbs
Other Aliases: Flash
Born in Nebraska but raised in Southern California, Steve Borden played football and basketball in high school, before embarking on a bodybuilding career. Not initially a fan of professional wrestling, he was inspired to enter the business after attending a live WWF event in Los Angeles.
In 1985, he began training under Rick Bassman and Red Bastien, and became a member of Powerteam USA, a troupe of bodybuilder/pro wrestlers managed by Bassman.
Going under the name "Flash," he was teamed with fellow Powerteam USA member and future star, Jim Hellwig. As "The Freedom Fighters," they worked their first territory in Memphis (Continental Wrestling Association). Soon after, they moved onto the Universal Wrestling Federation as "The Blade Runners" and first adopted the name, "Sting." They were drafted into the top heel group, Eddie Gilbert and Missy Hyatt's "Hot Stuff and Hyatt International," and got involved in Gilbert's war with UWF owner, Bill Watts.
In the middle of 1986, Hellwig split after an altercation with Watts, while Borden stayed on. He won the UWF World Tag Team titles on three occasions, twice with Gilbert and once with Rick Steiner. Sting turned face when he was blamed for losing the Tag Team Titles (with Steiner) to The Lightening Express (Brad Armstrong and Tim Horner). He was double-teamed by Terry Taylor and Gilbert, until Chris Adams made the save.
Jim Crockett Promotions bought the UWF in 1987, and with it came a number of UWF wrestlers, including Sting. Figured in early to be a future star, he went to a forty-five minute draw with NWA World Heavyweight champion Ric Flair on March 27, 1988, at the inaugural Clash of the Champions.
At Starrcade on December 26, he teamed with Dusty Rhodes and challenged The Road Warriors for the NWA World Tag Team Titles, a match they won by disqualification.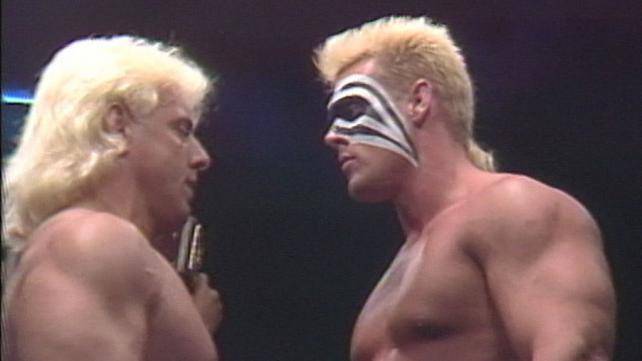 Sting kickstarted the new year of 1989 with a one hour draw against Flair in the Omni, before embarking on his first tour of the Orient with All Japan Pro Wrestling. Back in the United States, he captured his first singles championship, when he defeated Mike Rotunda for the Television Title on March 31, 1989 in Atlanta.
During this reign he began a memorable programme with Japanese star, The Great Muta. He retained the title against Muta at The Great American Bash, only for replays to show Muta got the shoulder up, and the title was later vacated. Later in the evening, Sting came to the aid of Flair when he was attacked by Muta after his match with Terry Funk. Sting and Flair formed a surprising team and got the win over Funk and Muta at Halloween Havoc on October 28 in a "Thunderdome" cage match.
He failed in his bid to regain the vacated Television Title when he lost to Muta, but he was then put on the path to the main event. Flair endorsed Sting and made him a member of The Four Horsemen, but it unraveled quickly when Sting won the Iron Man tournament at Starrcade 1990. He defeated Flair himself to earn the points required to win it, and as a result, was now the number one contender to "The Nature Boy's" World Heavyweight Title.
At Clash of the Champions X on February 6, he was confronted by the Horsemen, and when Sting refused to relinquish his title shot, he was dropped on the spot. His journey to the championship derailed slightly when he injured his knee later in the night, attempting to climb into the cage during the Horsemen's match with J-Tex Corporation.
Instead, he accompanied his friend Lex Luger to the ring when he challenged Flair at WrestleWar 1990. Sting was attacked by Ole Anderson, which caused Luger to be counted out. While out of action, Sting continued to make televised appearances, including at Capital Combat, when RoboCop saved him from being assaulted by The Horsemen. Eventually, at The Great American Bash on July 7, 1990, he bested Flair to earn his first World Heavyweight Title.
At Halloween Havoc (October 27, 1990), Sting defended the title against Horsemen member, Sid Vicious. In the lead-up, he was distracted by a series of cryptic promos from a man calling himself "The Black Scorpion." At Halloween Havoc, it appeared Sting had lost the match to Sid, shortly after they had fought through the crowd to the back. It was actually another Horsemen member – Barry Windham – dressed as Sting and wearing facepaint. But moments later, the real Sting hit the ring and pinned Sid to regain the title. Sting got his fight with The Black Scorpion in a steel cage at Starrcade, who had to unmask if he lost; Sting won and it turned out to be Flair.
Sting's first run as World Champion came to an end when he was defeated by Flair on January 11, 1991 (the same month, WCW left the NWA and it became the WCW World Heavyweight Title). He returned to Japan on March 21 for the first WCW/New Japan Supershow, where he lost to The Great Muta in a packed Toyko Dome. He got back on the winning trail by beating Steve Austin in a tournament final in August to become United States champion.
At Superbrawl on May 19, Sting and Luger challenged The Steiners for the WCW World Tag Team Titles, but were thwarted when Nikita Koloff hit Sting with a chain (he had intended to nail Luger), and the two feuded through the summer.
Sting was on the winning team at Halloween Havoc 1991 in a 'Chamber of Horrors' match and was challenged later in the pay-per-view by Ravishing Rick Rude, who had been under a mask as "The Halloween Phantom." Managed by Paul E Dangerously, they declared war on WCW, and identified Sting as the franchise, leading to the formation of The Dangerous Alliance.
Sting battled Rude at Clash of the Champions on November 19, and lost the United States Title when Luger turned on him. Despite all this turmoil, Sting won the inaugural Battlebowl at Starrcade on December 29, and then got a win over The Steiners at the annual January 4 Tokyo Dome show, where he teamed with Muta. He returned to the States and got revenge on Luger by beating him for the World Heavyweight Title at Superbrawl II on February 29.
The challenges came thick and fast, as he continued to battle The Dangerous Alliance, on top of facing down the monster, Big Van Vader. On April 12, 1992 in the Omni, he had his ribs injured by Vader but still managed to retain the title. "Sting's Squadron" got a key win over The Dangerous Alliance on May 17 in WarGames, and then got into a rivalry with Cactus Jack. He got past Cactus in a falls count anywhere match at Beach Blast on June 20, but lost the title to Vader at The Great American Bash on July 12.
On the August 2, 1992 edition of World Championship Wrestling, Sting ran to the ring to assist Nikita Koloff from a double-team from Rude and Cactus. After disposing of the antagonists, Sting was blindsided by a debuting Jake "The Snake" Roberts, who hit him with two DDT's onto a steel chair. After a series of tag matches pitting Sting and Koloff against Roberts and Cactus, Sting defeated Roberts in a 'coal miner's glove' match at Halloween Havoc on October 25.
Sting locked horns with Vader again at Starrcade (December 28) and defeated him to win the 'King of Cable' tournament, but lost at Superbrawl III in a brutal leather strap match. The World Title changed hands rapidly during WCW's tour of the United Kingdom; on March 11 in London, Sting became champion, but then dropped it back to Vader less than a week later in Dublin, Ireland. Back in the United States, Sting formed an alliance with Davey Boy Smith and faced down Vader and Sid Vicious at Beach Blast 1993 (July 18).
Sting defeated Rude for the WCW International Heavyweight Title on April 17 at Spring Stampede, followed by a controversial bout on May 1, in Fukuoka, Japan. Rude used the belt as a weapon to defeat Sting, but the decision was over-turned due to the nature of the finish. "The Stinger" refused the title in that way, and agreed to wrestle Vader at Slamboree on May 22 and was the victor, before dropping it to Flair on June 23 (the International and World Titles were then unified).
​That same month, Sting allied with Hulk Hogan and "Macho Man" Randy Savage. Together, they battled Kevin Sullivan, The Butcher and Avalanche (The Three Faces of Fear), as well as the ever-present Ric Flair. He became a two-time United States champion when he defeated Meng in a tournament final at The Great American Bash on June 18. He defended the gold against Flair on the debut episode of Monday Nitro on September 4, 1995, and was disqualified when Arn Anderson got involved. Right before the bout, Sting's on-again/off-again friend Lex Luger appeared, marking his return after a stint in the WWF.
Sting became the middle-man, urging Hogan and Savage to trust Luger after a series of tense incidents. Sting teamed with Hogan, Savage and Luger to a winning effort over the Dungeon of Doom in WarGames on September 17. Somehow, Flair convinced Sting to team with him against Arn Anderson and Brian Pillman at Halloween Havoc, only for Flair to turn on him during the match and reform The Horsemen.
The next night on Nitro, Sting refused to release the Scorpion Deathlock on Flair during their match, and beat him again at World War 3 on November 26. After losing the United States Title to Kensuke Sasaki in Japan, Sting got a measure of revenge by defeating him at Starrcade on December 27 to give WCW a 4-3 victory over New Japan in the "World Cup of Wrestling."
He and Luger went after the World Tag Team Titles, primarily battling Harlem Heat. Sting kept to the rulebook and showed respect to his opponents, while Luger routinely took short-cuts. Somehow, it worked, and they beat Harlem Heat on the January 22, 1996 edition of Nitro for the belts. Sting challenged The Giant for the World Title on May 19's Slamboree, only for Luger to accidentally cost him the title. Due to the mutual respect between Sting and Harlem Heat, Booker T substituted for Luger in a successful title defense against The Road Warriors. Sting and Luger held the Tag Titles until the June 24, 1996 Nitro, losing them back to Harlem Heat.
The entire landscape of WCW changed when Scott Hall (formerly Razor Ramon in the WWF) declared war on the company on the May 27, 1996 Nitro. At the end of the programme, Hall threatened Eric Bischoff at the announce table, which brought out Sting. The following week, Hall was joined by Kevin Nash (formerly WWF star Diesel). They challenged WCW to a three-on-three bout for Bash at the Beach on July 7, with WCW choosing Sting, Luger and Savage. Hall and Nash's third man was not revealed until right at the end of the bout, when Hogan turned on Sting and Savage (Luger had earlier been injured and stretchered out) and formed the New World Order.
Sting and Luger convinced Flair and Arn to bench Chris Benoit and Steve McMichael and have them team up against the nWo in WarGames on September 15. Leading up to the big event, Luger was attacked by a man in the parking lot on the September 9 Nitro, who looked very much like Sting, and appeared to be aligned with the nWo. Sting strongly denied it was him, but Luger, Flair and Arn chose not to believe him. They went down a man short for WarGames, while a man dressed and looking like Sting did appear on the nWo team.
The real Sting then showed up, entered the cage and took down the imposter, before taking off. The following night on Nitro, he made an unscheduled appearance and cut an angry promo on everyone who had doubted him – particularly Luger – and declared himself a "free agent." After a short tour of Japan, Sting returned on the October 21, 1996 Nitro and went after the nWo Sting, now wearing black-and-white face-paint and a long, black trench-coat. He continued to attack the nWo's Sting, with the rest of the group standing back, hoping to entice the real version to join them. This new-look Sting – inspired by Brandon Lee's film "The Crow" – chose not to speak or wrestle for over a year, and hid in the rafters of the arenas with a black baseball bat.
Sting rappelled down from the ceiling for the first time on the January 20, 1997 Nitro to confront Savage. Savage had returned after a sabbatical in which he claimed to have been "blackballed" by Bischoff – now a member of the nWo – unless he joined the group. Savage sat in the ring and held up the show until Sting arrived. After a tense standoff in which Sting handed Savage the bat and turned his back on him, Savage chose to return it and leave the ring with him. Sting and Savage appeared to be allies again, until Savage joined the nWo at Superbrawl VII on February 23.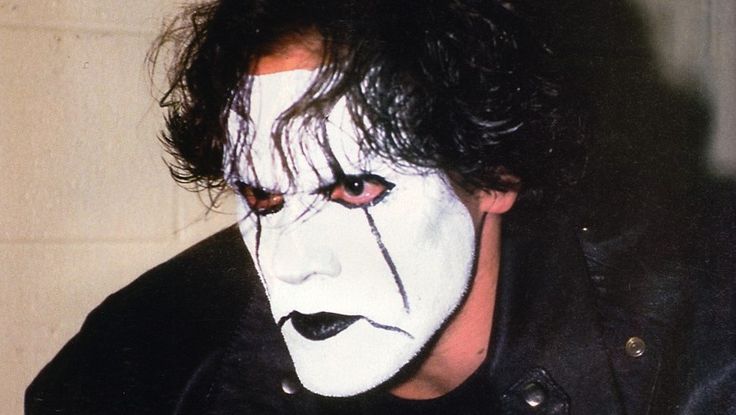 Sting looked like he may join him until Uncensored on March 16, when he attacked Hall, Nash and Savage to reveal his allegiance was still with World Championship Wrestling. Commissioner JJ Dillon attempted to get Sting to sign a contract to return to the ring and failed, until offering him a shot at Hogan for the World Heavyweight Title. The match – Sting's first in over eighteen months – took place at Starrcade, the company's biggest pay-per-view in history on December 28, 1997.
He initially lost the match when Hogan hit the leg drop and referee Nick Patrick counted three (the saga of which can be read in more detail in our Starrcade Shutdown article). New company arrival Bret Hart – who had earlier been the special referee for the Bischoff/Larry Zybyszko bout – ordered the match be restarted due to the "fast count." Sting went on to make Hogan submit to the Scorpion Deathlock to win the World Title.
The celebrations did not last long; the following night on Nitro, Hogan got a rematch due to the controversial finish. The match was marred with interference so Dillon chose to vacate the title. Sting regained the championship by beating Hogan at Superbrawl VIII on February 23, 1998, when Savage turned on Hogan. 
Savage challenged Sting for the title and defeated him at Spring Stampede on April 19, after help from Nash. A civil war in the nWo erupted when Savage challenged Hogan for the leadership; on the May 4 Nitro after Savage lost the title to Hogan, a red-and-black nWo Wolfpac was formed by Savage, Nash and Konnan. Both nWo Wolfpac and the now-called nWo Hollywood wanted Sting in their ranks leading into Slamboree on May 17, as Sting and The Giant were set to take on Hall and Nash for the Tag Team Titles.
Right before the pay-per-view, The Giant inexplicably joined nWo Hollywood, and when Hall turned on Nash, Sting and The Giant became reluctant World Tag Team champions. Luger joined The Wolfpac on May 25 and urged Sting to do the same; the following week, Sting obliged. Now wearing red-and-black face-paint, he returned to his vocal self, and most of the remnants of his "Crow-era" Sting were gone, with the exception of the baseball bat.
Sting defeated The Giant at The Great American Bash on June 14 to gain control of both Tag Team Title belts, and chose Nash as his partner. Sting and Bret Hart then began feuding when "The Hitman" turned on Sting during his match with Hogan on Nitro. Bret revealed himself to be an 'associate' of nWo Hollywood, and complained that Sting used 'his' finisher (Sting's Scorpion Deathlock being similar to Bret's Sharpshooter).
At Halloween Havoc, Sting was badly injured when Bret worked him over with his own baseball bat, and was gone for several months. By the time he returned (March 1999) the nWo Wolfpac/Hollywood storyline had ended, and he went back to using the black-and-white Crow face-paint. On the April 26, 1999 edition of Nitro, he defeated Diamond Dallas Page to become World Heavyweight champion. Later in the night, a four-way match was made for the title, and this time Page pinned Nash to reclaim the belt.
At Bash at the Beach on July 11, Sting teamed with the now-World champion Nash against Savage and Sid Vicious in an odd stipulation bout where if Nash was pinned, he would lose the title (Savage pinned Nash to become champion). Ric Flair became President of WCW when he defeated Bischoff, and while at first he ran things fair and square, he soon became drunk with power. On the July 19 Nitro, Sting defeated Flair to end his Presidency.
Sting and Hogan – now back in the red-and-yellow – became allies again, until Sting turned on him at Fall Brawl and used his baseball bat to beat him to become World Heavyweight champion for the sixth occasion. He retained the title against Hogan in strange circumstances at Halloween Havoc 1999 on October 24 when Hogan – in street clothes – allowed Sting to pin him. Later, Sting issued an open challenge and in a non-title bout, was beaten by Goldberg. Sting disputed the decision and attacked referee Charles Robinson, causing him to be stripped of the title the following night on Nitro.
Sting entered the tournament to crown a new World champion and reached the semi-finals, where he lost to eventual winner Bret Hart at the Mayhem pay-per-view on November 21 in Toronto, Canada. He got into a feud with his old friend Luger, whom he defeated by disqualification at Starrcade 2000 in December but was injured after being hit with a chair and a baseball bat; he returned to beat Luger at Uncensored on March 19, 2000.
On April 10, 2000, WCW was reset by the new creative team of Vince Russo and Eric Bischoff, which caused all titles to be vacated. Sting was entered into a tournament for the United States belt and reached the final against Scott Steiner at Spring Stampede 2000, only to lose after interference from Vampiro. The two feuded and had a series of unusual matches, wrestling in a graveyard and then in a 'human torch' match. After being injured at the hands of Scott Steiner, Sting was taken off television and did not return until the final Nitro broadcast on March 26, 2001, where fittingly, he worked against "The Nature Boy" Ric Flair.
After the sale of WCW to Vince McMahon, "The Stinger" appeared for World Wrestling All-stars, and toured countries such as Australia, New Zealand, the United Kingdom and parts of Europe. He won the WWA World Title on December 13, 2002 against Lex Luger in Switzerland, and held it until May 25, 2003, when he lost to NWA World Heavyweight champion, Jeff Jarrett, in New Zealand.
He began a long and successful tenure with TNA, starting with sporadic appearances in 2003-04 before going full-time in 2006. He won the TNA World Title on four occasions, co-held the Tag Team Titles with Kurt Angle and became NWA World Heavyweight champion again when he beat Jarrett at Bound for Glory on October 22, 2006. He was a part of the top heel stable – The Main Event Mafia – and by the end of his run, began using a Joker-inspired character. His final match for the company was January 23, 2014.
Sting finally made it to the now-World Wrestling Entertainment, making his debut appearance at the Survivor Series on November 23, 2014, where he attacked Triple H and helped Team Cena defeat The Authority. He went on to face Triple H at Wrestlemania XXXI in a losing effort, and after injuring his neck during a bout with Seth Rollins at Night of Champions, opted to retire during his WWE Hall of Fame speech on April 2, 2016. He has said in interviews the reason it took so long for him to get to WWE was out of loyalty to WCW, and concerns that he would not be booked decently, based on what happened to other WCW talent after the 2001 buy-out.
He came out of retirement after signing a multi-year deal with All Elite Wrestling at the end of 2020. Sting aligned with Darby Allin and did a pre-taped 'street fight' with Darby against Brian Cage and Ricky Starks which aired on March 7's Revolution pay-per-view. In front of a live crowd, he teamed again with Darby against Scorpio Sky and Ethan Page at the Double or Nothing event (May 30). For the most part, he serves as an adviser and mentor for Darby, and wrestles infrequently.