History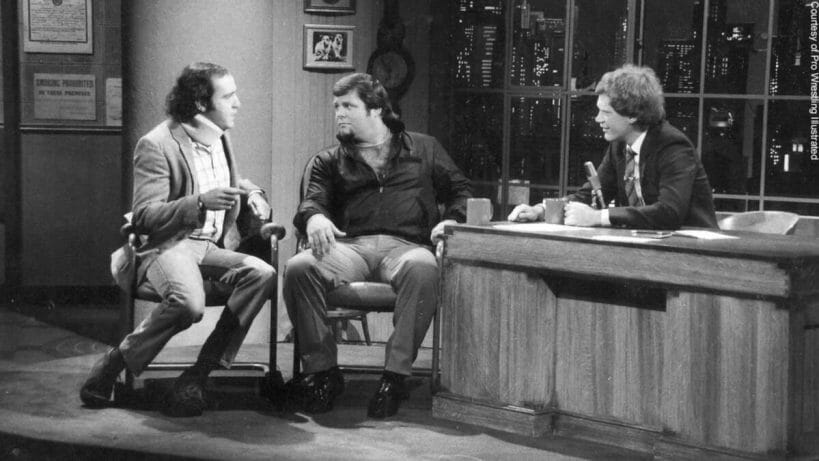 The Slap Heard Around The World (Continental, July 29, 1982)
Carl Reiner, an American actor, stand-up comedian, director, screenwriter, and author whose career spanned seven decades, said of the late Andy Kaufman: "Nobody can see past the edges, where the character begins and he ends."
Kaufman was a highly eccentric entertainer, who enjoyed coming up with elaborate hoaxes for publicity. His range of characters included Foreign Man – later to be called Latka Gravas when he landed a gig on the sitcom 'Taxi' – and the controversial lounge singer Tony Clifton, which blurred the lines of reality. It is only fitting then that Kaufman would be intrigued by professional wrestling.
Andy came up with the idea of being a cocky, Hollywood type heel who challenged women – not men – to wrestling matches. He initially took the idea to Vince McMahon Senior, who turned him down (although he did do a 1979 interview with Vince Junior in Madison Square Garden challenging any woman for a $500 prize). It was his belief that no woman, no matter how fit or athletic they were, could ever beat a man, even one as physically challenged as he was.
After being turned down by the WWF, he was pointed in the direction of Memphis by legendary wrestling magazine writer and editor, Bill Apter, who got him in contact with Jerry Lawler. Lawler agreed to bring him on board and do the storyline, in which Kaufman proclaimed himself to be the "inter-gender champion of the world," this time upping the ante to a $1000 prize to any woman who could pin him.
His belittling of women – not to mention his regular insults directed at the fans – increasingly raised the ire of Jerry Lawler. Finally, Lawler had enough when Kaufman continued to humiliate female competitor Foxy after pinning her and shoved him away. Insults went back and forth, and he would align with manager Jimmy Hart and other heel wrestlers to get at Lawler.
It all led to the comedian agreeing to face "The King" in the Mid-South Coliseum – his first match against another man – on April 5, 1982. In front of over ten thousand fans, Kaufman paid a heavy price, going to the hospital with an injured neck after two piledrivers from Lawler.
Prior to their next big match, the two appeared on David Letterman's show, with Kaufman wearing his neck brace claiming he was only playing a 'bad guy wrestler' and Lawler took it too seriously. He demanded an apology from "The King," which was not forthcoming. When Kaufman threatened a lawsuit, Lawler swung for the fences. The sound of Lawler's hand connecting with Kaufman's cheek echoed around the television studio, and sent him toppling off his chair.
The tension heightened when Kaufman screamed obscenities at Lawler, and then took Letterman's cup and tried to scold him with coffee before being chased off. It is uncertain how much Letterman really knew; the famous talk show host said Andy was very upfront about what was going to happen. However, NBC were very unhappy and wanted to ban him from their network. It is possible that Letterman knew about the slap, but not the swearing and throwing of coffee.
The rivalry would last for around two years, and drew good business. Kaufman never took a dime, as Jerry Jarrett later claimed, as none of the checks were ever cashed. Due to the level of kayfabe – and Kaufman's complete understanding of it – many facts about this feud did not come out until years after his death, on May 16, 1984 of lung cancer. The feud would later be a feature of the 1999 film 'Man on the Moon,' a biographical comedy-drama of Kaufman's life, where Lawler stepped back in time to reprise his role.