History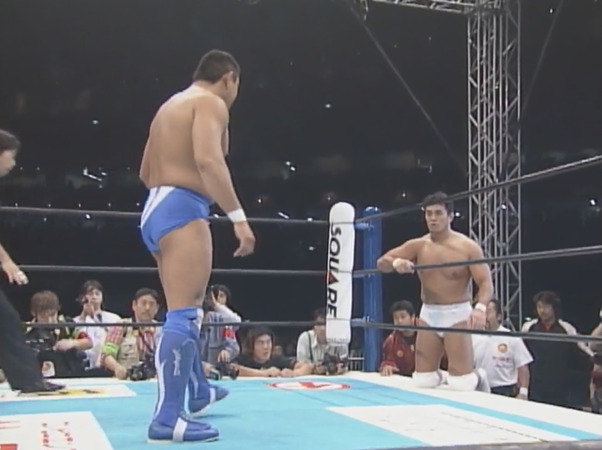 NJPW Wrestling World 2002 – Jun Akiyama vs. Yuji Nagata (January 4, 2002)
Note: This article was written in 2017
2002: Jun Akiyama vs Yuji Nagata – GHC Heavyweight title
Wrestling World 2002 (attendance: 52,000)
http://njpwworld.com/p/s_series_00159_1_10
GHC Heavyweight title? Yes, New Japan continues the co-operative approach with Pro Wrestling NOAH guest Jun Akiyama defending the Global Honoured Crown against NJPW's Yuji Nagata.
Jun Akiyama came through All Japan's system and debuted against Kenta Kobashi in September 1992. He would rise up through the tag division and in 1995 began to team with the promotion's ace Mitsuharu Misawa. AJPW was known for the four pillars that the company was built around in the 1990s (Misawa, Kobashi, Akira Taue and Toshiaki Kawada) and Akiyama was considered the fifth in that group. He had numerous attempts at the Triple Crown but was unsuccessful. In August 1998 he began to team with Kenta Kobashi and together the two formed the group 'Burning'. Akiyama was among the group that left AJPW for the newly formed NOAH and in July 2001 he defeated Misawa to become the 2nd GHC champion.
We covered a young lion named Yuji Nagata back in 1995 with his match against junior heavyweight Koji Kanemoto. Since then Nagata's stock has risen significantly. His profile rose as battled on the side of NJPW against the UWFi invaders in 1995/96 and went on excursion to World Championship Wrestling in 1997. While there he had a series of matches with Ultimo Dragon and gained a fanbase in the west. When he returned he came into the IWGP Heavyweight title picture unsuccessful against Scott Norton for the vacant belt in September 1998. In March 2000 he formed the group Fighting Club G-EGGS alongside Manabu Nakanishi and others but the group was short-lived. He was unsuccessful in wrestling the Heavyweight title from Kazuyuki Fujita in June 2001 and in August defeated Keiji Mutoh in the finals of the G1 Climax.
Nagata also at times teamed with a man named Jun Akiyama, the two winning an award for Tag Team Best Bout from New Japan for their October 2001 match against Keiji Mutoh and Hiroshi Hase. This match took place four days after Yuji Nagata's mixed martial arts debut. All 21 seconds of it. Nagata took an embarrassing TKO loss against Mirko "Cro Cop" Filipovic, so had plenty to prove coming into this.
It's 2002 and it's Akiyama vs Nagata. GHC title on the line! Let's go!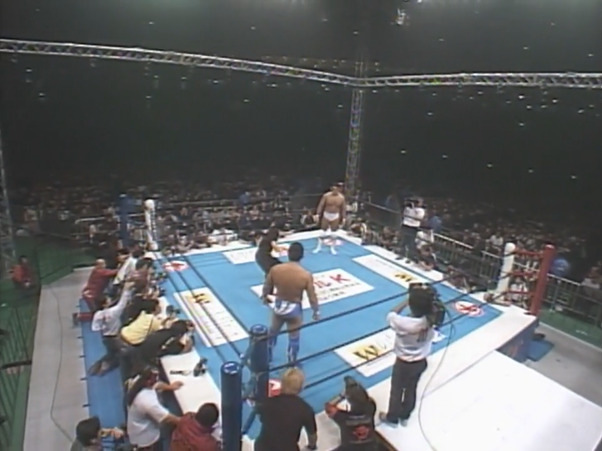 Jun Akiyama with hair? An odd sight when you're used to his 2017 look. Introduced first is the challenger Yuji Nagata who has earnt some colour since 1995. Here he wears his trademark blue. Next is the defending champion, who's chosen white for the occasion.
The two are slow to start, each weary of the man they've teamed with. Nagata tries his luck with a kick but Akiyama lets it through. They tease a lock up and Nagata's in with a takedown attempt, blocked by Akiyama. They jockey for position and it's Akiyama with his back against the ropes. Nagata is slow to break but does so cleanly. Too slow for Akiyama's preference so he gets a forearm in. This fires Nagata up who then delivers a number of kicks that eventually send the champ to the floor. He's being admonished by the referee for kicking the man while he was on the ropes. Akiyama did throw the first blow… Akiyama regrouping outside and meanders back towards the ring, Nagata's not going to let him. Referee backs Nagata up and Akiyama gets in eventually. His positioning is poor though as he's open for a Nagata rush to the corner.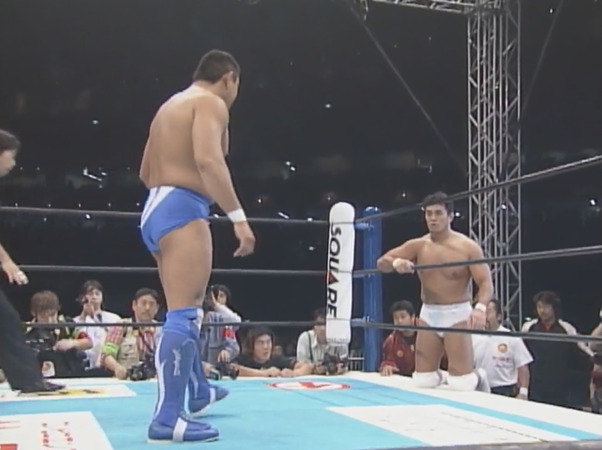 The two demonstrate that they do indeed have amateur background with an exchange of holds and counter holds before Nagata takes control of the arm. He locks a hammerlock, gets behind the champ and turns it to a rear naked choke. The referee's right in there though and Nagata placates him by moving the arms up across Akiyama's face. Works around to a cross armbar attempt, but Akiyama's holding on. Nagata's on his back and Akiyama works to a pinning position. Just a 1 count before Nagata releases the hold and opens himself for a stomp. Both men back up and it's time to exchange strikes with the wo trading forearms. Nagata switches to the boots. They keep the theme of exchange going as they each dish out Exploder suplexes, Akiyama's is more effective and he follows it up with a Shining Wizard. Nagata down.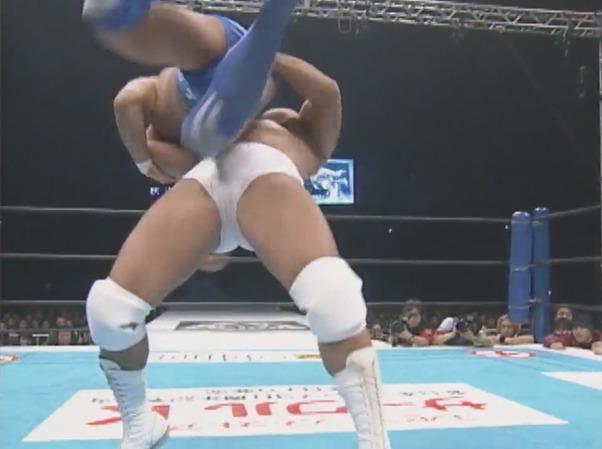 As Nagata uses the ropes to get himself up, Akiyama comes in with a kick. Nagata comes back with a guillotine choke. Akiyama eventually to the ropes. Nagata's not interested in breaking the hold but the referee gets involved. The style that Nagata is wrestling is very much rooted in strong style. Piledriver from Nagata and the champ gets dropped right on his head. The tension between these two is easy to see. Nagata with a few stomps and tries the piledriver again. Akiyama fights out, but Nagata gets it after a few strikes. 2 count. Kicks to the chest from Nagata. Akiyama's in trouble. Thrown to the ropes and he dodges a spinning wheel kick, gets a dropkick. Nagata rolls to the outside and Akiyama follows him. Trying an Exploder off the entrance ramp but settling for a DDT on it. They're on the floor now and Akiyama drops Nagata with a tombstone piledriver on the floor. Akiyama back in the ring as Nagata struggles to regain himself.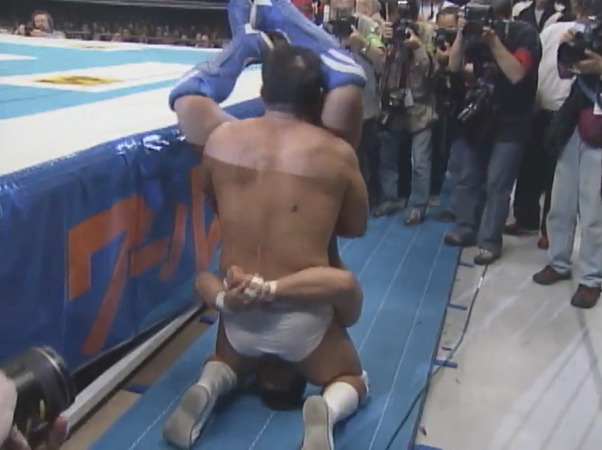 Nagata almost in, Akiyama gives him a hand. Sets him up for a piledriver – rotates around to give each side of the crowd a shot of their hero in trouble and then drops him. Rear chinlock and a driving elbow to the head. Knee drop. Sleeper hold applied by Akiyama. It's effective and Akiyama is in complete control. Until Nagata gets to the ropes at least. Once up, Akiyama sends him to the ropes and meets him with a jumping knee. Tries again and eats a belly-to-belly. Nagata thinking Exploder but Akiyama gets in the crossface! (Or as it's better known in this situation – the Nagata Lock II). Nagata's working around looking for some ropes and gets there on the second side.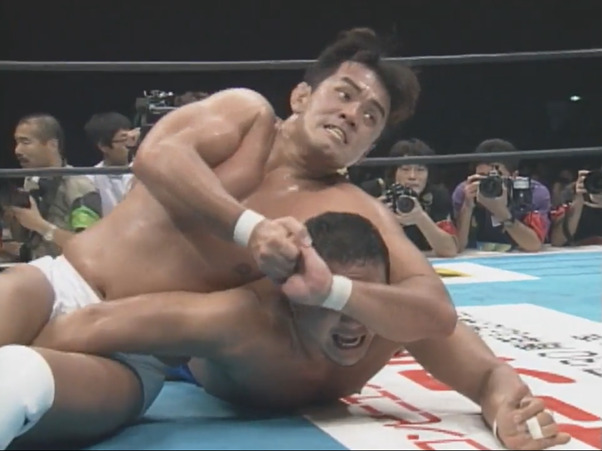 Akiyama breaks. Sends him corner to corner and follows Nagata in with a knee. He goes to the top rope and eats a kick on the way down. Nagata covers for 2. Lifting DDT and Nagata Lock II on Akiyama. Akiyama finds the ropes. Nagata tries it again but Akiyama blocks and the two are back on the strikes. Nagata takes an edge with a series of slaps, hits the ropes and meets a forearm, and a brainbuster. Akiyama slow to cover. 1. 2. Kick out!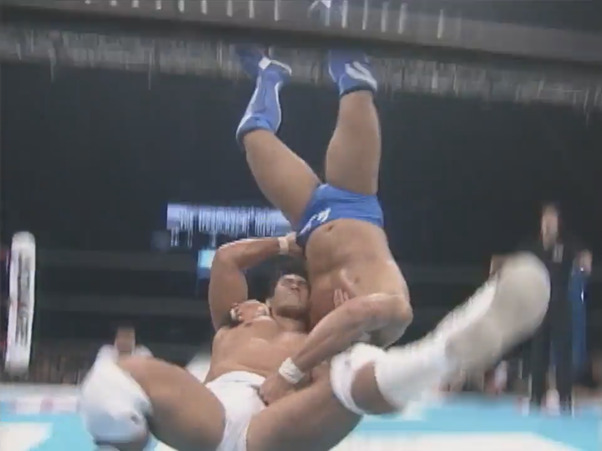 Guillotine choke from Jun Akiyama, right in the middle of the ring. Nagata's stuck and Akiyama eventually rolls him over for a pin attempt. A kick out at 2 and the cover may have been a mistake. Akiyama goes for an Exploder, Nagata fights it off. Akiyama off the ropes met with a kick to the head. Cover for 2 and a cross armbar from Nagata. Akiyama a little too close to the ropes, but far enough away that he has to work to get there. Nagata breaks. Squares him, jumping enzuigiri and a backdrop. For 2. Nagata's not happy.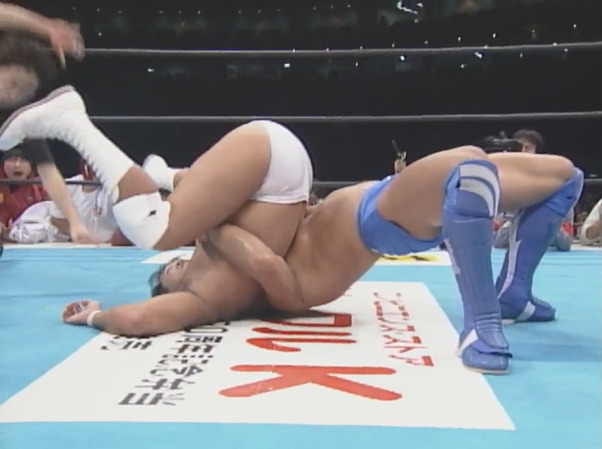 Another jumping enzuigiri, but Akiyama ducks it and hits an Emerald Flowsion! Both men down. Both men slow to their feet, but Akiyama takes a chance and gets in two Exploder '98s (the wrist-clutch variation). The second one does the trick. 1. 2. 3 and Akiyama retains in 19 minutes and 58 seconds.