Profiles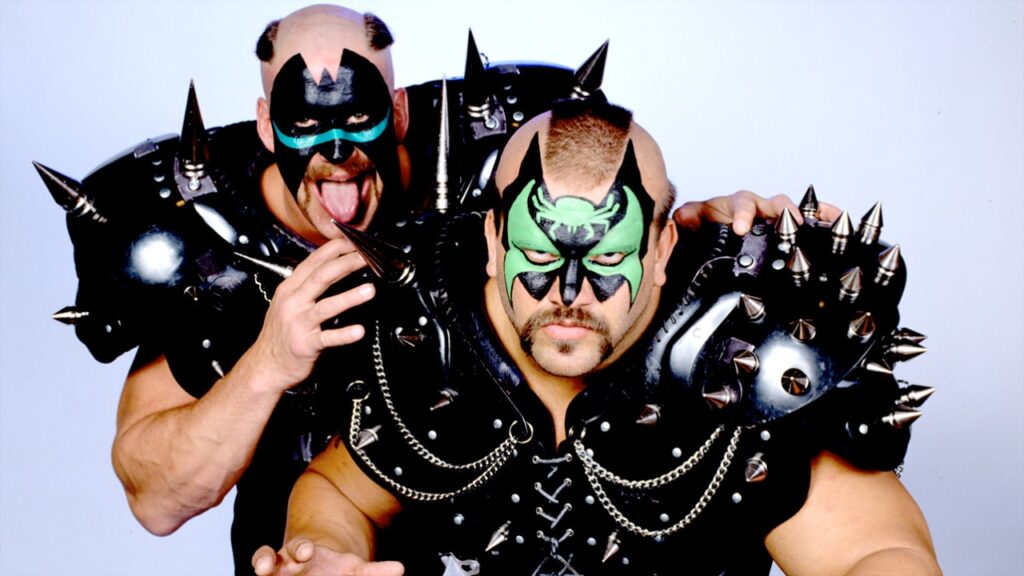 Road Warriors Profile
Hawk
Born: January 26, 1957 (Michael Hegstrand) | Died: October 19, 2003
Billed Hometown: Chicago, IL | Billed Weight: 270 lbs
Animal
Born: September 12, 1960 (Joe Laurinaitis) | Died: September 22, 2020
Billed Hometown: Chicago, IL | Billed Weight: 305 lbs
Michael Hegstrand (Hawk) and Joe Laurinaitis (Animal) were childhood friends with a passion for weight-lifting. They became bouncers at Gramma B's – a notorious bar in Minnesota – where they met the bartender Eddie Sharkey, a former wrestler who's career had started in the 1950's. He convinced Hegstand and Laurinaitis to try out at a wrestling school he was putting together; they agreed, and were joined by two other bouncers – Richard Rood (Rick Rude) and Barry Darsow (Demolition Smash). Animal debuted first when he was brought into Georgia Championship Wrestling by booker Ole Anderson, and Hawk followed a short time later. They were put with manager Paul Ellering – another Sharkey trainee – and in their first match as a tag team on June 11, 1983, they became NWA National Tag Team champions.
​Being very green, their matches typically lasted only a few minutes, punctuated with very stiff, hard-hitting, strong-man offence that amazed the audience. Despite their roughhouse style, that did not prevent them having good matches with the scientifically-sound Jack and Jerry Brisco. Later, Ellering created a stable called the Legion of Doom, along with Jake Roberts, King Kong Bundy and The Spoiler. Hawk and Animal held the National Tag Titles on two other occasions before departing for the American Wrestling Association.
Just as they did in Georgia – and throughout their career – they came in strong. In short order, they toppled established AWA stars The Crusher and Baron Von Raschke for the AWA World Tag Team titles on August 25, 1984. Initially brought in as heels, they become huge fan favourites, and feuded with The Freebirds and The Fabulous Ones. While working for the AWA, they appeared for Jim Crockett Promotions, and went after The Russians for the NWA World Tag Team titles at the first Great American Bash on July 6, 1985. In March of that year, they began working for All Japan Pro Wrestling, and became an instant sensation, going through established stars Killer Khan and Animal Hamaguchi in their debut.
The Road Warriors pulled a stunt when asked to drop the AWA Tag Team Titles to The Fabulous Ones on a card in Minneapolis; they got themselves disqualified rather then be pinned, which caused an outcry from AWA owner Verne Gagne, but did not lead to their firing. They finally dropped the gold on September 29, 1985 to Jimmy Garvin and Steve Regal after interference from The Freebirds. Their final appearance for the company was at WrestleRock on April 20, 1986, where they defeated Jimmy Garvin and Michael Hayes in a steel cage.
The night before The Road Warriors left the AWA to work full-time for Jim Crockett Promotions, they had already won the first Jim Crockett Snr Memorial Cup Tag Team tournament, when they defeated Magnum T.A and Ron Garvin in the final. Their initial targets were The Russians, but they were also tested by Jim Cornette's Midnight Express. During the NWA's Great American Bash tour through July-August 1986, they were matched against The Russians on July 5 in a "Russian chain" match, and on July 26 in a steel cage against The Midnight Express. They settled their feud with the Midnight Express when they defeated them at Starrcade 1986 on November 27 in a scaffold match. (Just prior to this event, Hawk broke his leg in Japan but still completed the match; Cornette took a terrible bump off the scaffold, blowing out his knees).
The Road Warriors formed an alliance with The Superpowers (Dusty Rhodes & Nikita Koloff) in their fight with The Four Horsemen. On the 1987 Great American Bash tour, the two teams collided in the first WarGames match – as well as two other WarGames during the tour – always on the winning side. Hawk and Animal teamed with Dusty to capture the NWA World Six-Man Tag Team titles; in Japan, they became NWA International Tag Team champions, when they defeated Genichiro Tenryu and Jumbo Tsuruta on March 12, 1987. They held the title over a year until dropping the belts to PWF Tag Team champions Jumbo Tsuruta and Yoshiaki Yatsu (the two tag titles were then merged to form the AJPW World Tag Team Titles, thus making the Road Warriors the final NWA International Tag Team champions).
They faced a tough challenge from The Powers of Pain (Warlord and Barbarian), the feud beginning when they ambushed Hawk and Animal during a bench-press contest; in one of their encounters, Warlord put Animal on the shelf with a broken eye-socket. At the first Clash of the Champions (March 27, 1988), Hawk, Animal and Dusty prevailed over The Powers of Pain and Ivan Koloff in a barbed wire match. The Powers of Pain and Koloff did manage to unseat the trio for the titles, but the feud ended prematurely when Warlord and Barbarian signed with the World Wrestling Federation. With the titles vacated as a result of the departure, Hawk, Animal and Rhodes regained the championship on July 9, 1988 when they defeated Ric Flair, Arn Anderson and Tully Blanchard.
In late-1988, The Road Warriors inexplicably turned heel and attacked Dusty on the November 26 edition of NWA World Championship Wrestling. They gouged Dusty's eye with a spike from their shoulder pad which caused a laceration. Hawk and Animal brought in Tenryu to be their third partner, but the Six Man Titles were soon abandoned. They were then turned babyface again and feuded with The Varsity Club, The Skyscrapers, The Freebirds and The Samoan Swat Team. At Starrcade 1989, they won the Iron Man Tag Team Tournament and defeated The Skyscrapers at Wrestlewar 1990. They left after Capital Combat on May 19, 1990 after a dispute with Executive Vice President Jim Herd, and signed with the WWF.
They naturally began a feud with Demolition, a team that the WWF had created in 1987 and drew plenty of comparisons with the Road Warriors. Re-named the Legion of Doom or LOD for short – although still introduced individually as Road Warrior Hawk and Road Warrior Animal – they made their WWF debut on the July 15, 1990 edition of Wrestling Challenge. Hawk and Animal cost Demolition (Smash & Crush) the WWF Tag Team Titles at the Summerslam pay-per-view on August 27. On occasions, LOD teamed with WWF champion The Ultimate Warrior to face all three Demolition members in six-man tag team bouts. At the Survivor Series on November 22, they aligned with The Ultimate Warrior and Texas Tornado against Mr. Perfect and Demolition, but were disqualified.
The feud cooled off and they finally went after the WWF Tag Team Titles. When Power and Glory cost them the titles against The Nasty Boys, Hawk and Animal vanquished them in under a minute at Wrestlemania VII. They returned to the Tokyo Dome on March 30, 1991 for a combined WWF/SWS event, where they faced Hulk Hogan and Tenryu in the main event. Back in the United States, they became the first team to hold the WWF, NWA and AWA World Tag Team titles when they beat The Nasty Boys at Summerslam. The reign lasted until February 7, 1992 when they dropped the belts to Money Inc; LOD left the promotion for a short time. They returned at Wrestlemania VIII on April 5, 1992 to cut a promo and introduce WWF fans to their manager Paul Ellering, who had been conspicuous by his absence.
After defeating Money Inc. in the opening match of Summerslam 1992 in London, England, Hawk quit the promotion. Animal remained to work the rest of their commitments – teaming with the repackaged Crush – until himself leaving due to a back injury. While Animal recuperated, Hawk landed in New Japan (1992) and teamed with promising star Kensuke Sasaki (Power Warrior) to form The Hellraisers. When the team split in mid-1995, Animal returned from injury, and he and Hawk signed with World Championship Wrestling. Now back to using the name The Road Warriors, they appeared in January 1996, and would go on to feud with The Steiners and Harlem Heat, before going after WCW Tag Team champions, Sting and Lex Luger. Unlike in all their other adventures, Hawk and Animal never did become the champions, and after a pay dispute and an issue over being able to work Japan at the same time, they left the company.
Hawk and Animal returned to the WWF after their brief WCW stint, arriving to help Ahmed Johnson in his fight with the Nation of Domination. They teamed with Stonecold Steve Austin and Ken Shamrock at the Canadian Stampede pay-per-view on July 6 against the red-hot Hart Foundation stable. They went on to defeat The Godwinns for their second WWF Tag Team title – in the process legitimately breaking Henry Godwinn's neck with the Doomsday Device – on October 13, 1997. In November, they were surprisingly defeated for the belts by Billy Gunn and Road Dogg (The New Age Outlaws), and despite a number of attempts, were unable to defeat them for the belts. After another loss to the New Age Outlaws on the February 23, 1998 edition of RAW, Hawk and Animal fought with each other to the back. They were not seen again until Wrestlemania XIV on March 29, where they came back repackaged as "LOD 2000."
Now managed by Sunny and wearing space-age, futuristic-looking helmets and shoulder pads, they won a Tag Team battle royal (Hawk was not impressed with his new attire though and threw his helmet into the crowd, never to be seen again). Along with Hawk's helmet, Sunny did not last long either and she was removed from the team. A controversial storyline emerged which played on Hawk's real life personal problems with drugs and alcohol after they attained a third member, Puke (Darren Drozdhov). Hawk began coming to the ring drunk, acting in no condition to wrestle to the exasperation of Animal and Puke.
On an episode of RAW, Hawk was seen on top of the Titantron, threatening to jump. Puke and Animal climbed up, and Hawk fell behind the screen out of sight, apparently in a suicide attempt. It was later suggested that Puke had 'pushed' Hawk to enable him to become Animal's full-time tag partner, and that it was he who had got Hawk hooked on drugs in the first place. Thankfully, after protests from Hawk and Animal, the storyline was dropped. Their old manager Paul Ellering returned, only to turn on them and side with the Disciples of Apocalypse (Skull & 8-Ball). Hawk and Animal began coming and going, until eventually leaving the company after their appearance on the March 29, 1999 edition of RAW, where they failed to defeat Owen Hart and Jeff Jarrett for the Tag titles.
The Road Warriors returned to Japan on May 2, 1999 for All Japan's Giant Baba Memorial show, teaming with John Laurinaitis (Johnny Ace) against Kenta Kobashi, Jun Akiyama and Jinsei Shinzaki in a winning effort. They also travelled to Australia for i-Gen's Superstars of Wrestling, and defeated Public Enemy on June 30, 2000 for the i-generation Tag Team titles.
Animal returned to WCW briefly as a singles wrestler at the beginning of 2001, until the company was purchased by Titan Sports in March. Soon after, Hawk and Animal reunited on the independents, and made a one-off appearance for NWA-TNA. On the May 12, 2003 edition of RAW, The Legion of Doom made a surprise challenge to Rob Van Dam and Kane for the Tag Team titles in a losing effort. On October 19, 2003, Hawk passed away. Animal returned to the now-World Wrestling Entertainment in 2005, teamed with Heidenreich, and helped put together a WWE biopic DVD on the LOD/Road Warriors.
At the Great American Bash pay-per-view on July 24, Animal and Heidenreich defeated MNM for the Tag Team titles. On the October 28, 2005 edition of Smackdown!, Animal and Heidenreich dropped the titles back to MNM in a multi-team match. After several months, Heidenreich and then Animal were released. In 2011, Hawk (posthumously), Animal and Paul Ellering were inducted into the WWE Hall of Fame.
Animal passed away of a heart attack at the age of 60 on September 22, 2020, shortly after celebrating his wedding anniversary in the Margaritaville Resort in Missouri.